Whiteboards are a common sight in every office. Easy to use — and easy to clean — they are a simple way for teams working together to brainstorm, capture thoughts, and share ideas. So, it's no surprise that when people are not in the same room or even the same country, they want something that can help replicate the whiteboard experience when they are working with others.
Microsoft whiteboard online was developed to emulate the physical whiteboard experience in a virtual environment. As simple as a physical whiteboard, it is a shared and intuitive tool where people can capture and share ideas, or simply track points together. However, because it's on a screen rather than a wall, it offers a few extra features that can enhance the whiteboard experience.

Part 1. Can You Use Microsoft Whiteboard Online?
It does not matter who you are, the answer is yes! Microsoft's whiteboard software is available on a number of platforms, including Windows and iOS, as well as online, meaning that anyone with a modern browser can use it. The service is included in all Office 365 subscriptions, but it is also available for free for anyone with a Microsoft account. While this means you can't just share a whiteboard with a link, there's no cost for anyone who would want or need to use the whiteboard.
The app itself is very intuitive too. It basically emulates a physical whiteboard, making it easy to use. This is especially true if you are using a device with a touchscreen or stylus, like an iPad or Microsoft Surface. Basically, if you know how to use a real whiteboard, you can use Microsoft Whiteboard Online.
Part 2. What Features Does the Online Microsoft Whiteboard Offer?
At its heart, Microsoft's whiteboard mirrors a real-life whiteboard. When you start you will be met with an almost entirely white screen, only the menus and tools around the top and side differentiate it from a real whiteboard. Making your first mark is as simple as selecting a pen and starting to write or draw.
Like a real whiteboard, you have a selection of pens, with varying widths and colors, that you can use to color-code your thoughts or to highlight specific areas, and, of course, there's an eraser, so it's quick to change anything you want. However, because it's online, it can offer features that would be difficult, if not impossible, on a real whiteboard.
One example is the tools that exist to help draw. For example, it's easy to select a shape to add to your whiteboard, providing shapes with more precision and flexibility than you could achieve in real life, and without the risk of smearing, making it ideal for flowcharts. It also comes with some features that emulate real-life interaction, for example, you can stick the equivalent of Post-It notes on the board, or add reactions to drawings.
You can also do things that are simply impossible on a real whiteboard. Microsoft Whiteboard online allows you to select, copy or drag and drop elements on your board. You can also add things like alternative text, images, or even whole documents to your board, so all the information that anyone needs is right there for them.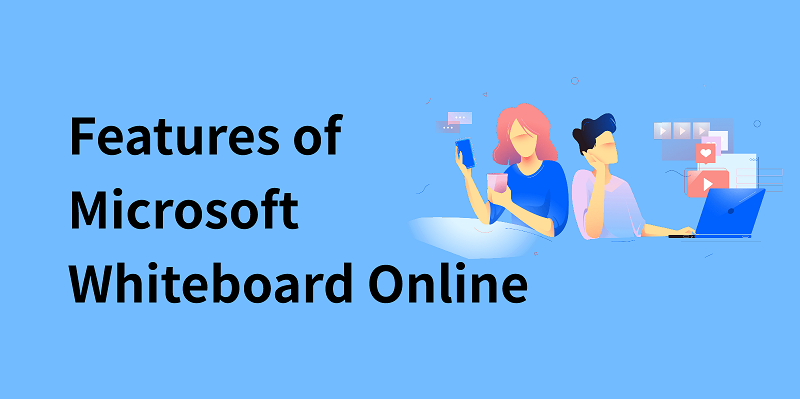 Part 3. Pros and Cons: User Reviews about Microsoft Whiteboard Online
At its heart, Microsoft's whiteboard mirrors a real-life whiteboard. When you start you will be met with an almost entirely white screen, only the menus and tools around the top and side differentiate it from a real whiteboard. Making your first mark is as simple as selecting a pen and starting to write or draw.
There are plenty of positives about Microsoft's interpretation of the whiteboard.
The most common observation is how simple it is to use. Anyone will be able to use it immediately, and the tools and layout are simple, meaning that you can just launch it and go: there's no learning curve.
Being free is also a bonus, there's no risk that someone will not be able to share a board, and, for those, the use Microsoft apps, the easy integration it has with Teams is a big plus.
However, there are also many criticisms.
While some may admire the simplicity, for others it can mean the app feels wanting. Offering little more than a traditional whiteboard experience, anyone who values the power that comes with Microsoft's main apps might feel that the whiteboard is underpowered, especially for those who are not using a touchscreen device where a mouse or trackpad is a poor substitute for a marker.
And despite the software giant's considerable experience both with apps and the cloud, many have reported that the app can LAG, especially when using touch or stylus devices, which, in turn, can inhibit seamless collaboration.
Finally, export options are limited, only allowing you to save a PNG of your whiteboard.
Part 4. Is There a Better Alternative to Microsoft Whiteboard Online?
For those who want a simple whiteboard for quick and easy collaborations, it's hard to fault the Microsoft Whiteboard online experience. However, since it is largely designed to emulate a real whiteboard, those looking for something with more power, or with functions that take advantage of being an online service, will find other online whiteboards more compelling.
Boardmix is one such alternative. Designed from the ground up for collaboration, rather than as a single tool in a software suite, it combines the intuitiveness of a whiteboard with the power that comes from being an online service.
Try for Free
Cloud-based, so anyone can use it, it includes all the features you would expect from a whiteboard and more.
As well as a full range of pens and drawing tools, Boardmix has built-in functions to make common whiteboard uses easy, such as mind-mapping and flowchart design. By helping you with the layout, so you can concentrate on brainstorming rather than fitting everything on a screen.
Boardmix includes a wide selection of pre-made templates, with community templating coming. It means that whatever your use or need, there's a good chance a suitable outline will already be there, so you can just load the template, and start collaborating with no setup needed.
Finally, when you have finished, Boardmix has a range of export options, not just as images, but also as vector graphics, and even its own format, so you can save whiteboards and use them again later.

| | Boardmix | Microsoft Whiteboard Online |
| --- | --- | --- |
| Online | | |
| Range of drawing tools | | |
| Built-in templates | | |
| Community templates | | |
| Built-in mind-mapping | | |
| Built-in flowcharts | | |
| Built-in flowcharts | | |
Conclusion
Whiteboards have become popular because they create a quick and easy way to share ideas and information visually, but their physical nature means they are difficult to replicate in a remote-working world.
Microsoft Whiteboard online works well for quick and simple sharing, perhaps when occasionally needed during meetings. However, it is limited and can struggle when dealing with complex issues or long brainstorming sessions. In particular, the lack of built-in tools means you can spend longer drawing than you do brainstorming. In those situations, a more versatile solution is needed.
Boardmix takes the humble whiteboard, with all the tools you would expect, but adds the power of an online service. With built-in tools for common uses, like flowcharts, mind maps, and a range of useful templates, and built for collaboration. It makes the humble whiteboard an even more powerful experience online.
Try for Free