Are you looking for a tool that can serve as a miro alternative and boost your work efficiency? Then you are at the right place. This article will introduce several miro alternatives that win great reputation among users. Keep reading and find one that suits you best!
Know About Miro
What Is Miro
Miro (previously known as RealtimeBoard) brands itself as a digital whiteboard that makes it easy to collaborate with others. It enables people, specifically teams, to brainstorm on a project and jot down all their ideas. The software allows you to create notes and designs, move things around, and communicate through embedded video calls or online chats.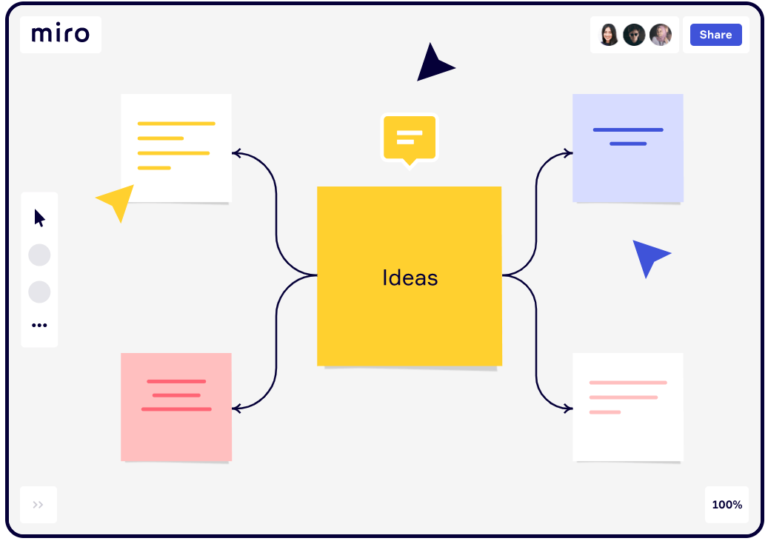 The tool also comes with a series of pre-built templates that can inspire or serve as a starting place for your own project work. This technology has been a massive help in the last couple of years when physical contact was limited.
Why Do You Need A Miro Alternative
Unfortunately, Miro is not designed to build a long-term, extendable knowledge base where you can organize and connect different ideas or knowledge pieces via logical links. Once you're done with a specific brainstorming session, whatever happens next probably happens in another tool because you can't add much in-depth knowledge. This forces people to use tools that complement Miro to back up their conclusions – in return, forcing them to lose the place and flow across several apps.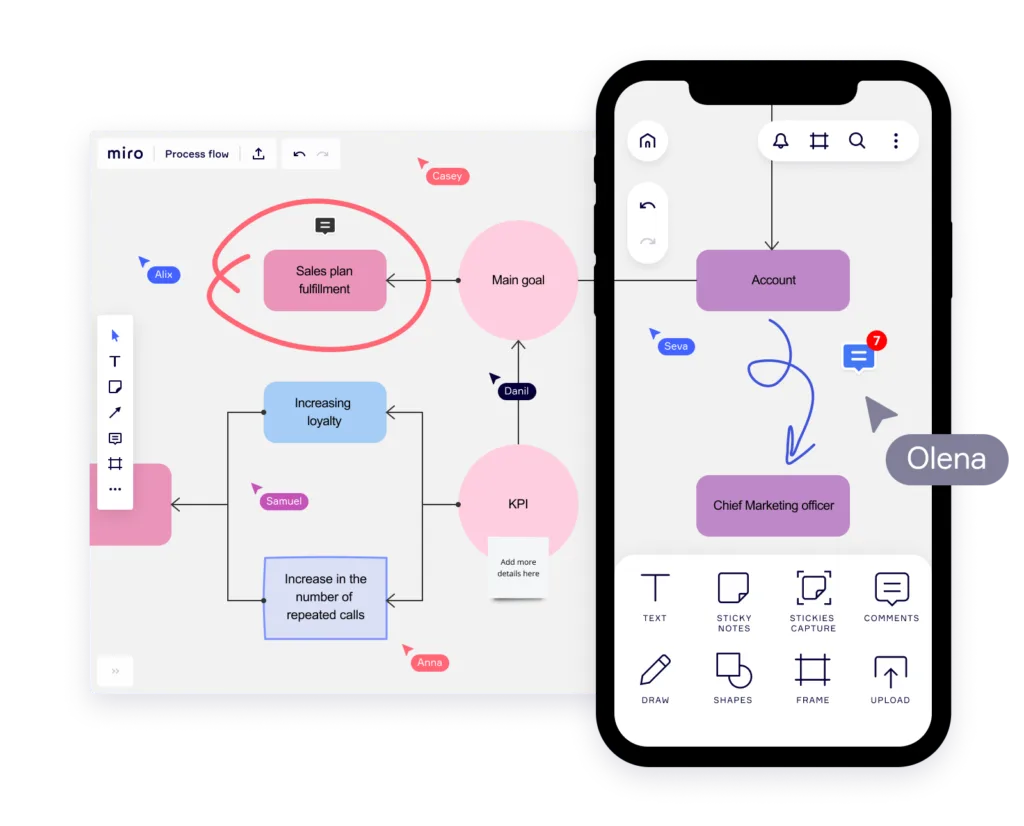 One thing that users have noticed is the steep learning curve Miro has. It can become confusing for first-timers, and it takes time to get used to it. That is why we listed some Miro alternative tools you can use if you are having trouble with the said app.
How to Select a Suitable Miro Alternative
When choosing an excellent mind-mapping tool, here are three key features to look out for: 
User-friendliness: Using the mapping tool should be as easy as drawing on paper. You shouldn't have to dig through multiple menus to create a simple mind map.
Large canvas: A large digital canvas ensures you never run out of space to draw. After all, you can't put a limit on creativity and ideation.
Collaboration features: Essential for agile and scrum teams, real-time collaboration features let you share your files with your entire team. This keeps everyone in the loop about the project.  
5 Best Miro Alternatives
Boardmix
Boardmix is an online collaborative whiteboard platform that integrates various tools to boost team efficiency and free imagination.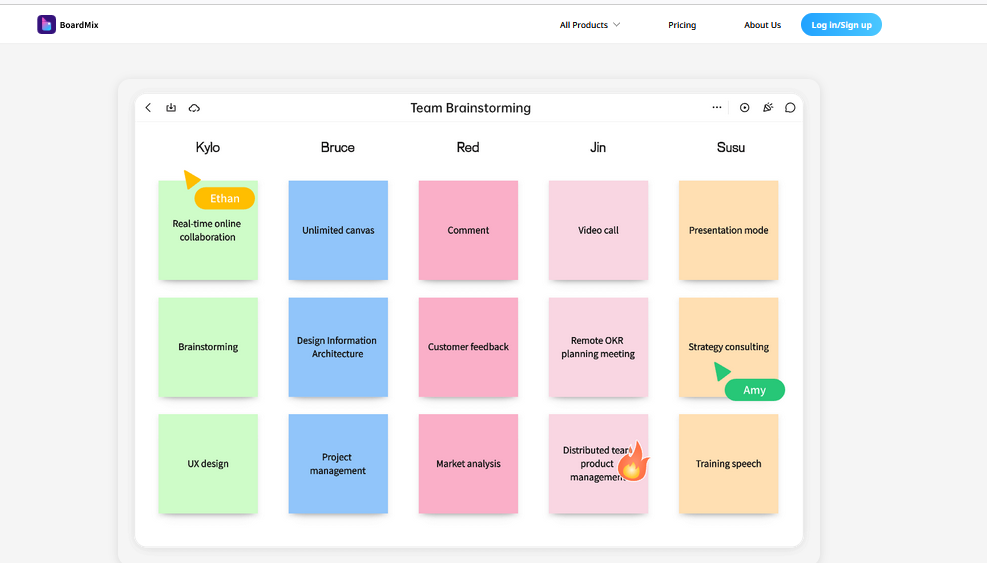 And what makes it the best free Miro alternative is that Boardmix has powerful whiteboard features to help you visually plan and organize ideas, tasks, workflows, and more. Using its drag-and-drop functionality, you can easily organize thoughts, create workflows, and connect tasks to teams. Using a creative and infinite canvas, you can view team members' activities, brainstorm ideas, and turn assignments into visual collaboration opportunities.
Features
A cloud-based online whiteboard software, which has the characteristics of being opened and used at any time, and it is more intimate and convenient to use.
The functions are all free, the map has no limit on the number of nodes, and the exported pictures will not have irrelevant watermarks.
Online collaboration can support multi-person participation, and team members can jointly participate in editing a file.
It can support the access of external audio and video platforms, and can realize real-time and efficient communication in remote office.
Pricing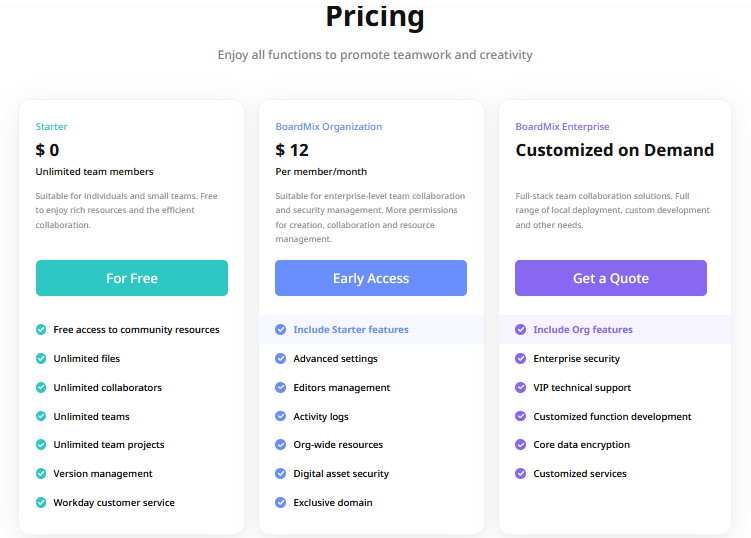 Starter - Free
Business - $12 per month
Enterprise - Custom on need
Monday.com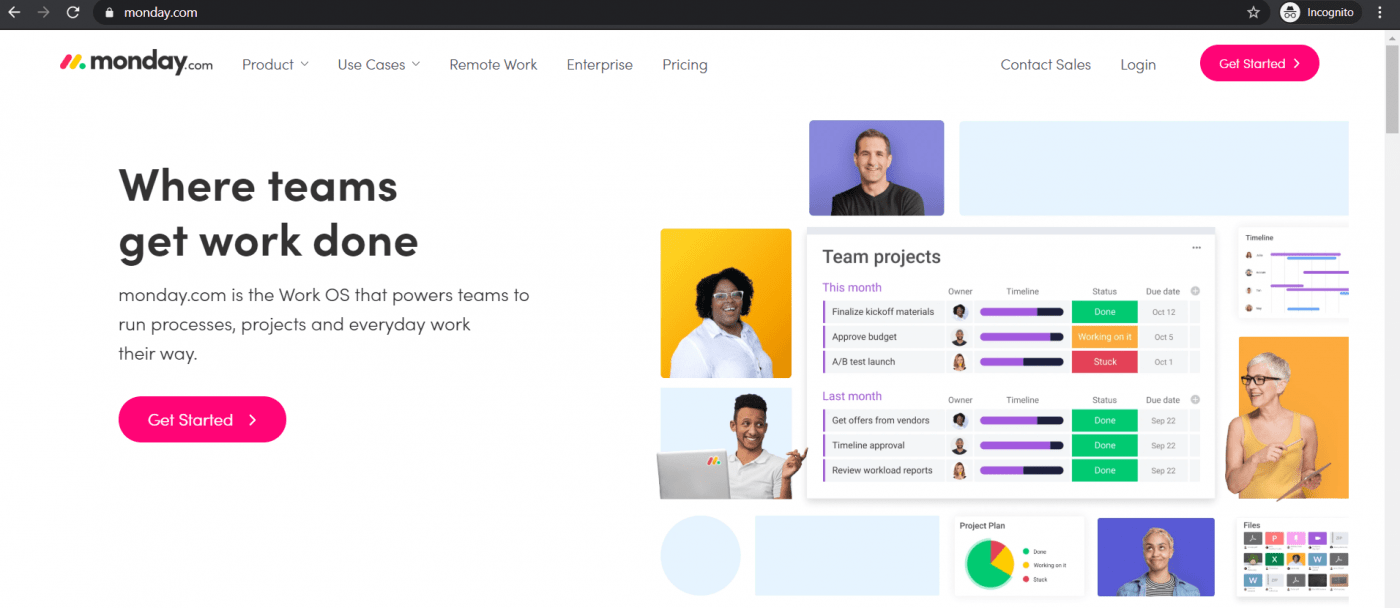 Another popular online whiteboard and agile tool on the internet is Monday. Those who like to track the team's progress will undoubtedly like this tool. Monday.com can produce Gantt charts so each member can see who's responsible for which tasks. Besides that, the task box features a comment box that makes it easy to communicate with others. However, this isn't a free miro alternative since subscription fees are required.
Pricing
Personal - $12 per month
Business - $18 per month
Basic Commerce - $26 per month
Advanced Commerce - $40 per month
MindMeister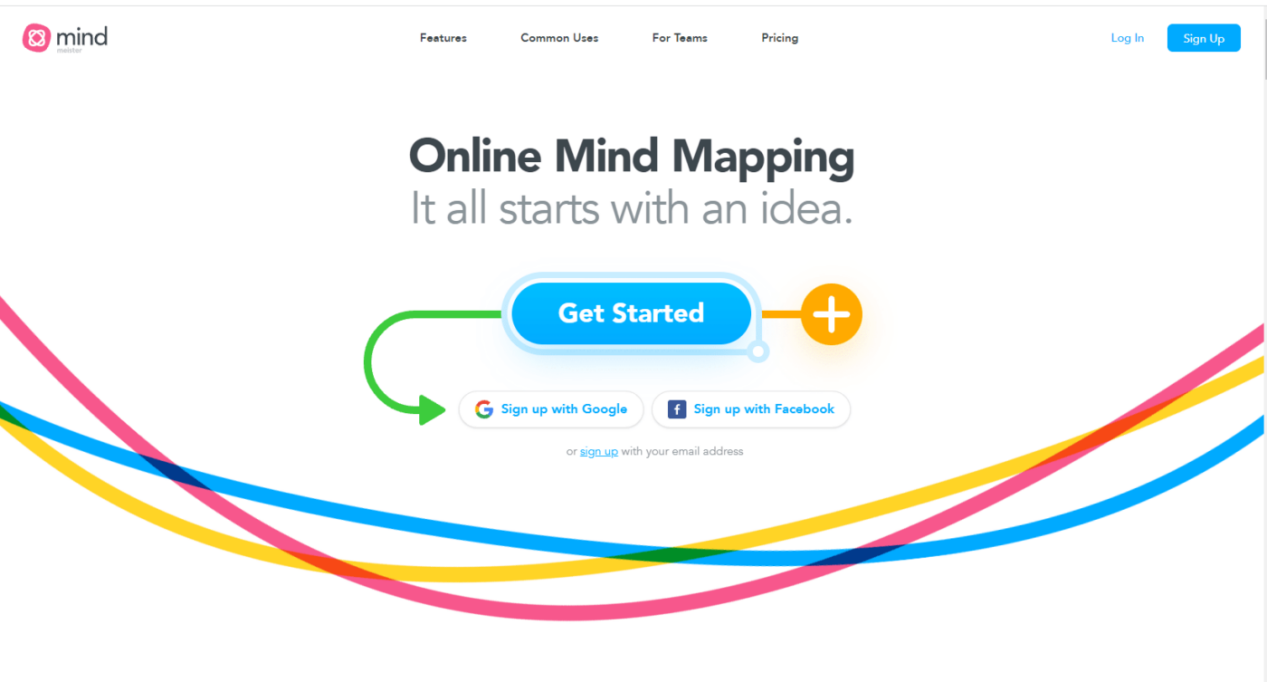 MindMeister is a popular web-based mind-mapping software that lets you collaborate in real-time to brainstorm ideas, plan projects, take notes, and more. However, it can be inconvenient to connect different ideas using this tool. 
Pricing
This mind mapping app offers a free basic plan. The paid plans start at $4.49/per user per month.
Lucidspark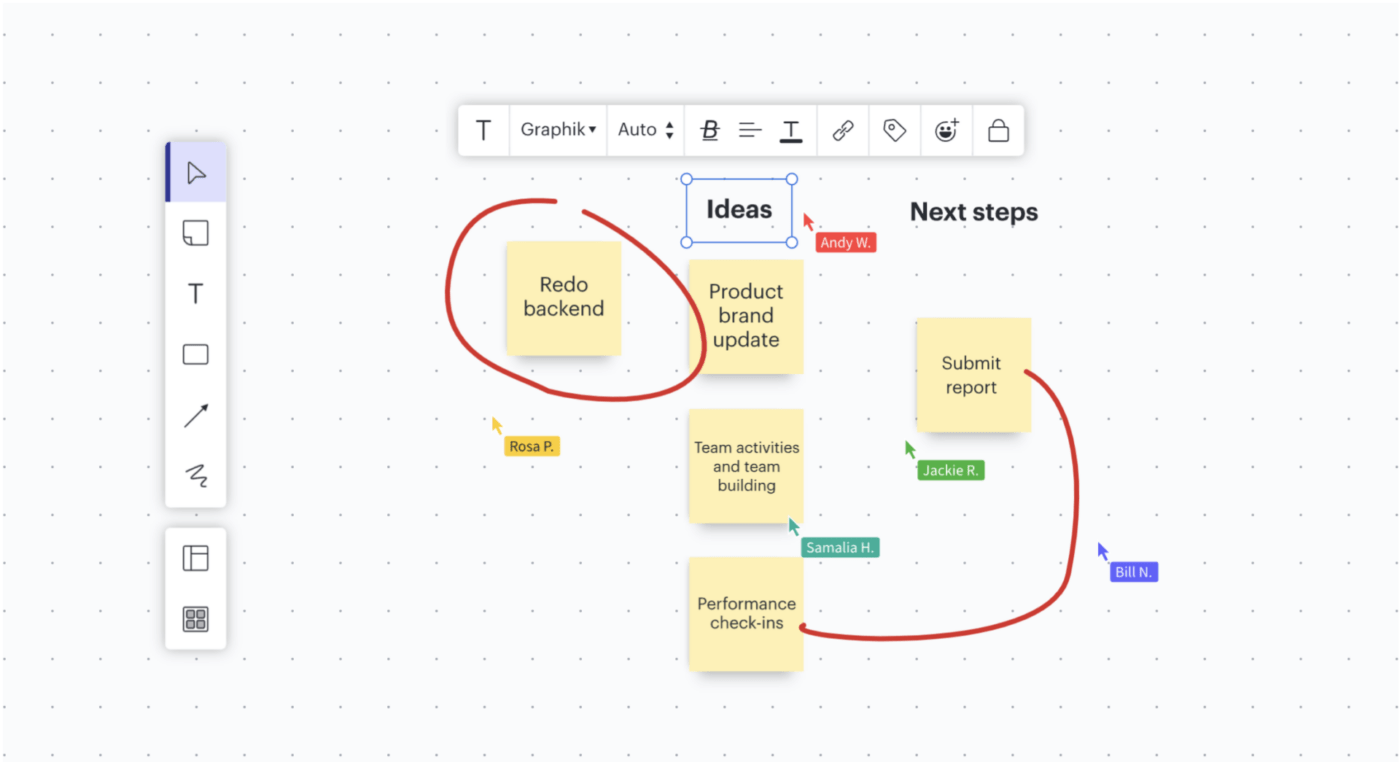 Lucidspark digital whiteboard software enhances your brainstorming process with several project management features.
Pricing
Free
Individual - $7.95/user per month
Teamteam - $9/user per month
Enterprise - contact for pricing
Microsoft Whiteboard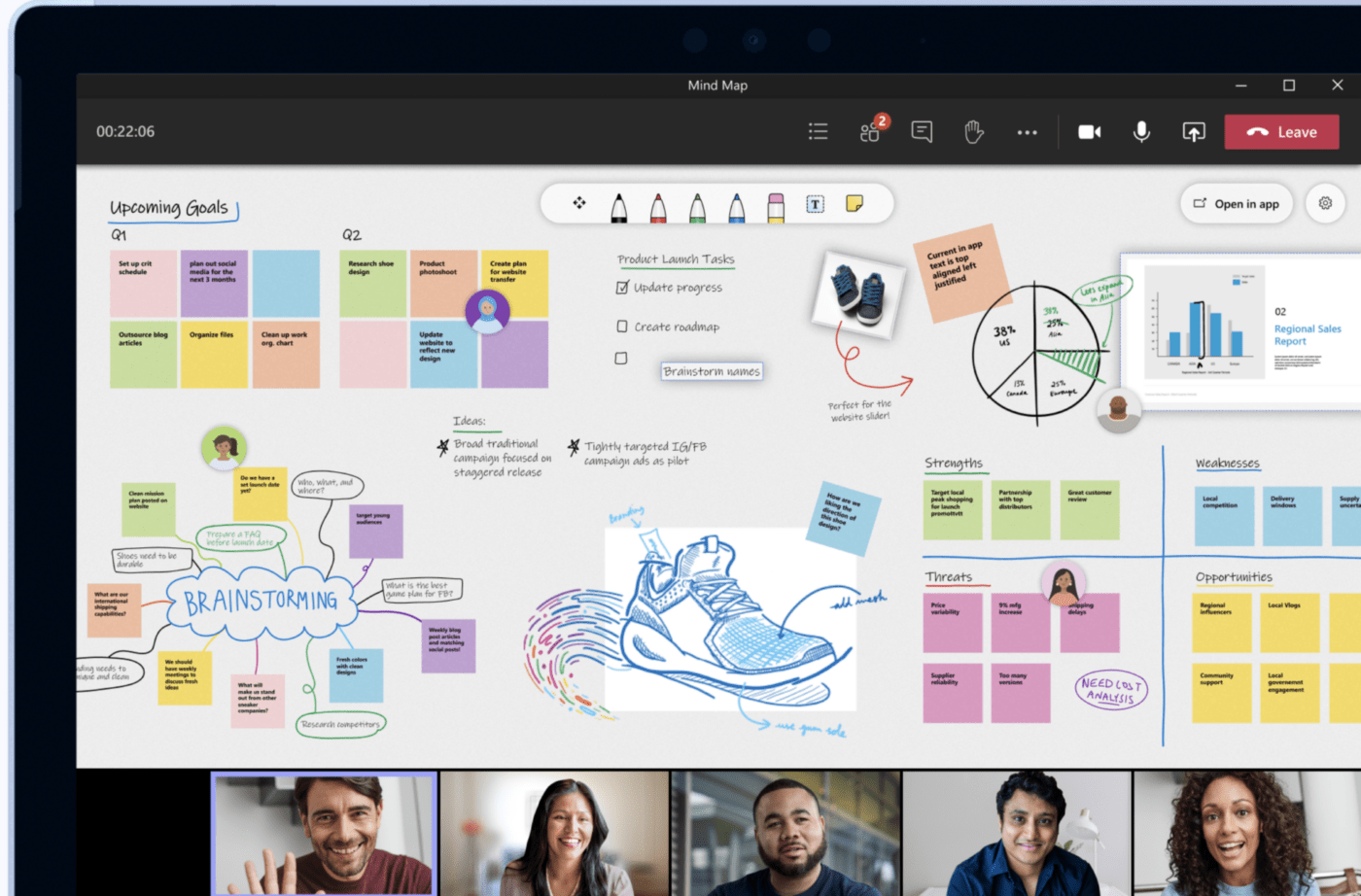 Microsoft Whiteboard is a digital whiteboard app that's part of the Microsoft suite. To access the web version on Windows, Mac, and mobile devices (iOS & Android), you only need a free Microsoft account or a Microsoft 365 account.
However, as this is Microsoft, it's not the same deal for iOS and Mac platforms. For example, the Bing image search feature is missing in the iOS app. There's also no desktop app for Mac users, which is a deal-breaker.
Pricing
Business Basic - $5/user per month
Business Standard - $12.50/user per month
Business Premium - $20/user per month)
Conclusion
Do you find the best miro alternative for you after reading the post? Compared to other tools, Boardmix is definitely more user-friendly, creative and powerful. If you want to switch from miro to another online whiteboard tool, opt for Boardmix. Just go to the official website and try it for free right now!