What is Marker Board Online
Online Marker Board, often referred to as a digital whiteboard, is a game-changer in the way we communicate, brainstorm, and collaborate in both educational and professional environments. It's essentially a virtual platform that mimics the experience of using a physical whiteboard, but with added benefits and functionalities.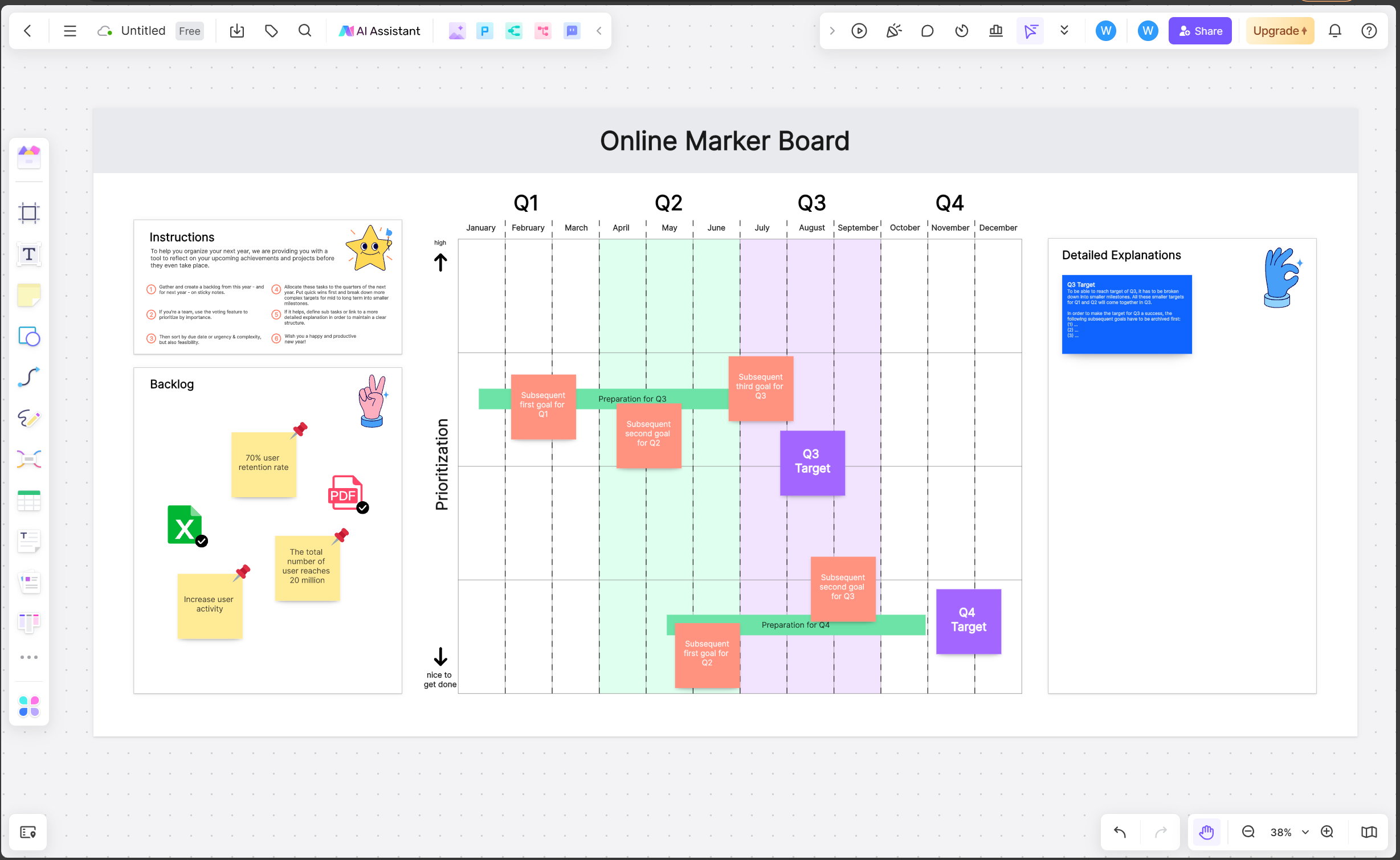 Online Marker Boards have evolved into indispensable tools for remote learning and work. They provide a communal space where users can write, sketch, or annotate in real-time - promoting interaction and engagement even in a virtual setting. This makes them perfect for activities like group discussions, presentations, or tutoring sessions.
Furthermore, these boards come with advanced features that surpass what a conventional whiteboard can offer. For example, they facilitate the saving and sharing of content created on the board, empowering users to revisit ideas or notes whenever they wish. Some even come equipped with tools for creating diagrams or charts, adding images or videos, and integrating with other digital tools or platforms.
10 Must-Have Features of Online Marker Boards
The digital revolution is in full swing, and online marker boards are no exception. More than a mere tool for drawing, these versatile tools are breaking barriers, enhancing productivity, and transforming virtual collaboration. Below we examine the ten must-have features of online marker boards that are sure to change the way you work and play.
1. Interactive Canvas
One of the fundamental features of an efficient online marker board is an interactive canvas. It offers an expansive, customizable workspace where users can brainstorm, sketch ideas, or collaborate on projects. Each participant can interact with the canvas simultaneously, fostering real-time collaboration and productivity.
2. Versatile Writing Tools
Quality online marker boards should provide a wide range of writing tools, including different pen styles, brush sizes, colors, and opacity settings. This versatility promotes creativity and allows users to convey their thoughts in more vibrant and visually appealing ways.
3. Real-Time Collaboration
In an era of remote work and virtual classrooms, the ability for multiple users to work on a single canvas simultaneously is vital. Real-time collaboration allows team members or students to share ideas, make edits, and contribute to the overall project seamlessly.
4. Content Sharing and Exporting
Users should have the ability to share their boards with colleagues or classmates easily. Whether through direct sharing links or exporting options to various formats (PDF, JPG, etc.), this feature ensures that no idea is lost in translation.
5. Intuitive User Interface
An easy-to-navigate user interface is crucial for any digital tool. For online marker boards, a clear and user-friendly layout can increase efficiency and decrease the time it takes to find specific tools or functions.
6. Cross-Platform Compatibility
Whether you prefer working on a desktop or need the convenience of mobile accessibility, cross-platform compatibility is a must-have. With this feature, users can access their boards from any device, ensuring they can work or learn whenever and wherever necessary.
7. Powerful Integrations
From Google Drive to Slack, integrations can significantly boost an online marker board's effectiveness by creating a more cohesive digital workspace. They allow users to pull in files directly from other platforms, making collaboration more streamlined.
8. Advanced Annotation Features
Online marker boards should not just replicate the traditional whiteboard experience; they should enhance it. Advanced annotation features like spotlighting, text boxes, sticky notes, and laser pointers can make presentations more engaging and dynamic.
9. Robust Security Measures
In today's world where data security is paramount, robust security measures are critical. These could include password-protected boards, SSL encryption, and adherence to international data privacy regulations.
10. Template Library
Lastly, an extensive template library can provide structure and guidance for different use-cases - whether for SWOT analysis, brainstorming sessions or sprint planning - ensuring users make the most out of their online marker board experience.
Top 5 Online Marker Boards
1. BoardMix
At the forefront of our in-depth review of the top 5 online marker whiteboards is the BoardMix. Exceeding traditional standards, this masterpiece merges the physical with the digital world, granting users an unbeatable and exceptional experience.
Equipped with a state-of-the-art design, it sports an interactive LED display with stunning 4K UHD resolution. This not only brings your visuals to life but also captivates your audience, making each session engaging and productive.
At its heart, the boardmix houses an online whiteboard that fosters collaboration by allowing multiple participants to sketch and write on the screen from their devices, regardless of their geographical locations. Its advanced features allow the addition of media files like images, videos, and documents directly into your notes, thereby enhancing the richness of your content.
Moreover, its stickiness feature helps to keep track of ideas discussed during sessions as it allows you to capture, save, and share all annotations made. This ensures that nothing slips through the cracks.
2. QuirkLogic Papyr
Ranking next on our list is the QuirkLogic Papyr—a device that redefines digital note-taking and whiteboarding. It boasts an E Ink Carta display which offers users a seamless and smooth writing experience almost identical to that of writing on actual paper.
One compelling feature of the Papyr is its ability to synchronize your content across all connected devices in real-time, allowing teams to collaborate effectively irrespective of distance. Additionally, its offline mode ensures that you never miss an idea by letting you jot down thoughts even when not connected to a network, after which they can be synchronized once a connection is available.
The device also comes with a Quilla Connect app that provides access to documents on iOS and Android devices, thereby expanding its reach.
3. Microsoft Surface Hub 2S
At the midpoint of our list is the Microsoft Surface Hub 2S - a versatile and high-performance whiteboard designed for collaborative workplaces. Built with team dynamics in mind, it allows multiple users to interact with it simultaneously.
Powered by Microsoft Teams, Skype for Business, and Office 365, the Surface Hub 2S makes remote collaboration as easy as a walk in the park. Its vibrant 4K+ resolution screen not only enhances readability but also gives life to images and videos shared during meetings.
Furthermore, it is furnished with a versatile mobile stand that enhances its mobility, hence providing flexibility in terms of positioning during meetings.
4. Google Jamboard
Coming in fourth on our lineup is Google Jamboard, a cloud-based digital whiteboard that bridges gaps and makes collaborative work effortless.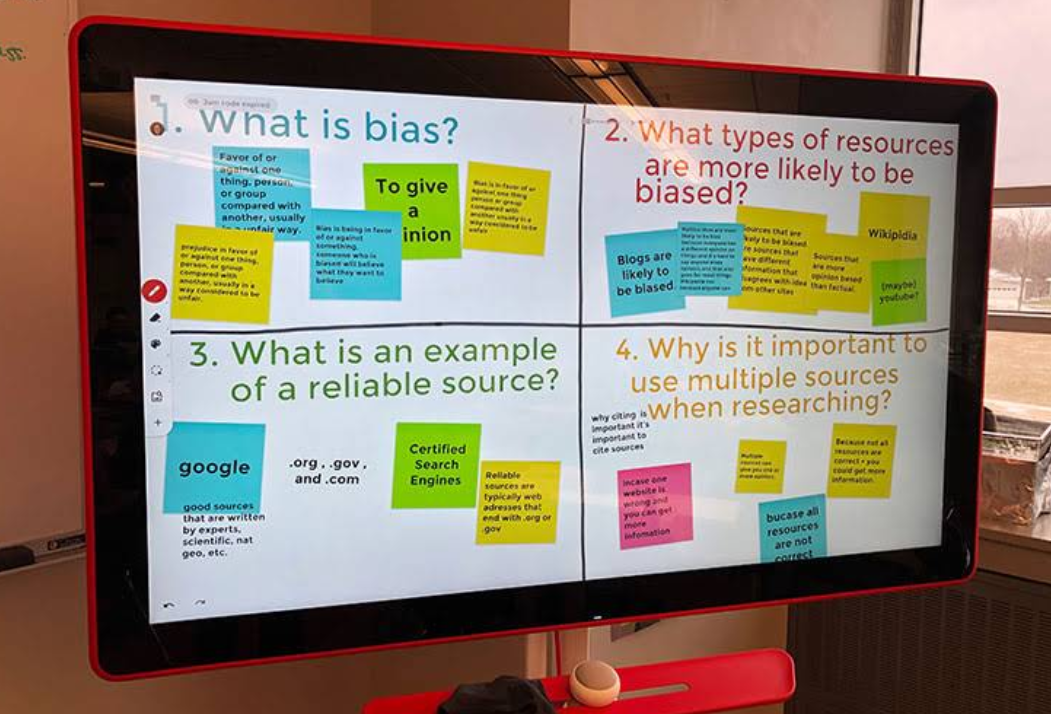 The Jamboard is integrated with Google Workspace tools like Google Meet and Google Drive, enabling teams to work together on projects irrespective of their location. Additionally, it allows for easy sharing and saving of work in Google Drive, thus preventing loss of valuable information.
Its interactive display provides a highly responsive touch experience while its intuitive design makes navigation quite simple even for first-time users.
5. Cisco Webex Board
Closing our list is the Cisco Webex Board. This all-in-one device enables teams to collaborate via video conferencing, digital whiteboarding, and even sharing documents.
Its 4K UHD screen provides a crisp and clear display while its 12-microphone array captures high-quality audio, hence ensuring clear and effective communication during sessions.
One striking feature of the Webex Board is its automatic recognition capacity. It recognizes users as they enter the room and loads personal preferences like accessibility settings, making each session personalized and more productive.
Why Choose BoardMix Marker Board
Choosing the BoardMix Marker Board brings a plethora of benefits that can greatly enhance your communication and collaboration experience, whether in an educational or professional setting.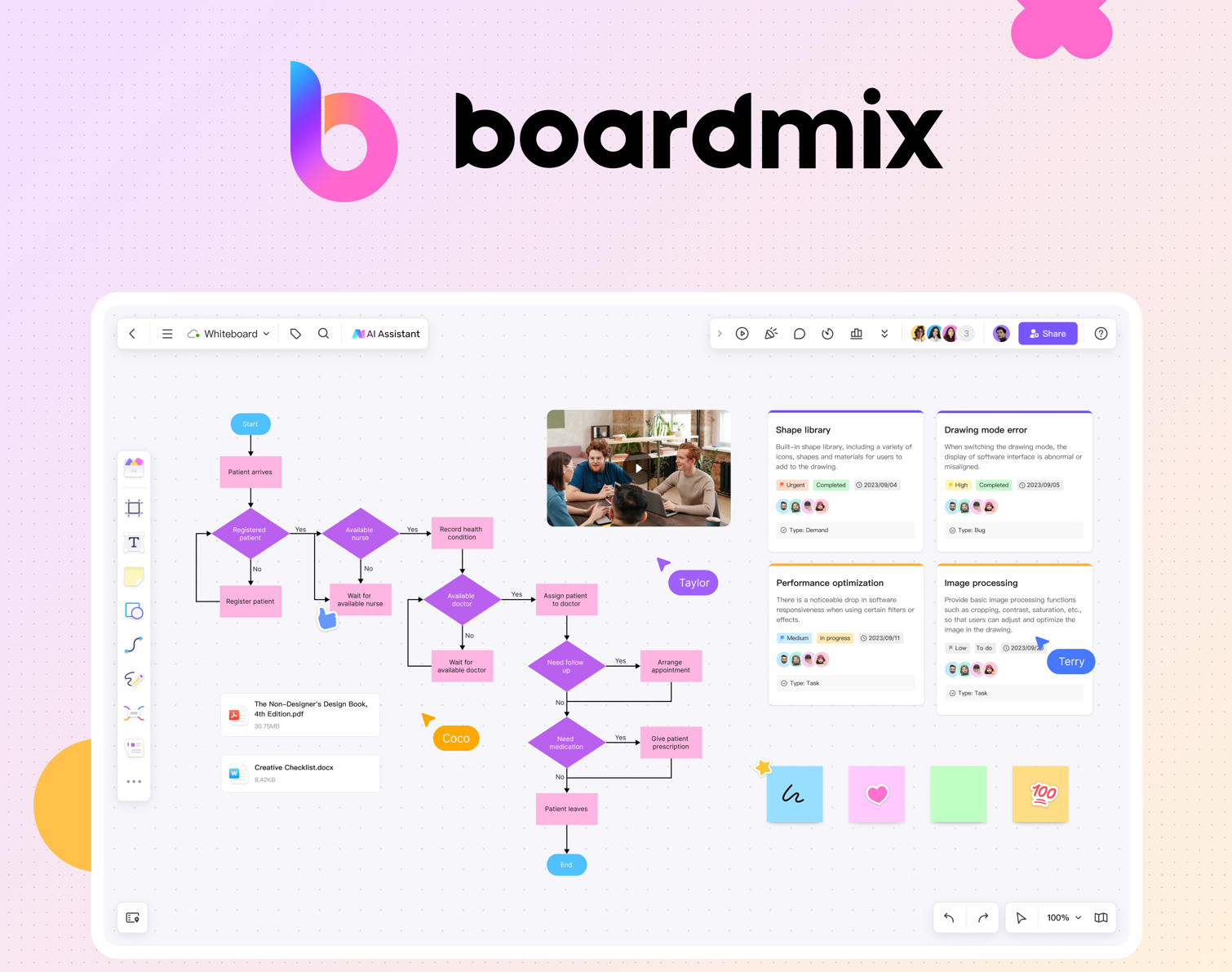 Firstly, BoardMix Marker Board stands out with its user-friendly interface. It's designed to be intuitive and easy-to-use, making it accessible even for those who are not tech-savvy. This ensures that everyone can participate and contribute without facing any technological barriers.
Secondly, it boasts a wide array of advanced features that go beyond just writing and erasing. You can create diagrams or charts, add images or videos, and even integrate with other digital tools or platforms. These functionalities allow for a more dynamic and engaging collaboration experience.
Thirdly, the real-time collaboration feature of the BoardMix Marker Board is another major advantage. It allows multiple users to write, draw, or annotate simultaneously from different locations. This fosters a sense of teamwork and engagement, which is especially beneficial in a remote working or learning environment.
Moreover, unlike traditional whiteboards, the content created on the BoardMix Marker Board can be saved and shared easily. This means you can revisit your ideas or notes at any time, ensuring that no valuable information is lost.
Lastly, the BoardMix Marker Board is known for its reliable performance. It provides a smooth and seamless experience without any lagging issues - making it an ideal tool for presentations, brainstorming sessions, or group discussions.
In conclusion, choosing the BoardMix Marker Board means choosing an efficient and effective tool for communication and collaboration. Its user-friendly design coupled with its advanced features make it an excellent choice for both educators aiming to engage students remotely and professionals seeking to streamline team collaborations.
How to improve the experience of using online mark boards
With the increasing reliance on these platforms, the desire to enhance the user experience is more pertinent than ever. Let's delve into some strategies on how we can accomplish this.
Improve Navigation
The first thing that makes or breaks the user experience on any digital platform is navigation. Complex, cluttered, or hard-to-use interfaces often drive users away. To improve navigation on online mark boards:
Create a clean and intuitive interface: Avoid unnecessary clutter and make the interface self-explanatory. Users should be able to find what they need without extensive exploration.
Make use of categories or labels: Color-coding or tagging items can help users locate information quickly.
Implement easy search functionality: A powerful search feature aids in finding items quickly, significantly improving the user experience.
Mobile Compatibility
As mobile devices become the primary means of accessing the internet, compatibility with these devices is vital. Ensuring your online mark board works seamlessly across various devices will certainly enhance the user experience. Features to consider include:
Responsive design: The platform should adapt to any screen size or orientation.
Performance: Loading times on mobile should be optimized for efficiency.
Functionality: All features available on desktop should work flawlessly on mobile devices as well.
Offer Customizability
Everyone has a different method of organizing their thoughts or workflow. By offering customization options, you cater to everyone's individual preferences:
Allow personalization of boards: Users should be able to change colors, backgrounds, fonts, etc.
Enable layout changes: Provide options for list view, grid view, calendar view, etc.
Integration with Other Platforms
Integration with other commonly used tools enhances convenience and saves time for users. It may include integration with email platforms, cloud storage services, project management tools, social media platforms, etc.
Collaboration Features
One of the key benefits of online mark boards is their ability to facilitate remote collaboration. Therefore, integrating robust collaboration features is crucial. It includes real-time updates, commenting capabilities, task assignments, notification systems etc.
Reliable Support System
A responsive support system plays an integral role in user experience. A help center with tutorials, FAQs or a chatbot could be beneficial. Moreover, personal customer service to address individual queries or concerns can significantly boost user satisfaction.
FAQs of Marker Board Online
Is there a free marker board online?
Yes, there are several free online marker boards available. These digital platforms are designed to facilitate collaboration and communication in a virtual environment. They offer a range of features such as real-time editing, text input, image uploads, and more. Some popular options include BoardMix, Miro, Mural, and Ziteboard. These tools can be accessed from any device with an internet connection, making them ideal for remote work or study scenarios. Remember to consider the specific needs of your project or team when selecting a tool. Each platform has its strengths and weaknesses, so it's essential to choose one that aligns with your objectives.
It's also worth noting that while these tools offer free versions, they often come with limitations on certain features or usage quotas. If you require more extensive capabilities or resources, you may need to consider a premium subscription plan.
What's the difference between whiteboard and marker board
A traditional whiteboard is a physical tool that you can touch and feel. It's often found in classrooms, offices, and meeting rooms. You write or draw on it using erasable markers, allowing for real-time collaboration and brainstorming in a shared physical space. It's an excellent tool for spontaneous idea generation where participants can immediately react to each other's thoughts.
On the other hand, an online marker board, also known as a digital whiteboard, exists in the virtual realm. It's accessed through devices like computers or tablets with internet connectivity. This digital platform allows for remote collaboration, bridging geographical gaps between team members or students. It often comes equipped with features such as text boxes, shapes, lines, sticky notes, images, and even multimedia attachments - elements that go beyond the capabilities of a traditional whiteboard.