There are projects that require technical skills and others that lean more toward your creativity. An online mood board is a tool that is perfect for the latter since it allows you to organize your inspiration and showcase your vision.
In this article, we are going to explain what this creative tool is and help you discover the best moodboard maker online for your project.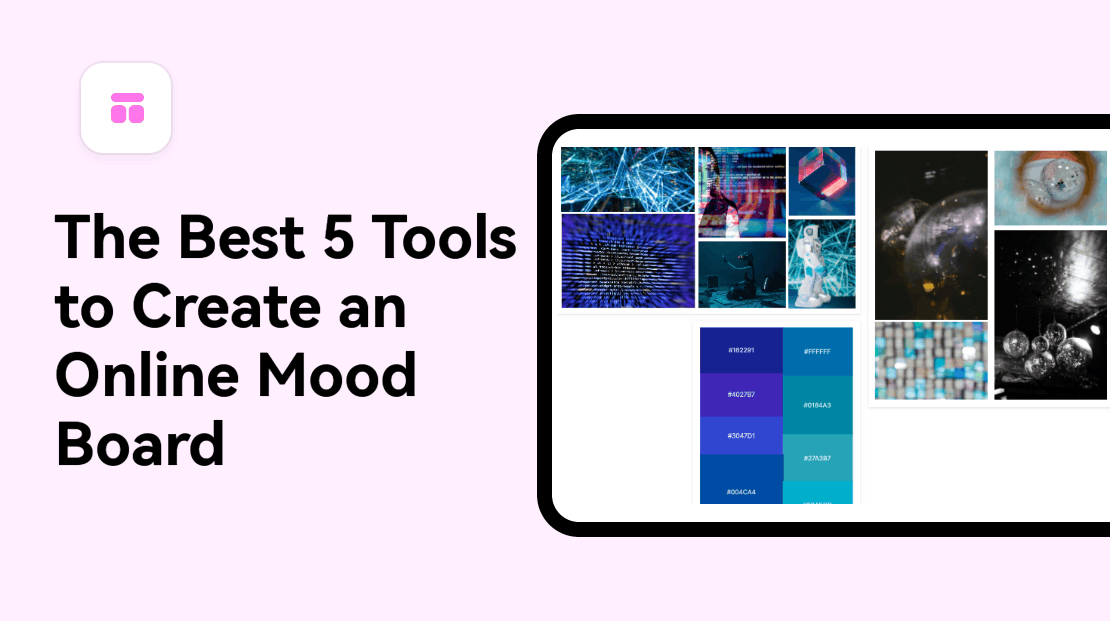 What Is a Mood Board
They say that one image is worth a thousand words. In fact, there are many cases where there are no words to express your visual inspiration. That's where the online mood board comes into play. This tool, which is also called an inspiration board, is a collection of visual cues that describe your inspiration and concept.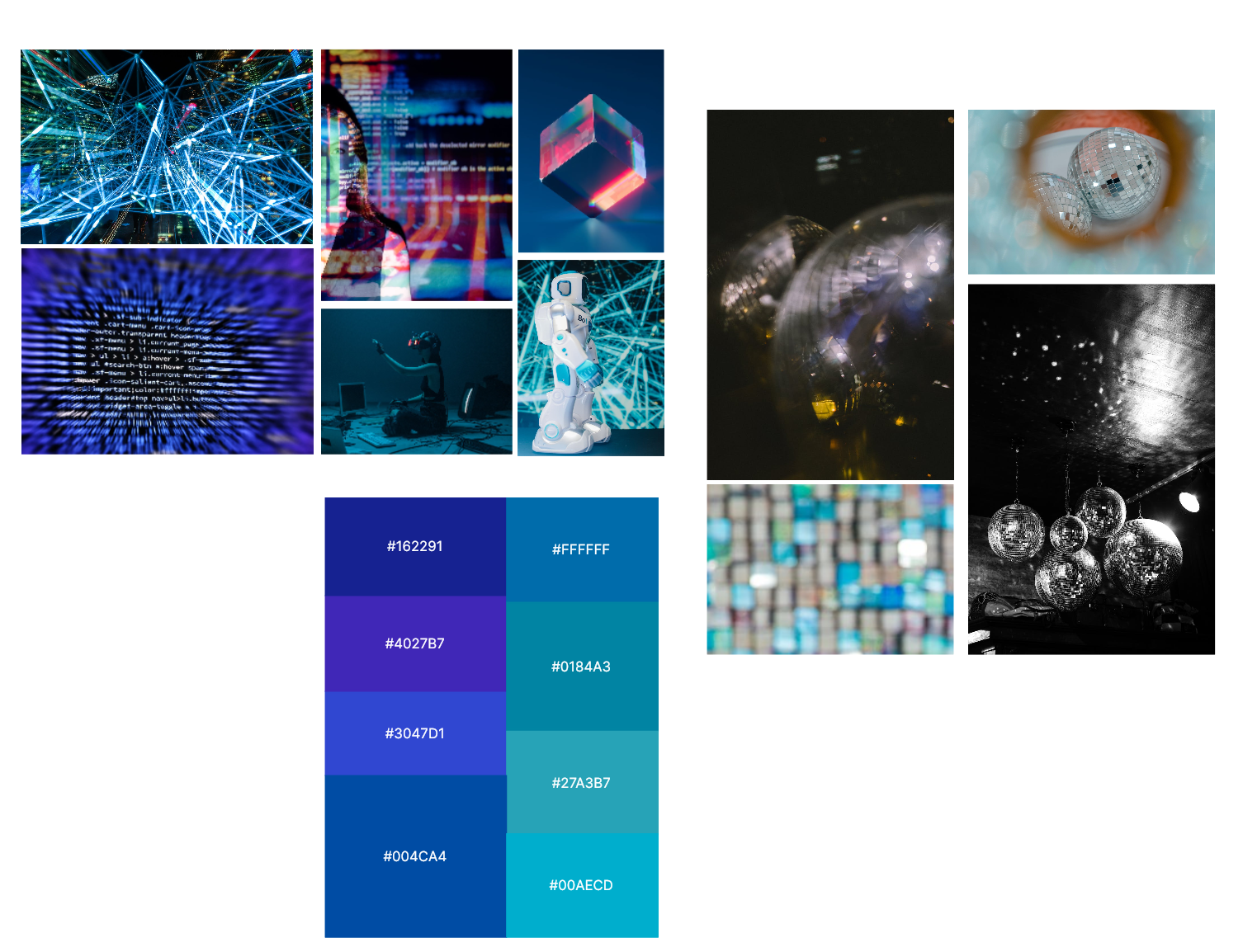 In general, an online mood board is a very versatile mood. Its most common uses though are in marketing, fashion, and other creative industries. This happens because these industries put emphasis on the aesthetic side of things. Therefore, marketers and other professionals use a moodboard maker online to organize their thoughts to present them to their clients and stakeholders.
What Should a Mood Board Include
If you haven't used a moodboard maker online before, you might be wondering what you should add to your inspiration board. In reality, this is a very flexible tool that can take the form that better serves your creative project. Therefore, it will showcase different things depending on your artistic vision.
In general, the elements that you are going to use in an online mood board are the following:
Photos – this is probably the base of the online mood board since they can show clear examples of your vision. For instance, the mood board of a movie production might include costume and setting idea photos.
Graphics – similarly to photos, you can also upload graphics and sketches in the moodboard maker online.
Videos and GIFs – if movement is a requirement, then your inspiration board can also include videos. Since it is an online mood board, you can easily include videos and GIFs without losing the movement.
Color palettes – the color scheme is just as important as the imagery. Therefore, you should put a sample color palette in the moodboard maker online.
Textures and patterns – these are important elements, especially if you are designing a physical object. That's why, you should make sure to include them in your mood board.  
Font samples – the font choice communicates many things. That's why font samples are often a part of the inspiration and brainstorming process.
Notes and comments – any additional information or explanations on the concept can be added with sticky notes. For this reason, you need to select a moodboard maker online that supports it.
Benefits of Online Mood Board
When you find the right moodboard maker online for you, the creation of an inspiration board will become a quick and easy process. In addition to this though, there are numerous reasons why you need to invest more time in learning how to create an online mood board. The main advantages that this tool has are the following:
Explain your vision at a glance – when you are working on a visual project, a mood board will express your vision all on its own. You won't need to explain what your concept is as the elements of the board will show it.
Help you remain consistent – another great benefit of an online inspiration board is that it allows you to check if you remain consistent with your initial idea during the development.
An online mood board is easily sharable – an online board is very practical as you can share it much more easily compared to a physical one. This way, you can get feedback almost instantly, a thing that will make the project move forward at a quicker pace.
You can review and edit it quicker than a physical board – another advantage of the online board is that it makes editing much quicker. In fact, you can apply any changes with just a few clicks in your moodboard maker online.   
What to Look for in a MoodBoard Maker Online
If you are interested in finding a moodboard maker online, you will quickly notice that there are a lot of options. However, not all of these tools are a great option. That's why, you should always keep the following in mind:
Check if the online maker has a mood board template – working with an inspiration board template will help you create an organized and professional-looking board.
Choose a maker with great sharing options – when you create an online mood board, you want to be able to share it with just one click.
Select an online tool that allows collaboration – you and your team members should be able to work on the board simultaneously.
Find a maker that can create a presentation – lastly, you should find a tool that allows you to make a professional slide show for your meetings with your clients.
5 MoodBoard Makers Online
Boardmix
Probably the most reliable moodboard maker online is none other than Boardmix. This is an online whiteboard tool that has been designed to help remote and hybrid teams collaborate. In Boardmix, you can create any type of diagram and graph you might need for your project since it offers you a rich library of ready-made objects and templates.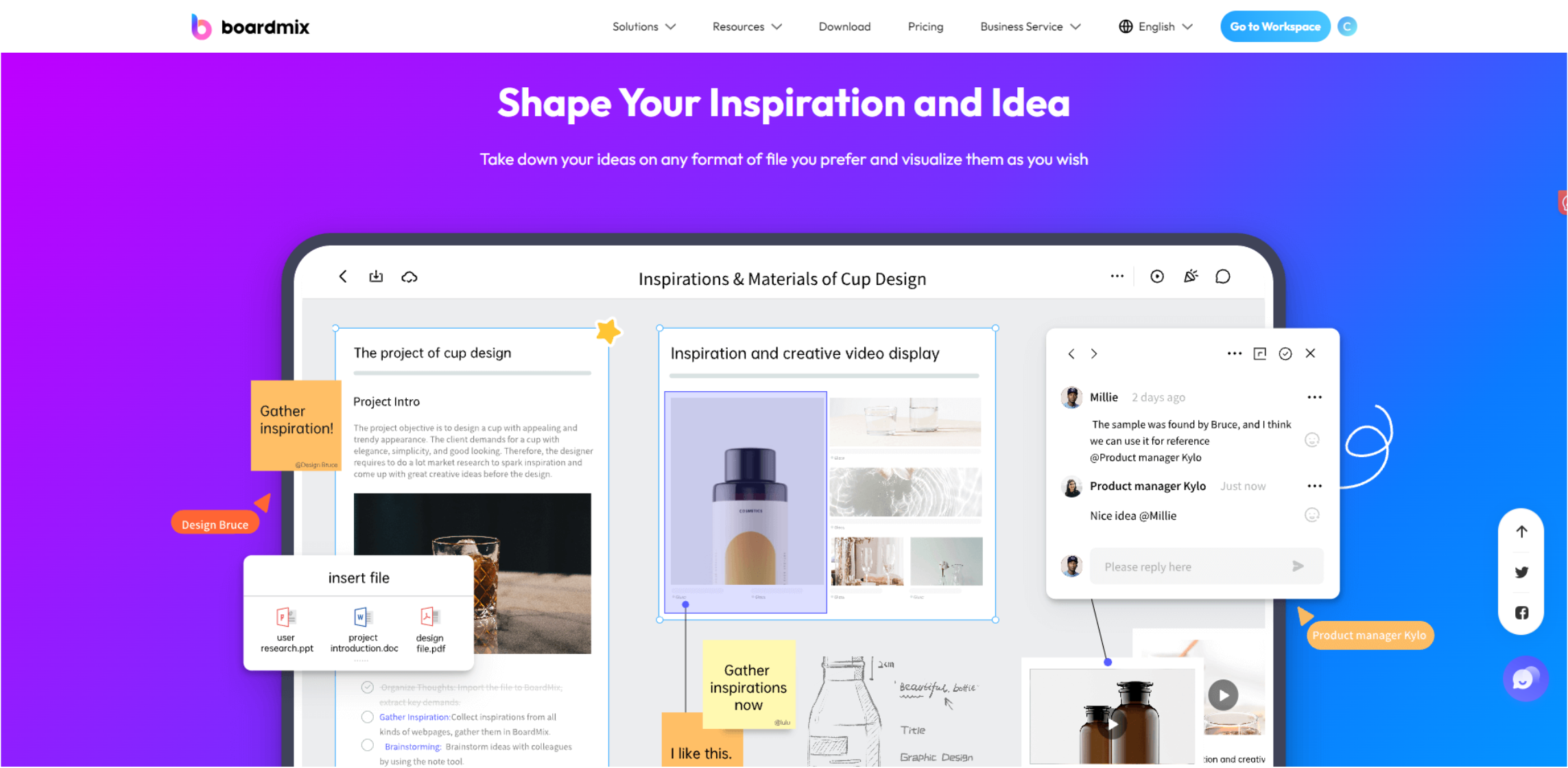 Pros
Presets AI image generator that makes all your ideas come alive thanks to the text-to-image and image-to-image features.
Numerous features even in the free plan,
Quick sharing options,
Video meeting and chat features,
Supports any type of media,
Creates slide show presentation.
Cons
You need a team plan to gain access to dedicated customer support.
Here is how to create an online mood board with Boardmix:
Step 1 – Create your free Boardmix account and go to your workspace.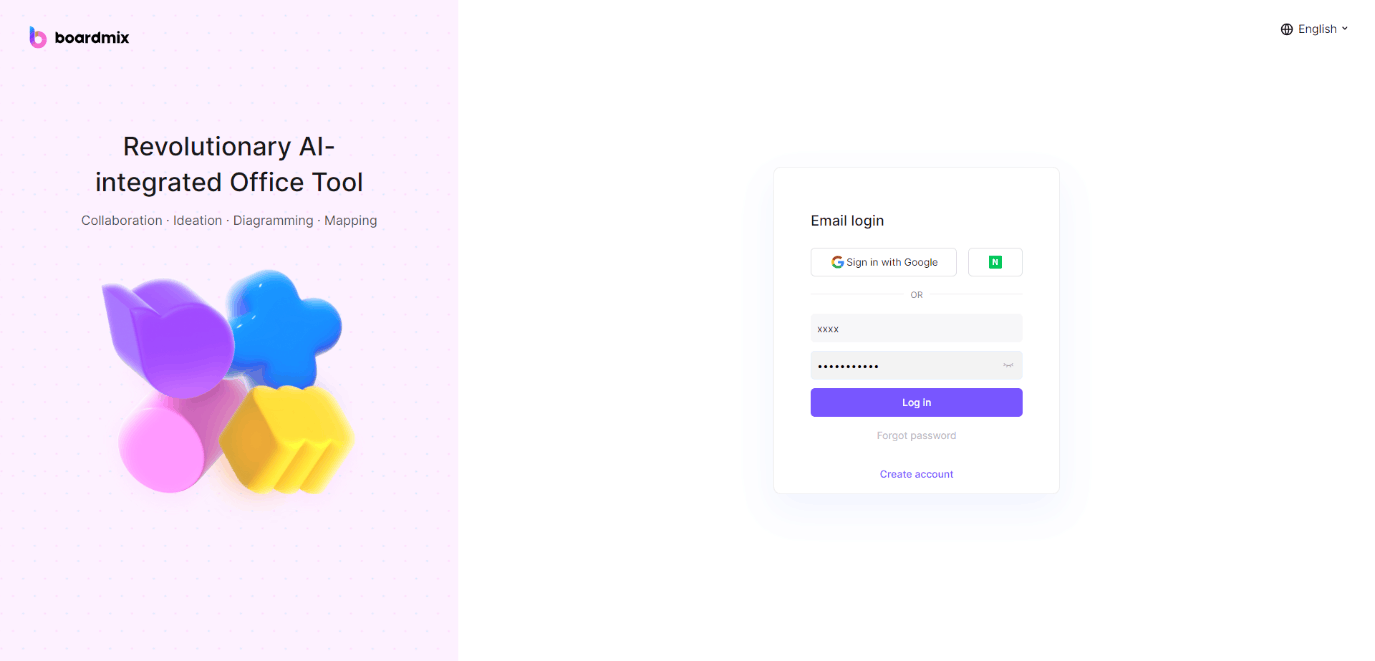 Step 2 – Either start a blank canvas or click Templates and select the mood board template.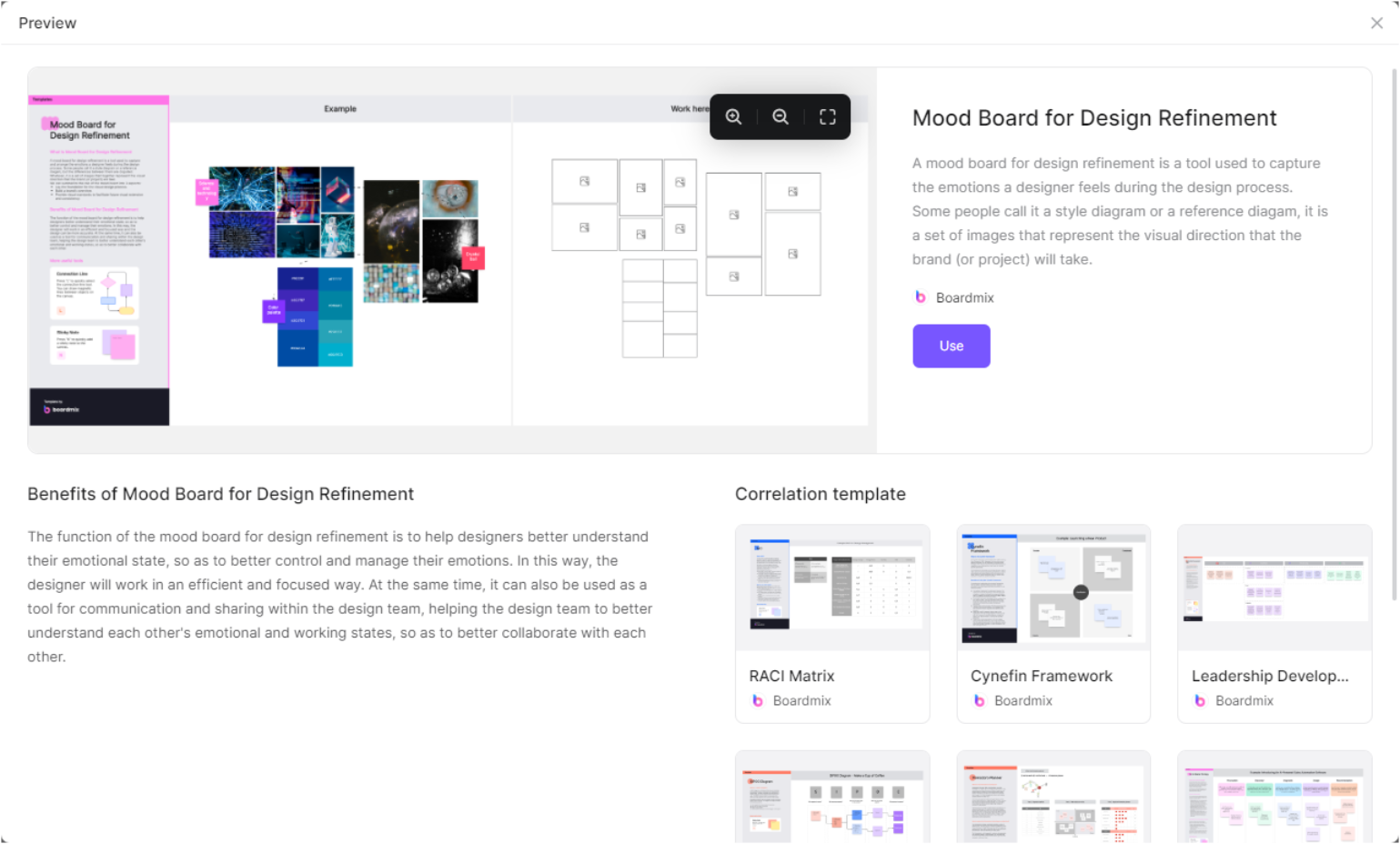 Step 3 – Upload all the images you have gathered for your mood board.
Step 4 – Click Share to invite your team members to your inspiration board.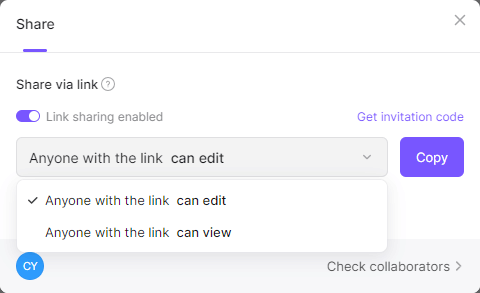 Moodboardly
Another great inspiration board maker that you can try is Moodboardly. This online tool utilizes an AI algorithm to help you find products for your mood board, saving you time and effort.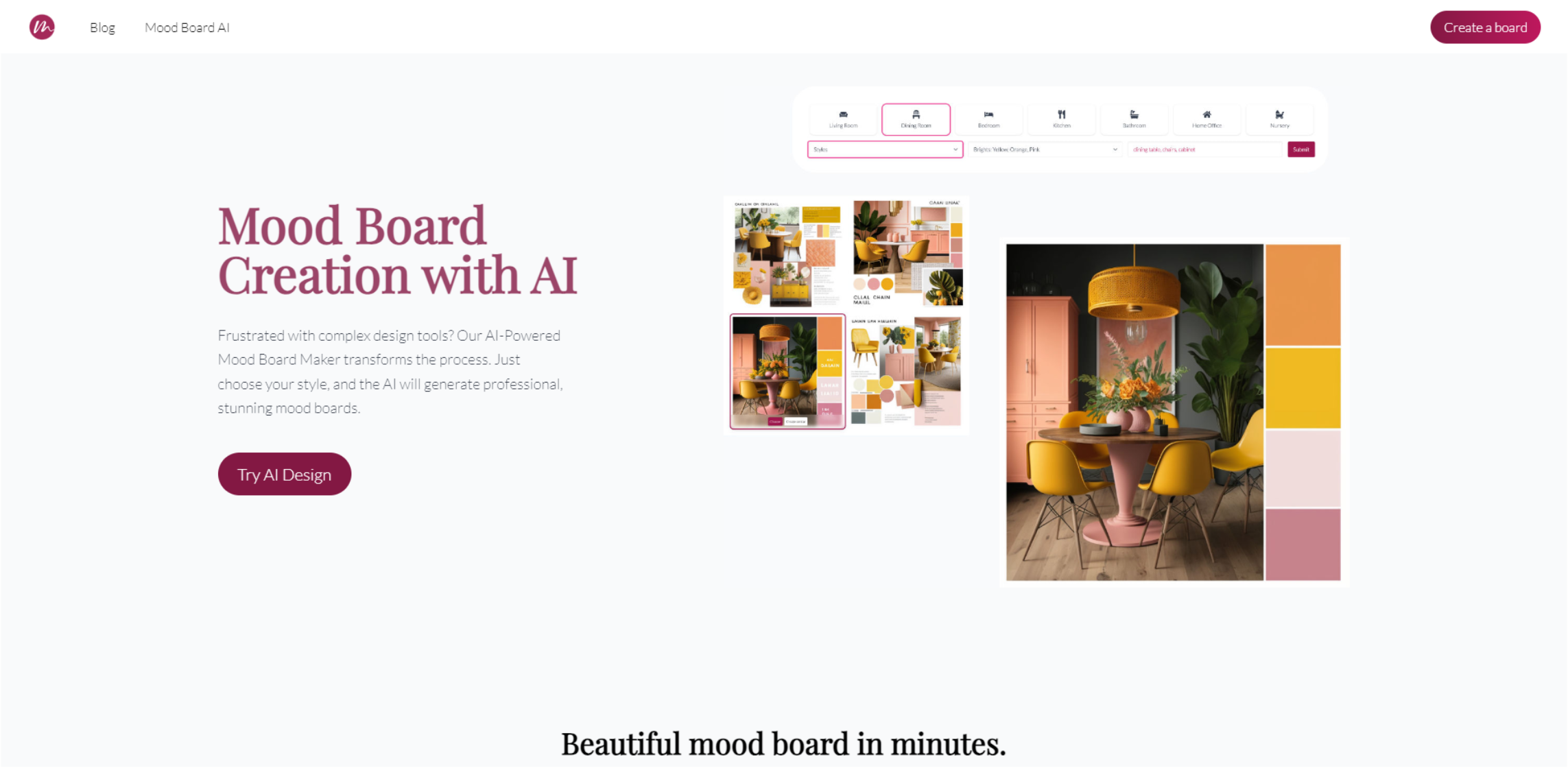 Pros
AI finds products that meet your requirements,
Quickly erases backgrounds.
Cons
There is no free plan available,
Focuses only on furniture.
Fotor
One more great option to create an online mood board is Fotor. This online maker gives you a variety of mood board templates and backgrounds to create an amazing board in just a few clicks. Moreover, it also has some AI features to enhance the images you use in your mood board.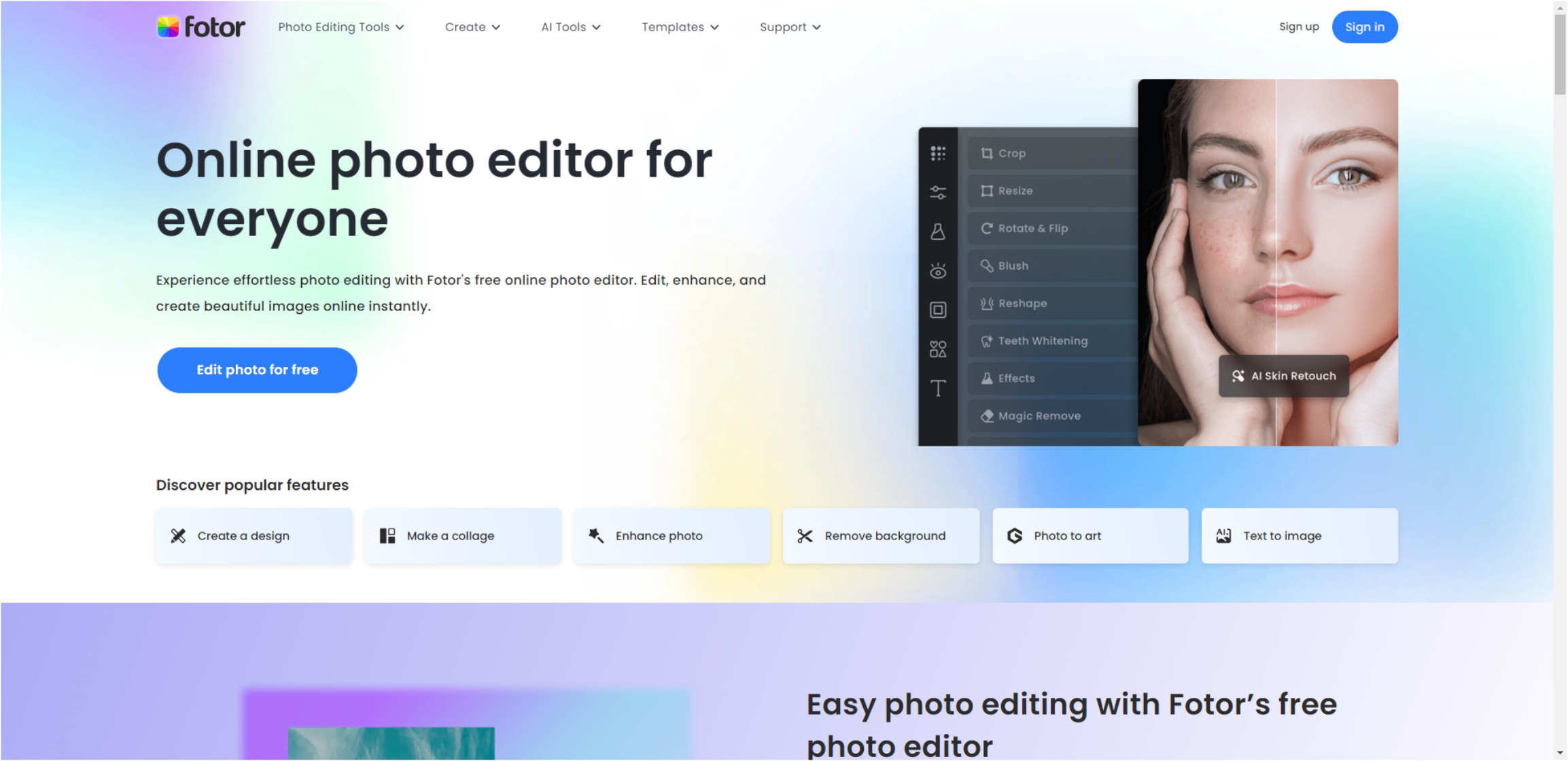 Pros
A variety of backgrounds for your mood board,
Android app available.
Cons
AI effects have a watermark in the free plan,
Exported images are not high resolution in the free plan.
Canva
Canva is one of the most well-known online tools for creating a mood board. It is an app that makes the designing process easier as it has a vast library of all sorts of templates. Therefore, you can also use it for your mood boards.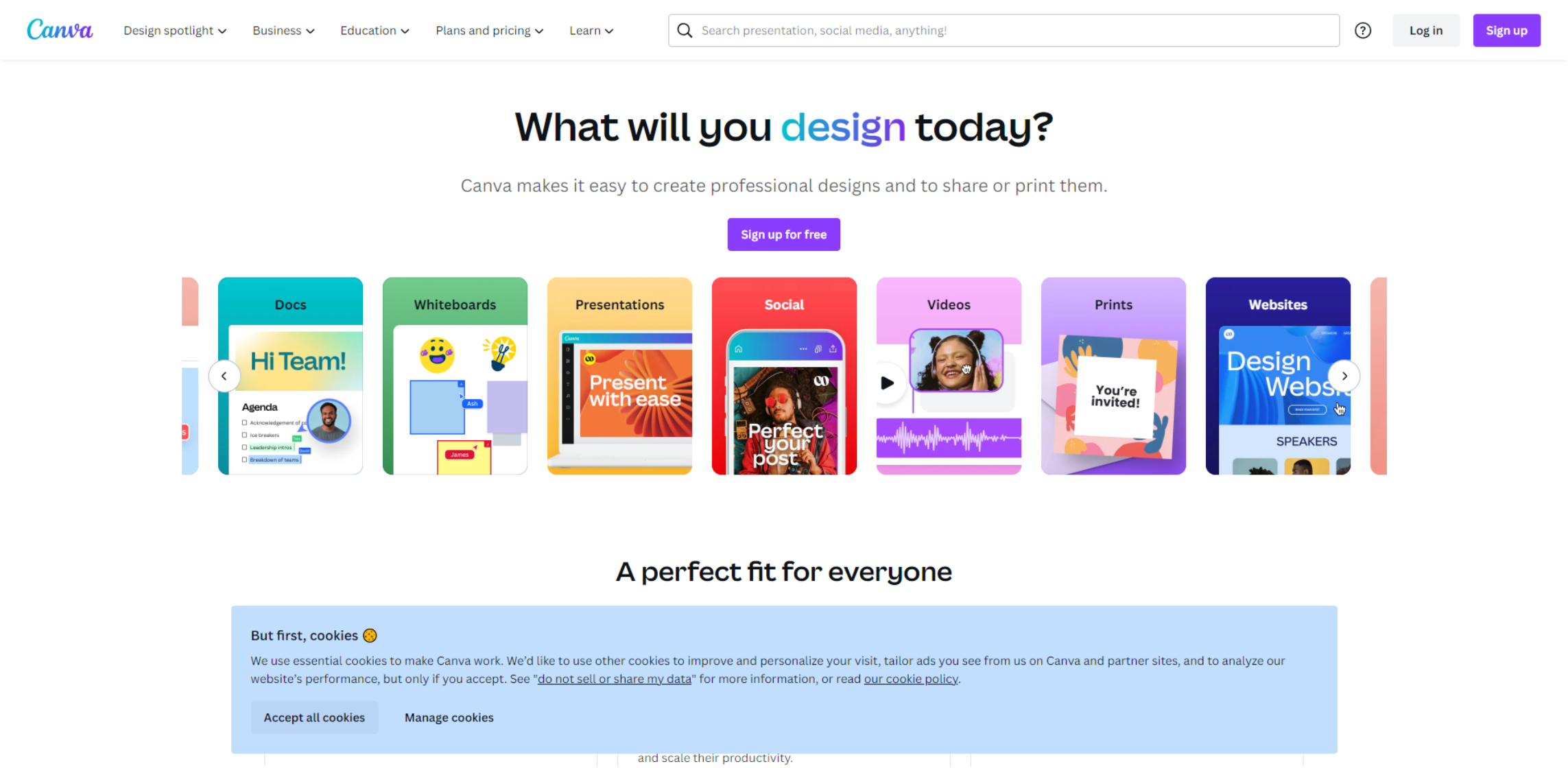 Pros
Very easy-to-use interface,
Drag-and-drop editor,
Rich library of templates,
Mobile app available.
Cons
Collaboration features only available in the paid plan,
One of the pricier options,
You cannot back up your projects.
Milanote
The final moodboard maker online that you need to try is Milanote. This is an online tool designed for the visual organization of your notes, and for this reason, it is perfect for creating mood boards.
Pros
Supports real-time collaboration,
Has a rich library of templates.
Cons
Very limited number of notes and images in the free plan,
An expensive option.
In Conclusion
Now you can start using the moodboard maker online of your choice to arrange your vision in a visually pleasing board. By taking advantage of Boardmix's features, you can create, edit, and share your online mood board in a matter of minutes. Create your new account for free to gain access to the tool's high-quality templates and start creating today!