Adidas has maintained its position as a prominent global sportswear brand for numerous years, characterized by substantial revenue and outstanding brand recognition. Originating from modest beginnings in a small German washroom during the early 1920s, the brand has consistently expanded and thrived throughout the decades.
One of the biggest reasons for the company's success is its simple but very effective business model. The Adidas business model canvas has definitely evolved, adjusting to the changing times and consumer needs. Today, we will take a look at the business model canvas Adidas is presently using and see how its elements contribute to the brand's success.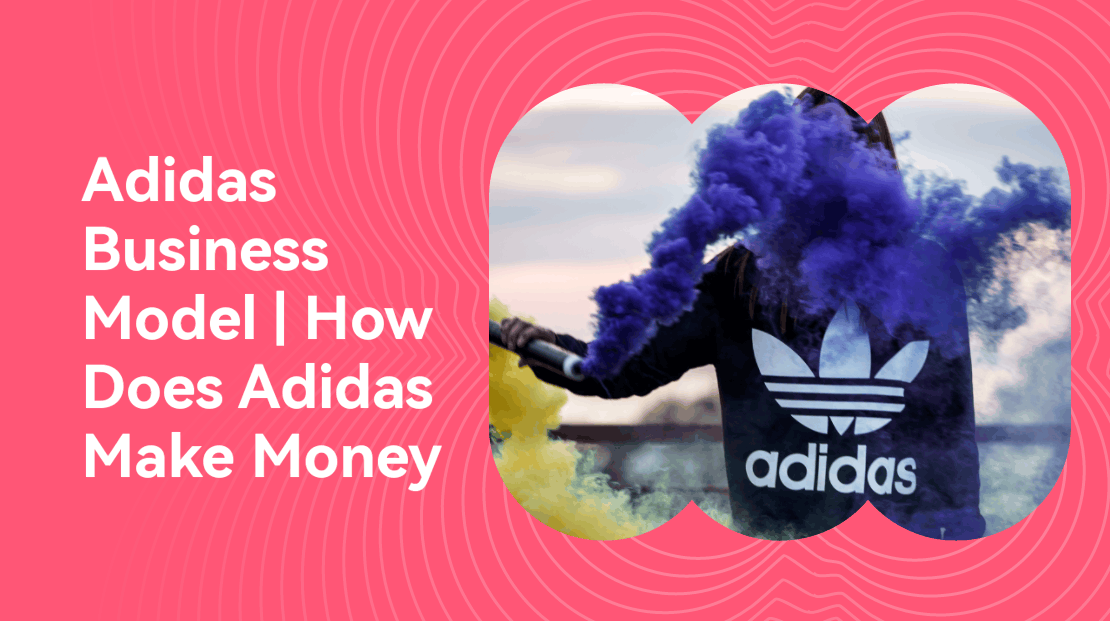 A Brief History of Adidas
Adolf "Adi" Dassler began tinkering with shoes in 1924 in his mother's kitchen. He was bent on the idea of providing top-quality sports equipment to athletes in order to boost their performance. He started a company called Gebrüder Dassler Schuhfabrik and was able to create gold medal-winning shoes, such as those worn by Lina Radke in 1928 and by Jesse Owens in 1936.
But it was only in 1949 that the Adidas brand was officially born. This time, Dassler started a new company called Adi Dassler Adidas Sportschuhfabrik in Herzogenaurach with 47 employees. This was also the time that the epic 3 Stripes Adidas logo was created. In 1954, Dassler's football boots propelled the German national football team to a World Cup victory, and with that, the brand became known around the world.
Today, the Adidas brand has a net worth of $34.66 billion. It certainly did not happen overnight, and the company had to overcome several challenges along the way before reaching this level of success.
Adidas Business Model Canvas
The Adidas business model is composed of multiple elements that are all vital for the company's goals of profit generation. By taking a close look at all these elements, we can fully understand just how the legendary company has grown from its humble origins to the global brand that it is today.
Business Model Canvas Adidas (Created in Boardmix)
The first step in our analysis is to create a visual representation of the Adidas business model canvas, which we did by using the template from Boardmix.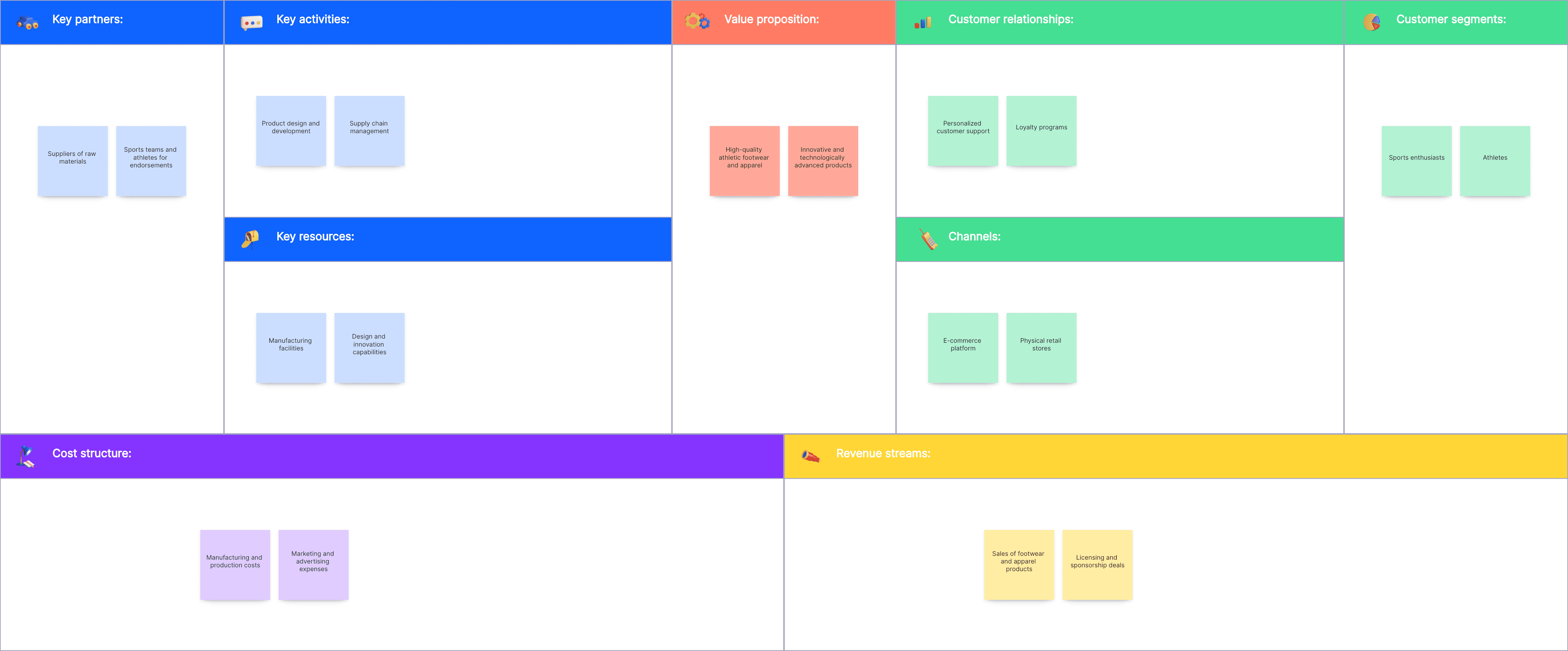 Value Propositions of Adidas
The value that Adidas delivers comes in the form of top-notch apparel and footwear that always feature innovative designs and quality materials that have become synonymous with the Adidas brand. All products that Adidas brings to the market are the result of strategic partnerships and collaboration with expert designers and renowned athletes.
Customer Segments of Adidas
While Adidas primarily specializes in sports apparel and footwear, its appeal extends beyond professional athletes and sports enthusiasts. The brand's enduring relevance is attributed to its ability to cater to a diverse customer base. In addition to athletes and sports enthusiasts, everyday individuals choose Adidas clothing and footwear for their exceptional comfort and style. Moreover, Adidas offers a product line tailored to youth and children, further solidifying its broad market reach and inclusive approach.
Key Partners of Adidas
Adidas relies heavily on independent contractors to whom they outsource the manufacturing side of the business. Hence, their biggest key partners are the more than 1,000 suppliers, most of which are located in Asia, that produce their lines of footwear and clothing. We can also see in the Adidas business model canvas that they also have long-standing partnerships with universities, athletes, and governments for the research and design of all their products.
Key Activities of Adidas
Adidas has only one major activity, and that is the design and development of its numerous products. But as you can imagine, and as the Adidas business model canvas shows, there are many key activities that are necessary to achieve this. It starts with product design, followed by marketing, promotion, supply chain management, and finally, customer engagement.
Customer Relationships of Adidas
Adidas maintains an excellent relationship with its customers by consistently delivering superior products. Basically, the relationship is of a self-service nature since there is no direct interaction between the company and the clients. However, they do provide outstanding customer service, both in their online and offline channels. Adidas also has loyalty programs that reward customers for purchases, encouraging them to keep coming back.
Key Resources of Adidas
Adidas is able to deliver consistently high value to its consumers with the help of several key resources that are vital to the operations of the company. As can be seen in the Adidas business model canvas, the list includes resources in research and development, manufacturing and distribution. Also among the valuable key resources of Adidas is its abundant intellectual property. This includes all the patents, design rights, and trademarks registered under the Adidas brand.
Channels of Adidas
In order to connect with customers and deliver value to them, Adidas makes use of a number of channels, led by their many retail stores worldwide. Currently, they have close to 2000 of their own retail outlets, spread across 160 countries. In addition, they also distribute products through thousands of sporting goods stores and other retail stores, to which they sell wholesale. Adidas also maintains an e-commerce platform that caters to customers from 58 countries.
As for promoting their products and maintaining an active connection with their customer base, Adidas has a very active online presence on various social media platforms, and also through partnerships with influencers.
Cost Structure of Adidas
With a highly value-driven business model canvas Adidas spends most heavily on creating top-quality products that will deliver the highest value to clients. This includes expenses on research and development, manufacturing and production, and warehousing and distribution. Other cost drivers as seen in the business model canvas Adidas follows are marketing, promotion, and advertising, as well as salaries and benefits of the workforce.
Revenue Streams of Adidas
Undoubtedly, product sales represent Adidas' primary source of revenue. In 2022, the company achieved remarkable success, with footwear sales contributing a staggering $13.2 billion, followed by $9.3 billion from apparel, and $1.6 billion in accessories and gear. Beyond these impressive figures, Adidas leverages additional revenue streams through licensing agreements and royalties. Moreover, strategic sponsorships with renowned athletes, teams, and celebrities play a pivotal role in driving sales, further bolstering the company's financial performance.
How Does Adidas Make Money
Analyzing the Adidas business model canvas and its constituent elements reveals that the primary revenue source for the company is the sale of its products. While Adidas operates some manufacturing facilities, the majority of production and manufacturing tasks are outsourced to independent suppliers, resulting in substantial cost savings. This efficient approach enables Adidas to maximize profits for each product sold, underlining its financial success in the market.
Adidas also has a very broad market base, which definitely helps drive more sales. Although their products are mostly designed for athletics, the style and comfort that they deliver make the apparel and footwear attractive even to non-sports enthusiasts. They have also been able to build a reputation around the brand that makes people want to be seen wearing Adidas, and this certainly propels sales even higher.
Key Takeaways
From very humble beginnings, Adidas was able to grow its business and overcome multiple obstacles along the way, ultimately securing a formidable place for itself in the global athletic footwear and sports apparel industry. Through constant innovation and painstaking research and development, they are able to continuously come up with new products that are relevant, up-to-date, and never lacking in terms of style and athletic performance.
Using the Boardmix Business Model Canvas Template, we were able to conduct a thorough and insightful analysis of the Adidas business model and discover exactly how they make money. And from everything that the company has done, Adidas is indeed an accurate embodiment of their own slogan: Impossible is Nothing.
References:
https://www.adidas-group.com/en/about/history/
https://w00931.wordpress.com/about/