There are a few flourishing enterprises worth reviewing, and the Airbnb business model canvas is one of them. The hospitality industry saw a big shift during the rise of this new lodging setup. Homeowners started renting their properties to travelers, providing comfortable accommodation at an attractive cost. Listing local homes for rent has never been as simple as the moment Airbnb came along.
The platform continues to make waves in the market as owners continue to innovate their offers. Read this full guide to the business model canvas of Airbnb. It's a great way to learn how this company managed to find success amid stiff competition!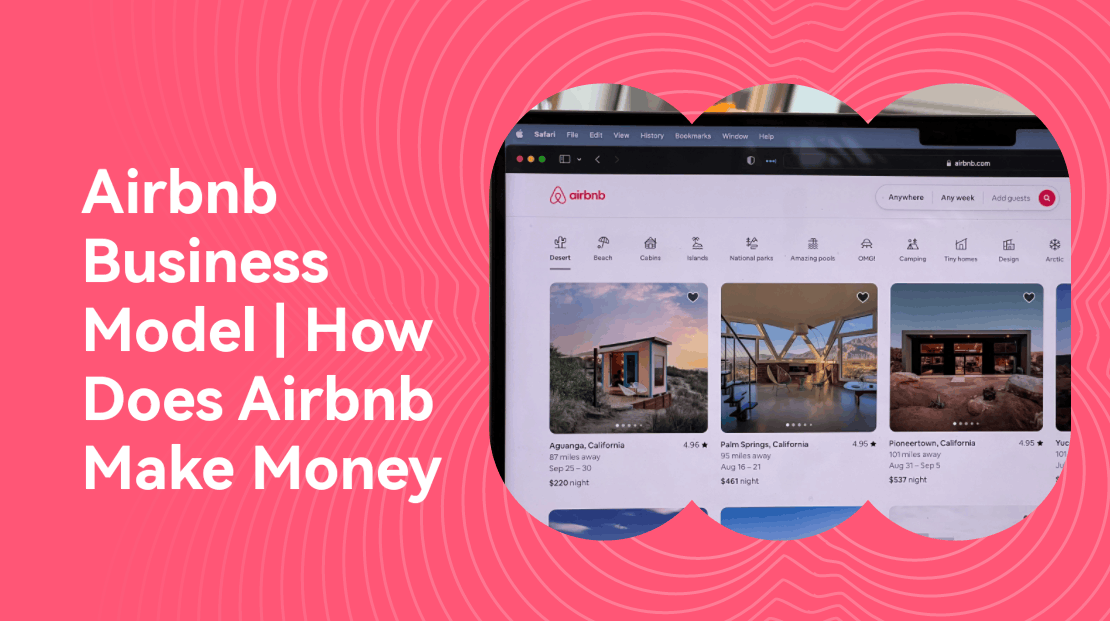 A Brief History of Airbnb
Airbnb sprung in 2008 as the brainchild of founders Joe Gebbia and Brian Chesky. It was simple: three air mattresses offered for rent on a simple website, with an inclusion of homemade breakfast. The reason? They were short on money for rent, so they decided to lease their mattresses for short-stay travelers in San Francisco.
It became clear to the founders that their idea had so much potential to generate income. Nathan Biecharczyk, Joe's former housemate with a computer science degree, later joined the small company. He helped transform the website into a comprehensive home-sharing platform among users. It launched just in time for the Democratic National Convention in Denver back in 2008.
Within a short while, Airbnb saw an increase in listings, which piqued the interest of venture capitalists. In 2009, the business adopted the name Airbnb and grew to become a massive platform targeted at homeowners and renters. The company introduced Airbnb Experiences in 2014, which allowed people to list tours and activities that enrich the tourist's journey.
Today, Airbnb is a hospitality services marketplace that offers not only accommodations but tourism experiences, too. It features a dedicated app for easy access, and a business structure that proves effective in the current market.
Airbnb Business Model Canvas
Airbnb's business model canvas serves as a comprehensive roadmap for its two-sided marketplace platform. Our Boardmix template provides a convenient and detailed framework that encapsulates crucial information about the brand. Referencing this canvas offers valuable insights into the inner workings of Airbnb, shedding light on its strategies, operations, and key success factors. It's a valuable resource for anyone looking to delve deeper into understanding how Airbnb has established itself as a global hospitality leader.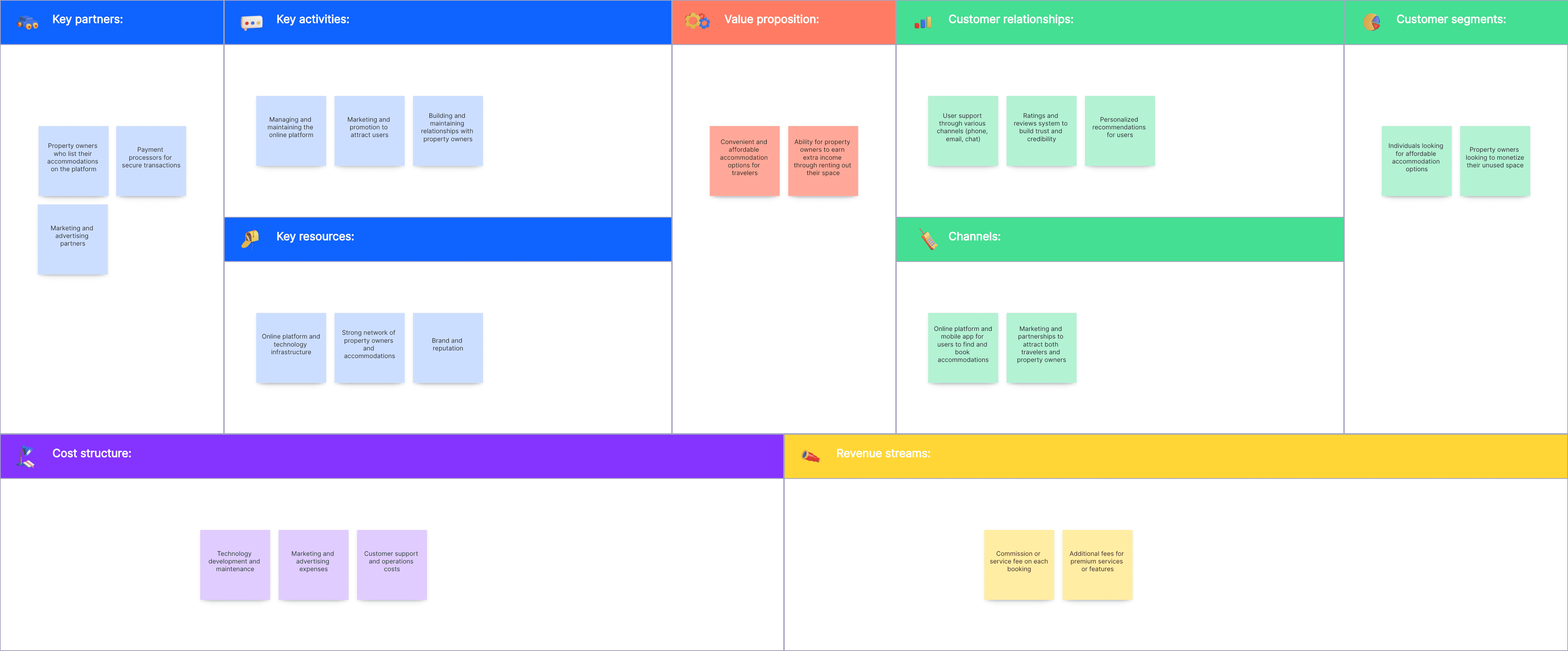 Value Proposition of Airbnb
Airbnb's two-sided framework makes it a unique platform in the hospitality industry. The brand partners with owners to list their spaces and renters to find a fitting accommodation. As such, Airbnb acts as the middleman that processes every transaction that happens on the platform.
The brand helps hosts list their property and make money through the site. They can control bookings and manage insurance in case of damage or accident. The owners can also check the traveler's profile to verify their identity.
For guests, the most vital value proposition of the Airbnb business model canvas is their potential savings on rent. Also, there is payment security with the company as an intermediary. Tourists can select a place that ticks all their preferences before booking. It provides an open channel of communication wherein both parties can directly talk about questions or concerns regarding the property.
Customer Segments of Airbnb
Airbnb operates a dual-purpose platform catering to two primary customer segments: hosts (property owners) and guests. With millions of listings spanning approximately 190 countries, the platform's extensive reach highlights its global prominence. The segmentation of customers occurs based on location, specific preferences, and unique experiential choices. To enhance the quality of listings, Airbnb employs professional photographers who capture high-quality images of the properties featured on the platform. This meticulous approach ensures that hosts and guests alike enjoy a diverse and visually appealing selection of accommodations, ultimately contributing to the company's widespread popularity and success in the hospitality industry.
Key Partners of Airbnb
The property hosts and guests are indispensable partners in the overall business model canvas of Airbnb. They provide daily traffic for the platform, with listings and booking transactions being completed at any given time. Freelance photographers are also a partner in establishing the image of the brand.
Corporate travel agencies and investors are among the key partners of the company as well. There are also insurance firms that work with the brand to provide security against property damage and accidents. Lastly, local communities play a huge role in attracting more customers to travel to their location.
Key Activities of Airbnb
The core function of Airbnb is a facilitator that handles transactions between guests and property owners. Their team deals with sales and marketing to expand activity within the platform. Developers work consistently to improve the platform as well as resolve technical issues that arise. To achieve customer satisfaction, there's a team that offers support, protects data, and manages risks, too.
Airbnb maintains its reputation by fulfilling agreements and forming strategic partnerships with hospitality stakeholders. The company introduces tourism campaigns and works with government entities to support local economies and communities.
Customer Relationships of Airbnb
Within Airbnb's business model canvas, the cultivation of customer relationships plays a pivotal role. The brand places a strong emphasis on fostering trust among its diverse clientele who engage within the marketplace. This commitment is manifest in the seamless communication facilitated between various customer segments. Airbnb provides continuous support, swift conflict resolution mechanisms, and personalized solutions tailored to the unique needs of each client. This customer-centric approach ensures that all users, whether hosts or guests, experience a high level of satisfaction and trust when transacting on the platform, ultimately contributing to Airbnb's enduring success in the sharing economy.
Key Resources of Airbnb
Airbnb's primary resources center around its dedicated mobile application and website, serving as the core infrastructure for its operations. Within this platform, key assets include the extensive listings and user-generated content, encompassing property descriptions, reviews, and assessments, collectively enhancing the brand's overall image and trustworthiness. Additionally, Airbnb relies on sophisticated search algorithms and a talented pool of human resources to efficiently match hosts and guests, ensuring a seamless and satisfying experience for users and contributing significantly to the company's success in the global sharing economy.
Channels of Airbnb
At its core, Airbnb relies on its platform and mobile application as the primary means of delivering services and connecting with customers. In addition to these channels, the Airbnb business model canvas strategically leverages social media as an effective avenue to reach its diverse clientele. Digital marketing initiatives play a significant role in the company's growth, contributing to its expansive global reach. However, Airbnb recognizes the enduring power of word-of-mouth recommendations and maintains a robust affiliate network, both of which are vital channels in enhancing brand recognition and fostering a sense of trust among users.
Cost Structure of Airbnb
The extensive use of technology by Airbnb involves substantial expenditures related to infrastructure and operational costs. The company continually invests in maintaining and enhancing its website and app, necessitating allocations for employee payroll. Additionally, the brand incurs expenses in hiring photographers to capture property images, a crucial component of its business model. These financial commitments are carefully managed within Airbnb's budget, reflecting its dedication to providing a seamless and visually appealing platform for both hosts and guests.
Revenue Streams of Airbnb
Airbnb's principal revenue streams revolve around its major partners, property hosts, and guests. The company generates income by charging a service fee for every transaction conducted through its dedicated marketplace. The fee structure is typically based on the value of the booking, providing Airbnb with a consistent source of revenue while facilitating seamless interactions between hosts and guests. This revenue model has been integral to Airbnb's financial success and sustained growth in the global hospitality industry.
How Does Airbnb Make Money?
Airbnb gets a commission for every successful booking on the platform. The company takes a fee from the host each time their property is selected. The amount is typically a percentage of the payment made by the renter. For hosts offering activities, the platform collects commission from every paid Airbnb Experiences transaction.
Every guest booking a property shoulder a service fee for the reservation. It is a per-room charge, and varies depending on the type of property, location, and other factors. The company may also include cleaning fees and extra guest fees if the renter decides to opt in on these options.
Airbnb has also introduced the Online Experiences Platform wherein clients can virtually experience events. The platform charges a participant for each session, and the money collected is shared by the host and company.
Key Takeaways
The Airbnb business model canvas is a fitting roadmap for this line of business. It has come a long way from simply renting out mattresses to being one of the biggest home-sharing sites today. The brand continues its successful streak by satisfying its major stakeholders through platform development and outstanding customer service.
Hospitality businesses are always in competition, but not many firms like Airbnb can say that their framework is unique. In the years to come, the company is poised to dominate the market as new platform features are introduced.
Interested in delving deeper into Airbnb's business model? Our Boardmix template provides a comprehensive overview of how this thriving company operates. With a wealth of insights to uncover, the journey begins by using our productivity platform today! Unlock the intricacies of Airbnb's success and gain valuable knowledge to apply to your own ventures.
References:
https://appinventiv.com/blog/airbnbs-business-model-and-revenue-source/
https://thestrategystory.com/2022/03/29/how-does-airbnb-make-money-business-model/
https://fourweekmba.com/airbnb-business-model/
https://bmtoolbox.net/stories/airbnb/
https://businessmodelanalyst.com/airbnb-business-model/#A_brief_history_of_Airbnb
https://www.investopedia.com/articles/investing/112414/how-airbnb-makes-money.asp
https://bstrategyhub.com/airbnb-business-model-how-does-airbnb-make-money/