Amazon is referred to as 'the everything store.' Everyone agrees that whatever you need, you can count on Amazon to have those goods available. The company works with a complex and diverse ecosystem that comprises thousands of sellers and millions of buyers. With this, it is fitting to visit the Amazon business model canvas to understand the e-commerce giant's business processes.
Amazon also offers other services apart from its online shopping platform. Thanks to its efficient strategic planning initiatives, it has grown so much since it started. This will be an excellent reference if you expand to a broader market to reach a diverse customer base. Continue to learn more about Amazon's business model and how it segmentizes essential elements into its workflow.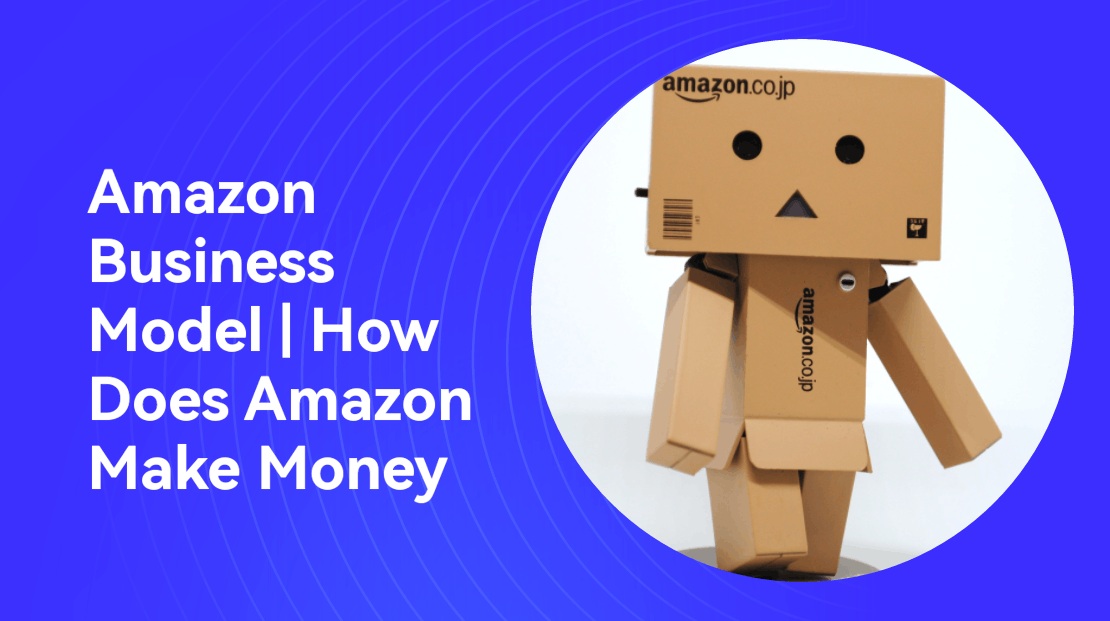 A Brief History of Amazon
The company was first started in 1994 by Jeff Bezos. He is a visionary who saw the potential of e-commerce platforms and the internet. Before it became Amazon, the company was about to be called 'Cadabra,' but his lawyer advised him that the name could be seen as somewhat obscure.
Once the name was settled, the most logical Bezos could think of was to sell books. Amazon was once a digital bookstore. It was when less than 1% of the world population had access to internet connections. While most have yet to realize the power of the internet and technology, Amazon and Bezos reached 180,000 accounts during its first year. The website Amazon.com was considered a public company in May 1997.
The company quickly expanded to selling houseware, toys, video games, videos, music, electronics, software, and more. In 2001, it started to accommodate individuals and small companies to market their products through the platform. Fast forward to today, the company has evolved to be the largest retail online platform. Most importantly, it provides online shopping services and solutions to a vast customer base in North America and other parts of the world.
Amazon Business Model Canvas
Truly, Amazon has come a long way from being a simple e-commerce company to a multi-million dollar company. When looking at the Amazon business model canvas today, you will see that it involves integrating different units within the overall process. The company might deal with multiple industries, but the core business model canvas of Amazon focuses on the e-commerce market platform.
The following segments below are what comprise the Amazon business model canvas: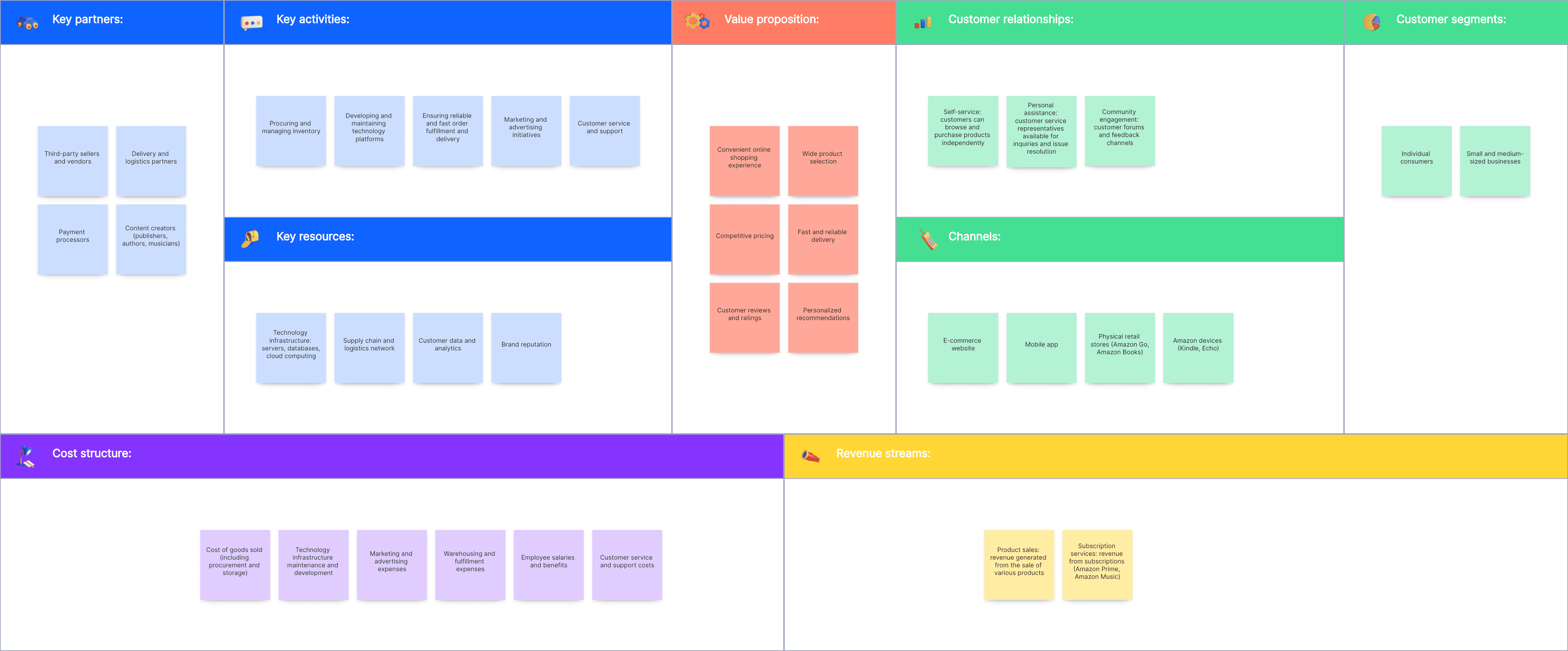 Value Propositions of Amazon
Amazon's value propositions encompass two primary components: e-commerce and Amazon Web Services (AWS). Within this extensive platform, three key best practices are paramount to the company's continued success. Amazon excels in providing cost-effective and competitively priced products, lightning-fast delivery services, and an unparalleled selection of products spanning various categories. Examining these consumer-centric benefits, it becomes evident that Amazon's overarching value proposition is centered on convenience. With a reliable internet connection, customers gain effortless access to Amazon's extensive product portfolio, characterized by reasonable pricing, secure transactions, and the assurance of swift and reliable delivery services. This commitment to convenience is a hallmark of Amazon's success in the e-commerce and cloud computing industries.
Customer Segments of Amazon
Amazon, primarily an e-commerce giant, boasts a vast and diverse customer base. At the forefront are its retail clients, numbering in the millions across the globe. These individuals actively seek and purchase an array of services and products through Amazon's extensive channels. In turn, Amazon employs sophisticated customer segmentation strategies, leveraging data on customer engagement, interests, and other personal information to tailor the shopping experience.
A crucial customer segment within the Amazon business model canvas comprises business clients. These encompass a wide spectrum of companies and sellers utilizing Amazon's e-commerce platform to showcase and distribute their products to a broader and more diversified audience. By serving as a conduit for these businesses, Amazon plays a pivotal role in expanding their reach and driving their growth in the competitive online marketplace.
Key Partners of Amazon
The business model canvas of Amazon works with several partners and external stakeholders to deliver the best possible service to every customer. This includes the shipping companies. As the company expands the network of global sellers it works with, the scope of shipping logistics will also change. This means Amazon works with couriers within the US and other regions and countries. The efficiency of shipping companies will also affect one of its value propositions: fast delivery. Most importantly, a reliable shipping company affects the overall customer experience.
Suppliers or the major retail companies are one of the reasons why Amazon is still running up to this day. These companies include Nike, Dell, Adidas, and other brands that customers can see when browsing through Amazon. Various authors allow their books to be displayed and bought through Amazon. The company relies heavily on them to provide diversity and range on the platform's product portfolio.
Key Activities of Amazon
A quick fulfillment process is considered one of Amazon's key activities. Based on the business model canvas of Amazon, it must ensure the efficiency and timely processing of production. However, the production process generally depends on the product sellers as some products must be pre-ordered, so there might be delays in the fulfillment process.
At the same time, shipping companies must ensure timely deliveries and a straightforward shipping system. Also, research and development are necessary for Amazon with the rising e-commerce companies today. While Amazon has solidified its position as one of the top go-to online shopping sites, it also has to ensure it keeps improving its services to maintain its success. Some initiatives may include keeping its interface user-friendly and accessible.
Customer Relationships of Amazon
It is no secret that Amazon's success lies heavily on its suppliers and sellers. However, one can't also discredit the contribution of its customers. After all, these suppliers exist because customers consume the services and products offered within the platform. With this, Amazon must keep a healthy and good relationship with its customers by practicing the best fulfillment systems and having the 'customer first' service mindset.
Amazon also keeps communication channels open. It has a phone number available 24/7 and live chat support for those who prefer to resolve their issues through chat. Besides issue resolutions, these customer support channels are also ways to build ties with Amazon clients.
Key Resources of Amazon
One of the common elements usually mentioned in the business model canvas of Amazon is the shipping services and companies. True enough, it is Amazon's vital resource; with them, there will be efficient fulfillment processes. Amazon partners with local couriers, USPS, FedEx, and other shipping providers to complete the delivery errands.
Amazon also relies on warehouses and fulfillment centers for packages that must be transported to other states, regions, or countries. Usually, these deliveries would take days, some even months, to be fulfilled. Most importantly, Amazon is an e-commerce company with servers for its AWS and cloud services.
Channels of Amazon
Amazon's website is undoubtedly its most significant channel. However, it also utilizes other platforms to market the company. With Amazon being an internet-based business, the marketing strategies are generally digital, including advertisements, email marketing, and sponsored publications, to name a few.
Amazon uses other channels for more visibility, including its global distribution channels, retailers, and customer service initiatives.
Cost Structure of Amazon
The cost of sales occupies the highest among Amazon's expenses. Here are other areas where the majority of Amazon's expenses go to the following aspects of its processes:
Well-scaled and efficient fulfillment outlets
Capital investment
AWS service maintenance
Stocking products
Revenue Streams of Amazon
With how broad the Amazon Company is, one can expect more revenue sources. Look closely at the elements below.
Retail e-commerce sales. As an e-commerce business, Amazon sells products on its platform. A significant percentage of the company's revenue comes from its product sales.
Subscription services. These are membership services that give Amazon customers exclusive perks. The company offers unlimited, free, and fast deliveries for those with prime subscriptions. Prime Video allows subscribers to stream the latest films and TV shows, and Prime Music for add-free music and unlimited offline downloads.
Amazon also earns from advertising services to vendors, sellers, publishers, and authors, to name a few. It is generally done through display, video advertising, and sponsored ads. There is also a listing fee, which starts at 2% of the product price imposed on third-party vendors wanting to list their products on the Amazon website.
Amazon Web Services accounts for approximately 13% of the company's revenue during the second quarter of 2021. The AWS offers storage, servers, networking, mobile development, email, remote computing, and security.
How Does Amazon Make Money?
Amazon's primary source of revenue is retail. However, as you can see from the list above, the company has expanded since its founding and has been offering other services from which it can generate sales. Looking at the Amazon business model canvas, you'd know that the company has maximized technology and the power of the internet to keep its revenue growing.
The company has placed itself as one of the top companies in the world in terms of market value. In January 2023, Amazon recorded a market capitalization of about $1 trillion. During the third quarter of 2022, it had a net income of $2.9 billion.
Another interesting thing that Amazon does is that it operates in three segments. The North American and International segments receive revenue from retail stores worldwide where the platform is accessible. As you already know, the company also makes money from subscriptions and various export sales from specific areas.
The North American segment has the highest net sales, with about $78.8 billion, an increase of 20% from the previous year, comprising approximately 62% of Amazon's net sales for the specific quarter.
Finally, Amazon Web Services, launched in 2006, also generates sales for the company. It provides cloud solutions like hosting websites and applications, offering enterprise IT and content delivery. In the third quarter of its 2022 FY, the AWS created had a net sales of about $20.5 billion. While its net sales are relatively lower for the North American and International segments, the AWS operating income is significantly higher. Technology will evolve as years pass, and Amazon customers can expect innovations in the company's services in the future.
Key Takeaways
The Amazon business model canvas surely is a complex one. Surely, it is understandable as the company caters to various market segments and provides services for its target customers. Regardless of its complexity, the business model is comprehensive enough for any audience to understand Amazon. In fact, from the diagram, many would discover that Amazon is more than just an e-commerce business as it also provides services besides online shopping.
Amazon is a huge entity, and it might be overwhelming to look into its business model while mapping out your diagram. However, remember that its business model is an excellent reference, and you might get helpful insights for your company. Learning that Amazon started from being a digital bookstore to transforming its business and expanding the customer base globally is enough inspiration to develop a well-structured business model.
A diagramming software is a helpful tool to create a business model. Since it's online, you can access it, given that you have a reliable internet connection. Most companies utilize this approach as it also promotes better collaboration. With Boardmix, you only need an account to access hundreds of templates from its library, including the business model canvas template. Users can customize a pre-designed diagram for a more personalized touch. Boardmix lets you change the template's color shapes and add special characters like stickers and images. A unique link lets you easily share the business model with your team. All your diagrams will be saved in one workspace to revisit them when you need to revise them.
References:
https://www.feedough.com/amazon-business-model/
https://www.digitalbizmodels.com/blog/amazon-business-model-canvas#revenue
https://businessmodelanalyst.com/amazon-business-model/