How does the Apple business model canvas continue to find success in the market? One of the world's most popular brands, Apple dominates the tech industry with its top-quality products and software. Users choose to upgrade their iOS-powered devices year after year thanks to the company's effective marketing and production tactics. This article reviews the inner workings of the Apple business model.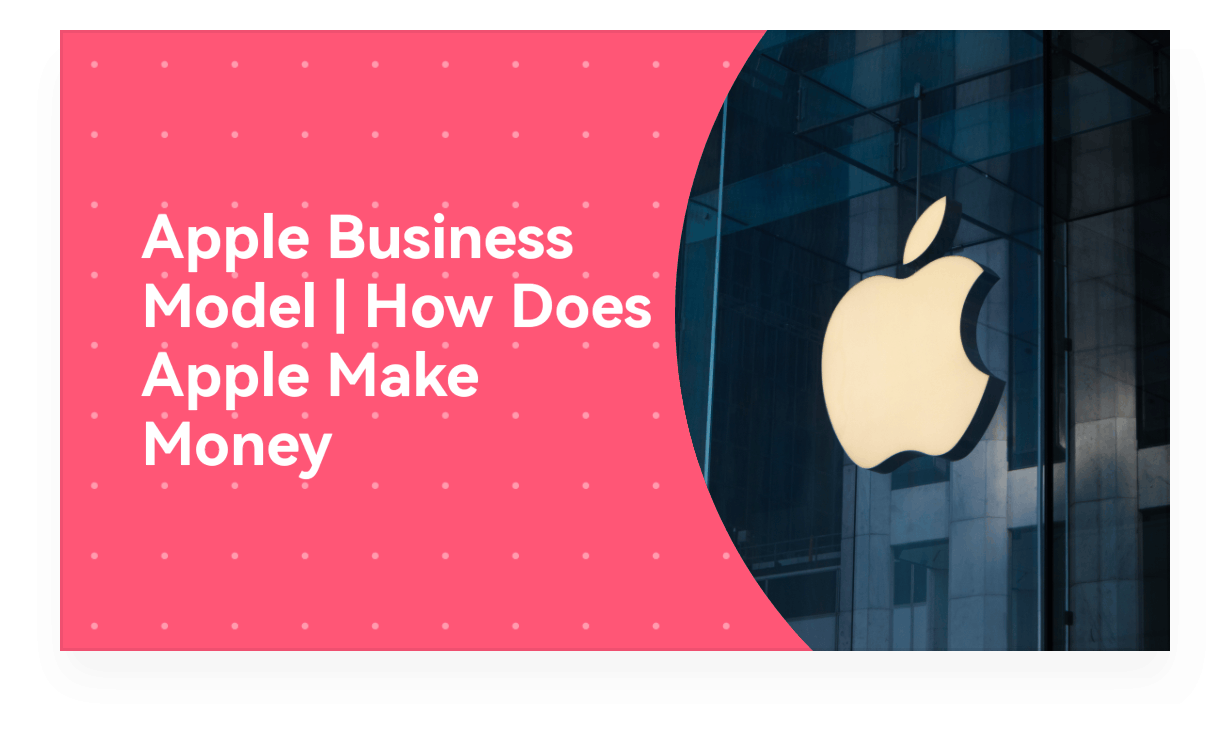 A Brief History of Apple
Apple founders Steve Jobs and Steve Wozniak officially launched the brand on April 1, 1976. The partnership of the two college dropouts brought forth sweeping ideas to motion. Working from Job's garage, the pair aimed to create computers that didn't take up much space in homes and offices. They introduced the hand-built Apple I computer as their first product, featuring only hardware modules.
Jobs and Wozniak later presented the Apple II in 1977, shifting to a fully assembled personal computer. It retailed for $1,298 during release and featured a redesigned TV interface that displayed simple text and graphics. It bested some of that year's competition and became a bestseller in the tech industry. They opened the product to the public and amassed a whopping $118 million in 1980.
Wozniak left the company in 1983, followed by Jobs in 1985 after an attempted coup against then-president John Sculley. However, Steve Jobs bought back Apple in 1997 to save the brand's dropping market shares. His revolutionary tactics improved the numbers, eventually paving the way for the first iPhone to be introduced in 2007.
The Apple business model canvas stayed unbeatable through it all, allowing the company to reach the trillion-dollar mark in 2018. iOS devices and software became a household name, doubling its market cap in 2020. Today, aspiring businesses can take pointers from the highly successful Apple business model.
Apple Business Model Canvas
Apple Inc. is a world-renowned technology company that delivers creative and aptly differentiated products for a global audience. The business model utilizes an effective framework, ensuring that the brand maintains its reputation as an industry leader.
This section presents the canvas for Apple's business model created using the Boardmix productivity platform.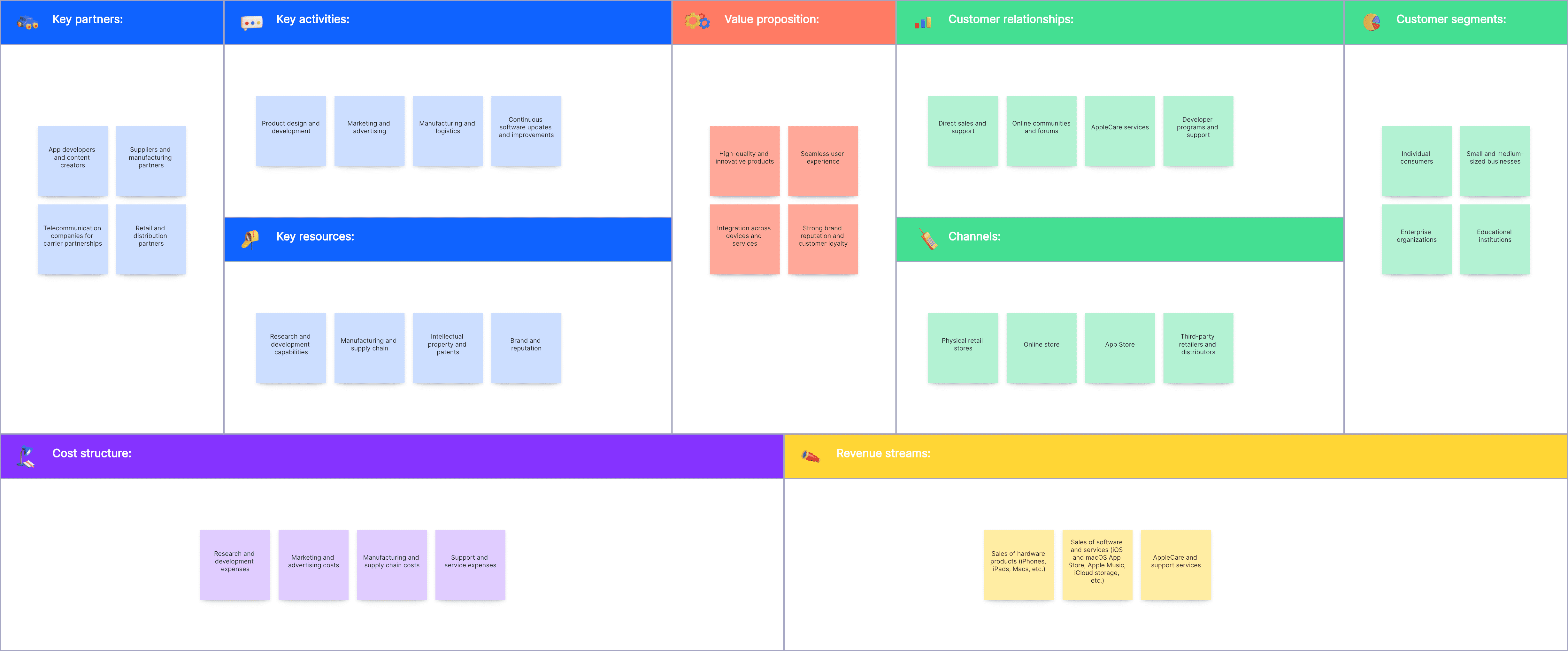 Value Proposition of Apple
The brand's value proposition lies heavily in design, branding, and innovation. Banking on creativity, the brand sets its products and services apart using aesthetics, advanced technology, and user experience. The build quality and sleek appearance of the iPhone, for example, makes the device recognizable in an instant. Additionally, the superior interface makes the gadget suitable for people of all ages.
In terms of the hardware to software to services ecosystem, Apple manages to provide seamless integration across all these aspects. As a result, the user can switch between devices without losing their work or progress. Adding to its strengths is the user-friendly operating system, iOS. It's intuitive and easy to navigate, which helps customers manage their usage effectively.
Customer Segments of Apple
The diverse clientele of the brand is a testament to the effectiveness of the Apple business model canvas. Its customer segment primarily consists of product buyers and service subscribers who utilize Apple TV, iCloud, and other products. There are also product developers looking to monetize their creations using the platform.
Key Partners of Apple
At the core of Apple's business model lie crucial partnerships that uphold the brand's impeccable standards and product quality. Key collaborators encompass suppliers and manufacturers who meticulously provide and assemble components. Additionally, strategic alliances with content providers are integral to ensuring users access the exceptional service and quality they expect. These symbiotic relationships underpin Apple's commitment to delivering top-tier products and experiences to its global customer base.
Key Activities of Apple
Apple focuses on several key activities that boost business performance, including design, development, and manufacturing. The company invests significantly in research and development (R&D) to leverage new and up-and-coming technologies. The engineering and production teams collaborate to create seamless products that meet customer expectations and needs.
In addition, Apple strengthens its marketing efforts by implementing strong branding tactics. The market is always abuzz with the company's latest products. With a global network of distributors, the brand is a household name in all parts of the world.
Customer Relationships of Apple
The brand sells billions of devices, making it a mass-market provider in the tech industry. Its customer relations teams cater to consumers through various avenues like social media and the official website. It also maintains a loyal customer base by offering services via the Apple Store and a robust reward system.
Key Resources of Apple
Apple's supply chain enables a more streamlined production scaling, with different teams working seamlessly to create high-standard products. Besides its strong brand image, Apple also banks on its pool of engineering and design talents. Additionally, the company has a healthy portfolio of trademarks and patents that boost the value of the brand.
Channels of Apple
Apple's business model encompasses a diverse array of distribution channels to cater to its extensive customer base. Boasting over 500 retail stores worldwide, customers have the opportunity to experience and test devices firsthand before making their purchase decisions. This brick-and-mortar presence complements its robust online presence, ensuring accessibility and convenience for consumers.
The company also has an excellent e-commerce platform that enables customers to select pick-up or home delivery for their purchases. Lastly, the brand enlists authorized carriers and sellers to make Apple products widely available for different types of customers.
Cost Structure of Apple
It's a known fact that the Apple business model canvas relies heavily on R&D. As such, it incurs a huge expense in this aspect, including marketing and advertising. However, despite this heavy investment, the company has a commendable supply chain management. Its efficiency, strong branding, and product pricing allow Apple to offset costs effectively.
As of 2022, the company has over 160,000 employees, which means salaries take a significant cut of the expenditures. The company also pays for platform maintenance and payment processing fees, ensuring ease and convenience for customers.
Revenue Streams of Apple
Apple Inc.'s primary revenue stream predominantly derives from product sales, notably the iconic iPhone, iPad, Apple Watch, Mac, and an array of innovative devices. In tandem with its hardware offerings, the brand provides an array of complementary services, encompassing Apple Music and the seamless convenience of Apple Pay.
Beyond these core channels, Apple enjoys supplementary income from royalties stemming from its rich reservoir of intellectual properties. Additionally, the sale of accessories and peripherals, including chargers and cables, contributes significantly to the company's diverse revenue portfolio. This multifaceted approach underscores Apple's robust financial ecosystem.
How Does Apple Make Money?
The Apple business model reveals the brand's dedication to designing and innovating products and services for a diverse clientele. The company understands customer expectations and needs and answers every demand effectively. In return, Apple loyalists continue to patronize their devices, accessories, and software year after year.
Apple's strong value proposition paired with a deep understanding of its customer segments helps the company generate a sizable revenue. On top of the price tag on products and services, the company makes money off device care like warranties. Customers are willing to add a few more dollars to acquire brand-recommended apps and third-party accessories.
With respect to gross margin, subscription services take the highest revenue across all channels. However, the most profitable source is understandably the product sales.
Key Takeaways
The Apple business model canvas is highly successful, and it can be attributed to the company's emphasis on design, innovation, and optimized user experience. The company leads the market with its strong branding, backed by the guaranteed quality of products and services.
Apple has a streamlined supply chain and a network of stakeholders that provide expertise and resources. As a result, the brand continues to dominate the tech industry in different parts of the world. Since its inception, the brand managed to stay on top and generate significant revenue by selling top-notch products and services. Overall, Apple has a framework worth emulating.
You can get an in-depth view of the Apple business model canvas when you use the Boardmix platform. The productivity app provides outstanding insight regarding the tech powerhouse, which you can take inspiration from for your project. Get the Boardmix application and find the canvas template without hassle!
References:
https://worktheater.com/explaining-the-apple-business-model/
https://businessmodelanalyst.com/apple-business-model/#Apple%E2%80%99s_Customer_Relationships