Most people with access to computers and the internet must have used at least one of Microsoft's products. It is a given as the company is one of the largest tech companies in the world. Microsoft started as a small company before conquering a massive customer base worldwide like any other company. It might even surprise some to know that the company created its first product when the internet and computers were not yet widespread.
Microsoft opened opportunities for other companies to explore technological advancements to create innovative products and services. It is right to look closely at the Microsoft business model canvas to understand better how the company markets its products to generate millions of revenues.
Continue reading this article to learn more about this giant company and its strategies to keep its position as a leading provider of software solutions despite tight competition.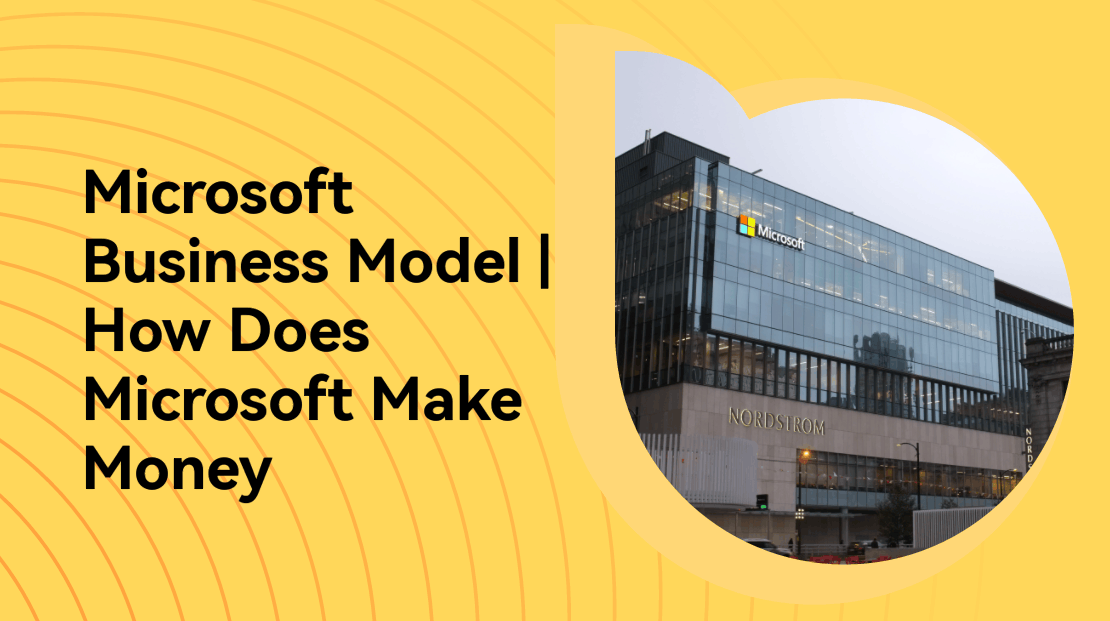 A Brief History of Microsoft
Bill Gates and Paul Allen spearheaded Microsoft in 1975. During this time, computers were nothing like the ones you see today, and the internet was a relatively strange network and was limited to academic institutions. However, they decided to create something that seemed like an operating system for a microcomputer named Altair 8800.
Years passed, and most computers have used the same operating system. However, Microsoft's turning point happened when they introduced Windows to the market, which they considered an innovative interface. Microsoft entered the stock market in 1986, which paved the way for the company to build its empire of computer operating systems.
Microsoft Business Model Canvas
The Microsoft business model canvas involves distribution, sales, and system and software solution services support. However, its business model diagram can also be complex as it has introduced new products and services to its target markets. Here is how the Microsoft business model canvas looks.
Value Propositions of Microsoft
Microsoft provides its target customers with operating systems like Windows and a productivity suite through Office. The software aims to improve personal and corporate communications and productivity. Microsoft's productivity suite is also available to commercial entities through licenses and individual users. It works by charging subscription fees for accessing specific Microsoft tools.
Cloud services is another division of Microsoft that generates revenues for the company. They offer public, private, and hybrid servers. Microsoft's business partners can also use storage and cloud computing services. Those using the company's products know that its cloud services include Windows Server, Microsoft Azure, Enterprise Services, SQL Server, and GitHub.
Customer Segments of Microsoft
Generally, Microsoft's customer segments are divided into two categories - the consumers and enterprise. Most businesses now need productivity tools for an efficient workflow. This is where Microsoft's productivity suites come in. Furthermore, the company's server management, consulting services, and IT support are essential for this customer segment.
Microsoft caters to the general customers. Its consumers generally utilize all its standard solutions, including Skype, Outlook, Office, cloud, and more.
Key Partners of Microsoft
There is only one significant partner under the Microsoft business model canvas: the company's app developers. Besides them, the company also partners with companies providing data management, analytics, digital marketing and advertising, telecommunications, system integration, and internet hosting services. All these external stakeholders ensure Microsoft's software and product solution works perfectly for every consumer.
Key Activities of Microsoft
Microsoft is a tech company, so it is just fitting that one of its key activities includes software development. The company might be a giant in the industry. However, competition is still challenging, so its R&D team must also ensure that innovative Microsoft products and services provide customers with the latest technological updates. Along with it are the company's marketing efforts to ensure Microsoft stays at the top, regardless of competition, generating sales and revenue.
Customer Relationships of Microsoft
Microsoft gives its consumers the freedom to navigate software and hardware products. They don't have much personal staff interaction as most of its products are self-service. Meanwhile, corporate services and products need personal assistance from Microsoft teams and representatives, especially regarding support, advertising, and consulting. The company's social media accounts on Twitter and Facebook are also used to interact with Microsoft customers directly.
Key Resources of Microsoft
The Microsoft business model canvas encompasses essential key resources, with a focus on the company's expansive user base and its proprietary software products. Given Microsoft's diverse customer base and wide-ranging market segments, it's reasonable to anticipate additional key resources and inputs that contribute to the company's overall success and innovation. These resources collectively support Microsoft's position as a global technology leader.
Channels of Microsoft
Microsoft employs multiple distribution channels to market its products, encompassing retailers, the official Microsoft website, OEMs (Original Equipment Manufacturers), and direct sales and resellers. These channels play a vital role in ensuring the accessibility of Microsoft's offerings to its target customers. Through strategic partnerships and marketing efforts, Microsoft products reach a wide audience, further contributing to the company's success.
Cost Structure of Microsoft
As previously mentioned, Microsoft must innovate its services. This is why one of its significant expenses goes to software and development. A considerable cost is also spent on cloud infrastructure and workforce. Besides the productivity tools, Microsoft also offers intelligent cloud services, which are essential for customers using other Microsoft tools. Of course, people are behind all these processes; hence, the company also provides a budget for its human resources.
Revenue Streams of Microsoft
Microsoft generates significant revenue by licensing its Windows operating systems and productivity tools. Licensing fees serve as one of the company's primary income sources. Furthermore, subscriptions play a pivotal role in driving sales and revenue for Microsoft. The combination of licensing and subscription-based models ensures a steady income stream for the company.
How Does Microsoft Make Money?
The Microsoft business model canvas enables the company's alignment of strategies and goals across various segments and processes. Microsoft provides a structure for a rational and timely allocation of essential resources within the company.
Microsoft is making money through business and productivity processes, which comprise the company's communication, productivity, and information services, accommodating a vast range of platforms and devices. In 2021, this segment generated $63.4 billion in revenue. It comprises Office Commercial, Office Consumer, LinkedIn, and Dynamics 365.
The other segment where Microsoft gets considerable revenue is its Intelligent Cloud, which contributes about $75.2 billion. The services in this segment include cloud services and server products, Enterprise Support Services, Nuance professional services, and Microsoft Consulting Services.
Finally, the third segment is More Personal Computing, which puts Microsoft consumers at the center of using its services. It generated approximately $59.7 billion in revenue for the company in 2021. Some products offered under this segment include Windows OEM licensing, PC accessories, Surface, XBox content, services, and hardware.
Key Takeaways
It's fascinating how the creators of Microsoft perceived that the company would be this big. Remember that the company and its first product were made when only a few people knew about the internet and computers. Microsoft indeed created innovative technological solutions so the newer generations can maximize technology advancements. This time, the competition is more challenging, with various innovators introducing newer products and services to similar target markets with Microsoft. However, the Microsoft business model canvas allowed the company to align its strategies designed to fulfill company goals.
It's also the same for your company and other businesses. A business model is an essential visual tool to see the necessary segments and processes to achieve business goals. While your business model might not be as diverse as Microsoft's, you can still get insights and inspiration from it.
As you structure your diagram, maximizing online diagramming tools like Boardmix is best. It's accessible; you only need to create an account to map your business mode. In fact, Boardmix provides a pre-designed business model canvas template, so you need not start from scratch. Check the template through this link and customize its colors and shapes. You can include images and stickers if necessary. Your workspace lets you share the business model canvas template with your team and colleagues remotely. Besides the viewing access, the creator can authorize someone to edit the template. This makes collaboration more efficient and innovative.
References:
https://finty.com/us/business-models/microsoft/
https://thestrategystory.com/2023/02/02/how-does-microsoft-make-money-business-model-strategy/