When it comes to athletic shoes, sports apparel, and related products, Nike stands out as one of the foremost brands that readily comes to mind. While numerous factors have fueled the company's success, a standout reason behind Nike's enduring market dominance is its meticulously designed business model.
In this article, we will delve deeper into the components of Nike's business model and grasp its pivotal role in propelling the company to the zenith of success.
A Brief History of Nike
When you think of athletic footwear and sports apparel, the Nike brand would immediately come to mind. Named after the Greek goddess of victory, the company was originally called Blue Ribbon Sports when it was born in 1964. Its founders were track athlete Phil Knight from the University of Oregon, and his coach Bill Bowerman.
At the time, they were just a distributor of Onitsuka Tiger, a popular Japanese shoe brand. They sold over 1300 pairs of shoes in the first year, and business rapidly grew. In 1971, BRS and Onitsuka Tiger had a falling out after the Japanese company attempted a buy-out. This led BRS to create its own footwear line. It was also during this time that the company was officially renamed as Nike, and the world-renowned Swoosh logo was born.
During their first year in business, Nike earned approximately $8000 in sales. Today, the brand has a net value of $191.79 billion and has retail outlets in 170 countries. Based on trends from the last few years, there is no doubt that the company's net worth will continue to grow in the years to come.
Nike Business Model Canvas
The Nike business model clearly demonstrates how the company makes money. It begins by creating value for its target consumers and then proceeds with describing how to deliver this value to the buying public in the form of products and services. The business model comprises numerous vital elements, all of which contribute to the company's triumph, ranging from value propositions to revenue streams, and much more. We will closely examine each of these elements shortly.
Nike Business Model Canvas as Created in Boardmix
It is much easier to analyze the Nike business model if it is laid out in a clear and organized manner, just like in the example below. This Nike business model canvas was created using Boardmix, and gives us a better perspective for our evaluation.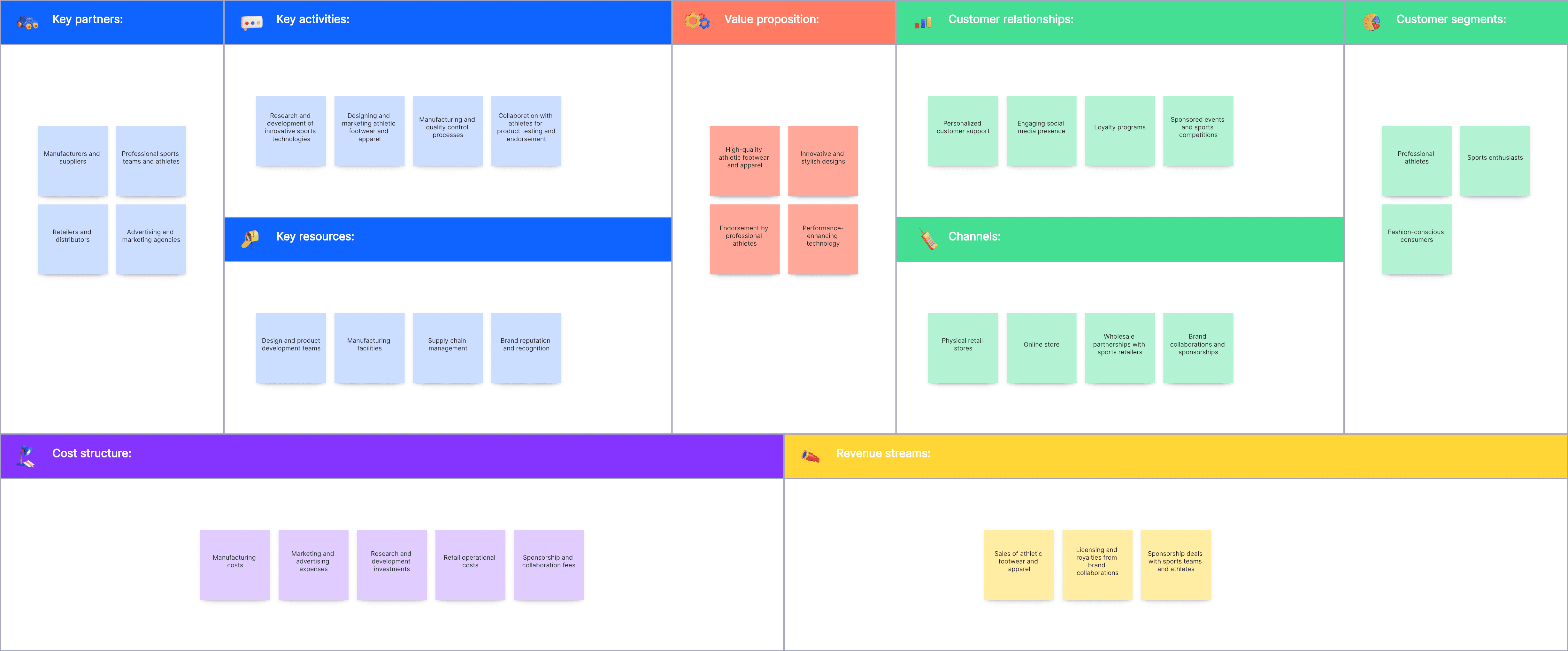 Value Propositions of Nike
The Nike brand is centered on athletic products, primarily footwear, as we can clearly see in the Nike business model canvas. But Nike does not simply provide shoes to athletes. Rather, they send the message that anyone can be an athlete with the help of the superior quality and innovative products that Nike has to offer.
For years, Nike has been successfully offering and delivering value to their target market. In addition to using only the finest raw materials and the highest level of craftsmanship and technology, they have also partnered with popular sports personalities to further elevate their brand.
Customer Segments of Nike
Nike's remarkable success can be attributed to its products' broad appeal. The company targets not only professional athletes but also a wide-ranging audience seeking their products for various purposes, including casual wear, not just sports.
Nike has four divisions around the world that cater to their different geographical markets. The main operations are in North America, and there is also the EMEA which consists of Europe, the Middle East and Africa, Greater China, and finally, Asia Pacific and Latin America.
Key Partners of Nike
Nike has forged partnerships with several other companies to ensure the smooth and continuous flow of operations. A large percentage of these partnerships have to do with manufacturing, since Nike does not have their own facilities but instead, outsources the work to contractors. To date, there are over 145 factories making their footwear and over 400 factories producing their clothing. Most of these partner manufacturers are outside the US.
Moreover, Nike engages in collaborations with esteemed research partners, such as prominent universities in the US, Europe, and Asia, to ensure the development of premium products. Rigorous research efforts are undertaken to elevate the planning, design, and development phases.
Key Activities of Nike
As many would assume, the biggest key activity of Nike is the creation of their extensive line of products. However, there are also a lot of other key activities that are crucial to the process. As mentioned earlier, this includes considerable research. In addition, the company also regularly engages in negotiation with suppliers, developing marketing strategies, and creative advertising.
Customer Relationships of Nike
As Nike primarily operates in the retail sector, customer relationships are predominantly self-service. While salespersons are available to assist customers when needed, whether online or in physical stores, most customers tend to independently select and make their purchases, resulting in a relatively indirect relationship between customers and the company.
Key Resources of Nike
Key resources refer to the assets that Nike uses to deliver value to their customers. This includes the five distribution centers that they have in Memphis and California, from where the products are sent to thousands of outlets around the world. There are also the very important researchers, who tirelessly come up with new innovations that make the brand current and relevant.
The intellectual property of Nike is one of its most valuable key resources. This includes copyrights for the Nike brand and logo, and all the patents for the designs of every single shoe and apparel that they have created. So far, the brand's patent portfolio includes a little over 34,000 items, and they are showing no signs of slowing down.
Channels of Nike
We can clearly see in the Nike business model canvas that the company's largest marketing channel is its traditional stores. Despite the rapid rise of eCommerce, Nike knows that when it comes to footwear, a lot of consumers still prefer to actually fit it before buying. This is why they invest heavily in physical stores, of which they now operate 1,032 around the world.
They do have a robust online presence as well, not to mention the multiple channels they have for marketing and advertising. These include social media, TV, print, and a range of digital advertising. They also maintain a vast sponsorship portfolio for athletes and sports teams, which take up a large percentage of the company's overall spending.
Cost Structure of Nike
Considering the large volume of products that the company keeps in stock, it is no surprise that most of its expenses go into warehousing and inventory, as we can see in the Nike business model canvas above. This alone accounts for about $21 billion of the company's expenses per year. This is followed by marketing and administrative expenses which total $3 billion. Administrative expenses take up about $500 million annually.
Revenue Streams of Nike
Nike's only revenue-generating activity is the sales of its extensive range of products. Footwear sales account for the majority of sales, which exceeded $29 billion in 2023. This is followed by apparel sales of $13.5 billion. Equipment sales generated a revenue of more than $2.35 billion, while more than $1.6 billion came from sales of the Converse brand.
How Does Nike Make Money
Taking a look at all these elements of the Nike business model, it is easy to see how Nike generates the kind of income that they have had for decades. It started when they were able to successfully create value for their target market by manufacturing top-quality athletic products through independent contractors. Although these products were designed mainly for sports, the buying public has embraced the products so well that they are now being used for casual purposes as well. The brand gets most of its income from its own retail outlets or through its thousands of distributors located all around the world.
Key Takeaways
The Nike business model serves as a compelling example of effectively delivering value to customers while maximizing revenue potential. Since its inception, the company has prioritized marketing and innovation, a strategy that has consistently propelled Nike to its position as the leading sports brand globally for many years.
To perform your analysis of the Nike business model canvas independently, you can utilize the pre-designed Business Model Canvas template available on Boardmix. This template provides a structured overview of each element, facilitating a comprehensive evaluation.
References:
https://en.wikipedia.org/wiki/Nike,_Inc.
https://fourweekmba.com/nike-revenue-breakdown/
https://iide.co/case-studies/business-model-of-nike/#Business_Model_of_Nike