Learning how a successful business works is integral to growing your business. As you already know, these companies did not attain success overnight. It surely took them effort, business strategies, and failures.
This article will tackle how the Tesla business model transformed the company into one of the more popular ones, the automotive industry and other sectors where it also provides its services. Being this big, the company can be overwhelming as you look at its strategies, but you'll surely learn essential things from its business model.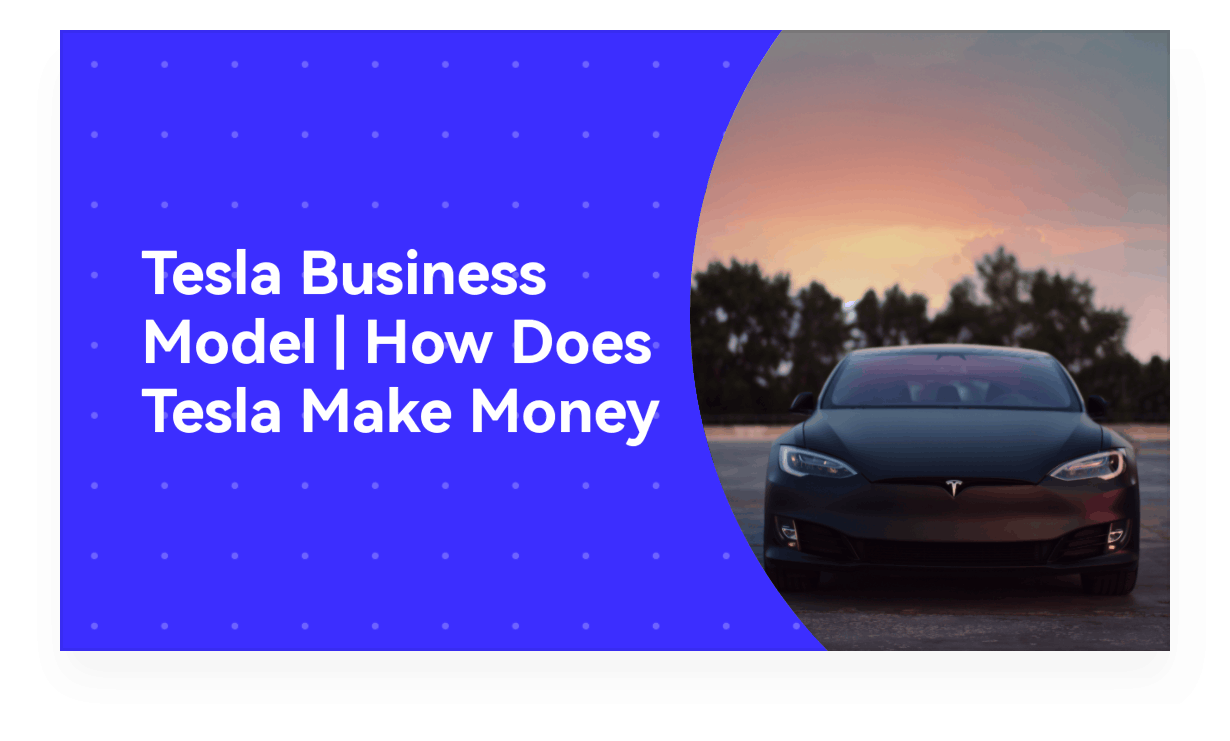 A Brief History of Tesla
Tesla was initially called Tesla Motors, Inc., founded in July 2003. It was founded by Marc Tarpenning and Martin Eberhard, who introduced products catering specifically to the automotive industry. Elon Musk, Ian Wright, and J.B Straubel were also accredited as the founders of Tesla Motors. Musk is currently the company's serving CEO, who spearheads all the operations and business structures.
In 2008, Tesla launched its first product, the Tesla Roadster - a high-performance electric car. The company introduced its target market as a luxury car instead of going for the cheaper first car. The following years saw Tesla investing heavily in research, development, and research, prioritizing studies in autopilot, safe, and charging cars. It was in 2018 when Tesla became the largest electronic car seller globally, with 250,000 vehicles sold, which took up to 12% of the market.
Tesla Business Model Canvas
While the Tesla business model canvas may encompass several sections, it fundamentally relies on three distinct pillars: servicing, selling model, and charging network. These core foundations are intricately woven into Tesla's operational framework, ensuring efficient maintenance and support services, an innovative selling model tailored to the electric vehicle market, and a comprehensive charging network that underpins the convenience of Tesla's vehicles for customers.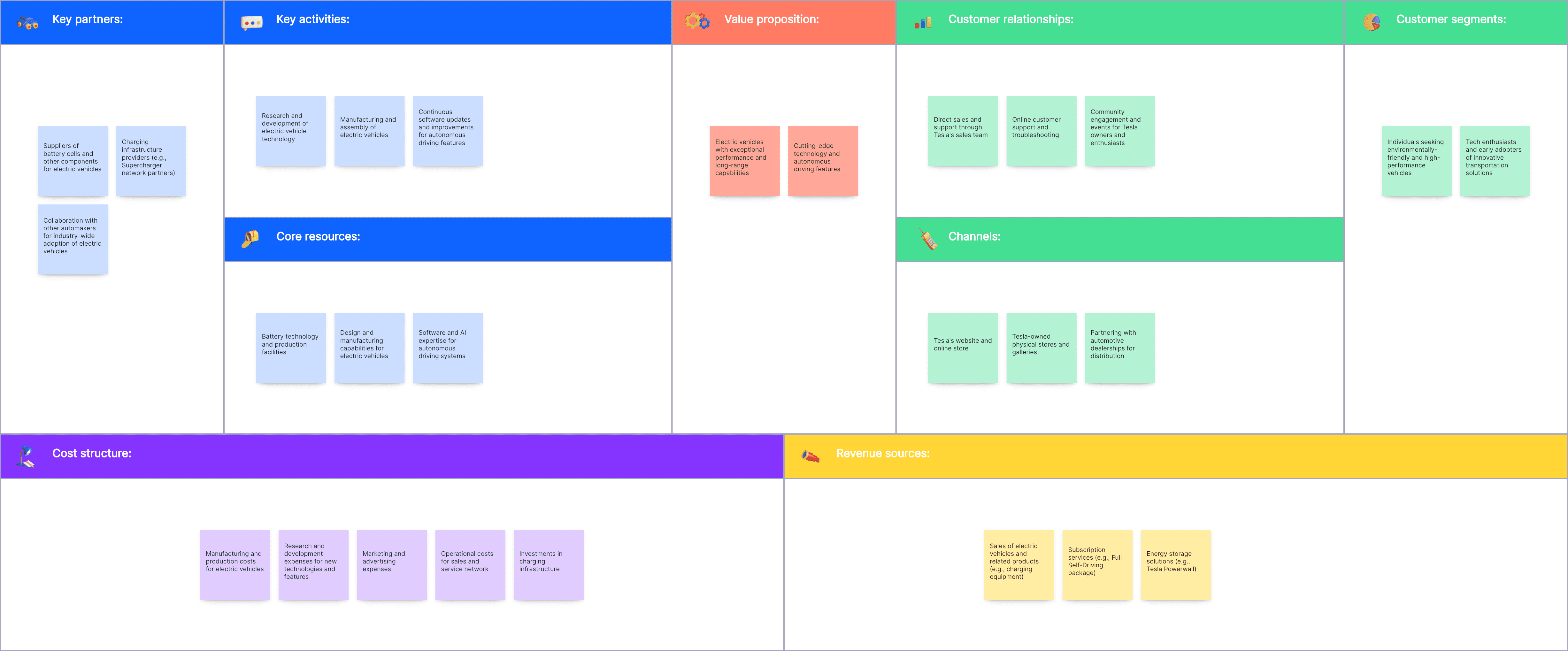 Value Propositions of Tesla
The company's value propositions in the Tesla business model include greener solutions that add high performance, modern design, energy efficiency, cost of ownership, and long-range recharging flexibility. Besides the cars that Tesla sells, which is what they're known for, it has also launched solar panels and home batteries for commercial and residential customers. These products aim to provide convenience in terms of power resources. More than that, the company also has systems and components they sell to other automobile manufacturers. Generally, Tesla has grown so much since it started, as it also provides financial services with leases and loans.
Customer Segments of Tesla
Tesla might have introduced its first car as a luxury, but the Tesla business model canvas shows that the company designs vehicles for every customer group. This includes high-net-worth customers, green buyers who prefer eco-friendly cars, commercial fleet buyers, sports car enthusiasts, corporate executives, and fans of Elon Musk. As you know, Musk has a significant following today, especially now that he's acquired a popular social networking site.
Also, one cannot take away the fact that more and more people are looking into environmentally conscious modes of transportation. That is why Tesla made an excellent decision to invest in designing and producing electric cars. These cars need no gas to run. You only have to charge them.
Key Partners of Tesla
The Tesla business model canvas won't be complete without its partners. These can be sectors, organizations, or individuals. They ensure the company's processes run smoothly to ensure customer satisfaction. Some of the company's key partners are the following:
OEM Alliances. In 2009, Tesla partnered with OEM manufacturer Daimler, which helped the company access superior engineering and research development. It also provided Tesla with a cash infusion to help the company from potential bankruptcy. Along the way, Tesla has allied with other large companies like Toyota, which opened the doors to buying the NUMMI factory. The battery designs were from Tesla's joint investments with Osaka and its partnership with LG Chem Ltd and CATL of China.
Manufacturing and purchasing. Surely, Tesla produces the entire base of cars they sell. However, some parts are sourced from third parties. The company joined forces with Toyota to create electric vehicles, including production systems and components for electric cars and their accessories.
Tesla continues to receive tax incentives from the federal government of the United States due to the company's focus on developing eco-friendly energies and vehicles.
Charging points. Like gas stations, Tesla cars must be charged to run. The company partners with resorts, restaurants, shopping centers, and hotels to mount fast car charging spaces.
Leasing companies. Tesla partners with Athlon Car Lease Company for the company's premium electric sedan, which is dedicated to fleet services within the European regions.
Key Activities of Tesla
Based on the Tesla business model canvas, the company has four key activities, including the following.
Car manufacturing. You can consider cars as the bread and butter of Tesla. After all, it's the company's main activity. Along with producing electric cars are accessories and systems that come with every unit.
R&D. To provide innovative and advanced electric cars, Tesla must explore its options through research and development.
Building and maintenance of various charging stations. For the electric cars to run, Tesla must also provide accessible charging stations. There are more than a thousand Supercharger stations in public places like restaurants, hotels, shopping centers, and parking spaces.
Electric power technologies. The company uses agile principles in developing and improving its software.
Customer Relationships of Tesla
You might be wondering, 'How does Tesla make money?' One of the reasons for the company's success is making customer relationships its foundation. From its founding, Tesla focused on its efforts on customer experiences. This is why it does not support dealerships. Instead, the company builds company-owned stores and develops a self-service website where it's easy to choose, order, and customize the cars. As you know, it heavily invests in its charging networks for more accessible and cost-effective car charging.
Most importantly, Tesla has solidified its position and reputation with its target markets for being a provider of luxury, innovative, and technological vehicles while considering the environmental impact.
Key Resources of Tesla
The Tesla business model canvas relies on several essential resources to facilitate key activities and deliver Tesla's unique value proposition. These critical resources encompass Tesla's cutting-edge technology for electric vehicles, robust battery production capabilities, top-notch engineering and design expertise, and advanced software systems. These elements synergize to drive innovation and fulfill Tesla's commitment to sustainable transportation solutions.
Channels of Tesla
As you know, Tesla focuses more on reaching out to customers directly and getting immediate and organic from them after the purchase. With this, its retail stores and galleries are one of the primary channels it uses to market its vehicles and technology. Data in 2019 revealed that there were about 276 Tesla stores globally.
While some of these stores have halted operation, they have moved to online sales channels through the Tesla website. It's a self-service platform where customers can shop for cars. Of course, many want to see the vehicles in person before buying them, but the website allows Tesla's markets to explore their options before visiting its retail stores. It takes off the hassle of spending hours choosing car models in physical stores.
Besides the conferences and sales events that the company utilizes to reach customers, the popularity of Elon Musk is also an excellent marketing strategy to expand Tesla's market.
Cost Structure of Tesla
Like any global manufacturer, Tesla comes with a very broad cost structure. As of June 2023, the company has a total operating expense of $81.376B, about a 40% increase from 2022. The total expenditure covers the following process and aspects.
Manufacturing infrastructure
General admin and sales
Human resources
Research and development budget
Distribution
Materials
Revenue Streams of Tesla
Tesla is a company offering diverse products for its target markets. Besides its electric vehicles, the company has developed an ecosystem of innovative and cutting-edge green cars. Moreover, it launched lifestyle products and solar energy systems for Tesla's loyal customers and fans of the company. Essentially, Tesla has two significant revenue streams.
Automotive segment revenue. This segment includes all the sales from vehicle models, software updates, charging network access, sales services, retail merchandise, and EV components sales.
Storage and energy generation segment. The segment includes revenues from storage products like solar panels and Tesla's solar energy systems.
As Tesla continues to expand, you can also expect more revenue streams. This is relatively similar in all other businesses, whether for startups or a company as big as Tesla.
How Does Tesla Make Money?
With the tough competition in the automotive industry, how does Tesla make money? As you look at its business model, you'll know that the company's primary revenue stream is through selling cars. Tesla generated a revenue of $81.46 billion in 2022, with almost 80% of the sales coming from automotive sales. In short, they make money from selling vehicle models. Besides manufacturing luxury cars, the unique thing about Tesla is they're branding themselves as an environmentally-conscious vehicle provider. More and more people are getting curious about electric vehicles, and customers are willing to pay more to own one of Tesla's car models.
However, Tesla is more than just an automotive company. It operates with a diverse and comprehensive business model which manufactures various clean energy products. China is Tesla's largest growth market, with a continuous expansion worldwide.
The following are other products and services Tesla offers to properly understand 'how does Tesla make money?'
Tesla provides servicing facilities for its electric vehicles and energy solutions. Owners of Tesla car models can only go to Tesla-approved servicing centers. It also offers green energy solution installations like Tesla's Powerwall.
Energy solutions. Businesses and households can also avail of Tesla's unique green energy solutions. Solar Roof, Powerwall, and Powerpack are some of its products. However, if you're curious about the Solar Roof service, Tesla has stopped manufacturing it because of supplier complications.
Carbon credits. Tesla also makes money from carbon credits, which they receive from the US government since Tesla manufactures electric vehicles. In fact, about 20% of Tesla's revenue is from this segment, which are tradable certificates that give companies a chance to emit a specific amount of carbon dioxide into the environment.
Public charging. Tesla has a Supercharger Network mounted across the US and globally. A fully-charged 85kWh Tesla Model S would cost about $20-$25.
Key Takeaways
When examining Tesla's business model canvas, it's crucial to understand how the company generates revenue. Tesla ventured into manufacturing a premium all-electric sedan in 2008, driven by a vision of electric vehicles becoming mainstream in the future. This strategic decision was underpinned by relentless research and development efforts, which have been instrumental in creating innovative and appealing electric vehicles that cater to a growing market segment seeking sustainable and technologically advanced transportation solutions.
Along the way, Tesla found a solid position and developed a reputation as the pioneer company that produced EVs. The EV system somehow changed the landscape of the automobile industry - what used to be just mechanical drives can now be smart and computer-driven electric vehicles. Tesla also did the right thing by expanding its services, which are still associated with its main revenue stream - the EVs. Tesla might be a global company, but other businesses can take inspiration from how they manage to create their own brand. Keeping products innovative, unique, and relevant all at once is essential to keeping that edge amid tough competition in any industry.
You, too, can create a comprehensive business model with the help of a diagramming and collaboration tool. Boardmix lets you explore its templates library and use the predesigned business model canvas template through this link. It's customizable, so you can tweak some elements on the template to make it your own.
References:
https://bstrategyhub.com/tesla-business-model-tesla-business-model-canvas/
https://finty.com/us/business-models/tesla/#:~:text=Tesla%20makes%20money%20by%20selling,there's%20the%20investment%20in%20Bitcoin.
https://businessmodelanalyst.com/tesla-business-model/#How_Tesla_makes_money
https://www.investopedia.com/tesla-s-largest-revenue-source-is-automotive-sales-4799069