Despite the rise of newer ride-sharing apps today, Uber still manages to be one of the most popular service providers in the industry. It makes you wonder how the company has sustained its position and reputation.
As with any successful company, you can expect Uber to use various strategic planning techniques to maintain its status in the industry. This is why it might be fitting to visit the Uber business model canvas for inspiration as you develop your business model diagram. Continue reading to learn more.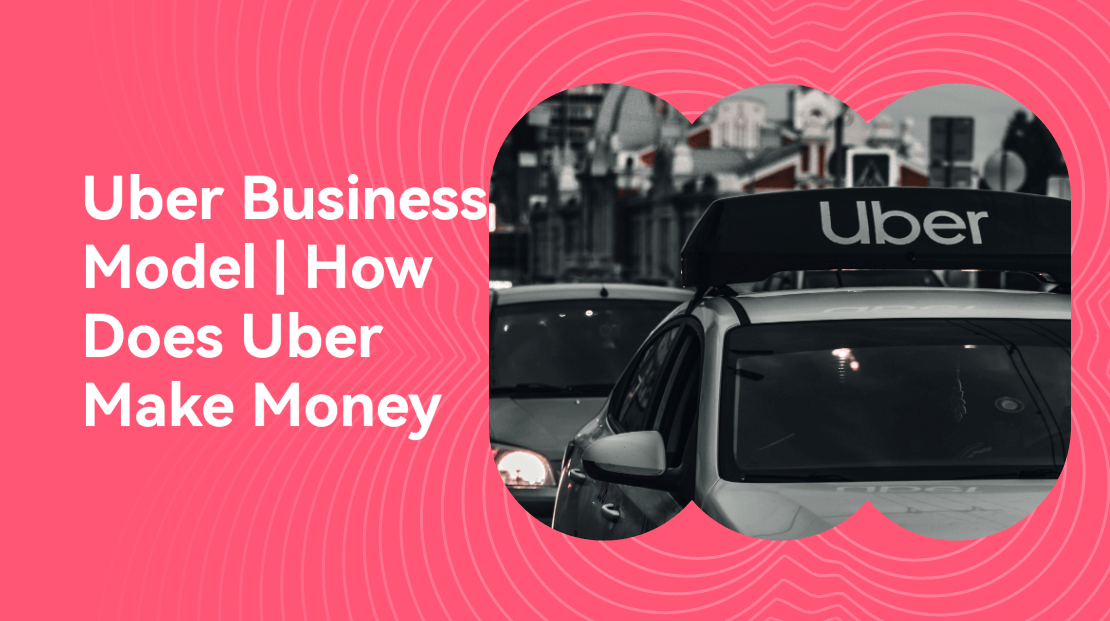 A Brief History of Uber
Uber was established in 2009 in San Francisco. It started as a transportation company that hired licensed and experienced drivers to provide Uber services. As years passed, the company grew and evolved into a ride-sharing service provider and adopted the latest advertisement procedures. While Uber might have faced controversies, the business has been doing great since its ride-sharing app service was introduced.
The concept of connecting potential customers and passengers using a mobile application has been one of the reasons why Uber stands out from its competitors. The excellent thing about Uber is that it lets drivers drive their passengers in luxury cars like Escalades, Mercedes-Benz, and BMW 7 Series.
The only thing passengers would do is open the Uber application, and they're good to go. While using the app, they can also track the vehicle's location while approaching the destination. Truly, the company has revolutionized the conventional transportation system.
Uber Business Model Canvas
The Uber business model adapts a multi-sided platform. This means it connects drivers and passengers to offer cost-effective transportation and an added source of income. While Uber might account for below 1% of miles driven globally, its CEO, Dara Khosrowshahi, believed that most of the passengers where the ride-sharing app is available have installed its app on their smartphones. As a result, Uber will surely be used in cities and regions globally.
Look closely at the following elements below as they compose the Uber business model.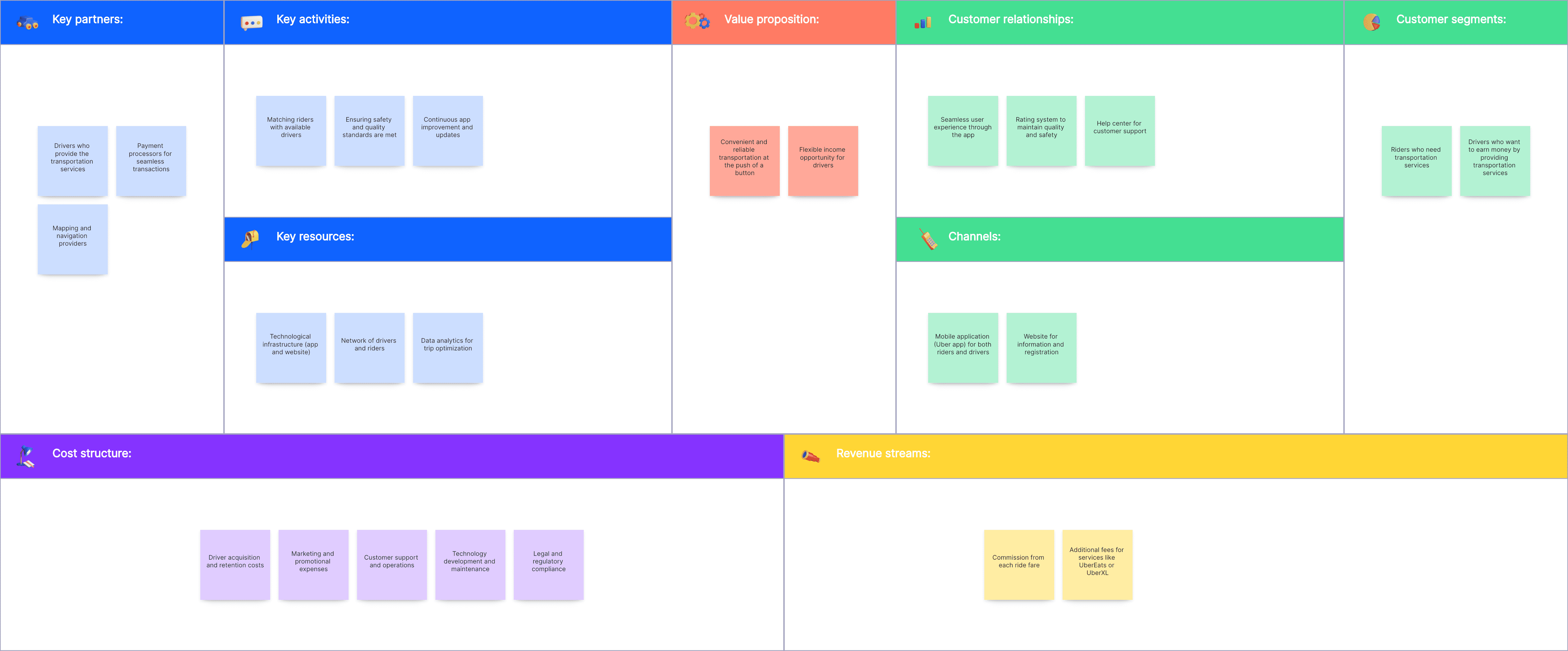 Value Propositions of Uber
Uber's value proposition covers two main aspects. The most significant value proposition for customers is the convenience of not having to search for taxis since the car generally comes to the passengers. Uber cars are usually available 24/7, and customers can track their route and current location. The fares are also favorable to passengers as they're cheaper than taxis.
The second component of Uber's value proposition is an additional source of income for drivers. It's a job that requires little experience and flexible working schedules. As you know, the Uber app lets passengers choose their destination before they book the ride. This takes away the possibility of misunderstandings. Along the way, passengers and drivers will have an excellent experience using the app and the service.
Customer Segments of Uber
The Uber app caters to both passengers and drivers. Passengers generally are directed through UberX, UberPOOL, UberSUV, and UBERBLACK. They're those who don't have cars, need to travel outside the city of residence, or don't want to during certain times. On the other hand, drivers are also Uber's customers. They need income and want to start a new job by driving and using Uber.
Key Partners of Uber
There are four partners in Uber, allowing the company to run its processes and services flawlessly.
The unique thing about these drivers is that they own cars, which means these cars will be used to bring customers from one destination to another. They acquire customers and drive them to their value propositions. Uber drivers are independent contractors instead of calling them employees. They can also be co-owners as they control how Uber works.
Local authorities. They're crucial in the early years of Uber, especially during those times when the company must convince several people to classify Uber drivers as independent contractors instead of employees.
Other partners. They include mapping data providers and payment processors.
Key Activities of Uber
The first main activity of Uber is to develop and maintain its app. The processes will only run smoothly with a well-structured platform. There must always be app enhancements as technologies evolve. Despite Uber's popularity, the company still needs to market its services. This is part of the second key activity of Uber. At the same time, they must also conduct driver onboarding for those new drivers who want to use Uber services.
Customer Relationships of Uber
The Uber business model canvas under customer relationships utilizes reviews, ratings, and feedback systems. If you have used Uber, you'd know this is an essential aspect of its app, as the company can collect organic feedback from passengers. Since Uber can quickly see how customers experience the service, they can immediately improve on the potential poor feedback or sustain the good reviews. Along the way, Uber can better serve its customers.
Customer support is an essential component that ensures riders can reach Uber if they have issues with the app, payment methods, or the riding experience.
Key Resources of Uber
Uber relies heavily on its digital platform, the Uber app, as a critical resource. This app serves as the central nervous system of Uber's operations, facilitating the booking and acceptance of ride requests by both passengers and drivers. Moreover, Uber places significant emphasis on the development and refinement of its data analysis and algorithms. These analytical tools are primarily geared towards optimizing and expanding the reach of Uber's transportation network, ensuring efficient and effective operations.
Channels of Uber
Indeed, word of mouth remains a potent channel for customer acquisition, but Uber recognizes the importance of its digital platforms in this age. The Uber app and website provide riders with easy access to firsthand reviews and feedback, enhancing their confidence in the service. Furthermore, Uber leverages social media as a prominent visibility channel, acknowledging the ubiquity of social media in today's world, ensuring they remain in the public eye and continue attracting new customers.
Cost Structure of Uber
There are five areas where Uber spends the most budget to ensure its services can run flawlessly and be in step with other competitors in the industry.
Revenue costs include insurance, mobile and service, and credit card process fees.
Sales and marketing
Research and development
General and admin
Amortization and depreciation
Interest expense
Revenue Streams of Uber
Uber receives a percentage for every ride their drivers complete. There's about a 25% service fee for all Uber rides.
How Does Uber Make Money?
Undoubtedly, the Uber ride service remains the linchpin of the company's revenue generation. However, Uber has strategically diversified its services to expand its revenue streams. Uber Eats, for instance, has become a significant player in the food delivery industry, offering users convenient access to a wide range of culinary delights. Additionally, Uber has ventured into corporate services, allowing businesses to manage employee transportation efficiently. This entails reserving rides in advance and facilitating seamless multiple bookings for employees and clients. Furthermore, Uber Freight has emerged as a pivotal service for the logistics sector, streamlining the transportation of goods. These expansions highlight the dynamic nature of Uber's business model, encompassing various revenue sources.
Key Takeaways
The Uber business model canvas is a straightforward and relevant illustration of how it utilizes growth opportunities. It's appropriate given the transportation landscape today as more people travel from one town or city to another. The company has been strongly affected by the pandemic, but Uber was also clever in innovating its services and expanding to other services that still revolve around transportation. Surely, the competition is more challenging as more ride-sharing app providers are constantly available.
If you're about to develop your business model, you can get some inspiration from Uber. Looking at its diagram, there are not many long phrases or sentences; instead, it uses specific words and keywords, allowing stakeholders to better understand Uber's business model.
Most importantly, using diagramming software can be an excellent option for efficient collaboration. Boardmix lets you use its customizable Business model canvas template so you can make it your own. You can tweak some areas on the diagram, adjust the colors, and insert stickers or images. Visit this link to get started with your business model canvas.
References:
https://bstrategyhub.com/uber-business-model-how-does-uber-make-money/#How_does_Uber_make_money
https://businessmodelanalyst.com/uber-business-model/#Uber%E2%80%99s_Value_Propositions
https://www.digitalbizmodels.com/blog/business-model-canvas-uber#revenue