People will generally include Zara in their list when looking for clothing options. The company has a relatively prominent reputation in the fashion world, specifically in fast fashion. You might be curious how the company became one of the most successful fashion brands. While some commend the business model canvas of Zara for being revolutionary, some find it unauthentic and exploitative.
See for yourself how Zara's business model looks by reading through this article. The model might give you input as you develop your business model.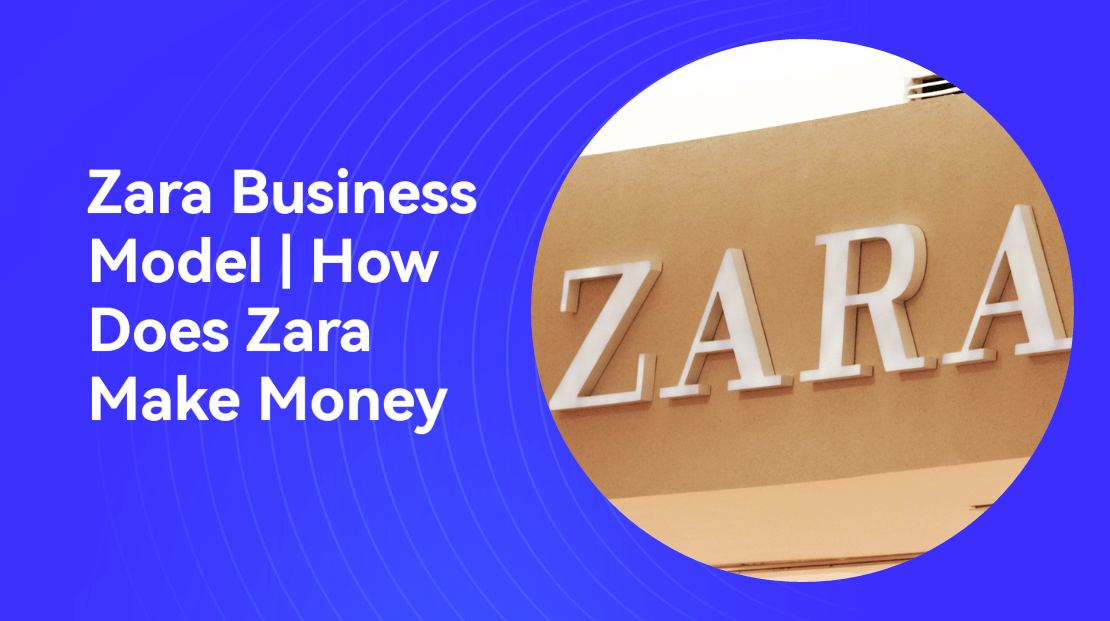 A Brief History of Zara
Zara was established in 1975 and was headed by Rosalía Mera and Amancio Ortega. Its first name was Zobra, but there is a local bar of the same name, so the owners decided to change it quickly. Zara opened its first physical store in Galicia, a small town in Northern Spain. The store specializes in creating cheap imitations of high-end and popular fashion trends.
Industria de Diseño Textil, S.A. (Inditex) currently owns Zara. The store has expanded tremendously since its founding and now operates about 2000 stores in 85 countries. It takes up 70% of the Inditex Group's total sales volume.
Zara Business Model Canvas
Every business starts small, but not all reach the highest success like what Zara has today. The Zara business model canvas is worth visiting to know their strategies for achieving company goals and maintaining its status in the industry.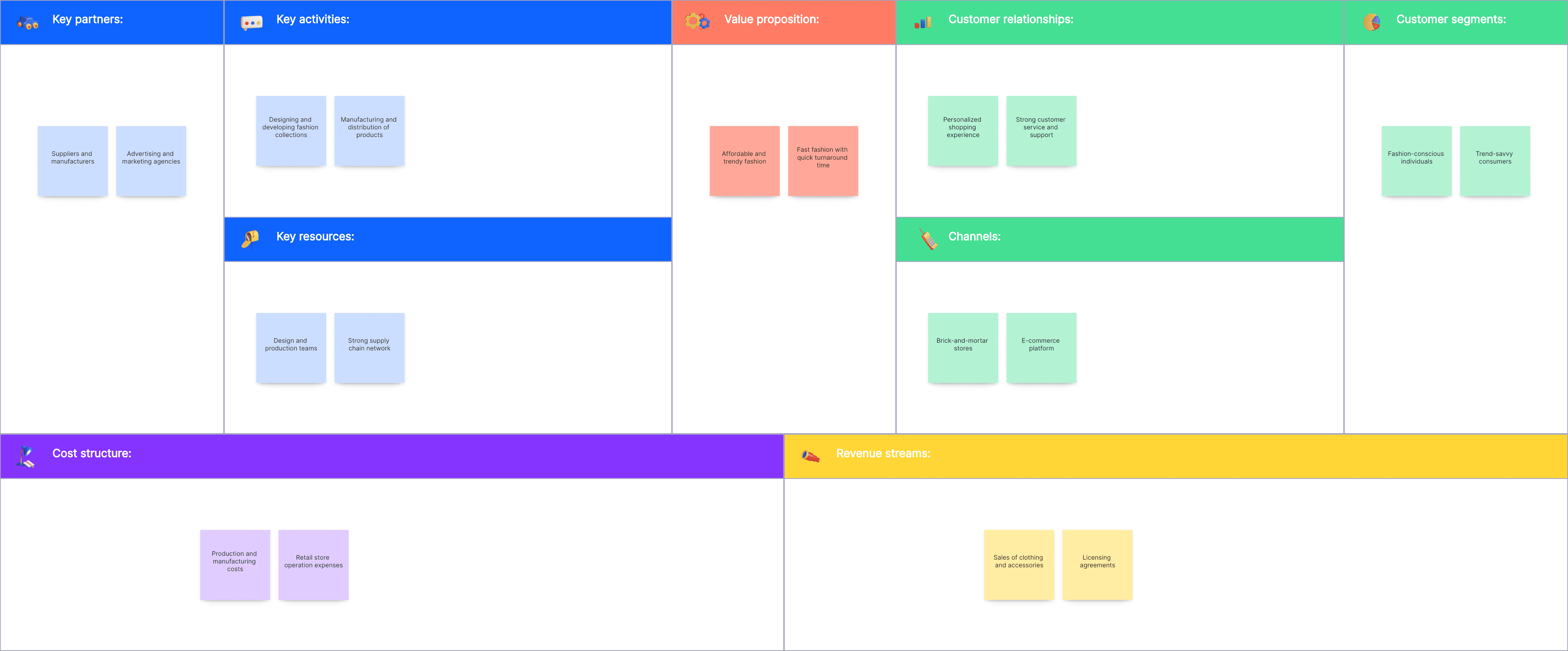 Value Propositions of Zara
Zara's value propositions include fashionable clothes and accessories, excellent e-commerce and flagship store experience, and fast fashion. Since the beginning, Zara's primary focus has been making fast fashion products. While there might be drawbacks to how Zara focuses on fast fashion, especially since it is not relatively sustainable, the company continues to attract buyers and new customers within its target market.
Customer Segments of Zara
While the Zara business model canvas shows that it offers fashion variety for women, men, and children, its customer segments also include other specific groups. It develops a product line that targets middle-aged working people and young adults. They are those who want to experience the latest fashion trends without spending much of their hard-earned money. Overall, Zara focuses on providing cheaper yet trendy accessories and clothing.
Key Partners of Zara
The company's key partners ensure that all business and production processes are working smoothly. As big as a company as Zara, these partners must fulfill their roles for the business's success. The business model canvas of Zara under the key partners section includes the following.
Providers, including suppliers and manufacturers
Holding company
Key Activities of Zara
Like any clothing brand that focuses on providing access to the latest fashion trends, Zara relies heavily on valuable processes to meet the market's demands. The list below shows the vital activities Zara must fulfill.
Designing
Manufacturing
Distribution channels and logistics
Retail processes
Customer Relationships of Zara
The customer relationships under the Zara business model canvas highlight the company's processes, which revolve around the customer's demand. In short, Zara must be one of the first to create trendy products for its target market. The firm's CEO even mentioned 'agility and flexibility' as two primary reasons Zara is so successful today. Also, proper branding through social media channels is an initiative Zara imposes to build customer connections. Most importantly, one can't ignore the fact that people will have a sentimental attachment to accessories and clothing, which Zara uses to keep expanding its customer base.
Key Resources of Zara
Zara relied on its stock, large store networks, strong brand logistics, and supply chain infrastructure when it started. While these are still vital in Zara's processes, the company also utilizes high-performance software for its e-commerce platform and intellectual property and dedicated human resources as its essential resources.
Channels of Zara
The Zara business model canvas incorporates three fundamental channels for reaching its customers. Firstly, the physical stores play a crucial role, and their numbers continue to grow. Zara recognizes that beyond just wearing its products, customers also seek the in-store shopping experience that the brand offers. This direct in-store experience remains an essential channel for the company's customer base.
In line with the evolving technological landscape, Zara has expanded into the online realm with its website, catering to customers who may not have access to physical stores but still wish to explore its latest offerings. Additionally, the company has harnessed the power of social networking sites to broaden its reach and engage with a wider audience, reflecting Zara's commitment to adaptability and innovation in its channels to remain competitive in the fashion industry.
Cost Structure of Zara
Zara allocates a significant portion of its budget to two main expense categories. Firstly, the fixed expenses, encompassing items like rent, payroll, I.T. costs, legal fees, and facility maintenance, constitute the company's operational overhead. Secondly, Zara must account for variable expenses associated with the sale of its products, covering various aspects of the production and distribution process. These financial considerations are vital for maintaining the brand's operational efficiency and profitability.
Revenue Streams of Zara
Zara's primary revenue stream is sales from its retail stores and e-commerce outlets.
How Does Zara Make Money?
Based on the Zara business model canvas's revenue stream, the company generates money through the sales it receives from the millions of products introduced each year. Zara's net income in 2022 reached $4.4 billion, a 27% increase from the previous year. The competition in the fashion industry is challenging, and being hailed as one of the leading clothing and accessory providers is an excellent feat.
The prices of Zara's products are more expensive compared to its competitors. However, it keeps attracting more people since it constantly introduces the latest trends at relatively cheaper prices compared to luxury and designer brands. Also, Zara's digitalization and store optimization continues to be the company's key to success.
Key Takeaways
The business model canvas of Zara is an accurate representation of maximizing what's trending. Its customer base can guarantee that Zara has something to offer whenever a popular fashion style pops up. Zara's website also provides a broad range of options for each product they sell. There are color varieties and styles to fit the customer's personality.
If you are in a business like Zara, its business model is an excellent tool from which you can take valuable inputs. Surely, it may not be as big as this fashion brand, but Zara's best practices will be beneficial as you expand your business and reach a broader customer base.
Of course, you need to develop your business model to ensure your company has more precise goals and workflow. A diagramming software is an excellent tool you can use as you map your business model. Boardmix provides a pre-built business model canvas template, and you can check it through this link. The diagram is customizable, so you can edit the colors, texts, and shapes and insert images and stickers to make it your own.
References:
https://www.marketing91.com/business-model-of-zara/
https://studiousguy.com/zara-business-model/
https://businessmodelanalyst.com/zara-business-model/
https://www.forbes.com/sites/walterloeb/2023/03/22/zaras-30-expansion-and-2022-outstanding-results/?sh=2d66b06924a5