Whether developing a product, building a house, or pursuing professional goals, it generally starts with a comprehensive plan to guide you. During these situations, an action plan will come in handy.
While you can always lay out the details for your action, choosing the right software and template can be daunting. The right template saves you time and effort in covering the step-by-step process of the overall plan. Learn more about developing your template using the action plan examples below.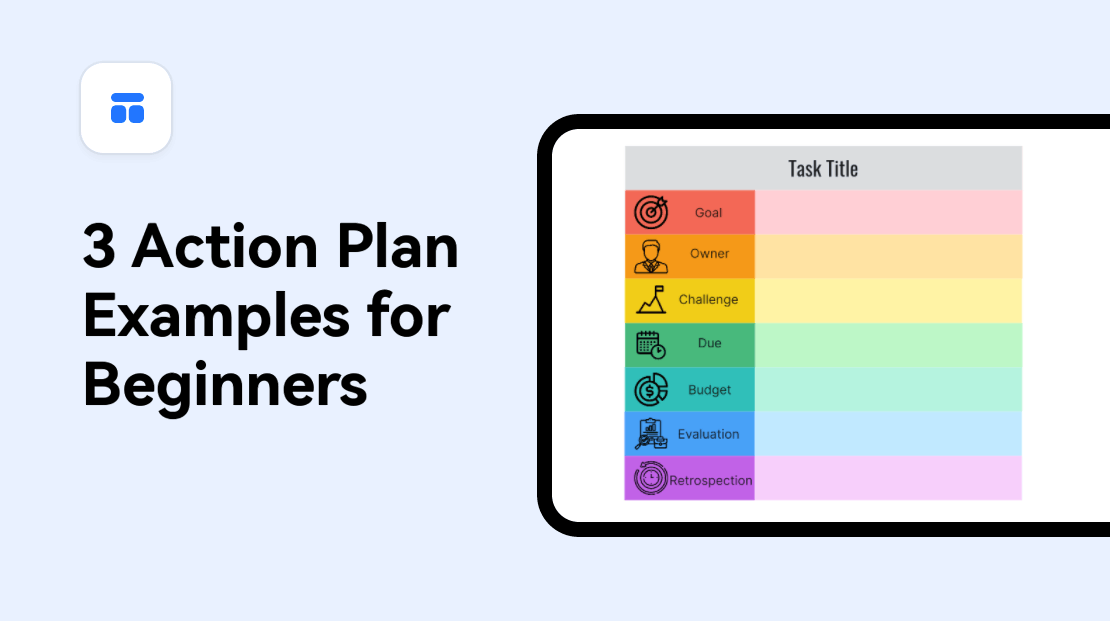 What is an action plan?
An action plan is a vital document that delineates the essential tasks required to successfully achieve a particular objective. It serves as a roadmap, systematically breaking down complex processes into actionable assignments, all organized within a defined timeline. A well-constructed action plan not only elucidates the precise steps necessary for reaching your goal but also empowers you to meet targets efficiently. It goes a step further by specifying start and end dates for each stage of the process, ensuring clarity and accountability. Whether catering to a single or multiple goals, an action plan remains a versatile tool, adaptable to individual needs and ambitions.
The diagram is helpful to a broad range of organizations and individuals, from employees whose goal is to improve their performance at work to project managers who assign deliverables to team members. Furthermore, having an action plan keeps you motivated and tracks your progress toward the ultimate goal. If the goal requires cross-functional collaboration, the action plan is a reference for how one must be held accountable for every task. This allows you to avoid delays and correct errors.
Types of action plans
Besides the variations of an action plan example, there are different types of this diagram, which you must be familiar with.
Tactical plan. This is an organized series of steps designed to execute an organization's strategic plan and fulfill strategic goals. While strategy mainly focuses on environment, resources, and mission, tactics focus primarily on action and people. Tactical planning is conducted at all management levels.
Single-use action plan. As the name suggests, you'll use this action plan for tasks that won't likely be adopted again. Projects and programs are two of the most common forms of this action plan.
Standing action plans. This action plan example is the opposite of single-use. It's used for tasks that recur regularly over a certain period. Three standing action plans include rules and regulations, standard operating procedures, and policies.
3 action plan examples for beginners
You might also need an action plan example as you develop your structure. See the following diagrams below.
SMART goals action plan
The SMART action plan has five significant characteristics: specific, measurable, achievable, relevant, and time-bound or time-based. Psychologists initially developed this to help individuals set and reach specific goals. Defining each characteristic enables you to eliminate the guesswork and generalities, sets more precise timelines, and makes it easy to monitor progress and determine missed milestones. The action plan example above is colorful, which you can also do when using online diagramming tools like Boardmix. The platform lets you add colors, customize shapes, and insert stickers and images. You can easily do it with diagramming software.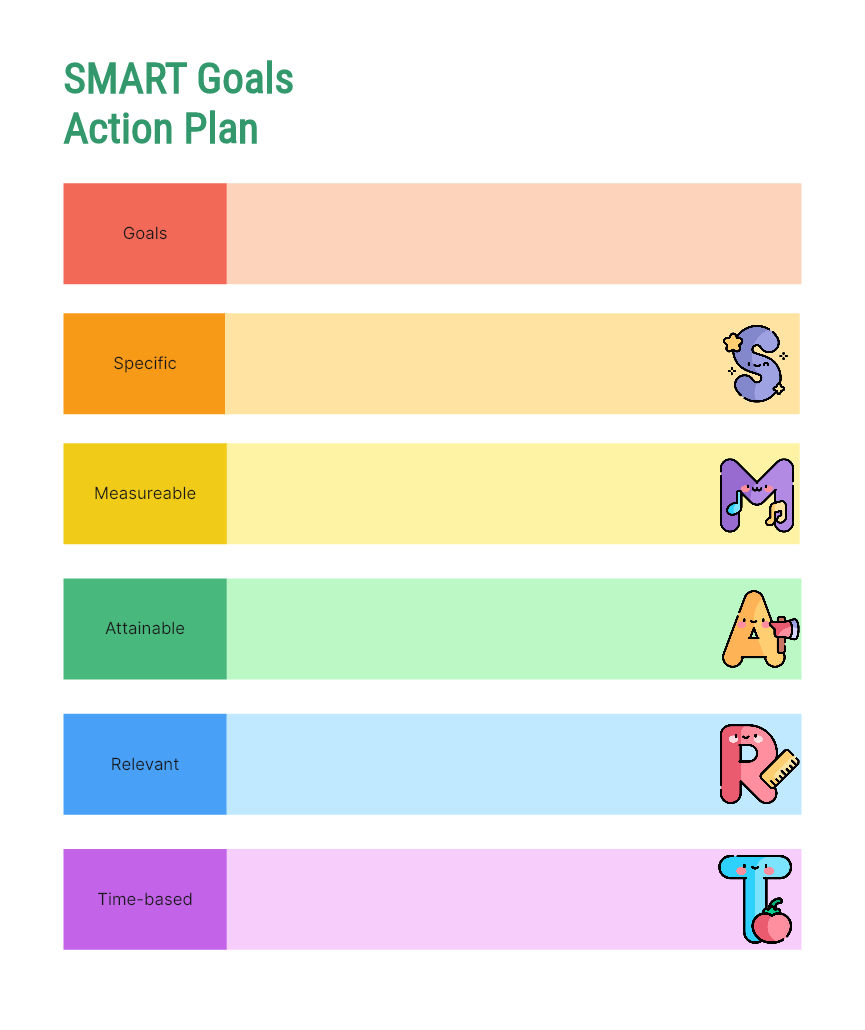 Priority matrix action plan
In most cases, you use this action plan example to guide you in choosing which tasks to prioritize, the items to delegate, and eliminate. It's evident in the diagram above that the action plan is divided into four quadrants, each of which is numbered and labeled. Sometimes, teams rarely have time to complete all deliverables and projects on the wishlist. If this happens, the diagram above lets you choose the significant tasks wisely. As a result, your team can spend time on the more important ones which keep the team moving forward.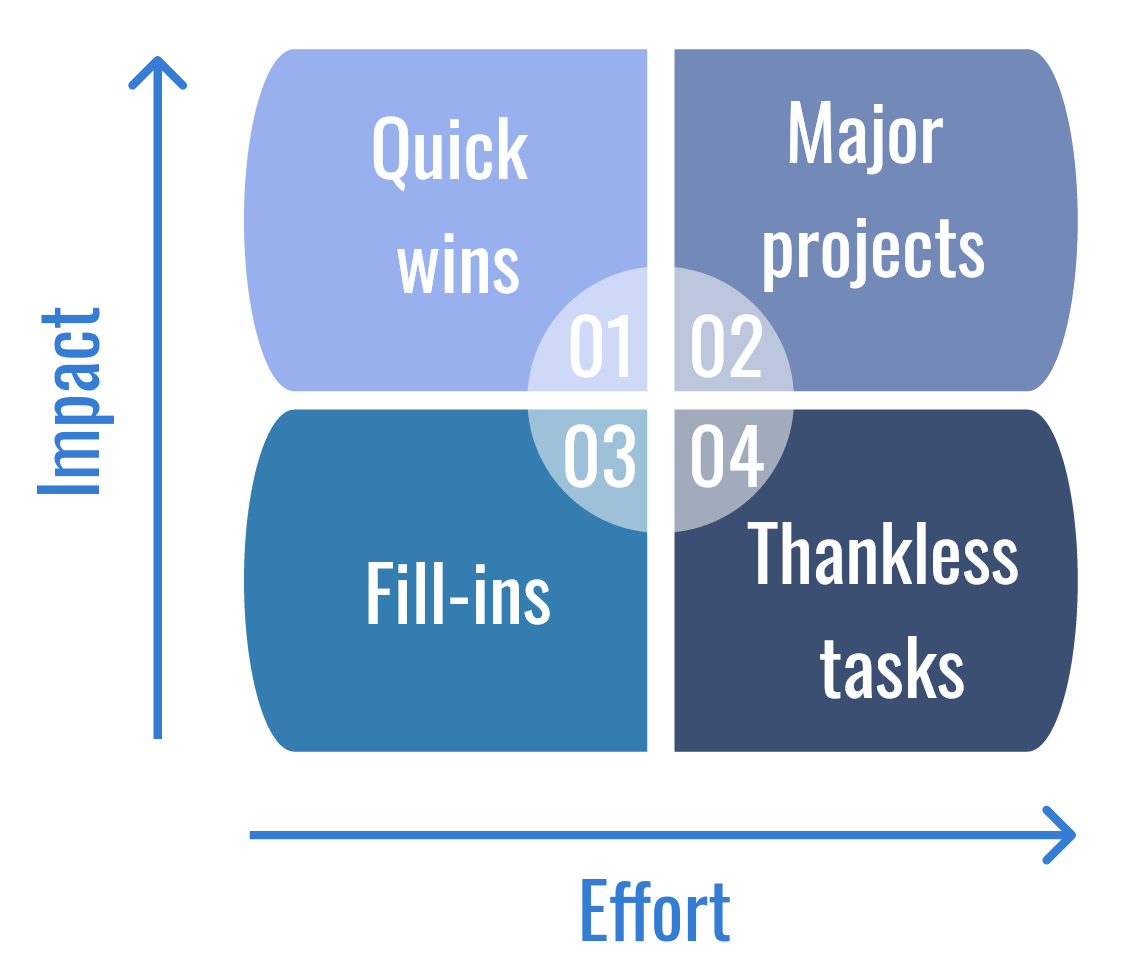 Marketing action plan
In the third action plan example above, there are seven distinct sections that marketers must carefully populate with relevant details. This marketing action plan serves as a comprehensive guide, encompassing a well-structured set of objectives, tactics, and strategies aimed at promoting services and products effectively. The diagram plays a pivotal role in outlining the essential steps required to achieve the overarching marketing goals and objectives.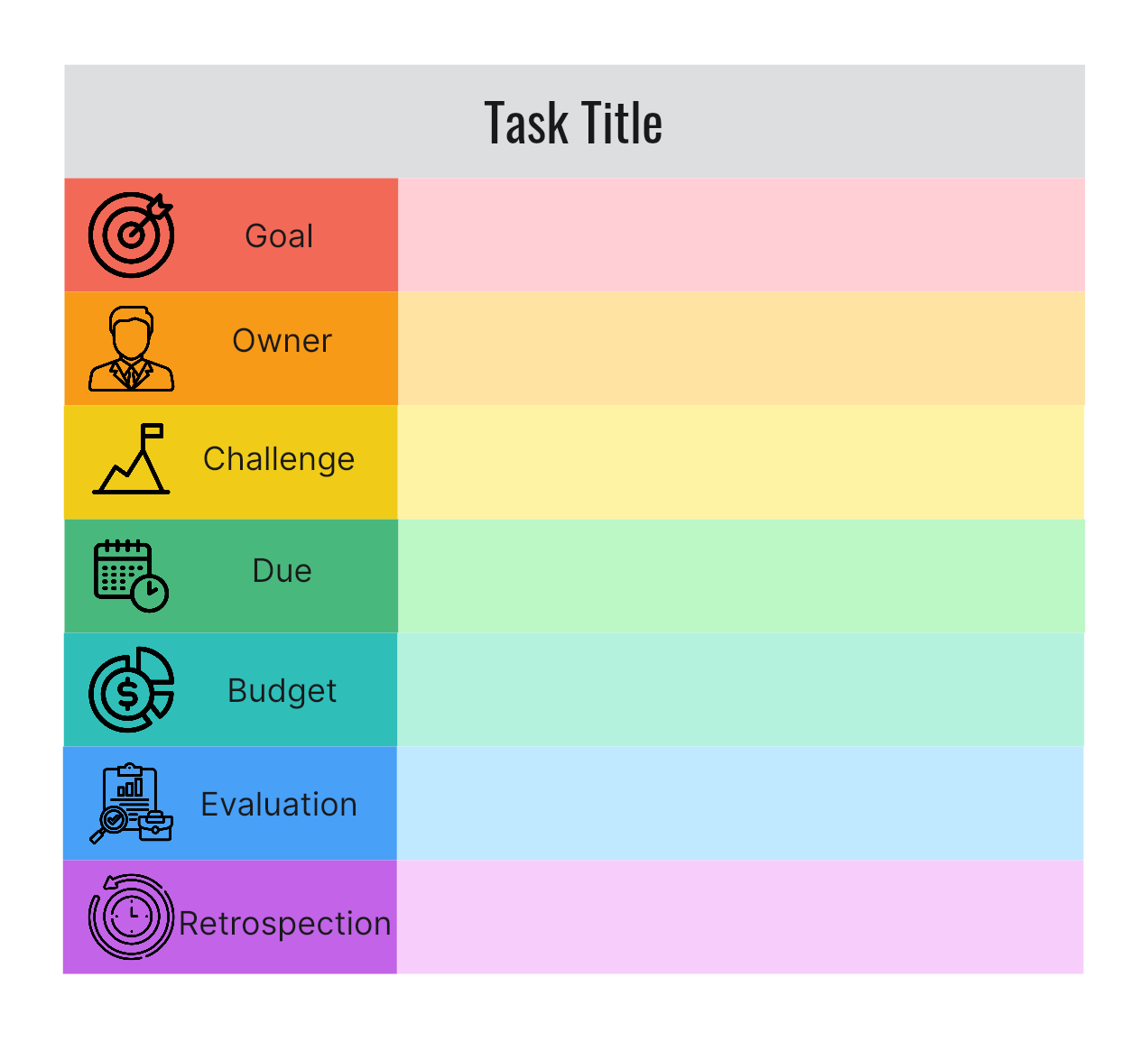 How to write an action plan?
You can create your action plan online with Boardmix. It provides a virtual whiteboard where you can develop the action plan diagram.
Identify your goals. Ensure you understand what your team is trying to achieve. Make it as specific as possible.
Break down the essential steps needed to achieve each goal. Specify those numbers in your action plan if you aim to reach a specific rating or number after a certain period.
Determine the priorities. The priority matrix action plan might come in handy here. Remember, you cannot do everything all at once. It pays to break down bigger goals into smaller chunks.
Set the milestones and deadlines. This ensures your team is on track as you achieve your goals.
List the resources. This pertains to the processes, workforce, or other logistics necessary to complete the tasks.
Delegate the tasks. Every team member must take part in achieving organizational goals.