Visualizing your users' attitudes and behaviors is important in all industries, especially for UX teams. It ensures that the product aligns with the needs and expectations of the end users. In this article, we explore 6 empathy map creators that you can use to achieve this. Keep reading.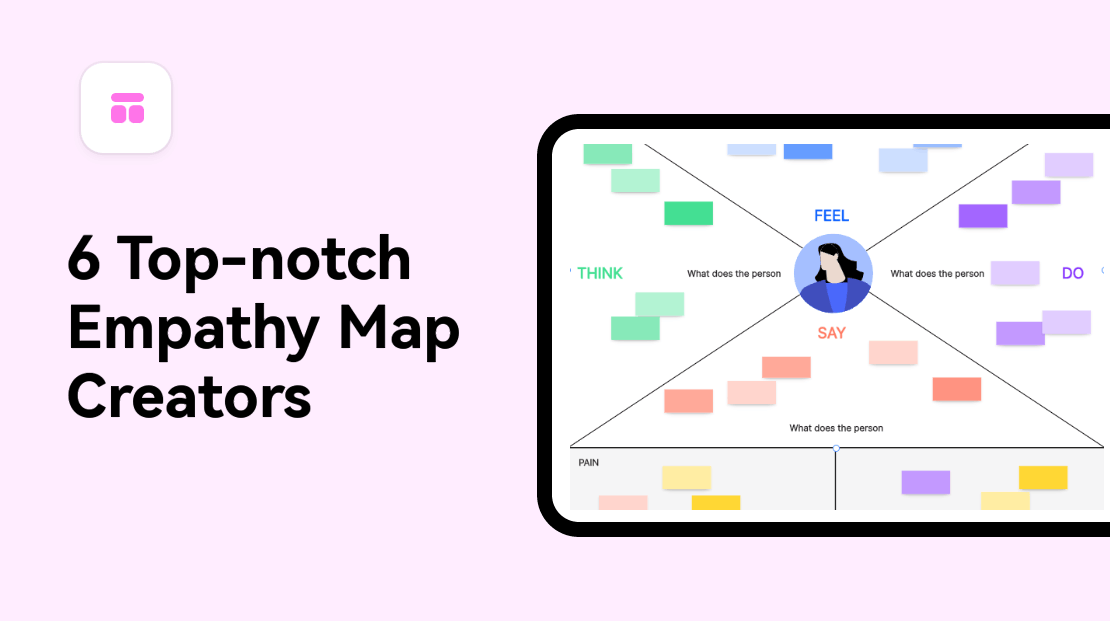 What Is an Empathy Map
An empathy map is a visual diagram that shows users' behaviors. It may also be used to understand their attitudes and choices. Product and UX design teams use this tool to make better decisions depending on the expected users' behaviors. Other teams that use empathy maps include product development, marketing and sales, stakeholders, and creative teams.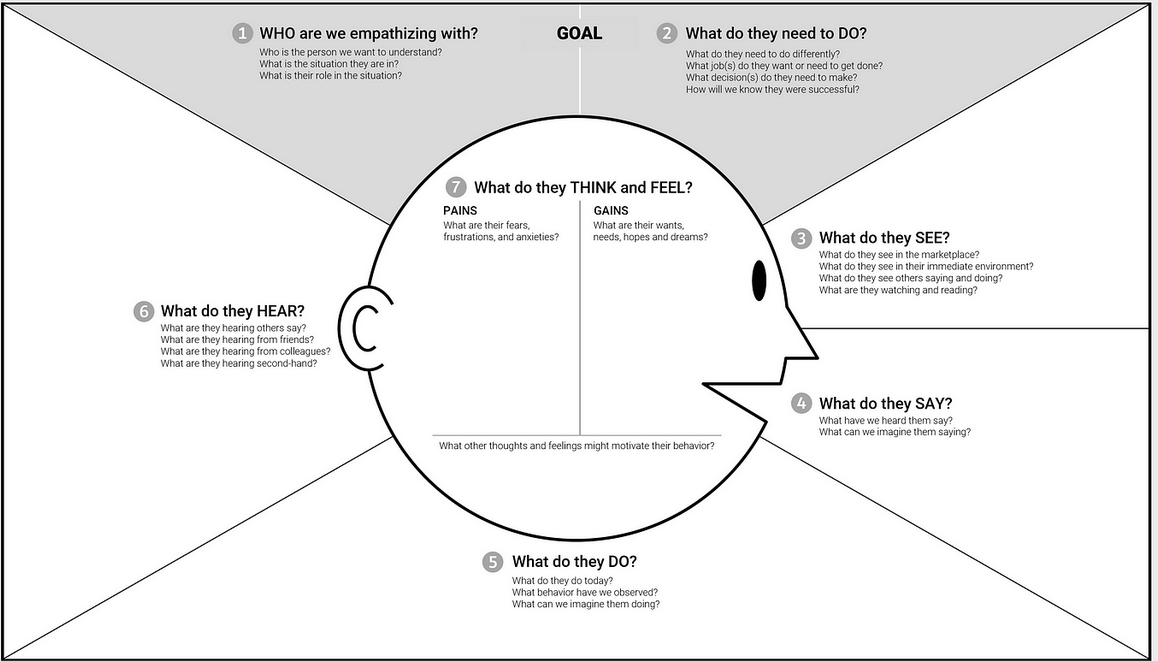 What to Look for in an Empathy Map Creator
There are several things you should look for before choosing an empathy map creator:
Ease of use: Choose an empathy map creator that is easy to use for all members of the team. This includes adding and editing content to reflect the empathy map needed.
Flexibility: Go for an empathy map creator that is flexible enough to accommodate different types of empathy maps, from simple to complex.
Collaboration features: The empathy map creator selected should allow teams to work together on the project while providing real-time feedback.
Export options: Choose an empathy map creator that offers a variety of file formats that you can export for use in different settings.
6 Best Empathy Map Creators
Several empathy map creators are readily available for use online. Let's have a look at six of the most commonly used ones:
Boardmix is a simplified empathy map creator that offers you a ready-made template to give you a start. Sign up for an account with Boardmix, then select to use the empathy map template. Fill out the relevant information to bring the empathy map to life.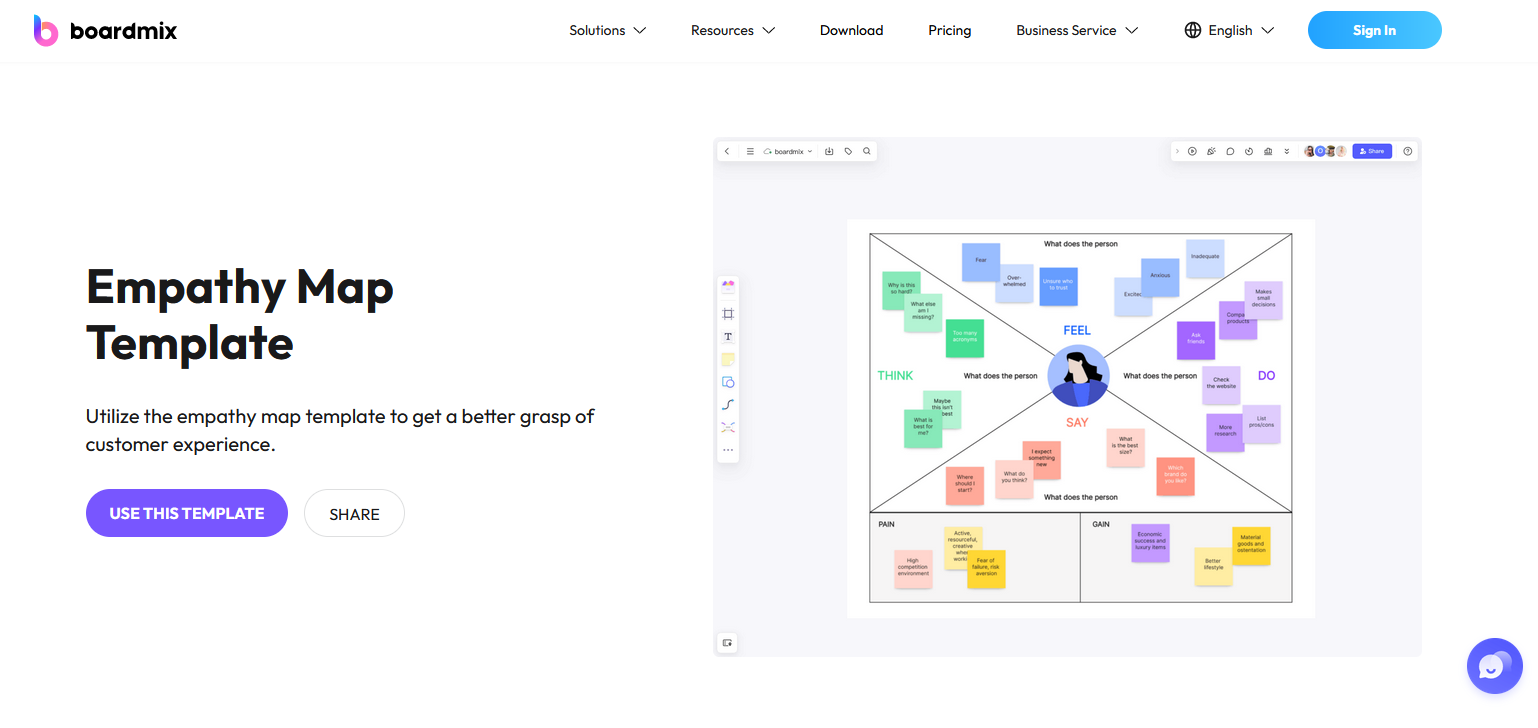 Pros
A user-friendly interface with a ready-to-use empathy map template.
More affordable compared to other online empathy map creators.
Offers a range of collaborative tools to allow team members to contribute to the same empathy map.
Ability to export the final empathy map in multiple file formats.
Cons
Some of the features require additional time and effort to learn.
Pricing
Free Plan
Monthly Plan: US$5.9/mo.
Annual Plan: US$ 4.9/mo. charged annually
3-Year Plan: US$ 2.9/mo. charged every three years
Creating an empathy map with Mural is quick and fast. The platform offers you a digital whiteboard to start your creation, allowing your team to work on the project together. The visual work platform allows you to keep track of the big picture as you move various elements around.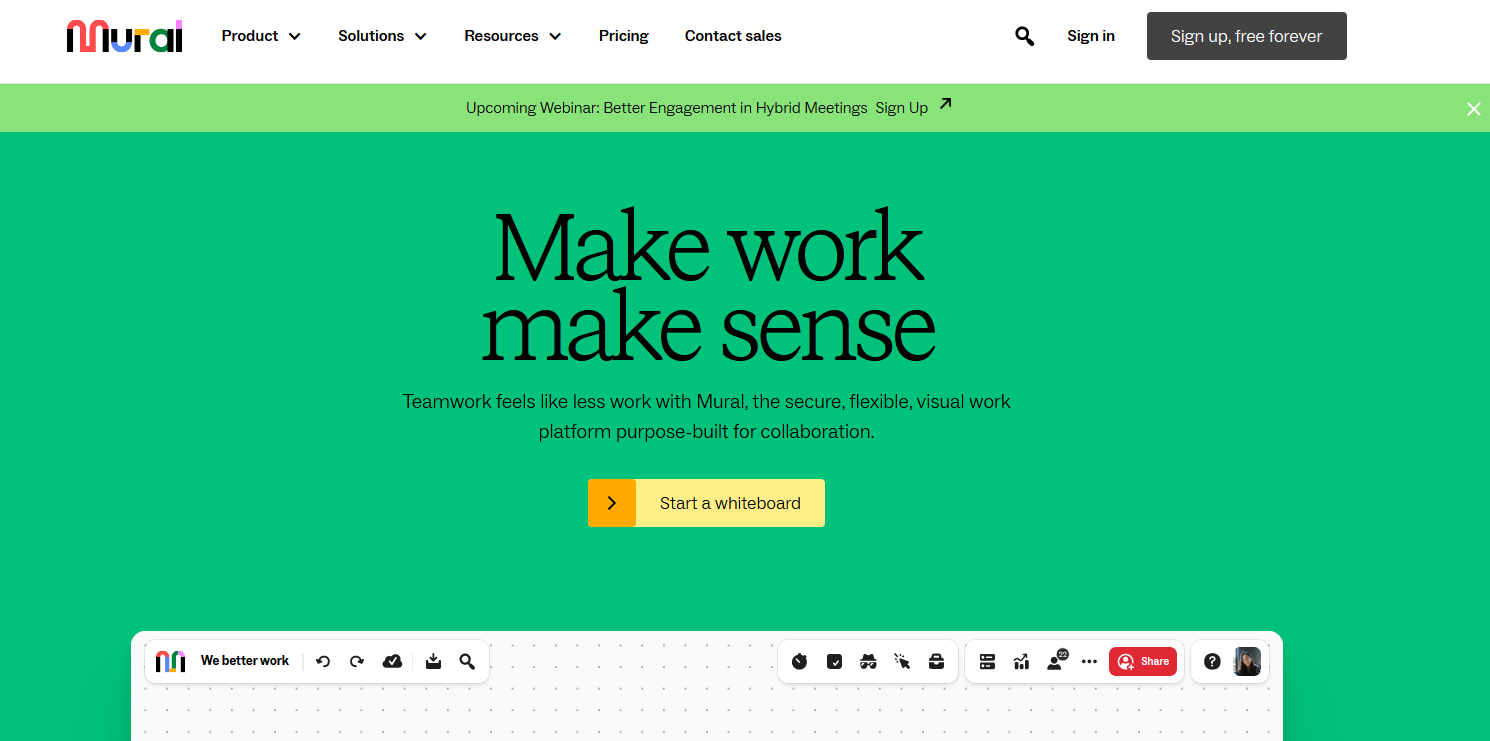 Pros
An easy-to-use and intuitive platform for creating empathy maps.
A variety of features to kick off new and existing projects.
Cons
Lags sometimes, especially when collaborating with a big team.
Difficult to zoom into certain elements.
Pricing
Free: US$0 for unlimited members
Team+: US$9.99/mo./member
Business: US$17.99/mo./member
Enterprise: Custom prices
Moqups is a good choice when you want to create a clean empathy map quickly. With a few templates to choose from, you can create an empathy map in minutes, using an intuitive platform for beginners and experts in diagramming tools.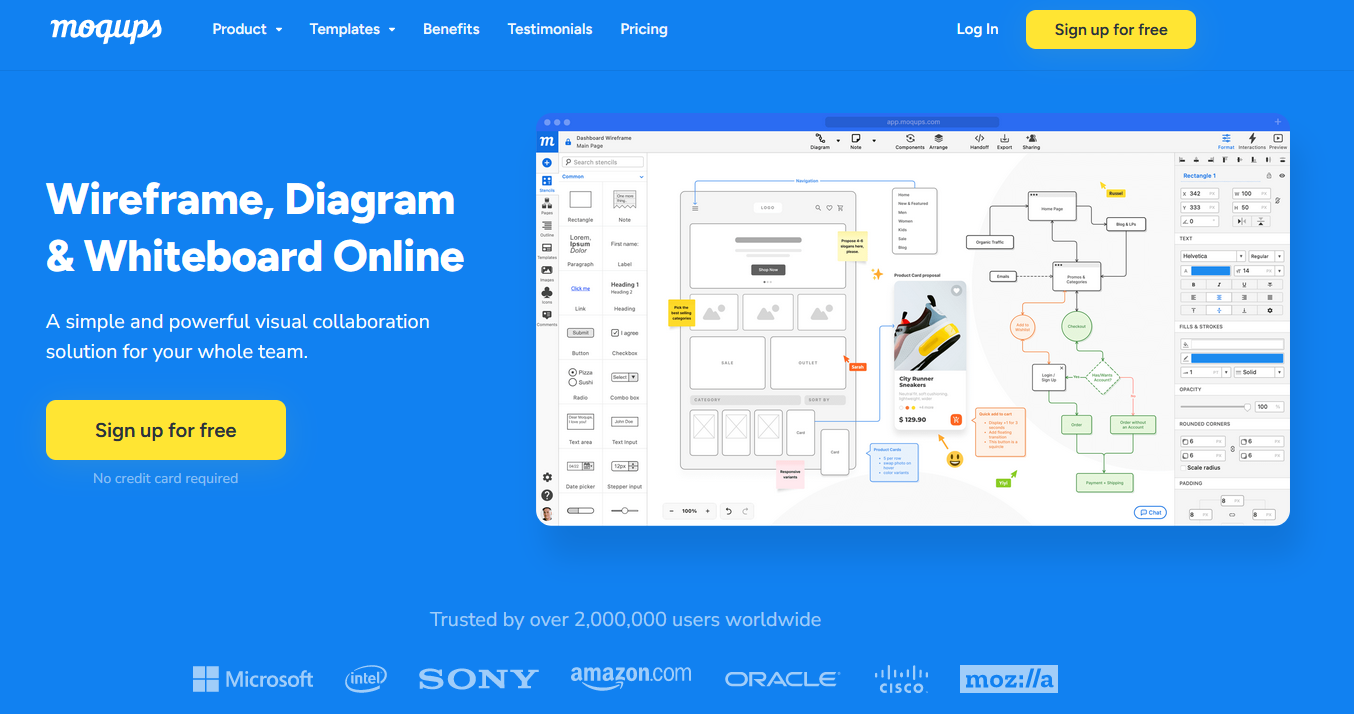 Pros
An easy-to-use platform for creating empathy maps.
Ready-to-use templates that give you a quick start.
Unlimited integrations, powerful expressions, animations, and designs.
Cons
Some users have reported automatic renewals without notice.
Selecting one item at a time when creating empathy maps on the platform is time-consuming.
Pricing
Free Plan
Solo: US$13/mo
Team: US$23/mo
Unlimited: US67/mo
Conceptboard is lauded for offering a secure collaboration for hybrid teams to work on projects. Your team can collaborate in creating an empathy map while staying connected with every component addition. Leverage visual collaboration without sacrificing quality.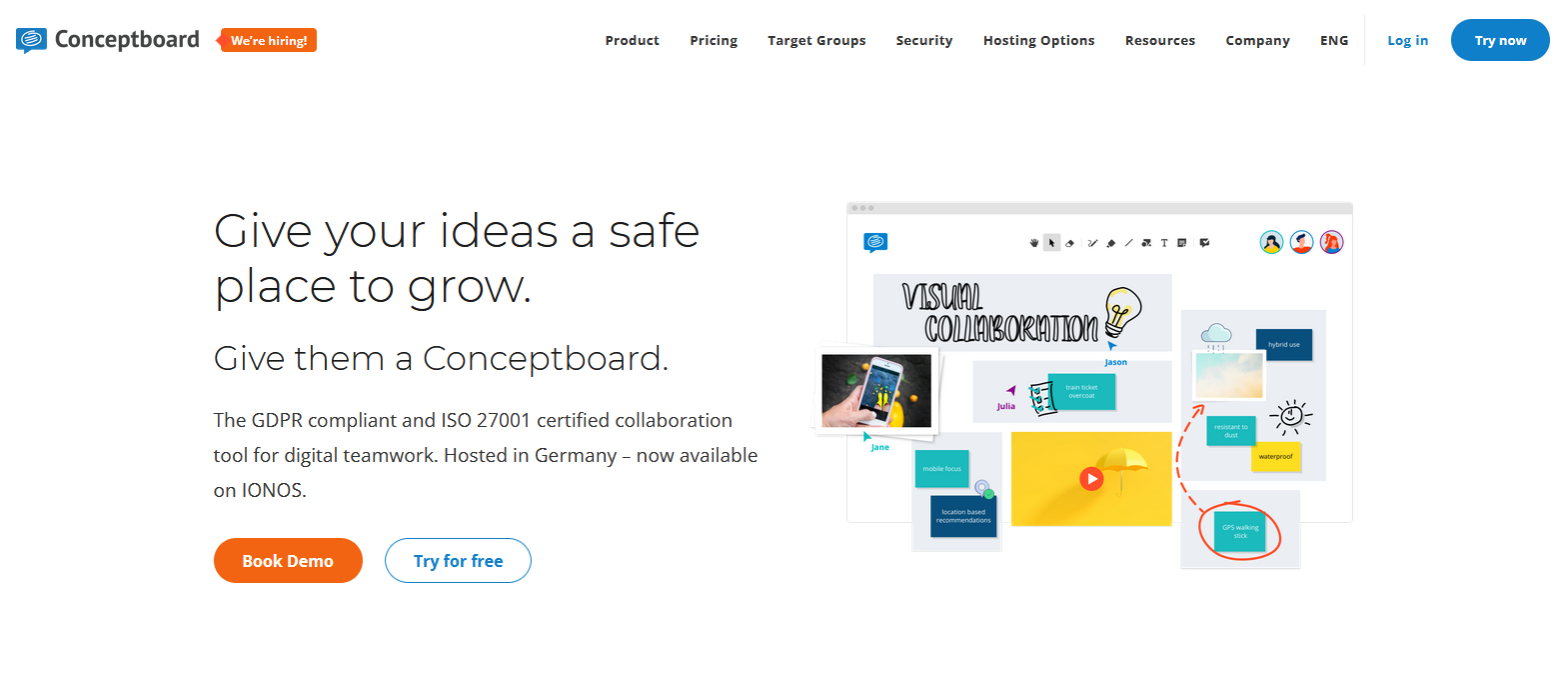 Pros
Free unlimited trial.
Pretty simple interface for creating empathy maps.
Successful navigation features.
A non-stop freehand drawing tool.
Cons
The sticky note tool sometimes glitches and may affect the final outcome of your diagram.
The selection area is not clearly visible when you are dragging the eraser tool.
PDF upload tool is slow.
No button for "clear the board."
Pricing
Free: US$0
Premium: US$6/user/mo
Business: US$9.5/user/mo
EDIT.org enabled you to quickly create an empathy map with a click. With simple designs, you will able to choose something that resonates with your brand and create an empathy map tailored to your needs.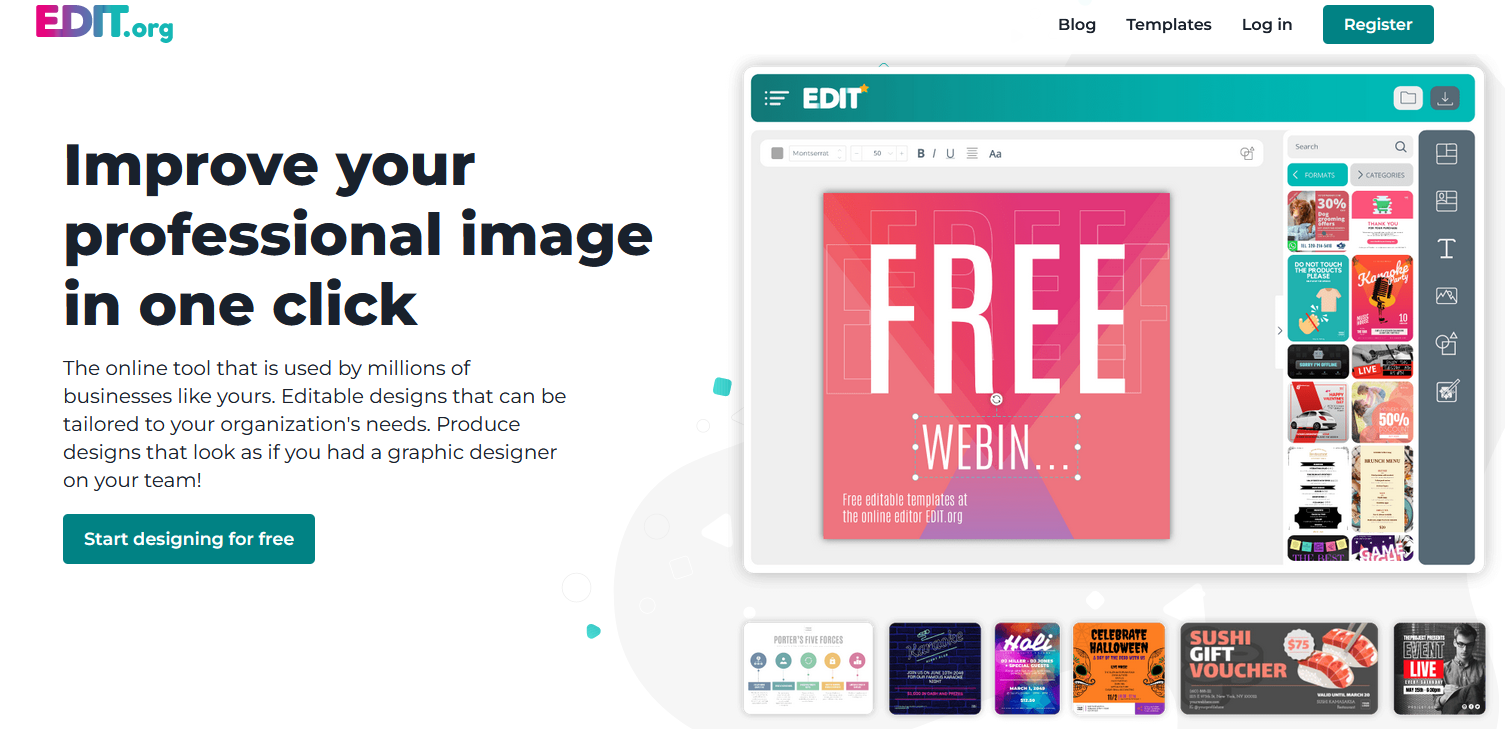 Pros
A fast and easy-to-usetool that allows you to create an empathy map in minutes.
Brings together all the features necessary to create and edit your diagram.
A variety of templates to choose from and start designing your empathy map.
Cons
Lacks necessary collaboration tools, especially when working with hybrid teams.
Some users experience difficulties editing elements in their maps.
Pricing
Free: US$0
Premium: US$9.99/mo
Miro is another empathy map creator that you will find useful, especially if you are looking for a versatile tool. With a comprehensive digital whiteboard,  you can quickly create an empathy map leveraging the readily available array of templates and designs.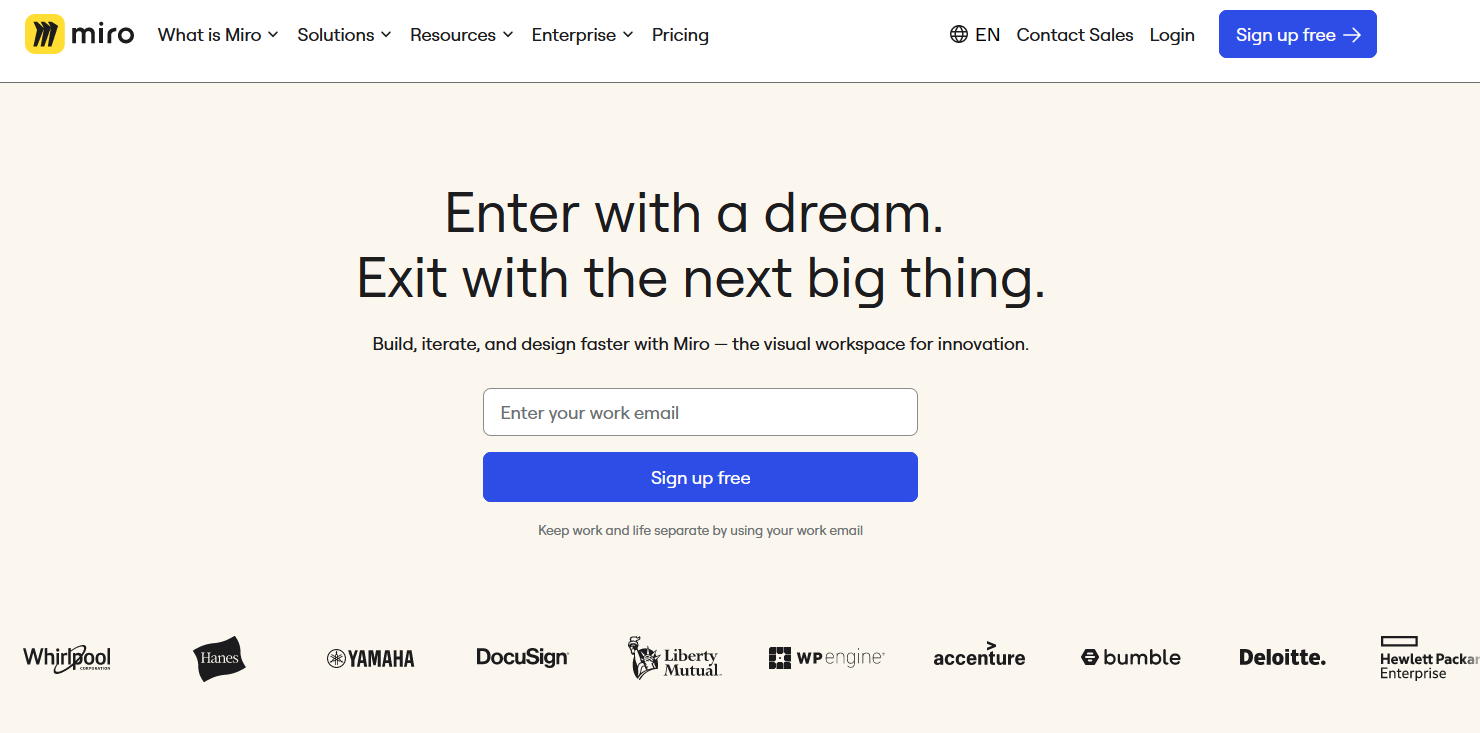 Pros
Build an empathy map from a rich library of elements including icons and pre-built flowcharts.
Easily add notes, comments, and elements to give your empathy map more life.
Quick integration with Atlassian project management tools, including Jira and Confluence.
Cons
Some users report importing graphics to Miro is not seamless.
The platform's features are limited when it comes to creating empathy maps.
Some users find the infinite canvas overwhelming, especially for simple projects.
Pricing
Free to Use Plan
Starter: US$8/mo./user
Business: US$16/mo./user
Enterprise: Contact the Miro team for pricing
Which Empathy Map Creator to Choose
The choice of an empathy map creator will depend on your goal. Overall, the Boardmix empathy map creator stands out as the best option. It has all the important elements to create an empathy map in a simplified format that is simple for beginners and experts in diagramming tools. Just try it out now!