In the world of visual communication and data representation, diagramming tools play an invaluable role. These tools help convert complex data into easy-to-understand diagrams, fostering improved comprehension and decision-making. One of the most widely-used diagramming platforms today is Lucidchart.
However, though Lucidchart excels in its own right, different users have varying requirements, budgets, and preferences. Thus, it becomes essential to explore alternatives that could better suit individual needs. This article will introduce a comprehensive list of the best alternatives to Lucidchart. Keep reading.
What Is Lucidchart
Lucidchart was launched in 2010 with the vision to make diagramming more accessible and collaborative. Over the years, it has consistently innovated to bring a powerful feature set that makes diagramming seamless and efficient.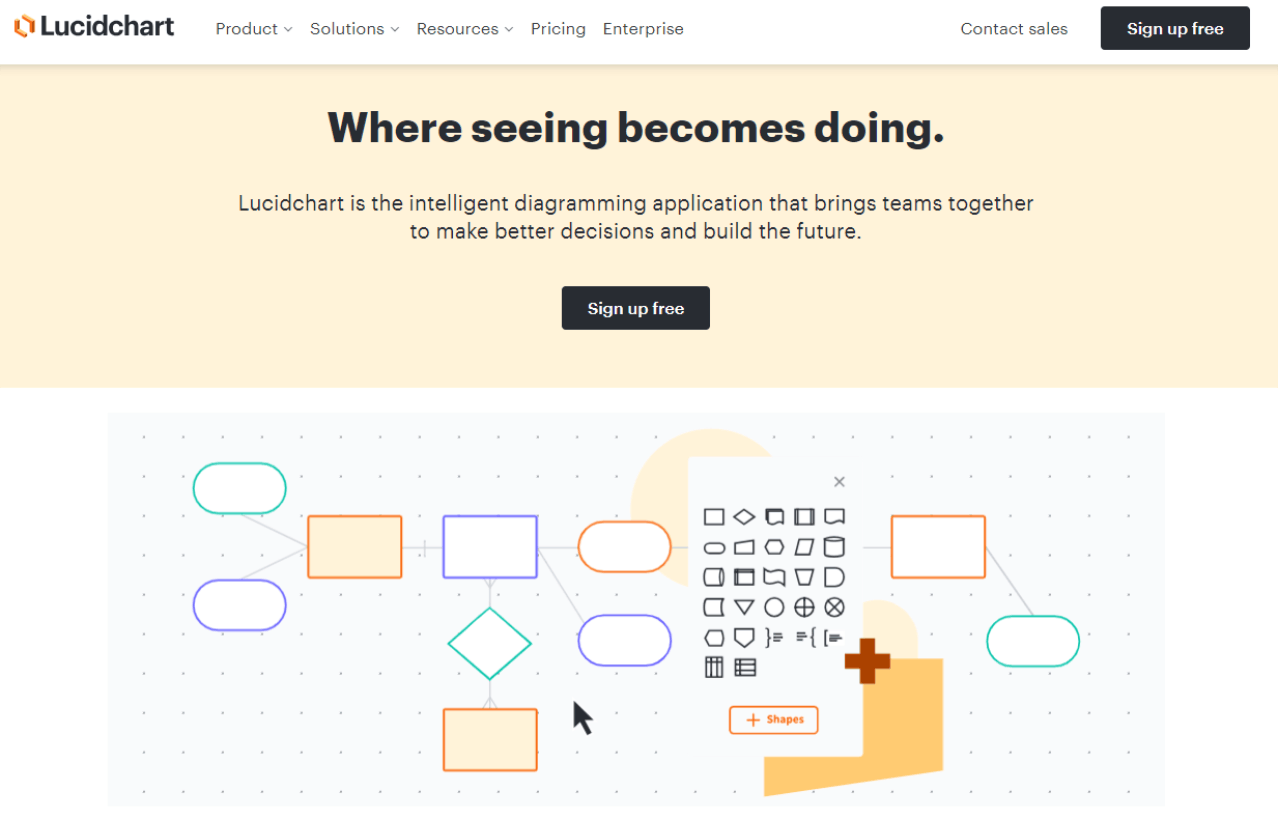 Lucidchart is a cloud-based diagramming tool that allows users to create, share, and collaborate on a wide variety of diagrams. These diagrams range from flowcharts, organizational charts, wireframes to mind maps, making it highly versatile. Its intuitive interface and collaboration features make it a go-to choice for individuals and businesses alike.
Key Features of Lucidchart
Lucidchart comes packed with a host of features that enable users to create professional and effective diagrams.
Wide Variety of Diagram Types:

 

Whether you need a flowchart, network diagram, process map, or wireframe, Lucidchart has you covered.
Easy Collaboration:

 

Share your diagrams with team members and collaborate in real-time.
Powerful Integrations:

 

Lucidchart seamlessly integrates with various popular platforms like Google Workspace, Microsoft Office, Slack, and more.
Templates:

 

It offers a plethora of pre-built templates to help you get started quickly.
Security:

 

Lucidchart places a high priority on data security with features like SSO integration and data encryption.
Pros and Cons of Lucidchart
While Lucidchart offers several advantages, there are a few downsides to consider as well.
Pros
User-Friendly:

 

It has an intuitive interface that's easy to navigate.
Collaboration:

 

The ability to work simultaneously with team members on a single diagram is a huge plus.
Integration:

 

Its integration with many popular productivity tools simplifies workflow.
Cons
Price:

 

The free version has limited features, and the paid versions may be costly for small businesses.
Performance:

 

When dealing with larger diagrams, the platform may lag or slow down.
Overall, Lucidchart is a robust diagramming tool that caters to a broad spectrum of user needs. Whether it's for business use or personal projects, Lucidchart delivers a comprehensive solution for creating dynamic and informative diagrams.
5 Best Lucidchart Alternatives
In the space of visual collaboration and diagramming software, the name Lucidchart often comes up. However, it's not always the perfect fit for everyone. Therefore, in this part, you'll learn 5 best Lucidchart Alternatives. Go to find the one that suits you the best!
Boardmix
Boardmix is definitely the best Lucidchart alternative in the market. It is a cloud-based visual communication tool that emphasizes simplicity, ease of use, and collaborative capabilities. It supports a wide array of diagrams such as flowcharts, process maps, mind maps, and organizational charts. Where it excels is its ability to foster collaboration and its intuitive interface that simplifies the diagramming process.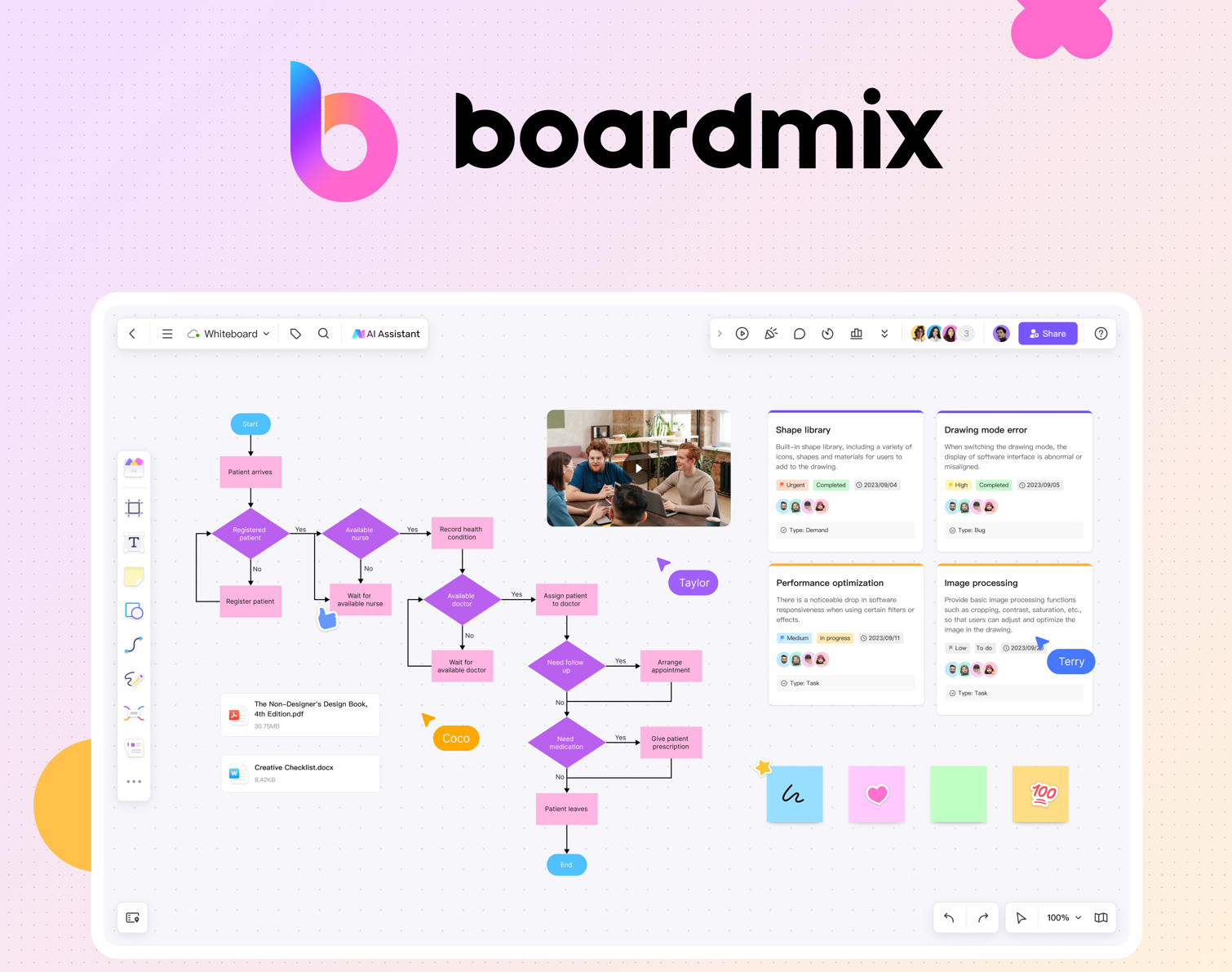 Key Features of Boardmix
Seamless Collaboration
Boardmix enables multiple users to work on a single diagram in real-time. It makes collaborating with teams easier and more effective.
Diverse Diagram Types and Templates
From network diagrams, flowcharts, to Gantt charts, Boardmix supports a variety of diagram types catering to diverse needs. It also provides ready-made templates of all kinds. With them, you can start your diagramming journey quickly and easily.
User-friendly Interface
Boardmix prides itself on its easy-to-use interface. Even first-time users find it easy to create professional diagrams in no time.
Robust Integration Capabilities
Boardmix integrates smoothly with popular platforms like Google Workspace and Microsoft Office, enhancing the workflow's efficiency.
Draw.io (Diagrams.net)
A free, open-source diagramming tool, Draw.io is highly appreciated as a Lucidchart alternative for its user-friendly interface and simplicity. Despite being free, it doesn't compromise on essential features and offers good diagramming capabilities.

Pros
Completely free and open-source.
Easy to use with a straightforward interface.
Good range of diagramming features.
Cons
Fewer templates compared to other platforms.
Limited collaborative features.
Creately
Creately is a cloud-based Lucidchart alternative that allows teams to plan, organize and execute projects in real-time. With an easy-to-use interface and extensive library of shapes and templates, Creately can be a powerful tool for visual communication.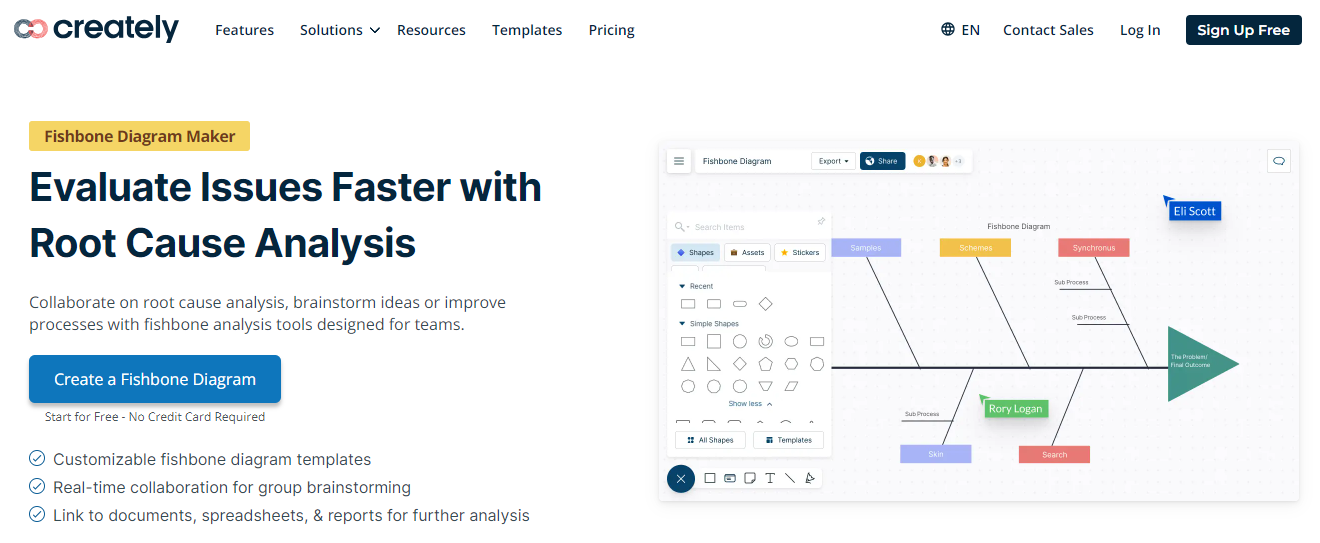 Pros
Real-time collaboration and feedback capabilities.
Extensive library of professionally designed templates.
Supports diagrams, graphs, flowcharts, and more.
Cons
Limited offline functionality.
Occasionally sluggish performance with complex diagrams.
Microsoft Visio
As a part of the Microsoft suite, Visio offers powerful diagramming tools. It provides an extensive template library and robust features, making it an excellent choice for those already using Microsoft products.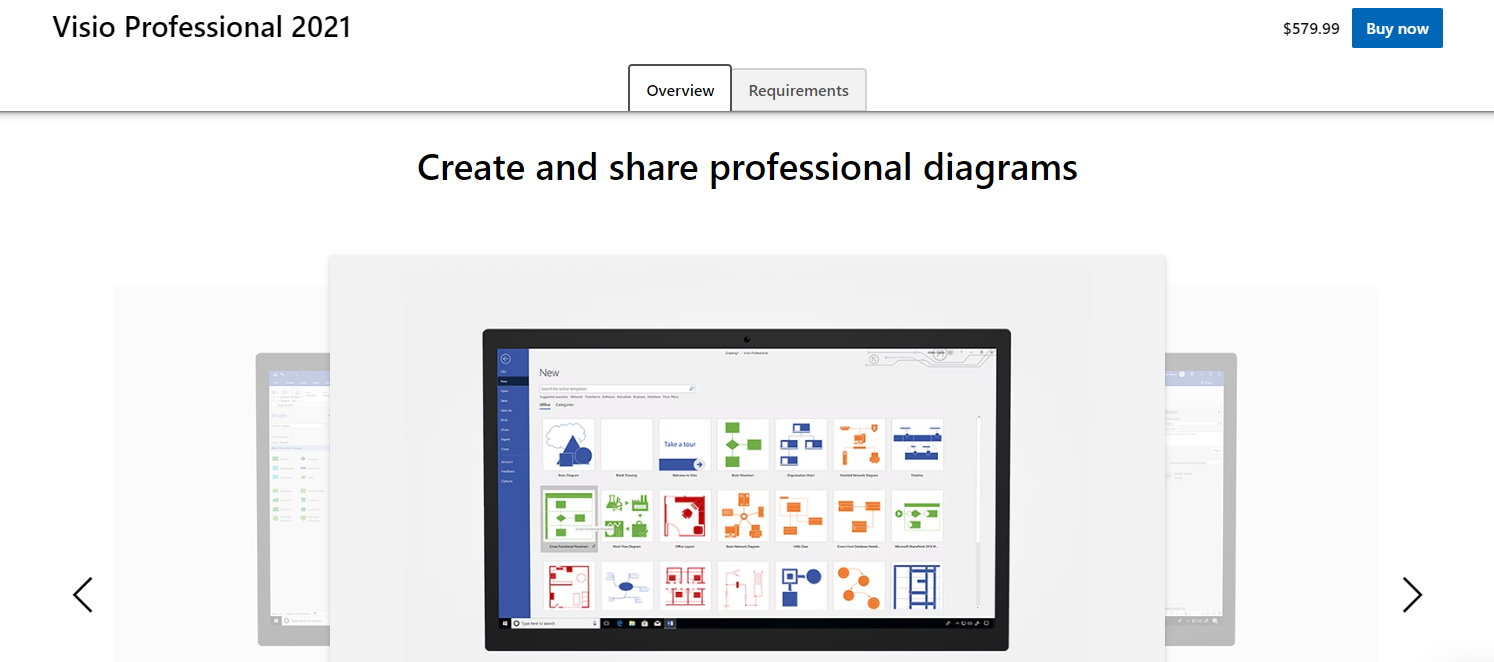 Pros
Smooth integration with other Microsoft applications.
Wide variety of templates and stencils.
Advanced diagramming features.
Cons
Higher learning curve due to complexity.
No free version available.
Miro
Miro is an online collaborative whiteboard platform that enables teams to work together effectively. It is used for mind maps, agile planning, designing UX wireframes, and more.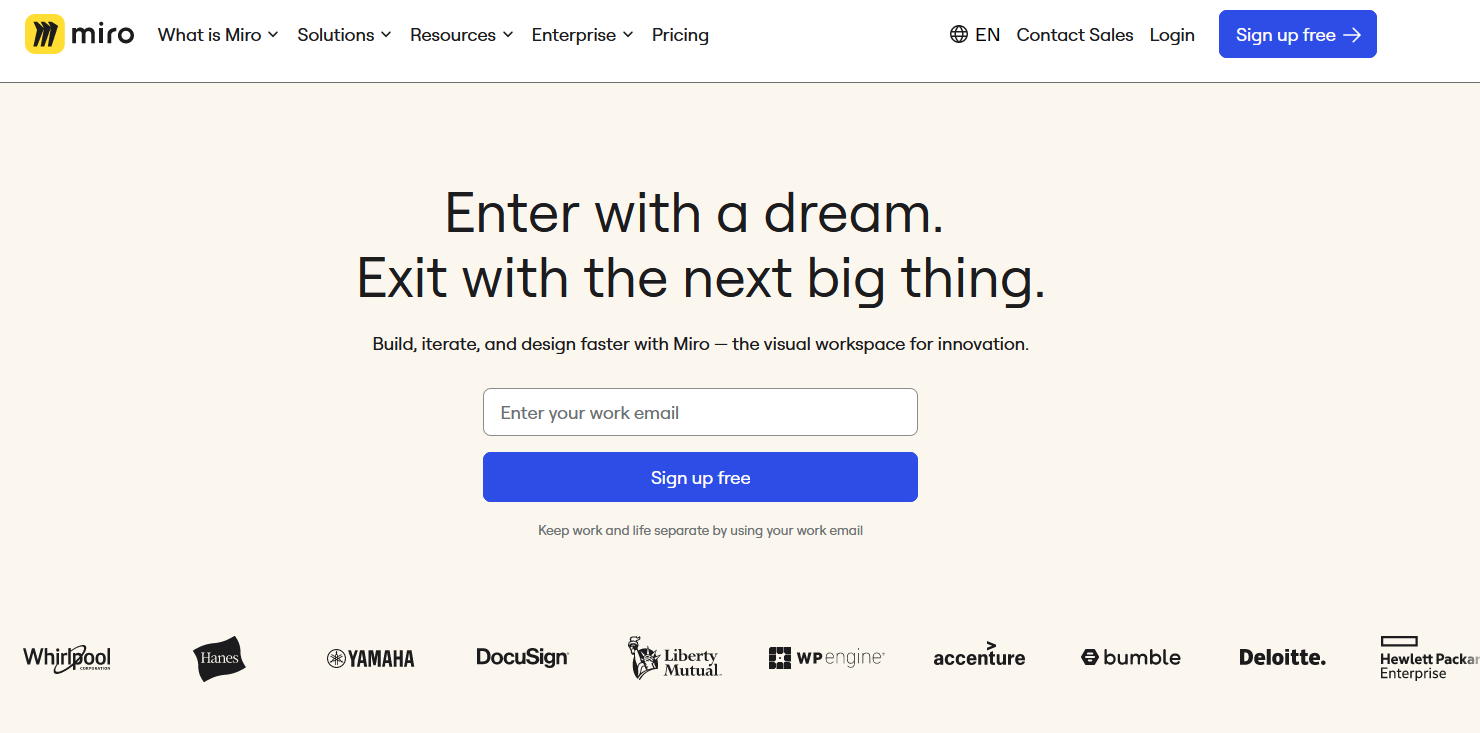 Pros
Powerful collaboration features with unlimited teammates.
High customizability with sticky notes, images, links, videos, and more.
Excellent integration with many other tools like Slack, Google Drive, Trello, etc.
Cons
Can be overwhelming for new users due to a wide range of features.
Advanced features are locked behind a paywall.
While all of these Lucidchart alternatives have their strengths and weaknesses, the best choice depends on your unique requirements, the size of your team, budget constraints, and personal preferences.
Why Choose Boardmix Over Lucidchart
There are several reasons why one might consider Boardmix as an excellent Lucidchart alternative:
Cost-Effective Solution
While Lucidchart's advanced features are tied to premium subscriptions, Boardmix offers a more cost-effective solution without compromising on the feature set.
Superior Collaboration
While both tools support collaborative editing, Boardmix provides an enhanced real-time collaboration experience.
Simplified User Experience
Compared to Lucidchart, Boardmix offers a simplified user experience making it easier for users who are new to diagramming.
While Lucidchart is undoubtedly a powerful tool, the strengths of Boardmix make it stand out as a worthy alternative. Whether it is for individual use or for collaborative team projects, Boardmix delivers robust features and an intuitive user experience that can cater to all your diagramming needs. Just try it out now!