Flowcharts have become a staple in business, education, and other sectors, aiding in the visualization of processes, workflows, or concepts. One tool that has stood out in the market is Zen Flowchart. This article delves into what Zen Flowchart is, its key features, the pros and cons of utilizing this innovative software, and some alternatives to Zen Flowchart. Keep reading.
What Is Zen Flowchart
Zen Flowchart is an intuitive, web-based application that helps users create professional flowcharts with ease. Known for its minimalist and distraction-free design, Zen Flowchart aims to provide the most simplified user experience. It strips down the process of flowchart creation to its essence, focusing on the bare essentials and eliminating any unnecessary clutter.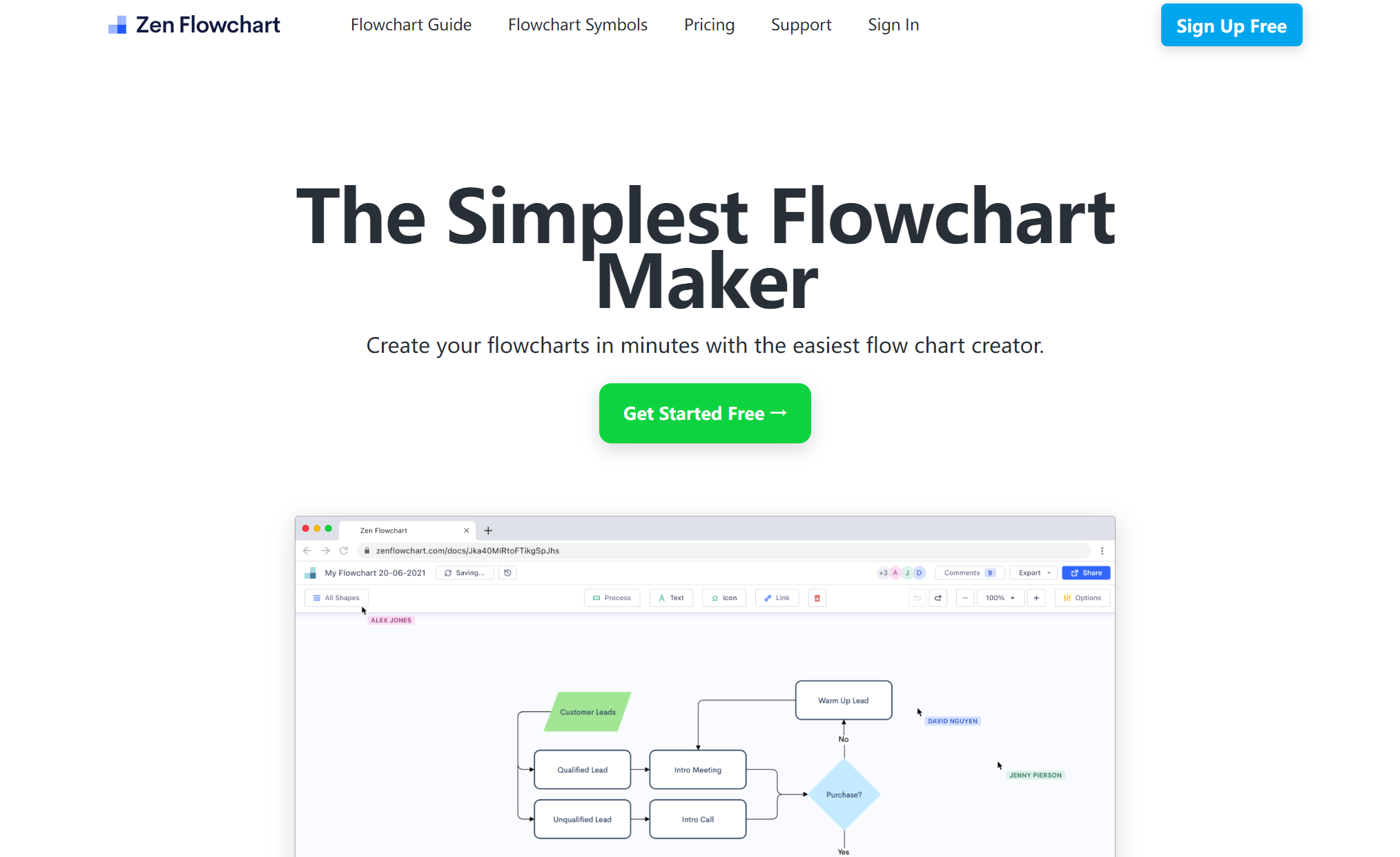 Built for users of all experience levels, Zen Flowchart makes the often daunting task of creating flowcharts approachable. Whether you are a seasoned designer in need of a streamlined tool, or a beginner looking for an easy-to-navigate platform, Zen Flowchart provides a seamless user experience that effortlessly blends utility with simplicity.
Key Features of Zen Flowchart
Zen Flowchart boasts a suite of features designed to offer users unparalleled ease and convenience in creating flowcharts. These include:
Minimalist Interface:

 

The user interface of Zen Flowchart sticks true to its name—Zen. It sports a clean and simple layout that prioritizes functionality and ease of use.
Easy-to-use Tools:

 

Users can easily create and edit nodes, connect different elements, and format their flowcharts with just a few clicks.
Cloud-based Platform:

 

Being a web-based application, Zen Flowchart allows users to create, access, and edit their flowcharts from anywhere, anytime. All you need is an internet connection.
Export Options:

 

Zen Flowchart offers several export options to suit different needs. You can download your flowchart as a PNG or PDF file, or share it directly via a unique link.
Collaboration Feature:

 

Zen Flowchart supports real-time collaboration, allowing multiple users to work on a single flowchart simultaneously. This feature can significantly enhance team efficiency and coordination.
Pros and Cons of Zen Flowchart
Like any software, Zen Flowchart has its strengths and weaknesses. Let's evaluate some of them:
Pros
Ease of Use:

 

The software's simplicity and intuitive design make it very user-friendly. Even those with little to no experience in creating flowcharts will find it easy to navigate.
Versatility:

 

With its diverse toolset and flexible features, Zen Flowchart can accommodate a wide array of use-cases, from process documentation to brainstorming sessions.
Collaboration Capabilities:

 

The ability to collaborate in real-time enhances teamwork and can lead to more efficient processes and outcomes.
Cons
Limited Customization:

 

Zen Flowchart's simplicity comes at the expense of advanced customization options. While its minimalist design is refreshing, users looking for more detailed and customizable features may find it limiting.
Dependence on Internet Connection:

 

As a cloud-based platform, an unstable or lack of internet connection can disrupt the use of Zen Flowchart.
Zen Flowchart offers an easy-to-use platform for creating flowcharts. While it may lack advanced customization features, its simplicity, versatility, and collaboration capabilities make it a viable tool for users looking to create straightforward and professional-looking flowcharts. As with any tool, it's essential to consider your specific needs and requirements before deciding if Zen Flowchart is the right choice for you.
3 Best Zen Flowchart Alternatives
While Zen Flowchart provides a commendable platform for flowchart creation, there are alternative software options on the market that might cater to specific needs or preferences better. Here, we examine three of the best alternatives, including Boardmix, highlighting their strengths and how they compare to Zen Flowchart.
Boardmix
Boardmix is an intuitive, modern software tool designed to facilitate the creation of flowcharts, diagrams, and other visual illustrations. It is lauded for its user-friendly interface and minimalist design, mirroring the simplicity of Zen Flowchart but with more innovative features. Whether you're mapping out complex processes or brainstorming new ideas, Boardmix provides an optimal platform to bring your ideas to life visually.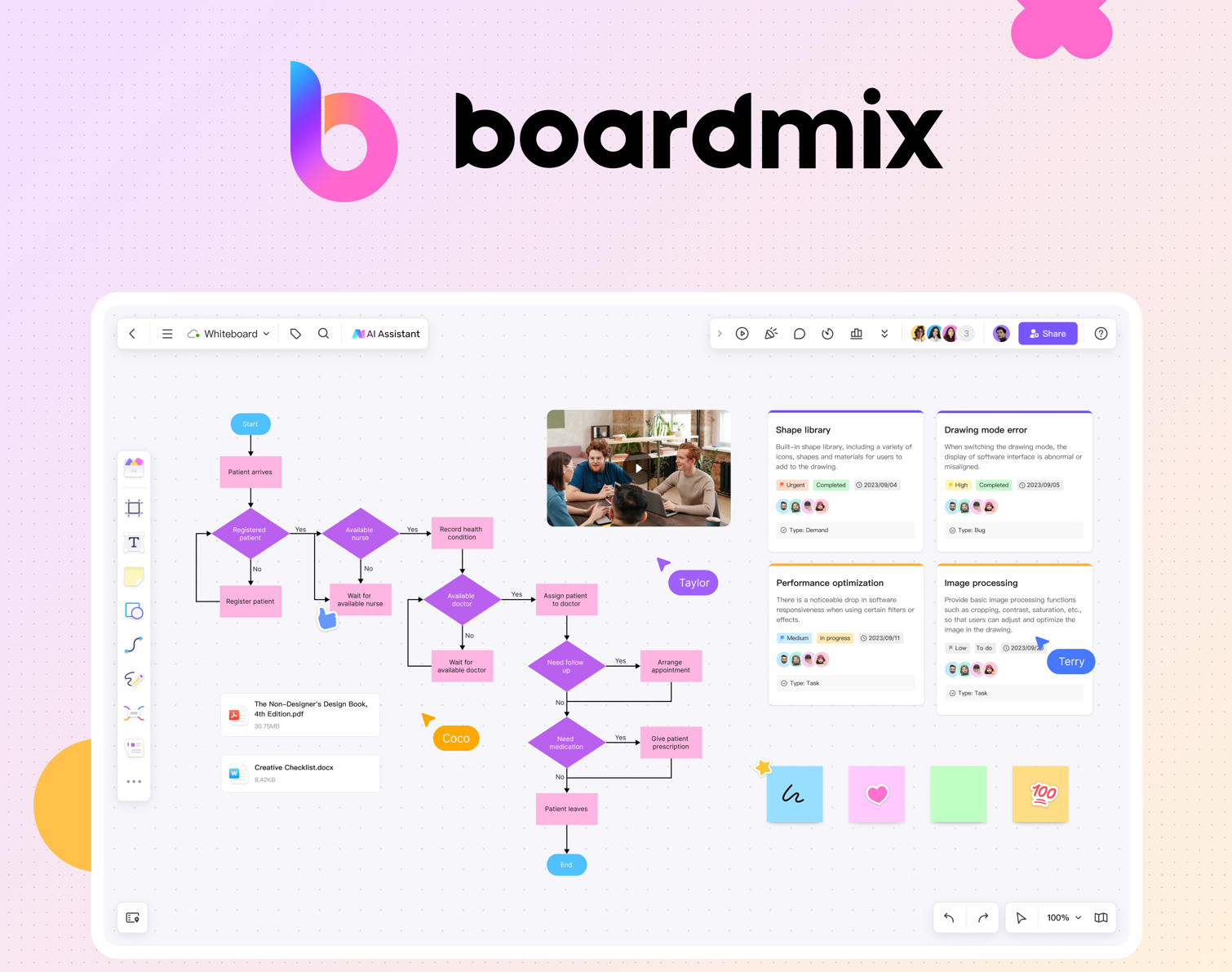 Why Boardmix Excels as a Zen Flowchart Alternative
Boardmix shines as a Zen Flowchart alternative for several reasons:
Simplified Interface
Boardmix sports a sleek and straightforward interface that is easy on the eyes and even easier to navigate. Users can easily access tools and features, making the process of creating flowcharts quick and hassle-free.
Versatile Diagramming Tools
Boardmix comes equipped with a variety of diagramming tools that allow users to customize their flowcharts to their liking. From various shapes to flexible connectors, users have all they need to create visually appealing and informative flowcharts.
Online and Offline Mode
Despite the online version that allows you to work together with other collaborators in real time, Boardmix also provides the offline mode for other uses. With the offline mode feature, users don't have to worry about internet connectivity when creating their flowcharts. You can work on your flowcharts anytime, anywhere without any disruption.
Wide Range of Templates
Boardmix also provides an array of pre-designed templates that users can utilize to jumpstart their diagramming tasks. These templates cater to different needs, from business processes to educational concepts.
While Zen Flowchart does provide a platform for simplified flowchart creation, Boardmix brings more to the table in terms of features and flexibility. The added offline capabilities further cement its position as a superior alternative. Whether you're new to flowchart creation or an experienced diagrammer, Boardmix provides a seamless and feature-rich platform to bring your ideas to life. So, why not give Boardmix a try and experience the difference for yourself?
Microsoft Visio
A household name in diagramming, Microsoft Visio stands as a solid alternative to Zen Flowchart. It offers advanced features and integration capabilities, making it suitable for users seeking more functionality.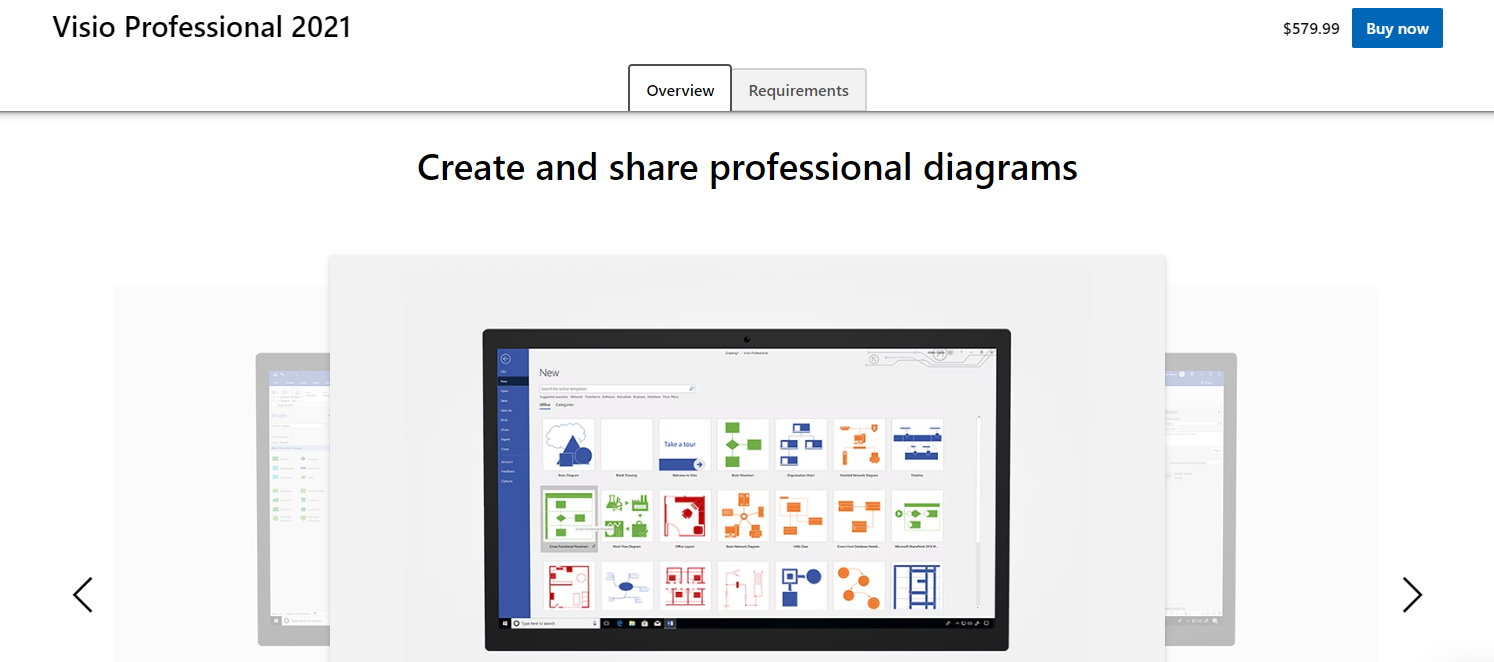 Strengths
Feature-rich:

 

Unlike Zen Flowchart's minimalist approach, Visio comes packed with a multitude of features, from vast shape libraries to data linking capabilities, catering to more complex diagramming needs.
Integration with Microsoft Suite:

 

If you're already a part of the Microsoft ecosystem, Visio integrates seamlessly with other Microsoft applications like Word, Excel, and SharePoint.
Lucidchart
Lucidchart is another popular web-based diagramming and visual collaboration tool that serves as a great alternative to Zen Flowchart.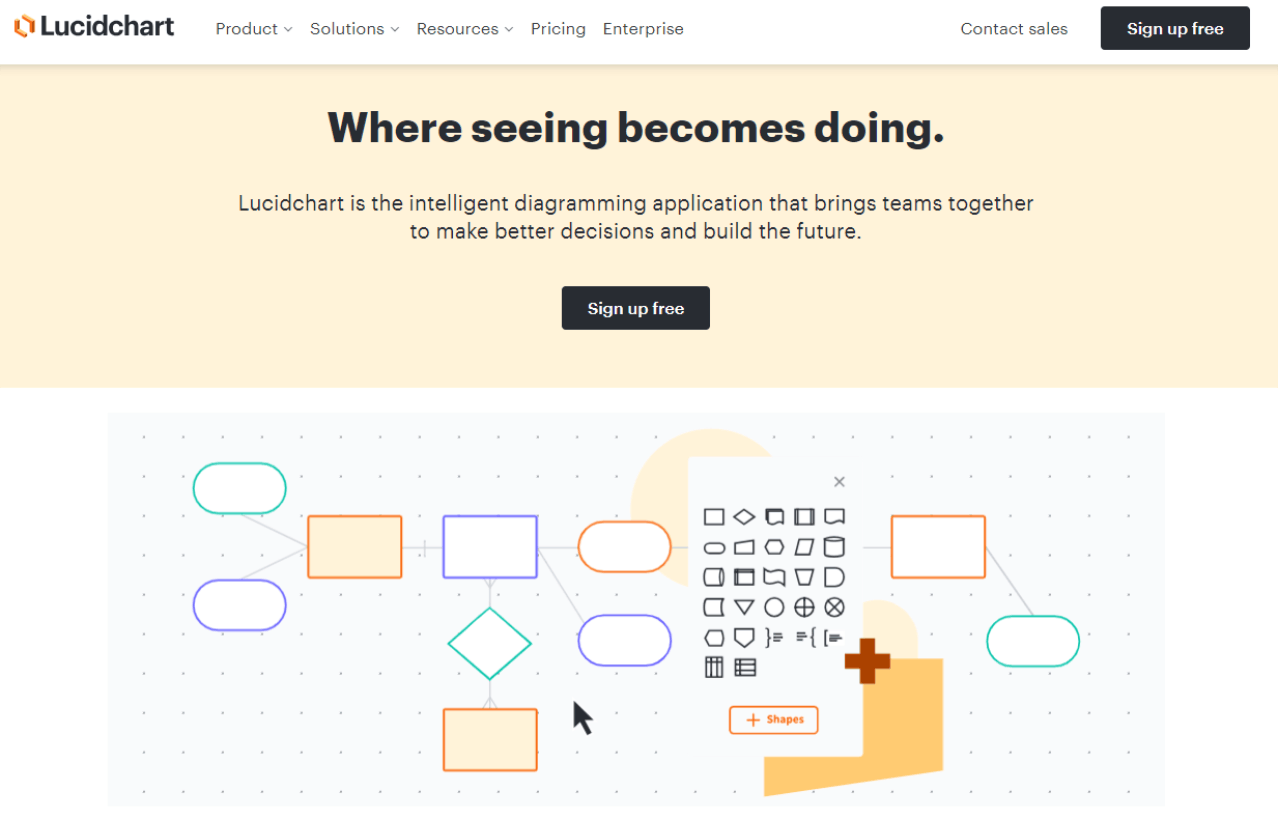 Strengths
Collaboration Features: While Zen Flowchart allows for collaboration, Lucidchart takes this a step further by offering advanced collaboration features such as team management and access controls.
Variety of Diagram Types: Lucidchart supports a wide range of diagrams beyond flowcharts, including network diagrams, UML diagrams, mind maps, and more.
Why Choose Boardmix Over Zen Flowchart
While both Zen Flowchart and Boardmix provide platforms for creating flowcharts, there are distinct advantages in choosing Boardmix. Here, we outline the main reasons why Boardmix stands out as a better choice over Zen Flowchart.
Greater Functionality
Boardmix offers a richer suite of features compared to Zen Flowchart. It doesn't compromise on the number of functionalities in favor of simplicity. Boardmix's varied tools allow you to create comprehensive and detailed flowcharts catering to different needs, making it a more versatile option.
Offline Capabilities
One of the major cons of Zen Flowchart is its dependency on an internet connection. If you have unstable internet connectivity or prefer to work offline, Boardmix is a better option. Its offline mode allows users to create, access, and edit flowcharts without an internet connection, eliminating potential disruptions.
Versatility in Diagram Types
Unlike Zen Flowchart, which primarily focuses on flowcharts, Boardmix offers the ability to create a wide range of diagrams. This flexibility enables users to visually represent various types of information beyond flowcharts, increasing the utility of the software.
Enhanced User Experience
While both tools are known for their user-friendly interfaces, Boardmix goes a step further by offering a sleek design that is both appealing and easy to navigate. The simplicity of the user interface paired with powerful features ensures a smooth diagramming experience for all users, regardless of their experience level.
To conclude, while Zen Flowchart has its merits, Boardmix's feature-rich platform coupled with its flexibility and offline capabilities make it a superior choice for creating flowcharts and other visual diagrams. It offers a balanced blend of simplicity and advanced functionality that is designed to cater to the varying needs of its users.
FAQ: Is Zen Flowchart free?
Zen Flowchart does offer a free version, but it comes with limitations. The free version allows users to create basic flowcharts with minimal features. To unlock more advanced features such as exporting options and additional editing tools, Zen Flowchart offers a Pro version at a cost. Users can choose based on their requirements and budget. In contrast, Boardmix also offers a free version with more generous offerings in terms of features, making it a more cost-effective alternative.