In the evolving realm of digital artistry, the quest for the most potent tools and platforms continues unabated. As a digital artist or designer, your creative prowess is inextricably linked to the caliber of your equipment, particularly your choice of an online drawing board. Such a tool isn't merely a blank canvas - it's an intricate gateway to limitless artistic horizons.
What is Online Drawing Board
An online draw board, also known as a virtual whiteboard or digital drawing board, is a collaborative tool that allows users to draw, write, and share their ideas in real-time over the internet. It can be used for various purposes such as brainstorming, teaching, project planning, and more. Some popular online draw boards include BoardMix, Miro, Ziteboard, and AWW App.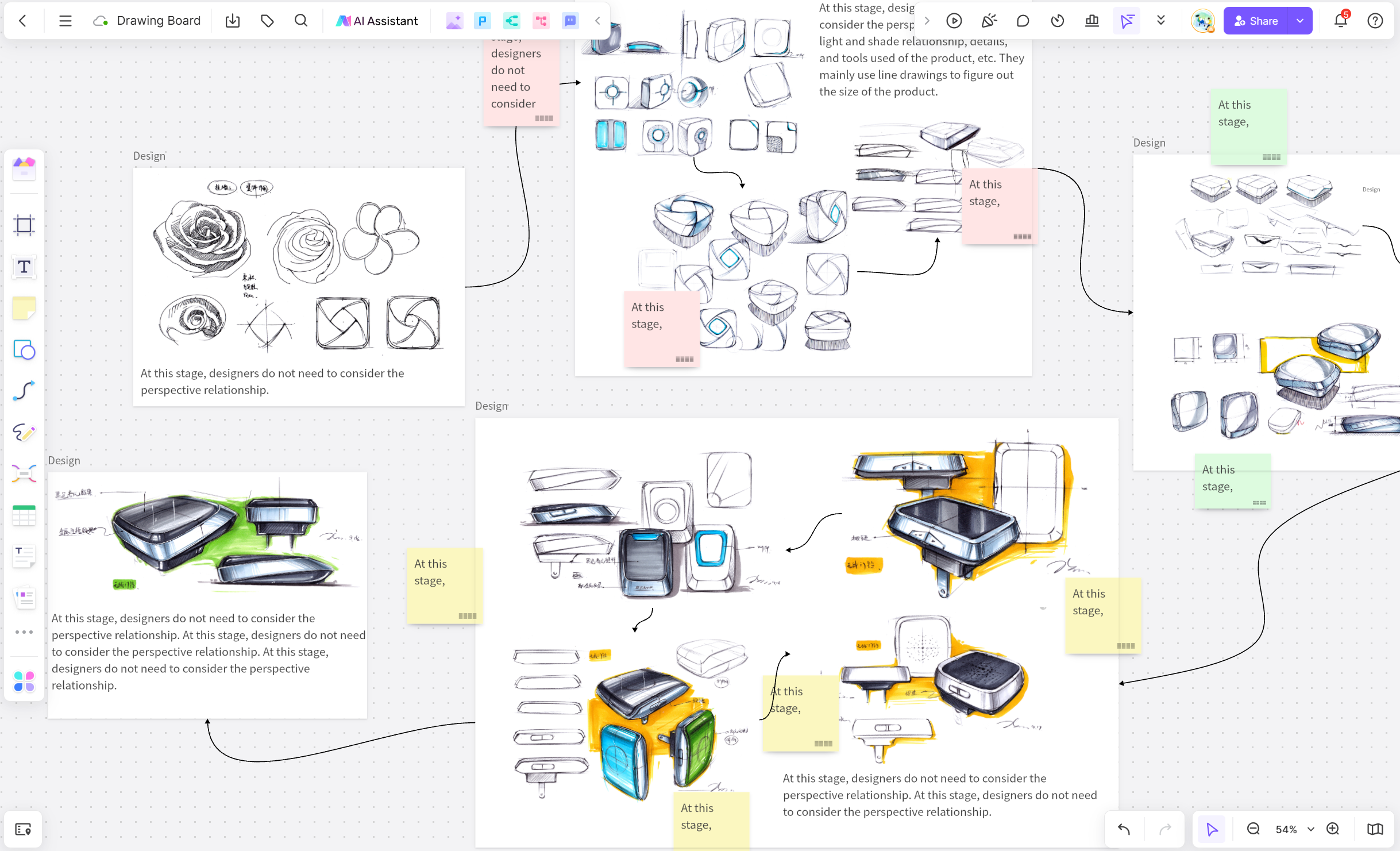 To appreciate the impact of an online drawing board, we must delve into the essence of this groundbreaking tool. A seamless blend of technology and artistry, an online drawing board catapults the creative experience into a new dimension. It transcends geographical boundaries, enabling artists to create, collaborate, and exhibit their work with unprecedented ease.
Top 10 Online Drawing Boards
Before we dive into our carefully curated list of the top ten online drawing boards, let's decipher what differentiates a superior board from a mediocre one. Crucial aspects include a user-friendly interface, comprehensive range of tools, high-resolution output, compatibility across devices, collaborative features, and responsive customer support.
1. BoardMix
The BoardMix online drawing board, also known as a virtual whiteboard, is a versatile collaborative tool that revolutionizes the way teams work together. It's a digital canvas that allows users to visualize ideas, brainstorm concepts, and map out projects in real time, regardless of their geographical location. This innovative platform supports multiple functionalities including freehand drawing, sticky notes, text input and even importing files from various sources.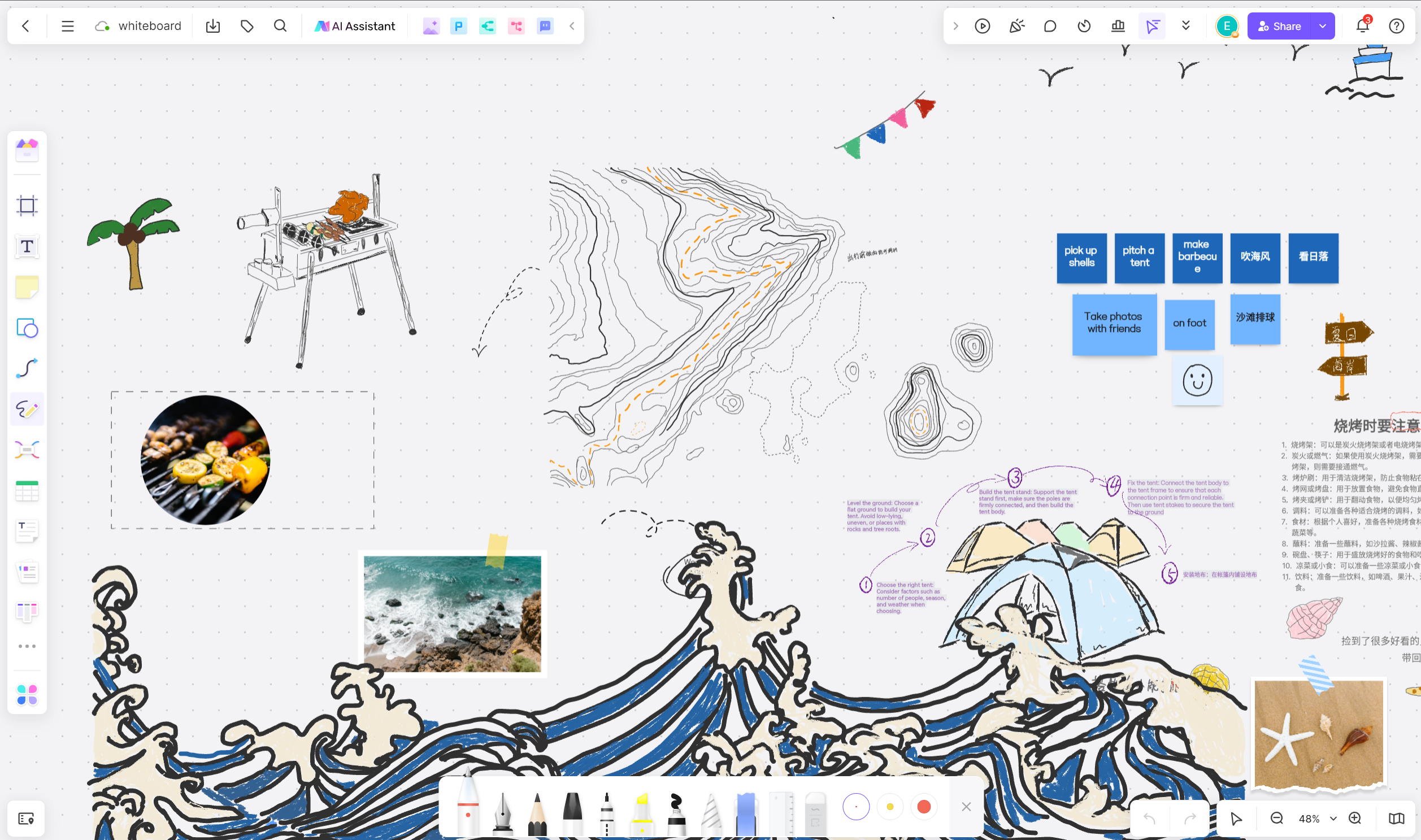 The beauty of the BoardMix online drawing board lies in its ability to break down barriers of communication and foster creativity. Whether you're mapping out a complex project plan or simply brainstorming new ideas, BoardMix provides an intuitive and interactive environment that stimulates collaborative engagement.
2. Procreate
Widely touted as the zenith of digital art applications, Procreate boasts a streamlined interface brimming with versatile sketching and painting tools. Coupled with its high-quality output and custom brush options, it's no surprise that Procreate is a favorite among digital artists worldwide.
Procreate Dreams doesn't just deliver an animation app, it presents a canvas for your dreams, a platform for your voice, and a means to share your unique narratives in the most dynamic and engaging manner. This isn't just another app, it's an extraordinary instrument that transcends the typical boundaries of animation and invites you to explore new creative territories.
Designed for both novices and seasoned professionals, it promises a versatile suite of features that ensure your animations are vivid, vibrant, and visually stimulating. Get ready to captivate the world with your stories as you have never done before. With Procreate Dreams, your creativity knows no limits!
3. ArtRage
ArtRage Vitae Desktop presents itself as the digital equivalent of an artist's workspace, equipped with all your beloved and recognizable tools that operate just as their tangible counterparts. Imagine having a robust canvas suitable for vibrant oils and subtle watercolors. Or envision a sketchpad with a complete set of pencils at your disposal and a paper accompanied by a pile of colorful wax crayons, all encapsulated in one singular platform.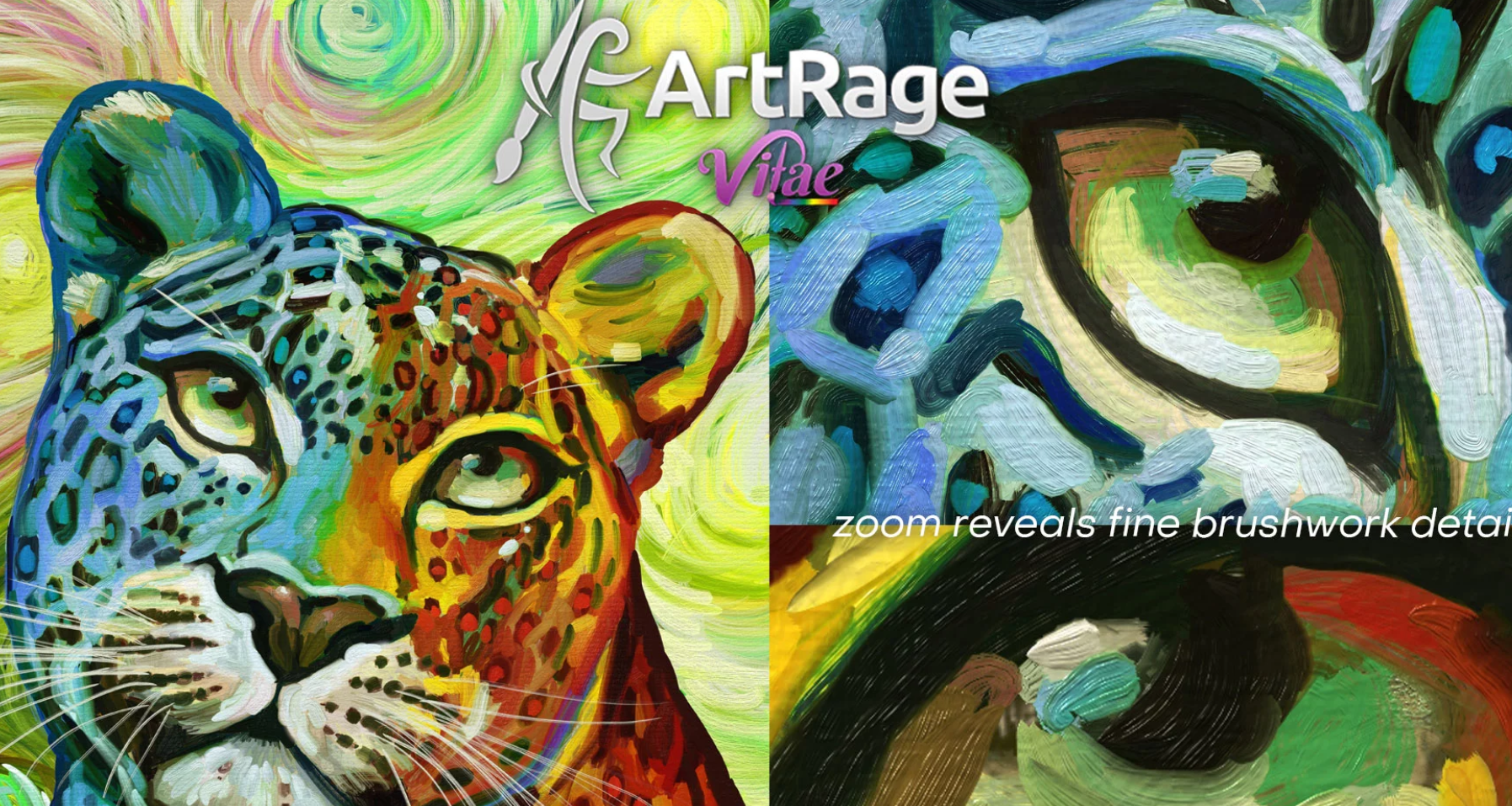 You can create picturesque landscapes by smudging and blending dense oils, resulting in organic color transitions. Delve into sketches using pencils and tap into different shading techniques with the mere edge of the tip. Unleash your creativity with delicate watercolor strokes that beautifully respond to the texture of the canvas. And the best part is, you get to experience all this and more, without an iota of hassle!
ArtRage Vitae stands as an ideal creative ally, accommodating everyone from enthusiastic youngsters to seasoned adults, beginner hobbyists to experienced professionals. It encourages the spark of creativity within everyone, fostering an environment where artistry truly flourishes.
4. Autodesk SketchBook
Redefining freedom in digital sketching, Autodesk SketchBook offers a clean interface free from clutter. Yet, it hosts a powerful array of features that empower artists to capture their ideas swiftly and efficiently.
5. Corel Painter
Exemplifying innovation in digital artistry, Corel Painter offers an extraordinary array of natural media brushes and advanced art techniques. Its highly customizable features make it the ideal choice for seasoned artists seeking in-depth exploration. Painter 2023 unleashes your creativity with hundreds of realistic brushes, superior blending capabilities, and a diverse range of art tools. Whether you're sketching, painting, illustrating or creating photo-art, Painter 2023 ensures an unparalleled experience. Enjoy seamless file transfer between Photoshop and Painter while preserving content. Experience the most natural painting process with support for stylus tilt, rotation, bearing, and pressure control on your drawing tablet. Compatible with both Mac and PC platforms, we offer flexible licensing and subscription options to cater to your needs. Step beyond boundaries and craft your masterpiece with Painter 2023!
6. Infinite Painter
Emerging as a hidden gem in the realm of digital artistry, Infinite Painter brings an eclectic mix of more than 160 brush presets and an exhaustive set of editing tools. Its standout feature is its responsive stylus pressure sensitivity which adds a realistic touch to digital artwork.
7. Adobe Illustrator Draw
A forerunner in the digital design world, Adobe Illustrator Draw offers an unparalleled amalgamation of simplicity and sophistication. It houses a gamut of brushes and design templates while allowing seamless integration with Adobe's other products.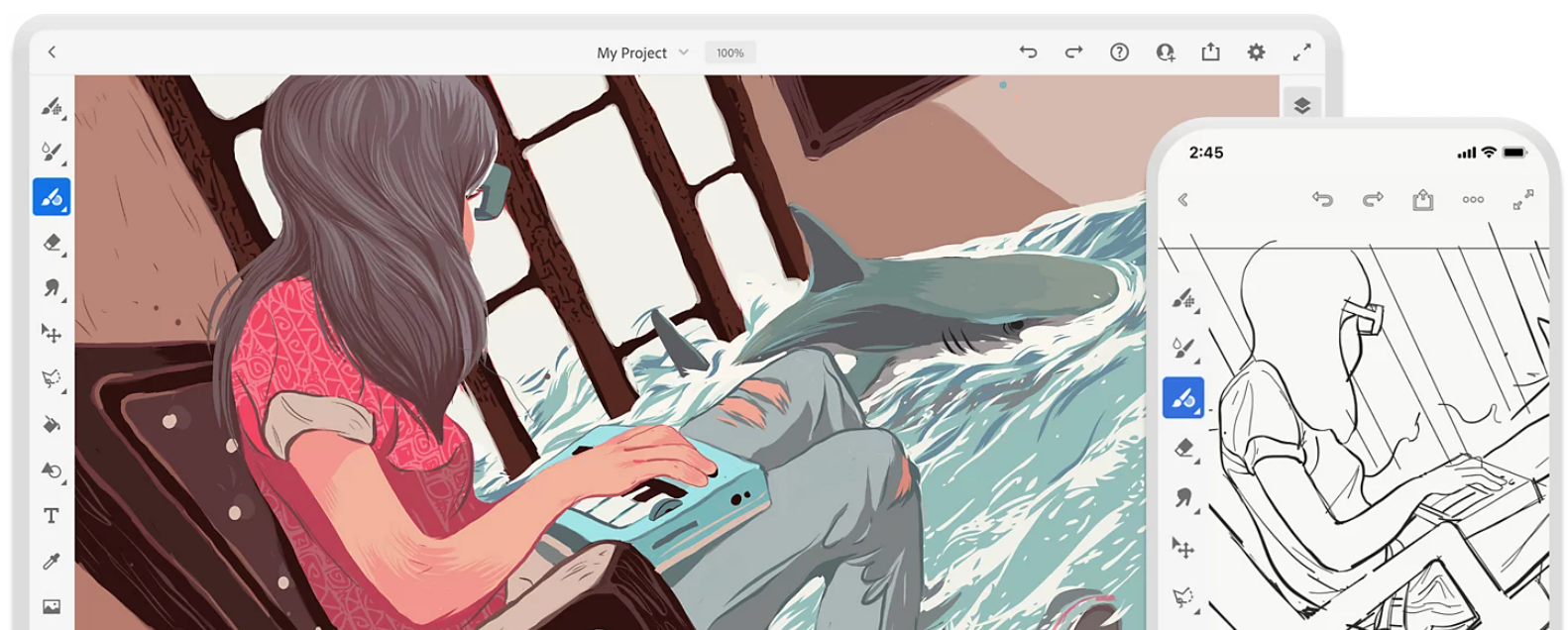 Adobe Illustrator Draw, the world's most advanced digital brush collection platform, offers a unique painting experience with its vector, raster, and live brushes. It allows you to create beautiful art anywhere with features like blooming watercolors, blending pigments, and building up oil paints. Fresco simplifies artwork creation with its improved shape tools, including Fill, Erase, Create Mask, and Create Selection. It also offers the convenience of capturing anything as a vector shape for your art. With Fresco's automatic syncing across iPad, iPhone, and desktop, you can create anytime, anywhere. Plus, it ensures your brushes, fonts, and other essential assets are always available in your Creative Cloud Libraries. Experience the freedom of creativity with Fresco!
8. Clip Studio Paint
Designed specifically for manga and comic artists, Clip Studio Paint comes loaded with features such as customizable pens and brushes, 3D models, and smooth coloring tools. Its specialty lies in its unique comic panel creation tools and advanced typography options.
9. MediBang Paint
With a vision to make digital art accessible to all, MediBang Paint offers a user-friendly platform loaded with over 800 backgrounds, 50 brushes, and 20 font styles. The icing on the cake is its cloud-saving feature, which makes cross-platform work a breeze.
10. Tayasui Sketches
Closing our list is Tayasui Sketches, a charming application that offers an intuitive drawing experience with minimalistic tools and a straightforward interface. Its most enticing feature is its watercolor wet brushes, which beautifully emulate real-life watercolor effects.
How to Use Online Drawing Boards
BoardMix is an exceptional online board that has revolutionized the way we draw and collaborate. It's an intuitive tool that provides a seamless drawing experience, even for novices. But how do you get started with it? Let's delve into the details.
The first step in using BoardMix is to create an account here. Once you've signed up and logged in, navigate to the dashboard and select 'BoardMix' from the 'File' menu. This will open up your new canvas - a blank slate ready to be filled with your creative ideas.

The toolbar on the left side of your screen holds all the tools you need for drawing. You can choose from a pencil, pen, or marker, each offering different line styles and thicknesses. The color palette at the bottom allows you to select from a wide range of colors to bring your drawings to life. Remember, "Color does not add a pleasant quality to design - it reinforces it," as Pierre Bonnard once said.
One of the unique features of BoardMix is its collaborative functionality. By clicking on the 'Share' button at the top right corner, you can invite others to join your board. Whether you're brainstorming ideas with your team or teaching a drawing class, everyone can contribute in real-time.
To erase any mistakes or unwanted lines, use the eraser tool from the toolbar. Alternatively, you can simply press 'Ctrl + Z' to undo your last action. BoardMix also offers sticky notes and comments for annotating your drawings or leaving feedback for others. This feature enhances communication within teams and makes collaboration more effective.
With the ceaseless advancements in technology, the options for online drawing boards are numerous and varied. As an artist, your individual style, preferences, and requirements should guide your choice. Remember, your tools are extensions of your creativity, serving as conduits that translate your imagination onto the digital canvas. Choose wisely, and let your artistry thrive.