The BCG matrix, created by the business experts of Boston Consulting Group in the 1970s, a popular analysis tool that gauges the performance of a company's products and services. It helps identify which products need more investment for growth, which ones are generating sufficient income on their own, which ones might need to be phased out, and so on. In this article, we will analyze the BCG matrix of Amazon and see how their main products and services are doing.
Background of Amazon
Amazon.com is one of the biggest online retailers today and was founded in 1994 by Jeff Bezos. The company initially sold books, music and movies but quickly branched out to a whole range of other items. Amazon is still known as having the biggest book selection in online retail, but it also carries a plethora of products including electronics, software, toys, home improvement items, and even clothing. Today, Amazon has a market cap of $1.36 trillion, placing it at rank 5 of the world's most valuable companies.
Amazon BCG Matrix Analysis
With Amazon's product portfolio having seen tremendous growth in the last couple of decades, it is pretty interesting to see how these products are performing in the market today. We can clearly get a picture of this in the BCG matrix for Amazon below.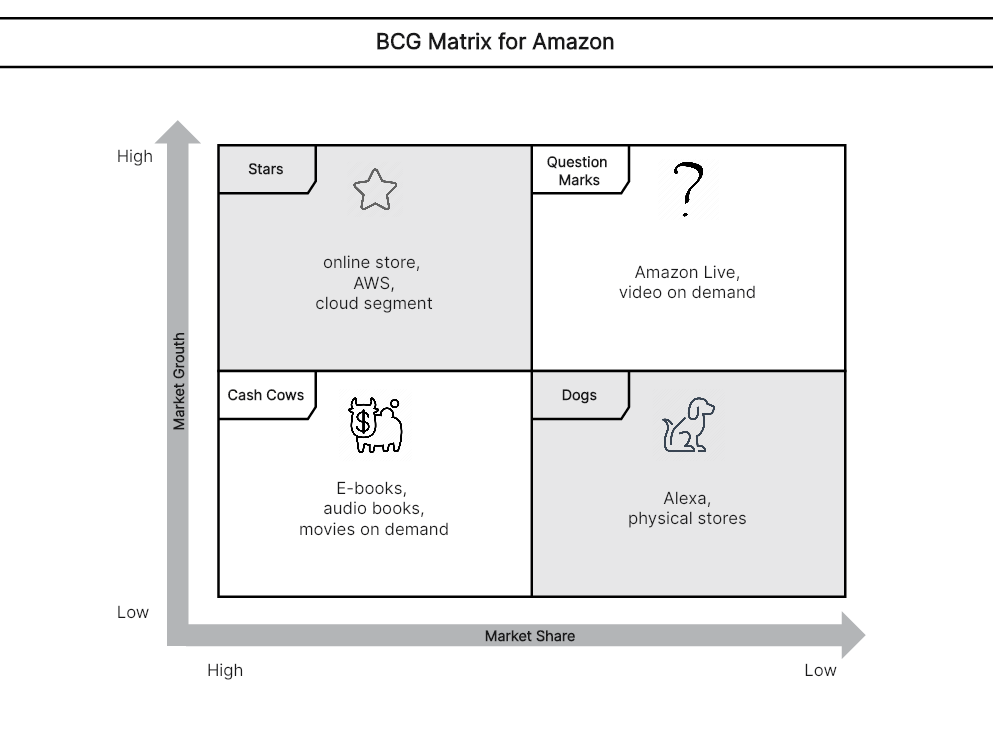 Amazon BCG Matrix Analysis Created in Boardmix
Based on the most recent data on market growth and market share, we can see the placement of some of the most notable Amazon offerings in the Amazon BCG matrix. Based on the current position of each product, the company can form the right strategies that would be best for the business.
Stars
Stars hold a significant share in the market and are in a promising position to be huge earners. By placing bigger investments in these products, they can bring in reliable revenue for a long time. Without a doubt, the star in the BCG matrix of Amazon is Amazon.com, the company's online store. But not too far behind are its cloud segment and AWS, which are both showing significant growth.
Question Mark
The market performance of question marks has not yet been established since they are usually new. In the Amazon BCG matrix, video on demand and Amazon Live fall into this category, and we have yet to find out how they will become a star or a dog in the months to come.
Cash Cows
Cash cows are the products that have proven to be a stable source of income and are in a market that is not really showing much growth. Hence, they can continue to generate high revenue without additional investment. It's not really a surprise that Amazon's cash cows are their books and movies, which have been their primary products since the beginning.
Dogs
Dogs are products that do not generate much revenue nor show much promise of growth. Investing in them further can just lead to losses for the company. Amazon has physical stores that not many know about, and these are definitely the dogs in the BCG matrix for Amazon. Likewise, Alexa has turned into a dog as its market share has gradually dropped from the impressive 80% it held during the early stages.
Key Takeaways
Based on the BCG matrix of Amazon, we see that products can shift between categories depending on how they perform in the market. Alexa used to be a cash cow and is now a dog. Amazon Live is still uncertain as it can either become a star or a dog.
By using a great mind-mapping tool such as the ones from Boardmix, we can create a BCG matrix for Amazon with ease, using a variety of symbols, images, and layout choices. Choose from a range of pre-designed templates and be able to do a comprehensive analysis of the Amazon's products.
References
https://www.edrawmax.com/article/amazon-bcg-matrix-analysis.html
https://bcgmatrixanalysis.com/bcg-matrix-of-amazon/
https://en.wikipedia.org/wiki/Amazon_(company)