A regular evaluation of a company's product portfolio is crucial in developing effective sales and marketing strategies to keep the brand relevant in its target market. While there are plenty of ways that this assessment can be conducted, most businesses like to use the BCG matrix because of its simplicity and accuracy.
The BCG matrix is a business planning tool created more than 50 years ago by the Boston Consulting Group, hence its name. In this article, we present a brief analysis of the BCG matrix of Tesla, which explains the business strategies used by this immensely successful company in a nutshell.
Background of Tesla
Presently, Tesla, an American company, holds the distinction of being the foremost global producer of electric cars and solar panels. Its inception dates back to 2003, initiated by Marc Tarpenning and Martin Eberhard. The company draws its name from the renowned inventor, Nikola Tesla. From its early stages, Elon Musk, co-founder of PayPal, assumed an influential investment role, eventually assuming the CEO position in 2008, propelling Tesla towards its current prominence.
Tesla became a household name in 2012 after the release of the Model S, which was hailed by experts as the best car ever tested. It sold 2,500 units within a month and the company rose to success. Today, it has a market capitalization of $720.82 billion and a current revenue (TTM) of $94.02 billion.
Tesla BCG Matrix Analysis
A Tesla BCG matrix analysis is one of the ways of how we can understand the strategic decisions made by the company in order to turn it into the massively successful corporation that it is today.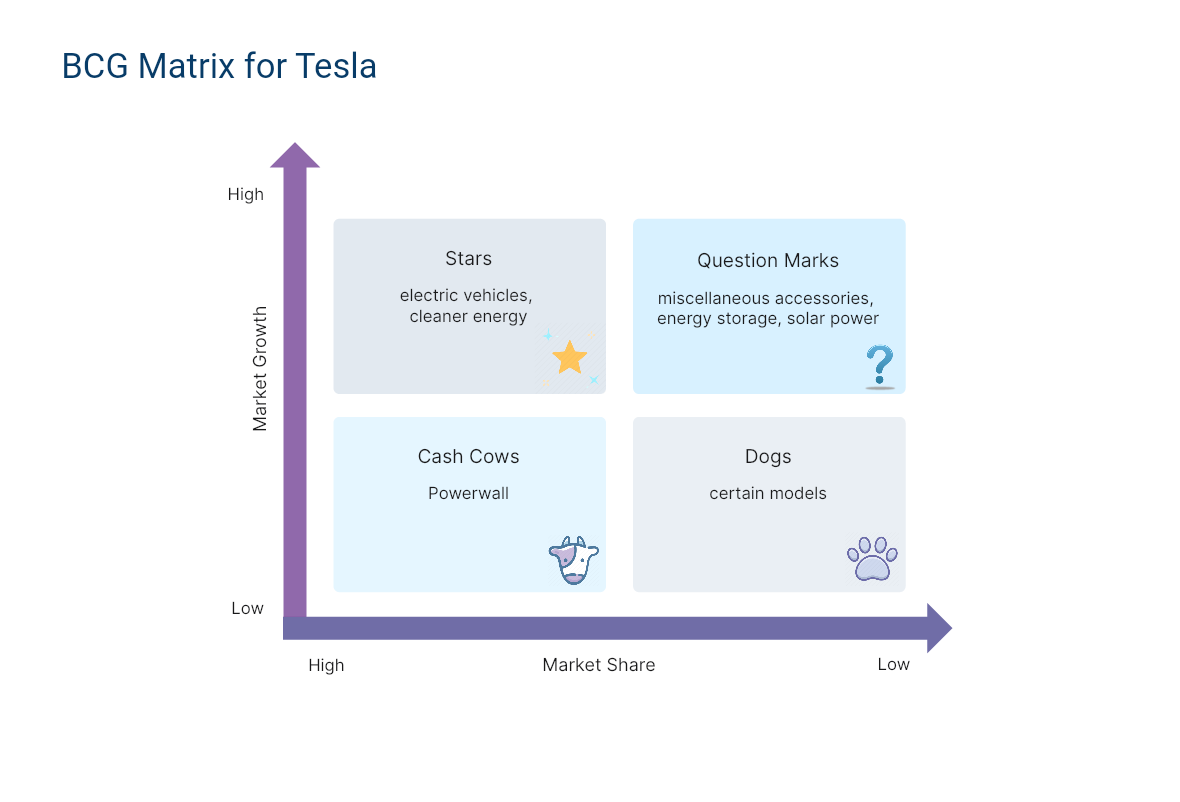 Tesla BCG Matrix Analysis Created in Boardmix
Although the name is most frequently associated with electric vehicles, in this BCG matrix Tesla shows that they do have other notable products and services.
Stars
One of the stars of the BCG matrix Tesla is definitely the electric cars and the consistent innovations that the company produces on them. The other star, which is shining more brightly than ever, is sustainable energy service, where Tesla has proven to be a very strong leader.
Question Mark
Tesla has attempted to penetrate the solar power market but is having a hard time due to the tough competition. Hence, these products can be considered question marks, which can really take off, given bigger investments.
Cash Cows
The cash cows are the most reliable income earners even in a market with slow growth. For Tesla, the cash cow would be the Powerwall battery, which shows continuous profits despite external factors.
Dogs
There really are no obvious dogs in the Tesla product portfolio as all of them are performing really well in general. However, there could be certain models that are facing complications in manufacturing that can be considered for phase-out.
Key Takeaways
Tesla is widely recognized as one of the world's most valuable companies today. It was initially built to manufacture electric vehicles but has since expanded to other products and services, like solar panels, storage systems, clean energy generation, and so on.
In the BCG matrix of Tesla that we have created with the help of the Boardmix BCG matrix analysis template, we were able to sort the products and services of this brand based on their market growth and market share. We did achieve a clear and concise graphical representation of the market performance of the brand's main products but since this matrix is based only on two factors, we have to note that the results obtained might be somewhat limited.
You can also create your own BCG matrix of Tesla or any other company by using the pre-built BCG matrix template available at Boardmix It's simple to use, letting you do your own BCG matrix analysis with no difficulty.
References
https://www.oboolo.com/blog/our-tips/tesla-bcg-matrix-02-03-2022.html
https://www.investopedia.com/articles/personal-finance/061915/story-behind-teslas-success.asp
https://www.britannica.com/topic/Tesla-Motors
https://www.businessinsider.com/tesla-ceo-elon-musk
https://www.google.com/finance/quote/TSLA:NASDAQ?sa=X&ved=2ahUKEwiplYjHg_eAAxXkl1YBHYIkB8wQ3ecFegQIRxAg