Marketers and owners can pick up a lesson or two from the robust Nestlé business model canvas. This framework allows the transnational food and beverage company to have a strong presence in the market. The company successfully associates itself with nutrition, wellness, and health, giving consumers more reasons to patronize it.
What makes the brand's blueprint a sought-after canvas? This article analyzes Nestlé's business model and how it positively affects the position of this company in the market.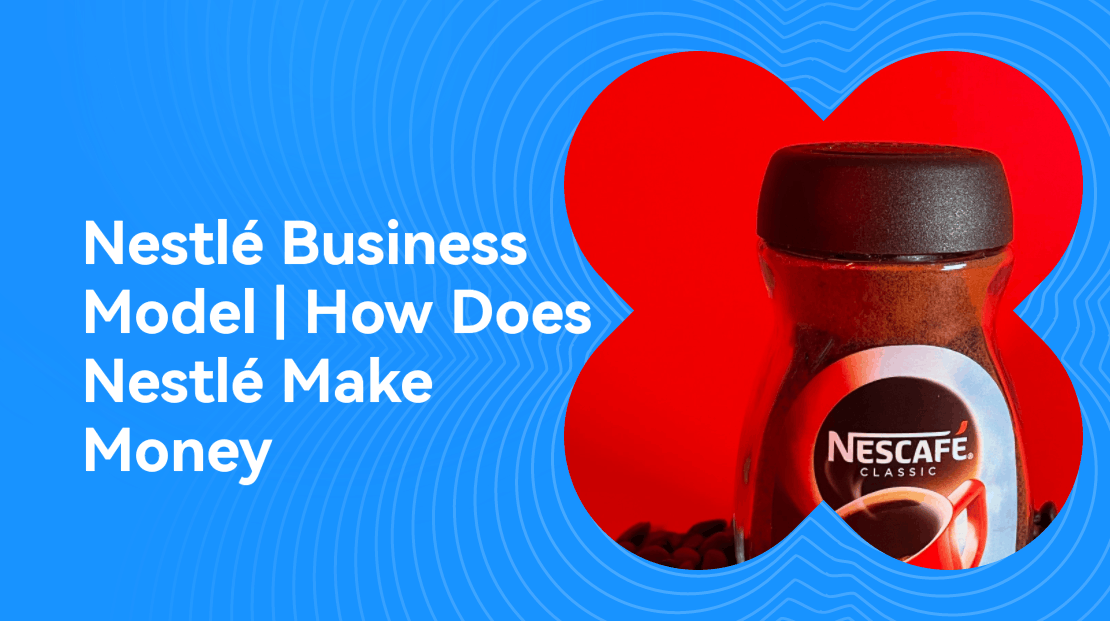 A Brief History of Nestlé
The inspiring story of Nestlé started in the 1860s in Switzerland. It was a time when infants faced life-threatening conditions due to a lack of proper nutrition. The founder, Henri Nestlé, became aware of this rampant problem, and aimed to provide a solution.
As a pharmacist's apprentice, Nestlé utilized his expertise to create a 'soup for infants' made of bread, milk, and sugar. This cereal was a life-saving formula for children, which later became known across Europe and the rest of the world. He kickstarted the business in 1867 and merged with the Anglo-Swiss Condensed Milk Company in 1905. This merger is the foundation of the Nestlé Group.
This consumer brand faced the highs and lows of the economy, having survived two World Wars and other significant events. Today, it is a conglomerate company that owns 29 popular brands including Nescafé, Nespresso, Kit Kat, and more.
Nestlé Business Model Canvas
The business model canvas of Nestlé depicts an organic framework built from shared value creation. It consistently improves its reputation by providing high-quality products that benefit society. You can take a good look at the company's business model through this template prepared by Boardmix.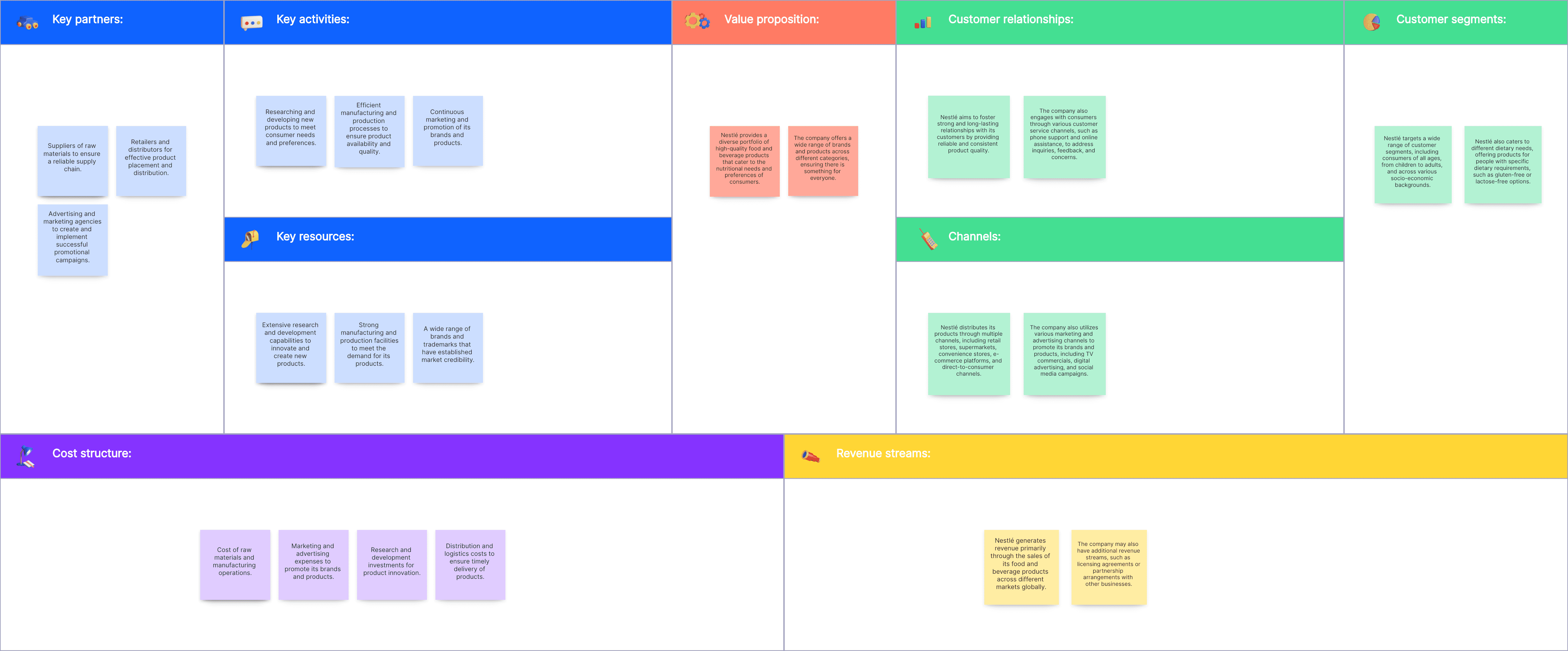 Value Propositions of Nestlé
Nestlé managed to establish a robust brand that people easily correlate with nutrition and quality of life. The company stands by the value of its products and services, which contribute to healthier communities. In addition, the firm provides education and creates livelihood opportunities through various projects in local, national, and international settings.
The company has a not-for-profit arm called the Nestlé Nutrition Institute, which consists of world-renowned nutrition scientists. They offer professional advice on business strategies and policies that relate to relevant nutritional issues. This association is a testament to the brand's value as a consumer brand that cares.
Customer Segments of Nestlé
The largest customer segments in the Nestlé business model canvas comprise individual consumers and families. These groups buy the brand's products as part of their day-to-day routine. For example, families include coffee and milk products in their daily diet. Companies and communities are also a target of this powerhouse brand.
Key Partners of Nestlé
Nestlé collaborates with the best raw materials suppliers and manufacturers to ensure the quality of the products. It partners with investors and stakeholders, forming valuable relationships to nurture the life of the company. Retail stores, dairy farms, nutrition experts, and researchers are also among the key partners of this top-performing business.
Key Activities of Nestlé
The company is one of the most recognizable brands in the world due to its powerful marketing and ad campaigns. It carefully manages production and manufacturing, as well as undertakes logistics to bring its products closer to consumers.
Nestlé invests heavily in research and development or R&D in nutrition to create better and healthier products. Additionally, the brand strictly adheres to standards and quality control to maintain its value in the market.
Customer Relationships of Nestlé
Nestlé promotes health and wellness in every aspect of their business, which is evident in their branding. The company website, for instance, gives access to resources that tell its history and innovation. Customers can find deals, discounts, recipes, and other useful information on the site. For queries and concerns, clients can reach out to the brand's dedicated support team.
Key Resources of Nestlé
Nestlé's business model canvas underscores the critical resources integral to the company's prosperity. Foremost among these are the agricultural raw materials, which play a pivotal role in maintaining the quality and consistency of Nestlé products, aligning with the brand's reputation. Notable resources also encompass the extensive brand portfolio, the robust network of production and manufacturing facilities, a robust patent system, and an efficient distribution network. These assets collectively fortify Nestlé's competitive position in the global market.
Channels of Nestlé
Nestlé's brands primarily engage with customers through an extensive network of retail stores, where the company's diverse product range is readily available. In addition to these physical outlets, consumers have the convenience of accessing Nestlé products through various online shopping platforms and the official website, allowing for seamless exploration of offerings. Certain brands within the Nestlé portfolio, such as Nespresso, offer unique channels like boutiques and exclusive clubs, tailored to cater specifically to their target audience, enhancing the overall customer experience.
Cost Structure of Nestlé
A huge cut of the company's investment is in marketing and distribution. The consumer brands have tailored ad campaigns to introduce new offers or strengthen their market presence. Production and manufacturing also make up a large part of the cost structure.
Product distribution, infrastructure development maintenance, employee salaries, and taxes are also listed among the company's incurred costs. Considering the need for strict quality standards, Nestlé has a significant R&D investment as well.
Revenue Streams of Nestlé
Nestlé's vast global presence, comprising over 2,000 brands in 180 countries and counting, results in a robust revenue generation through retail sales. The company's diversified income streams also include online sales, further extending its financial reach. In addition to its well-known product lines, certain Nestlé brands offer supplementary items such as coffee machines and subscription services, broadening the scope of its revenue sources and contributing to its sustained financial success in the market.
How Does Nestlé Make Money?
The company obtains its impressive revenue mainly from product sales of owned brands. In 2022, Nestlé managed to accumulate over $100 billion in revenue, with liquid and powdered beverages as key contributors. Other segments, including pet care and nutrition science, also brought substantial sales for the company.
Looking at the company's business model, it is evident that the diversity of its offerings makes Nestlé highly successful. Consumers can subscribe to value-added services for specific brands, consequently leading to a sale. It covers several product categories spanning different target markets, all promising something in common: exceptional Nestlé quality.
Key Takeaways
Nestlé is an industry leader in consumer products, deservingly praised for its quality and value. It produces some of the market's most salable brands including beverages, food, and infant nutrition. The business model canvas of Nestlé has an organic design. It features an adaptive template that considers market trends and nutritional science discoveries.
The decision-making aspect of the business is decentralized, which largely grants the versatility of the company. It continues to dominate by continuously innovating and inventing throughout the years. As such, the brand remains a globally renowned giant in the consumer space.
Your business can find the same success once you get an in-depth understanding of their framework. This Nestlé business model canvas from the Boardmix productivity platform is a great place to start!
References:
https://prezi.com/2_rgpdzyixjx/business-model-canvas-of-Nestlé/
https://mentorday.es/wikitips/en/case-study-Nestlé/
https://iide.co/case-studies/business-model-of-Nestlé/
https://fourweekmba.com/Nestlé-business-model/
https://thestrategystory.com/2021/05/31/Nestlé-business-model-marketing-mix/
https://investorguruji.com/business-model-of-Nestlé/