Anyone who has access to online streaming platforms knows the existence of Netflix. Who would not when it's one of the leading sites in the world today? If one takes a deeper look at Netflix, one would know its unique features and elements make it stand out.
For you to know how Netflix operations work, seeing the Netflix business model canvas might be beneficial. It's a comprehensive visual illustration so you can understand Netflix better. You can bookmark this article or take some notes as you go along. It might inspire you as you plot your company's business model. Continue reading to learn more.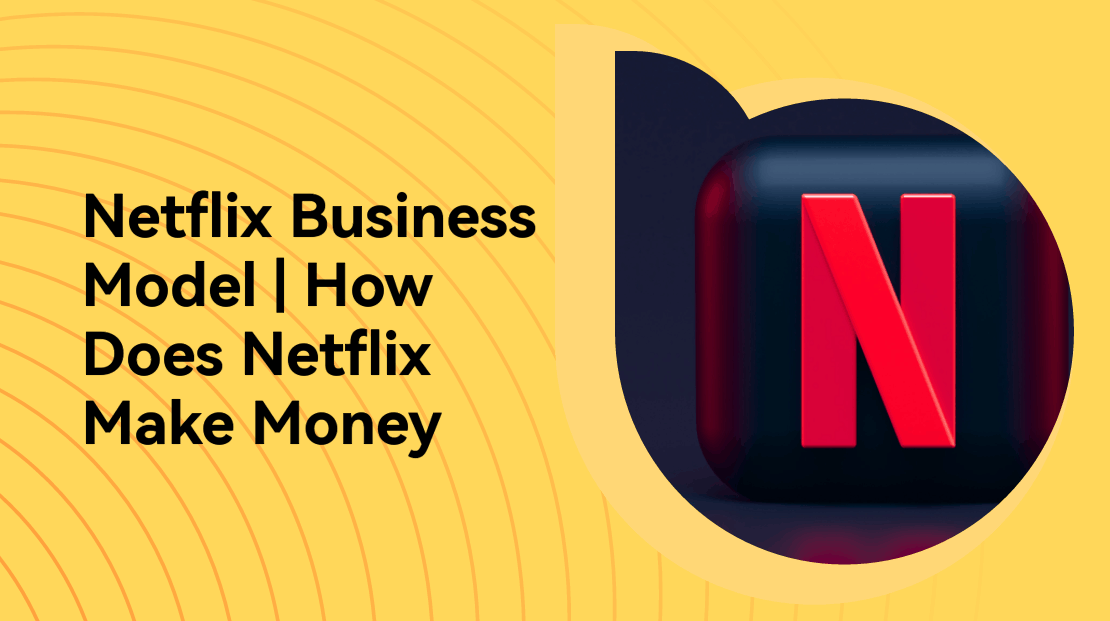 A Brief History of Netflix
Netflix is a company established by Mac Rudolph and Reed Hastings in 1997. The name Netflix comes from a combination of 'net,' which means the internet, and 'flix,' which is a 'flick' variation, also an abbreviation for movies. The company started using the internet to offer movies on DVD rental services. With technological innovations over the years, Netflix transformed its business model. The company went from distributing physical copies to allowing customers to stream their favorite content through mobile phones, tablets, computers, and laptops.
Netflix's video streaming service was introduced in 2007, with 1000 titles in its library. Initially, the streaming only worked on computers and Internet Explorer, with an 18-hour free monthly stream. At the end of 2007, the company gained 7.5 million subscribers.
Fast forward to 2016, when Netflix expanded globally to about 190 countries in 21 languages. Along the way, Netflix won Academy Awards for some of the company's original productions. It took Netflix years to be a solid streaming service provider.
Today, one can trust Netflix to provide a vast range of content from movies, documentaries, television shows, and Netflix originals. While the competition is intense, Netflix can hold its position and even account for over a third of internet traffic during peak hours. If you're one of Netflix's subscribers, you know that the company imposes a monthly subscription plan giving access to streaming movies, series, and other content on the streaming platform.
Netflix Business Model Canvas
With this data, what does the business model canvas of Netflix look like? There are nine sections of the streaming platform's business model. Each aspect is vital to understanding how Netflix works and in what areas it spends its budget.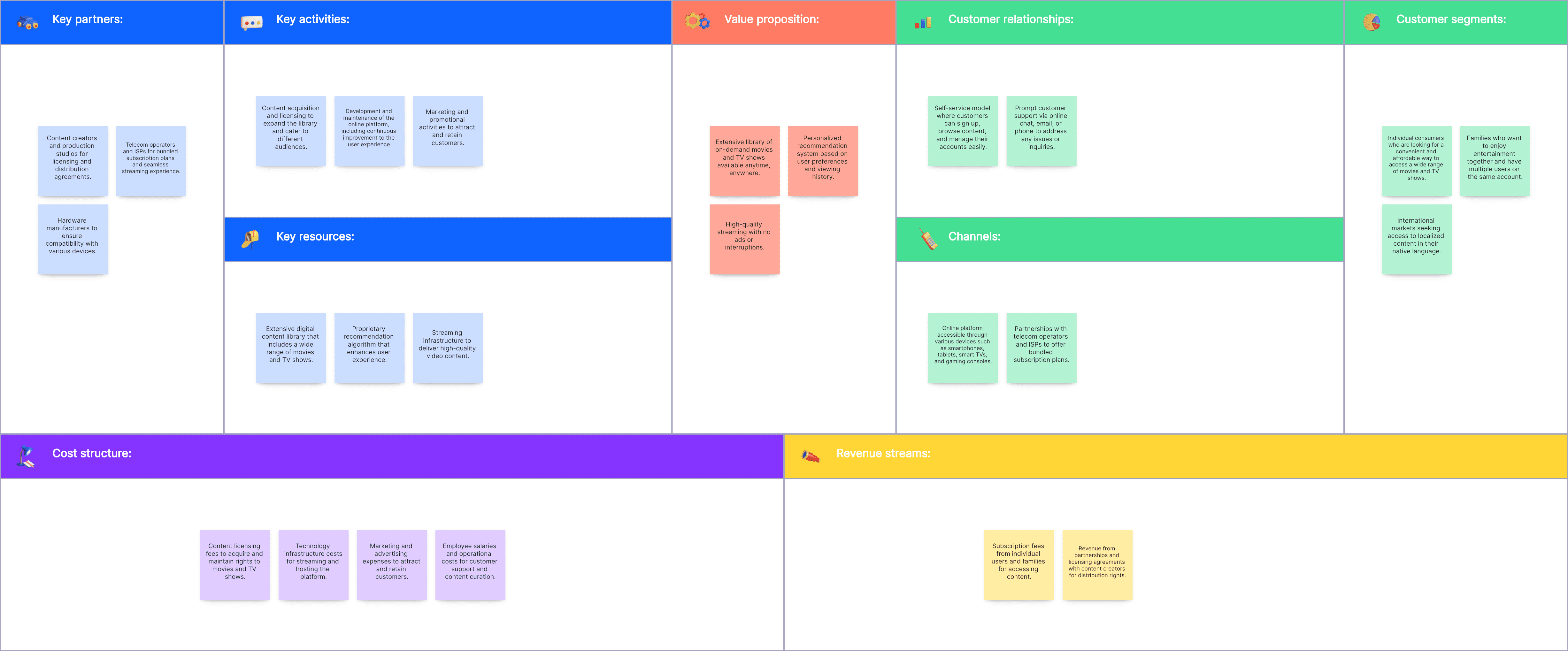 Value Propositions of Netflix
Netflix's value proposition focuses on providing engaging and fun digital content conveniently. Once you subscribe to Netflix, you can stream on-demand content without ad interruptions. Since the platform supports a wide range of devices like mobile phones, smart TVs, PCs, and gaming consoles, subscribers can enjoy streaming all content whenever and wherever.
Customer Segments of Netflix
The business model canvas of Netflix under the customer segments category has one entry: the 'moviegoer.' While this could also be true in specific aspects, the streaming service caters to many subscribers. Surely, those who subscribe to Netflix are into movies and other content.
Here is how Netflix categorizes its customers:
Micro segmentation: 2000 taste clusters which are identified through viewing histories.
Macro segmentation:
Demographics - individual, family, etc.
Gender and age brackets
Geo-demographics - city vs. rural, country, region
Languages spoken and its proficiency
Usage parameters:
Technology - screen size, device used, connection type, and speed
Viewing behaviors - binge-watcher, weekday, weekend patterns, on-the-go, home
First series or movie watched after subscribing
Browsing behaviors - explorative vs. repeat watcher
Key Partners of Netflix
Producers, consumer electronics, broadcasters, and cable companies are the essential partners of Netflix. They ensure the flawless and successful execution of the company's services and processes. There are specific components that Netflix considers its primary partners. They are the IP/content owners, which refers to movies and shows the company acquires from third parties.
Secondary partners are promoters and influencers who help get the word out to Netflix's target market. They can be cinemas, theaters, award-giving bodies, magazines, and television shows.
Key Activities of Netflix
The key activities in the Netflix business model canvas focus on licensing, producing, and platform development. Ultimately, the goal of Netflix is to provide the best streaming content to its subscribers. Besides the content, Netflix provides one of the best user interface designs among other streaming service providers today. This is why even beginners in streaming know how to navigate the Netflix app and website since it's user-friendly and high-performance.
The competition is also strong in the online streaming industry, so Netflix must continue to produce, choose, acquire, and license relevant content, building relationships and negotiating with content producers, movie production houses, and studios. Most importantly, Netflix must keep updating its subscription model, including the pricing strategy, to sustain its growth and increase its customer base.
Customer Relationships of Netflix
The customer relationship of Netflix is generally built around the platform itself. As previously mentioned, the website and the app are user-friendly, allowing subscribers to configure based on their preferences. Furthermore, the Netflix algorithm suggests various series and films based on the user's content consumption. Netflix provides a comprehensive FAQ section for subscribers' concerns and questions. Besides that, users can also reach the support team through email, phone, or chat.
Most importantly, Netflix takes pride in efficiently using its networks online to engage with its subscribers. It consistently provides updates on promotions and new releases on Instagram, X (formerly Twitter), Linkedin, and Facebook. The additional clips and highlights on its YouTube handles allow Netflix fans to be more excited about their favorite shows on the streaming platform.
Key Resources of Netflix
The Netflix brand is one of the key resources of the company. Along with that are its movie portfolio and the Netflix platform. Netflix's brand and platform are so broad that one must categorize them. The specifications are as follows:
Content library. This could include Netflix originals and those that the streaming service must secure a license to be streamed on Netflix. Due to some streaming content providers announcing their plans to build their streaming libraries, Netflix has to pour a considerable budget into creating original content.
Filmmakers, writers, and actors. In some cases, Netflix also provides a space for indie and newcomers and gives creative freedom in creating content. It will be interesting to know how the supply and demand will shift with various streaming platforms boosting their content creations.
Studios. To support Netflix's initiatives for content creation, the company is starting to acquire its studios and hire additional staff.
Tech staff. This is another key resource in the Netflix business model canvas. The technology people are those who made Netflix a streaming service provider.
Channels of Netflix
Netflix embraces a diverse array of devices as channels through which customers can access its content. Whether it's a laptop, computer, smartphone, tablet, or Smart TV, Netflix ensures compatibility with virtually any screen-equipped device that can connect to the internet. Additionally, set-top boxes and gaming consoles also support Netflix, making it accessible to an even wider audience. Essentially, if a device has the capabilities for connectivity and screen display, it can serve as a channel for enjoying Netflix's vast content library, ensuring that customers have the flexibility to choose their preferred platform.
Beyond the hardware channels, Netflix employs online channels for extended reach and publicity. These encompass a robust presence on social media platforms, engagement with various media outlets, and participation in renowned film festivals. These online channels serve as vital tools for promoting Netflix's content and connecting with a global audience.
Cost Structure of Netflix
Netflix's cost structure is enormous. This is why the company experienced a poor cash flow during its first years. The business model canvas of Netflix needs considerable investment to reach the current state of the streaming service.
Generally, Netflix allows a massive budget for production and licensing. Besides producing Netflix series and film originals, the company must purchase content and licenses from other production houses. This is to keep its library intact with relevant and new content. This is a relatively huge task, as other streaming services are doing the same.
Digital infrastructure is another aspect that gets the higher budget from the Netflix cost structure, from when Netflix was developed to maintenance, patents, research, and software development. As you know, the bread and butter of Netflix is the app and website where subscribers access various content.
Revenue Streams of Netflix
Subscriptions are where Netflix gets its revenue. There are three different plans the streaming service offers, depending on the quality of content provided. The basic plan includes content that is streamable in standard definition. Subscribers can also opt for the standard plan if they prefer to stream Netflix content in high definition. Finally, the premium plan allows streamers to watch content in ultra-HD. The price for each plan, though, depends on the country the user is in.
Netflix also has its DVD renting service, the company's first project before being an online streaming service provider. The monthly membership costs depend on the allowed number of discs per month. However, in April 2023, the company announced it would shut down its rental services after twenty-five years. This is probably due to the decline in demand, as most people today prefer to stream movies and series online.
How Does Netflix Make Money?
Based on the Netflix business model canvas, the company generally makes money from the content it provides to its subscribers. The more content variety the platform has, the better the reception would be from movie and series fans.
Interestingly, nearly 90% of Netflix's revenue comes from partnerships and subscriptions, while the remaining 10% is from advertising. It's the first company to completely leverage the internet as a vital medium to provide OTT solutions filled with exceptional services. Along the way, it allowed Netflix to easily connect with its target markets and learn about the audiences' perspectives.
Netflix capitalized on the latest entertainment trend and infused it with its brand. Its selling point ultimately reached every subscriber on the platform who wished to see every episode of their favorite series. In most cases, the company even gets the upper hand in securing rights to the newly released movies. This is an excellent strategy, especially in geolocations where a specific film is not shown in cinemas.
Despite its billions of budget on original content, Netflix is still highly profitable. In 2022, it generated $4.5 billion in profits. This is primarily due to the high viewership demand during the pandemic when almost everyone was in lockdown.
Netflix still draws more subscribers year after year, but with Disney, Apple, and other streaming services being Netflix's competition, the streaming platform is finding innovative means to grow its customer base even further.
Key Takeaways
As you know, the power of OTT streaming services was spearheaded by Netflix. While there might be solid competition in its industry, it's interesting that it sticks to the business model canvas of Netflix to ensure it follows the right processes while achieving its goals. You know that the Netflix business model changes over time. It was just recently announced that it will insert ads on some low-tier plans, so this element adds to its revenue streams.
Also, the business model presented by Netflix is generally straightforward, which must be the case if you plan to develop one for your company. Longer phrases and sentences can be too much for your audience to read, so keywords are fitting.
Most importantly, the best way to plot your business model is through an online diagramming tool. With Boadmix, you can access hundreds of templates, including the business model canvas template. It's editable, so you can use the diagram and tweak some parts to make it your own. The diagramming software promotes collaboration by inviting team members and stakeholders to view the business model template through a dedicated link.
References:
https://www.investopedia.com/insights/how-netflix-makes-money/
https://businessmodelanalyst.com/netflix-business-model/#A_brief_history_of_Netflix
https://www.feedough.com/how-does-netflix-make-money/
https://www.vplayed.com/blog/how-does-netflix-make-money/#:~:text=Subscribers%20are%20given%20access%20to,~10%25%20comes%20from%20advertising.
https://www.zippia.com/advice/how-does-netflix-make-money/#how-does-netflix-make-money