The simplest way to explain what a SWOT analysis is would be to show an example of SWOT analysis in business. Before doing that, however, it is worth mentioning what SWOT analysis is. In more detail, SWOT is a combination of the words strengths, weaknesses, opportunities, and threats. Therefore, it is easy to understand that it's a strategic planning technique with a wide range of applications.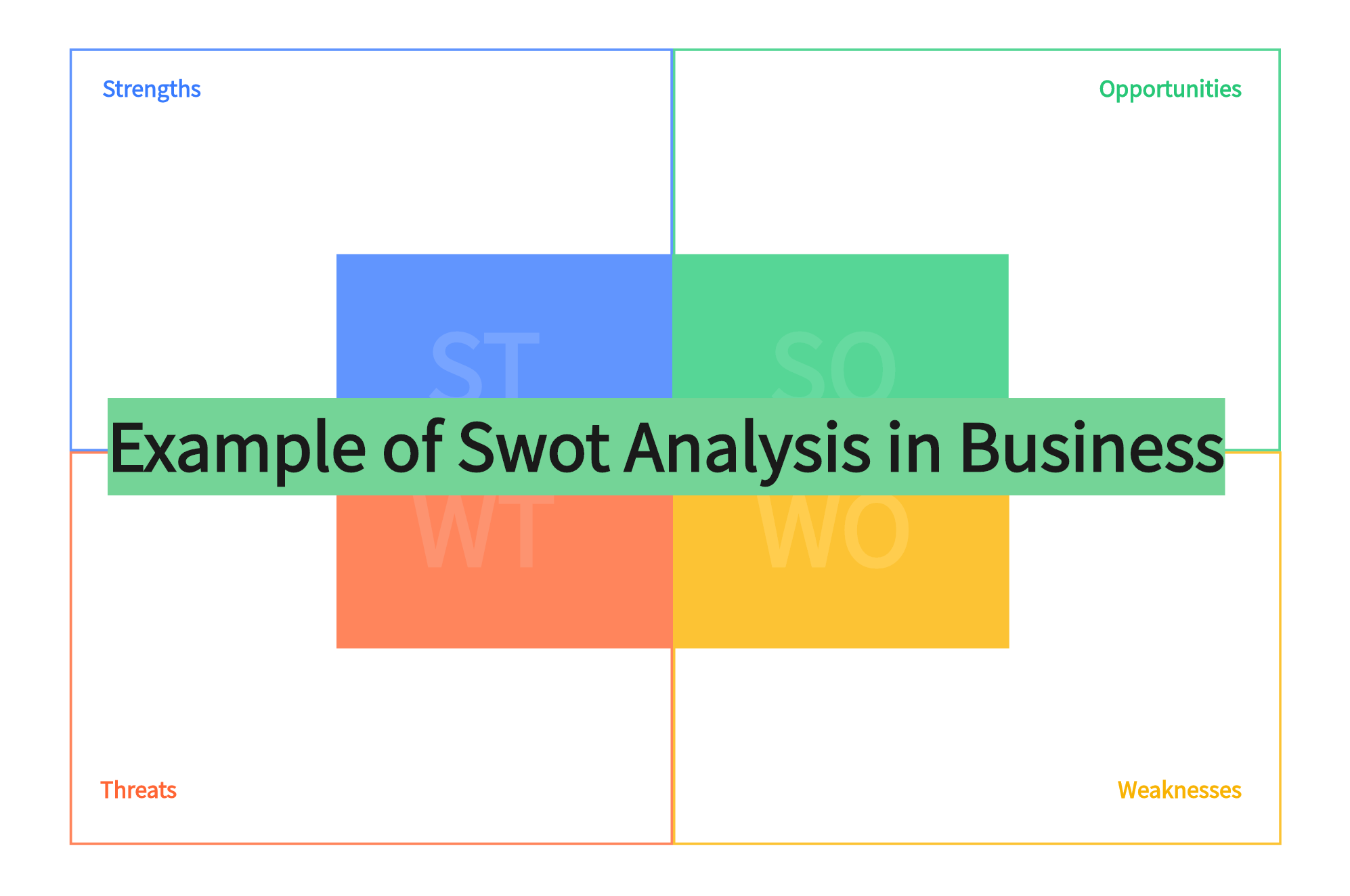 What makes a SWOT analysis such a powerful tool for any business is that it can use both internal and external elements into consideration, thus giving a holistic approach to the issue. That's why, every example of SWOT analysis in business can give you an idea of which strategies are working and which fail to meet your expectations.
However, before we move any further, we need to briefly explain the four categories in the SWOT analysis. This way, you can fully understand every example of SWOT analysis in business we will mention below. These categories are:
Strengths: this category includes all the elements that make the company stand out from its competitors.
Weaknesses: this category highlights all the areas that hinder the company's growth. Identifying these elements can help the company improve in the future.
Opportunities: with this category, we are talking about the external opportunities that can help a company develop.
Threats: these are all the external factors that pose a risk for the company.
6 Examples of SWOT Analysis in Business
SWOT Analysis Example of Apple
The first example of SWOT analysis in business shows you the competitive edge of Apple. Here is a breakdown of each of the tech giant's categories: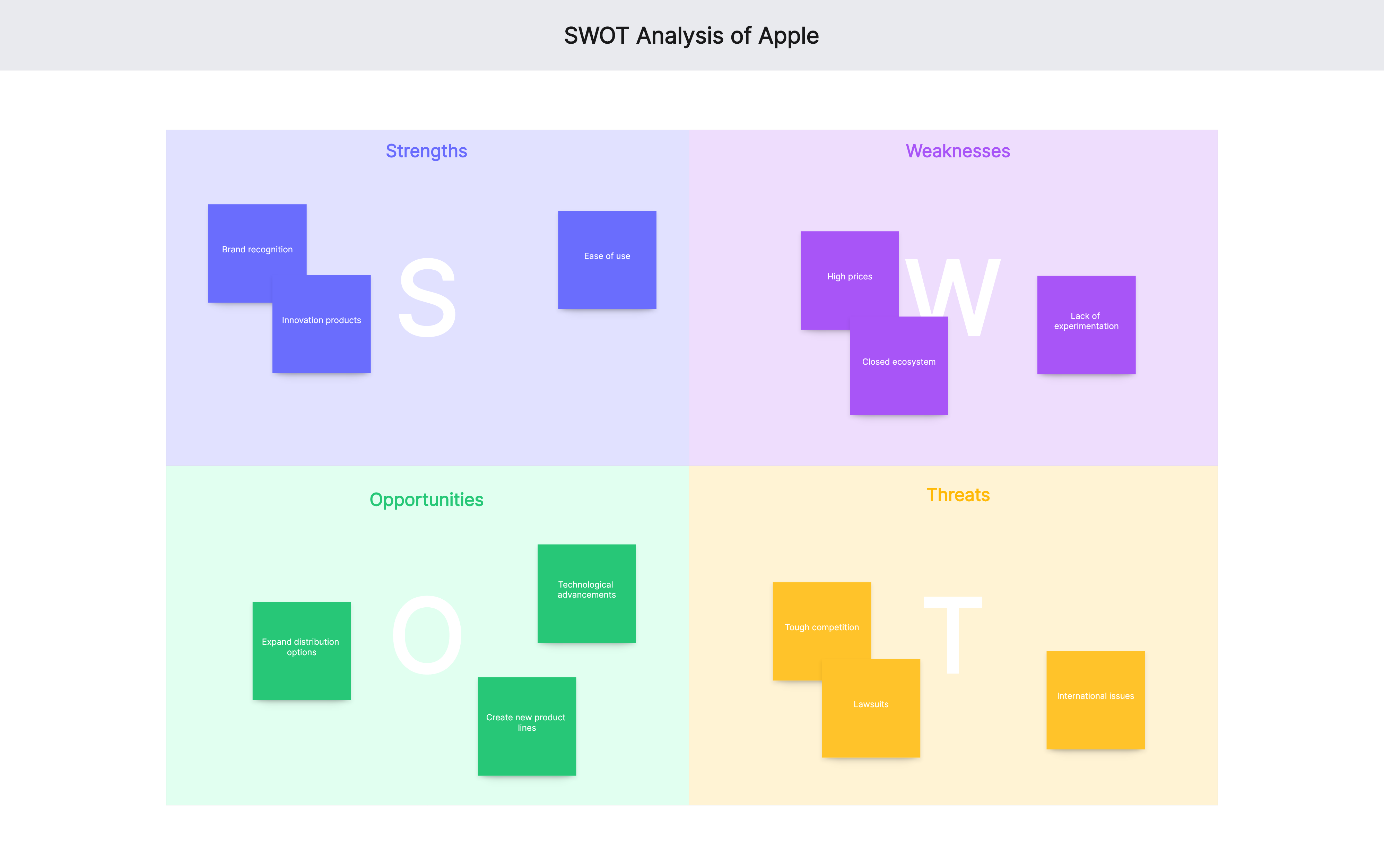 Strengths: Right now, Apple has one of the most recognizable logos in the world. This strong image, combined with its innovative products allows the company to remain one of the top ones in the industry.
Weaknesses: One of the main weaknesses of Apple is the exclusivity of its products. The brand's consumers need to constantly purchase from Apple to ensure that their devices are all compatible with one another. Of course, this also affects their prices.
Opportunities: The biggest opportunity that Apple has is to reach even more consumers by lowering its prices and allowing third-party companies to distribute its products.
Threats: When it comes to threats, Apple is in a very competitive industry with many companies fighting for the consumers' preferences. Furthermore, there are some legal issues that spoil Apple's image.
SWOT Analysis Example of Starbucks
Another great example of SWOT analysis in business can be found in the SWOT analysis of Starbucks. Here is a further exploration of the brand's key categories:
Strengths: The company has an instantly recognizable brand image and it has stores all over the world. What attracts consumers to the company is its great variety of products that they can't find anywhere else.
Weaknesses: Even though it's one of the most well-known brands globally, many consumers avoid Starbucks due to its high prices. This becomes even more apparent in regions where consumers can easily find similar products at a lower price.
Opportunities: Since Starbucks has stores in many different countries, it can diversify its menu depending on the region. This will add an extra element of uniqueness to its products.
Threats: The main threat that Starbucks is facing is the expansion of coffee culture which has inspired many more coffee shops to open their doors. Some of these options are cheaper and some have more premium quality and highly skilled baristas.
SWOT Analysis Example of Walmart
The next example of SWOT analysis in business is the SWOT analysis of Walmart. The main points of this diagram are the following: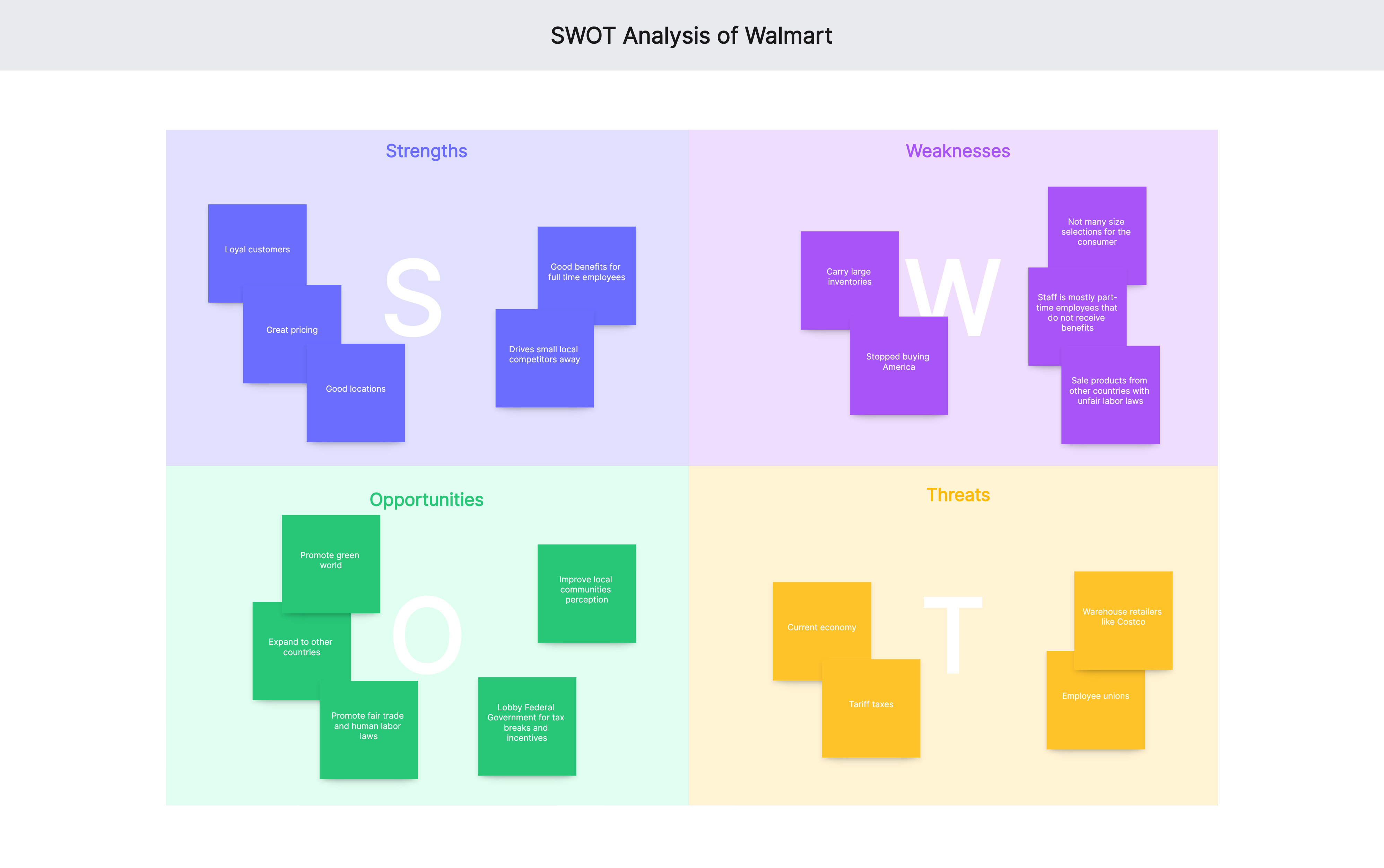 Strengths: Walmart combines great pricing, convenient locations, and a great variety of products. This has created an extremely loyal customer base that prefers it over other local businesses. Moreover, the brand has also cultivated a great culture for its employees.
Weaknesses: However, Walmart is somewhat inconsistent when it comes to its inventory. This means that consumers might not be able to always find what they were looking for. Furthermore, the company seems to be favoring part-time employees that don't enjoy the benefits that full-time employees do.
Opportunities: At the moment, Walmart has a presence in just a few countries in the world. Therefore, the brand's biggest opportunity is to expand even more to reach a larger audience.
Threats: One thing that Walmart needs to consider is the benefits for its employees. If the part-time employees unionize, they will become a large threat to the company. In addition to this, Walmart is also threatened by other cheaper retailers.
SWOT Analysis Example of Amazon
The next example of SWOT analysis in business is that of Amazon. The corporation is an interesting case that you need to study carefully. Here is a breakdown of its key categories: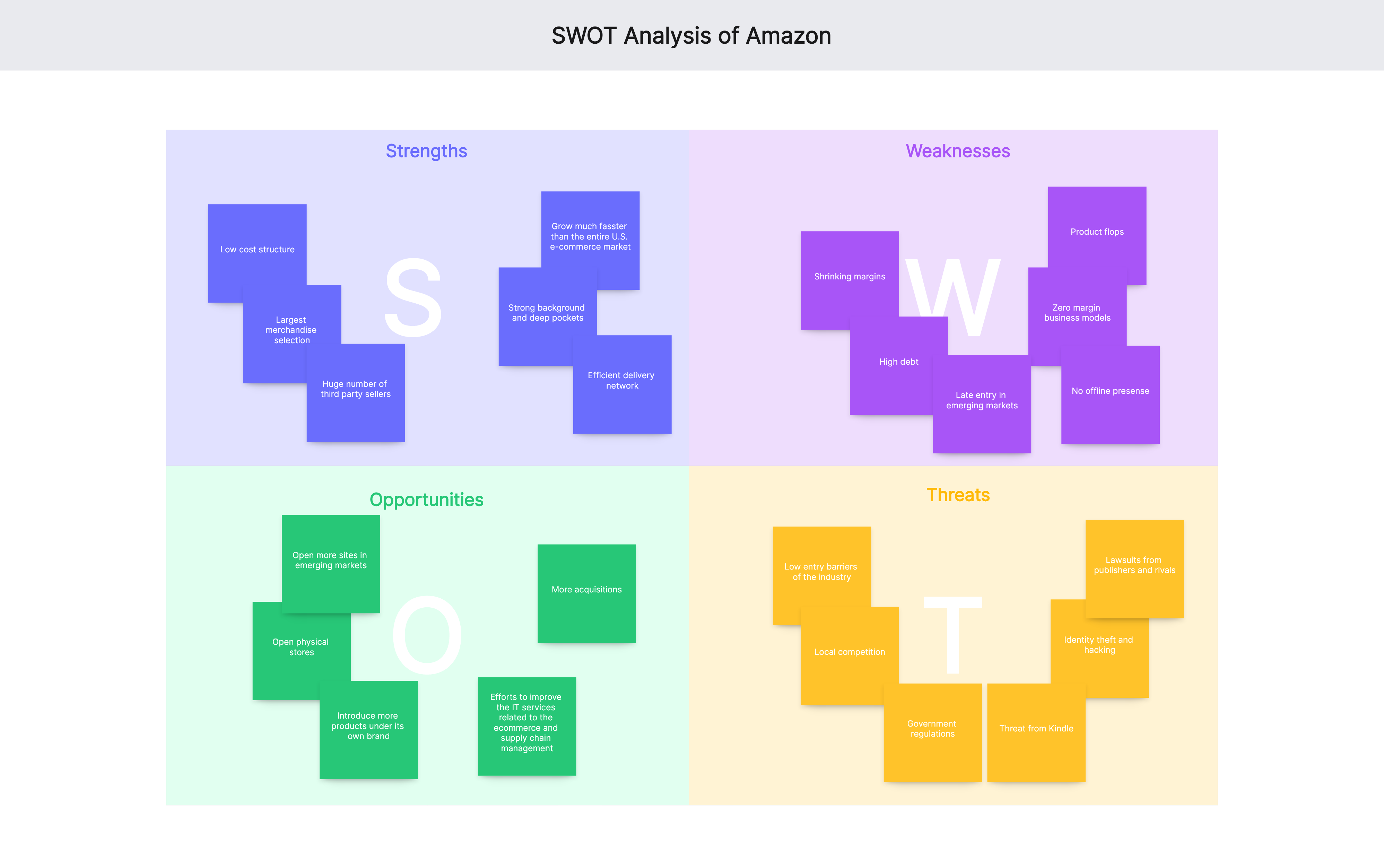 Strengths: At the moment, there is not a bigger marketplace in the world than Amazon. Consumers can find the largest selection of items that are delivered quickly. Moreover, Amazon collaborates with a great number of third-party sellers.
Weaknesses: Many of the items found on Amazon sacrifice quality over pricing. This also shows that the company doesn't thoroughly check its third-party sellers. In addition to this, Amazon has accumulated a huge debt over the years.
Opportunities: The next step for Amazon would be to open physical stores. Moreover, it could create more products under its name that would have the support of a big and global name.
Threats: The unionizing of the employees is an immediate threat that Amazon is facing. Moreover, it has some local competition that threatens its presence in some countries.
SWOT Analysis Example of Coca Cola
One more example of SWOT analysis in business that we will see it's the SWOT analysis of Coca Cola. The key components of this brand are as follows: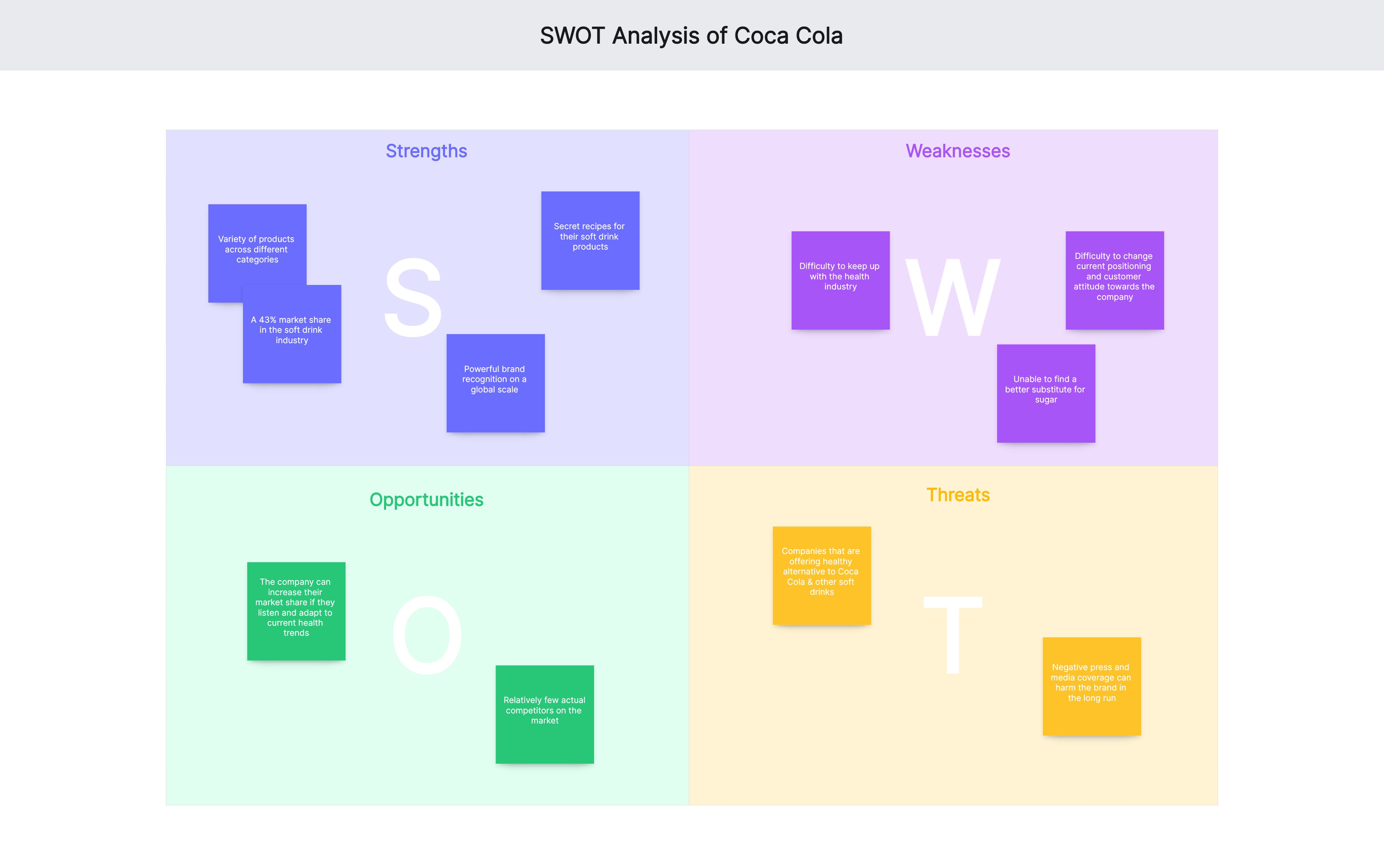 Strengths: Brand recognition and exclusivity are probably the biggest strengths of Coca Cola. Even though the company has been around for so long, it still has a secret recipe that it's difficult to replicate. Right now, the corporation has also expanded, having introduced a wide variety of products.
Weaknesses: Because the company is so well-known, it is difficult to change consumers toward it. This makes it more difficult for the brand to promote a healthy lifestyle approach. Of course, this also has the weakness that sugar substitutes are quite difficult to come by.
Opportunities: Coca Cola doesn't face much competition. However, it can claim an even larger customer segment if they make healthier versions of their products.
Threats: The company's products have gained a reputation as unhealthy, which influences how consumers perceive them. Furthermore, healthier drinks are on the rise, which directly threaten sodas and soft drinks.
SWOT Analysis Example of Nike
Finally, we will take a look at the SWOT analysis of Nike. In this example, the categories can be analyzed in this way:
Nike is one of the most recognizable brands in the sportswear industry. The company has a chain of successful retail stores and offers its products all over the world. The brand's footwear has gained a reputation for being the best in the industry.
Weaknesses: The most well-known Nike products are its shoes which put the rest of its merchandise on the sidelines. Another huge issue for the brand is the ethical concerns about the safety and respect of its workforce.
Opportunities: Nike can expand into sports accessories, such as sunglasses. Moreover, they can take measures to improve their production practices.
Threats: People are more concerned about how their garments are produced, a thing that tarnishes Nike's reputation. Moreover, the company's competitors are raising their products' quality thus gaining a bigger segment of the audience.
How to Start a SWOT Analysis
Every example of SWOT analysis in business that we have gone through in this article was created in Boardmix. The app is perfect for your strategic planning as it allows you to create a SWOT analysis in just a few clicks. What makes the process so efficient is that it has a great library of templates that you can instantly use. This way, you only need to type all the relevant information.
An example of SWOT analysis in business created in Boardmix requires these steps:
1. Create your Boardmix account to gain access to the entirety of its features.
2. Select the appropriate template, according to the diagram you wish to create. In this case, choose the SWOT analysis template.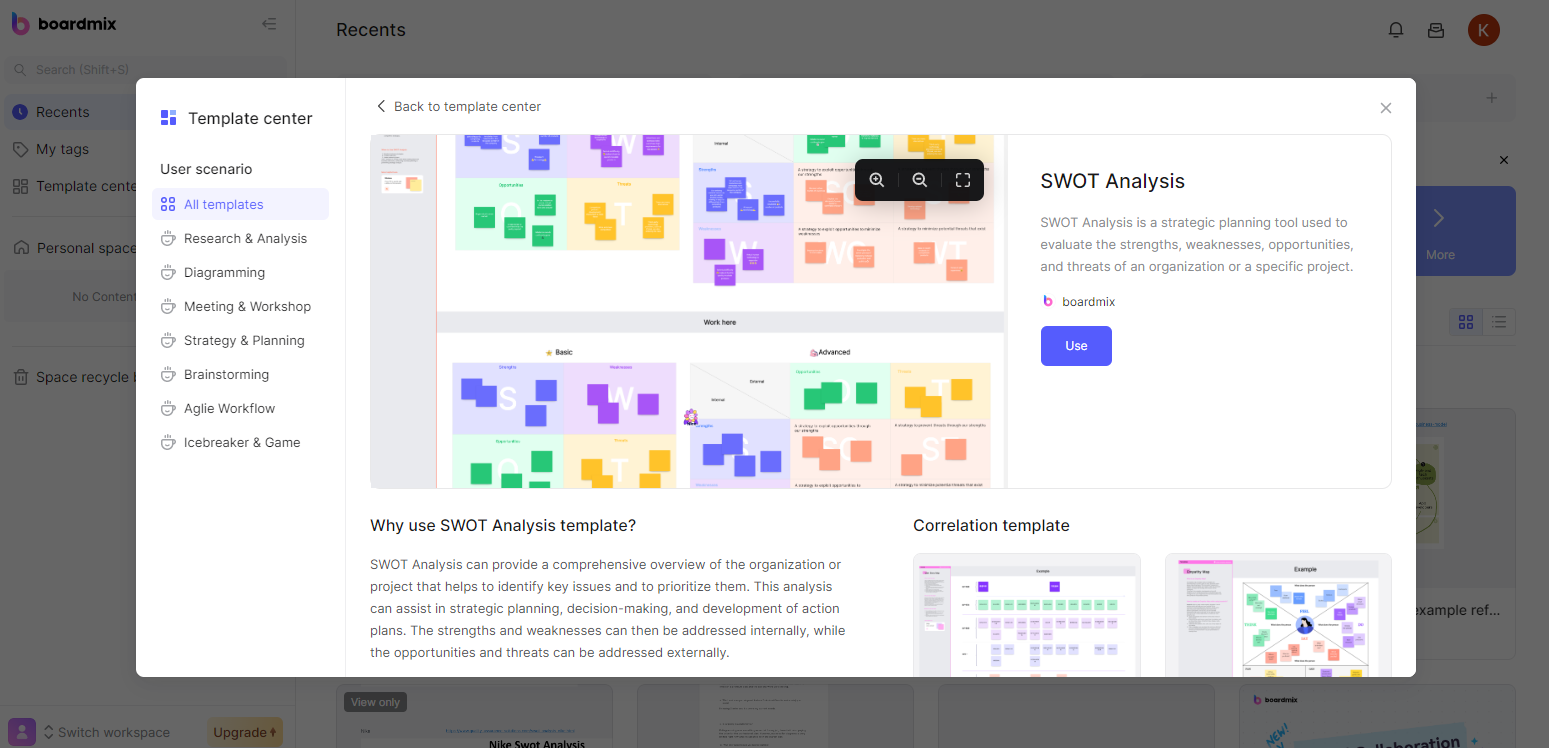 3. Type the strengths, weaknesses, opportunities, and threats for your company in the appropriate places.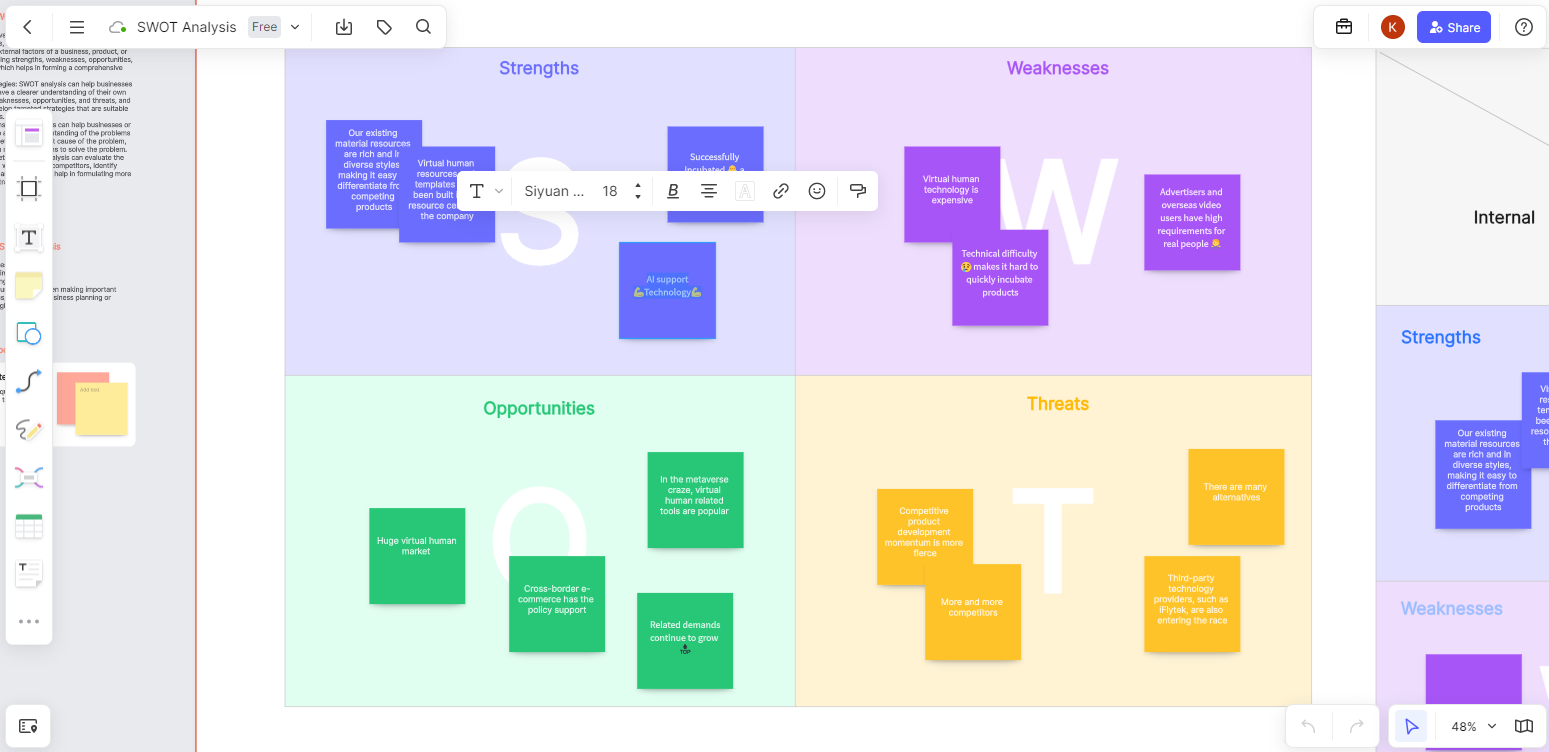 4. Drag and drop any elements you wish to add, such as post-it notes and links.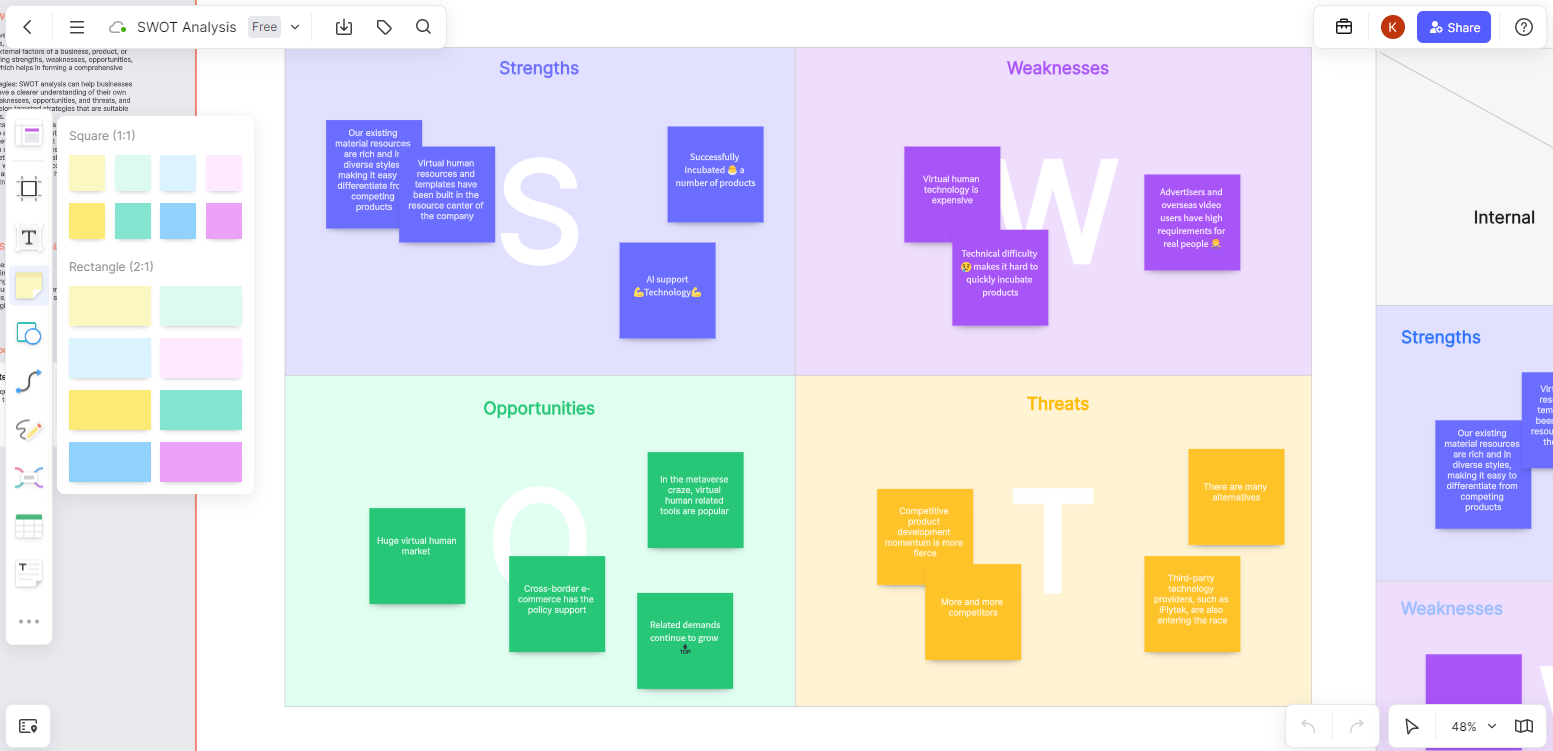 5. Share the SWOT analysis with your team.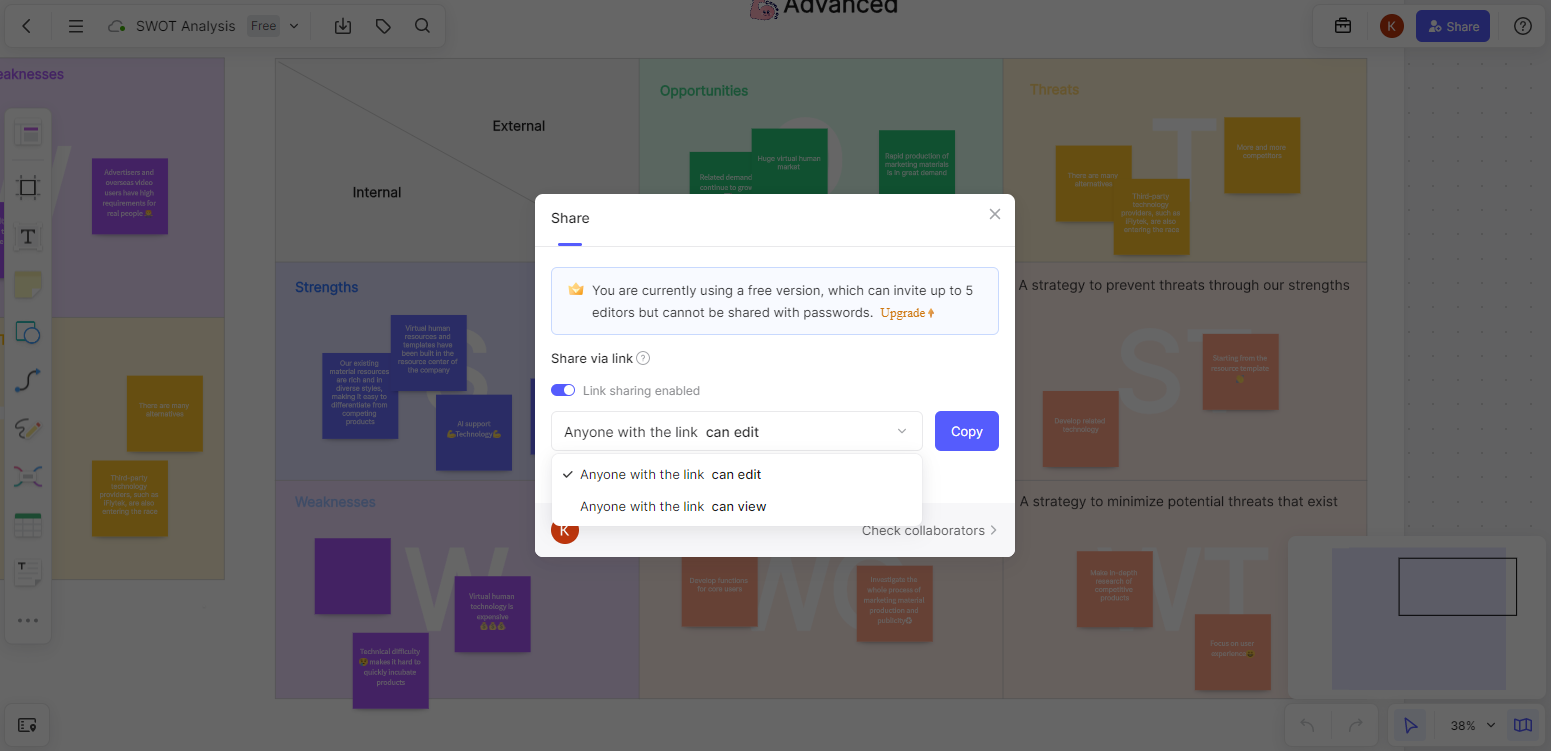 Wrapping Up
Boardmix makes it easy to create a SWOT analysis for your company. Study the example of SWOT analysis in business that better fits your case from the examples we have included above to get a grasp of the information you need to include. Then, you can use this excellent collaborative tool to evaluate the competitiveness of your company.