The Service Industry Process Orientation Chart, commonly referred to as SIPOC, is a powerful tool used to provide a high-level overview of processes within service-oriented organizations. It offers a structured representation of the key elements involved in delivering services, including suppliers, inputs, processes, outputs, and customers. In this article, we will explore insightful SIPOC examples for service industry, which will illustrate how SIPOC diagrams can enhance understanding, communication, and optimization of processes within various service contexts related to service industries. Let's delve into it to grasp the utility of SIPOC in enhancing service industry processes.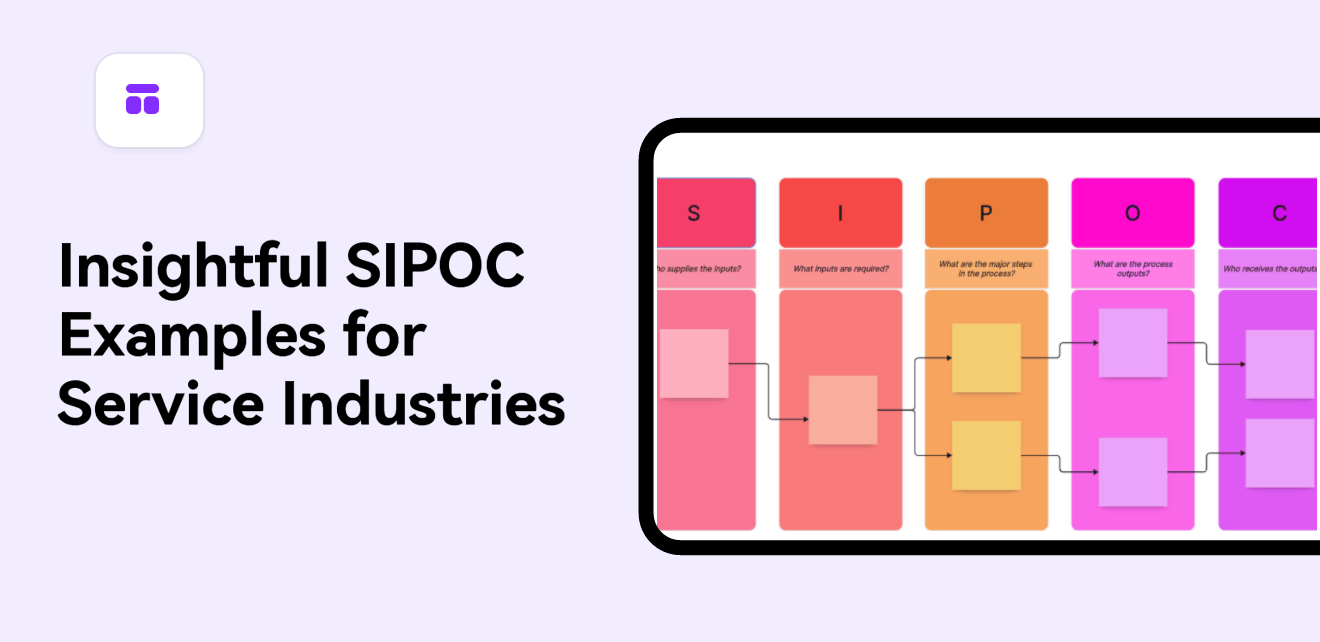 Introduction to SIPOC Diagrams
The SIPOC diagram is a valuable tool in the service industry, allowing businesses to understand and streamline their processes effectively. By highlighting suppliers, inputs, process, outputs, and customers, it offers a concise overview of how services are delivered. This aids in identifying areas for improvement, optimizing efficiency, and enhancing customer satisfaction, all of which are crucial in the service sector.
4 SIPOC Examples for Service
Some SIPOC examples for service industry are:
SIPOC Examples for Service - Hotel Booking Service
Suppliers: Travel agencies, individual travelers, corporate organizations.
Inputs: Customer preferences (like room type, stay duration), personal information, payment details.
Process: Check availability -> Reserve room -> Process payment -> Confirm booking.
Outputs: Booking confirmation, receipt of payment, room allocation.
Customers: Travelers (individual/corporate), families, tourists.
SIPOC Examples for Service - Spa and Wellness Service
Suppliers: Product suppliers (like oils, masks, creams), therapists, customer referrals.
Inputs: Customer preferences (type of service, therapist gender, time slot), medical history if any.
Process: Schedule appointment -> Prepare therapy room-> Deliver service -> Process payment.
Outputs: Service completion, payment receipt, feedback form.
Customers: Regular clients, first-time visitors, gift card holders.
SIPOC Examples for Service - Online Tech Support
Suppliers: Tech companies, software developers, internal IT departments.
Inputs: Customer complaints, software details, device information, warranty status.
Process: Log complaint -> Assign technician -> Troubleshoot & resolve -> Close ticket.
Outputs: Resolved issues, ticket status, feedback requests.
Customers: Product users, corporate clients, retail consumers.
SIPOC Example for Service - Request Handling
Supplier: Service demand sides, customer inquiries.
Input: Service requirements provided by customers, relevant customer informationlike contact details and preferences.
Process: Receive and assess customer requests-> Communicate with customers to clarify needs -> Perform necessary tasks to fulfill the service -> Maintain communication throughout.
Output: Completed service, which could be anything from technical support, consulting, or repair services.
Customer: Service recipients who benefit from the provided service and the solutions offered.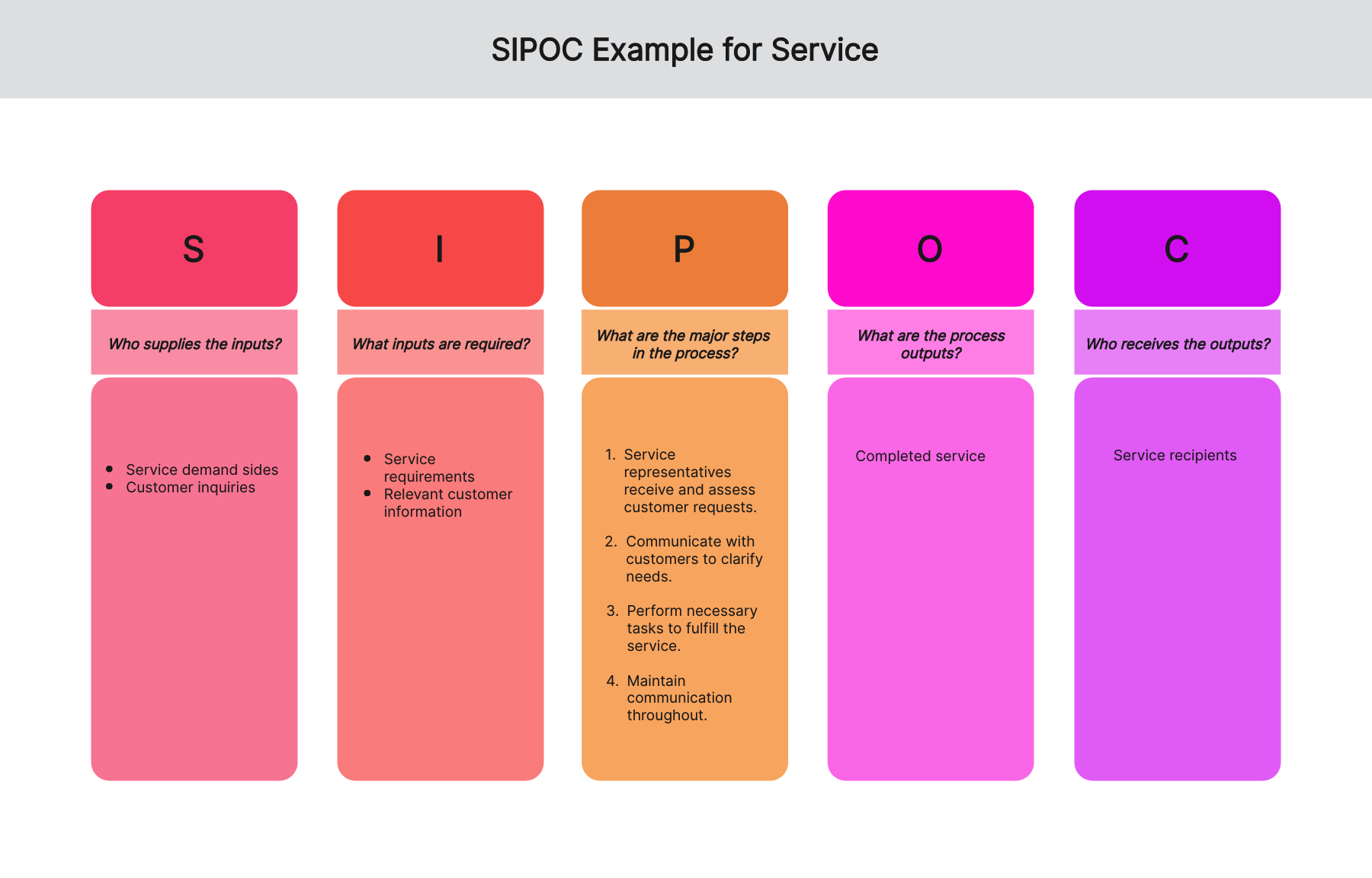 Part 3. A SIPOC Diagram Maker You Can Never Miss - Boardmix
Boardmix is a cutting-edge platform designed to streamline the creation of SIPOC diagrams. There are pre-designed templates tailored for different industries, making it effortless for users to chart their processes' intricate details.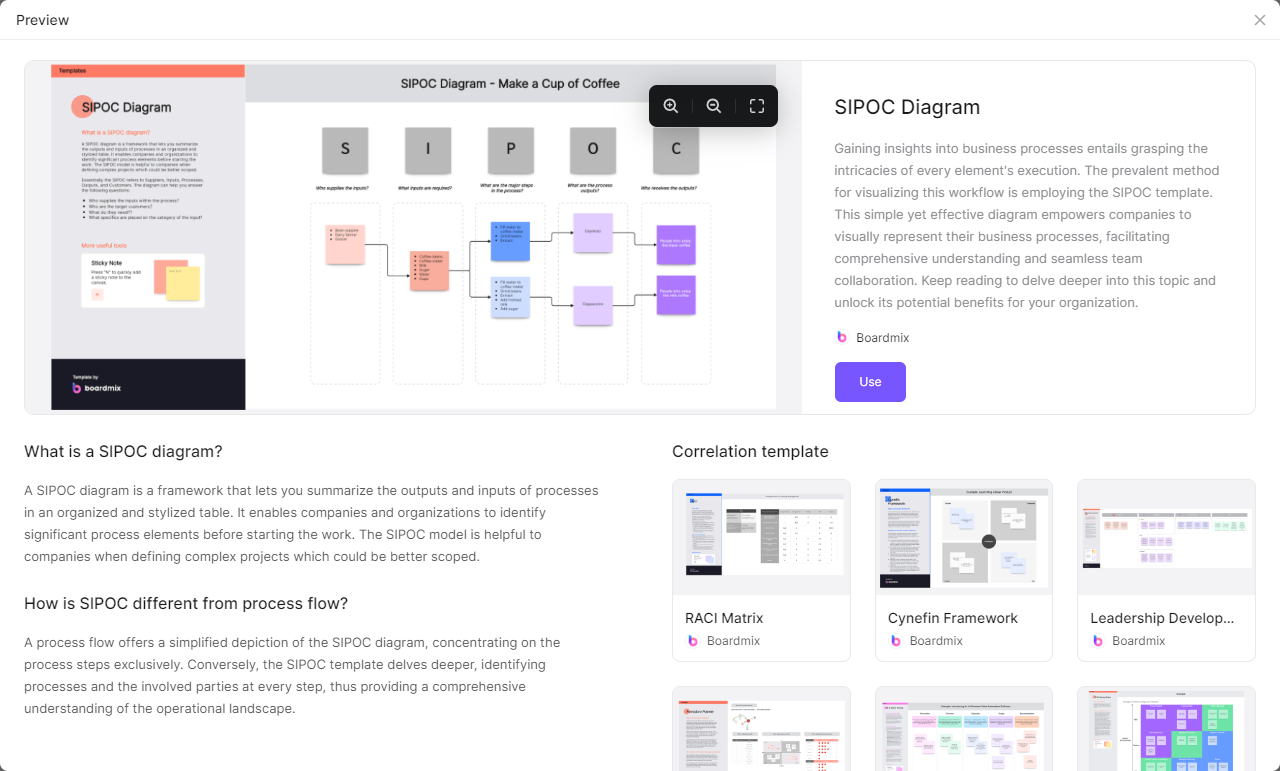 Creating a SIPOC diagram with Boardmix is a seamless process. Users can select the template that aligns with their industry and process type, then customize each element to match their specific workflow. The platform's intuitive drag-and-drop tools allow users to effortlessly arrange and connect components, while its icon library and annotation features enhance clarity. By simplifying the creation of SIPOC diagrams, Boardmix equips businesses with a powerful tool to visualize and communicate their processes effectively, driving operational excellence and collaboration. Just sign up and create your own SIPOC diagram right now!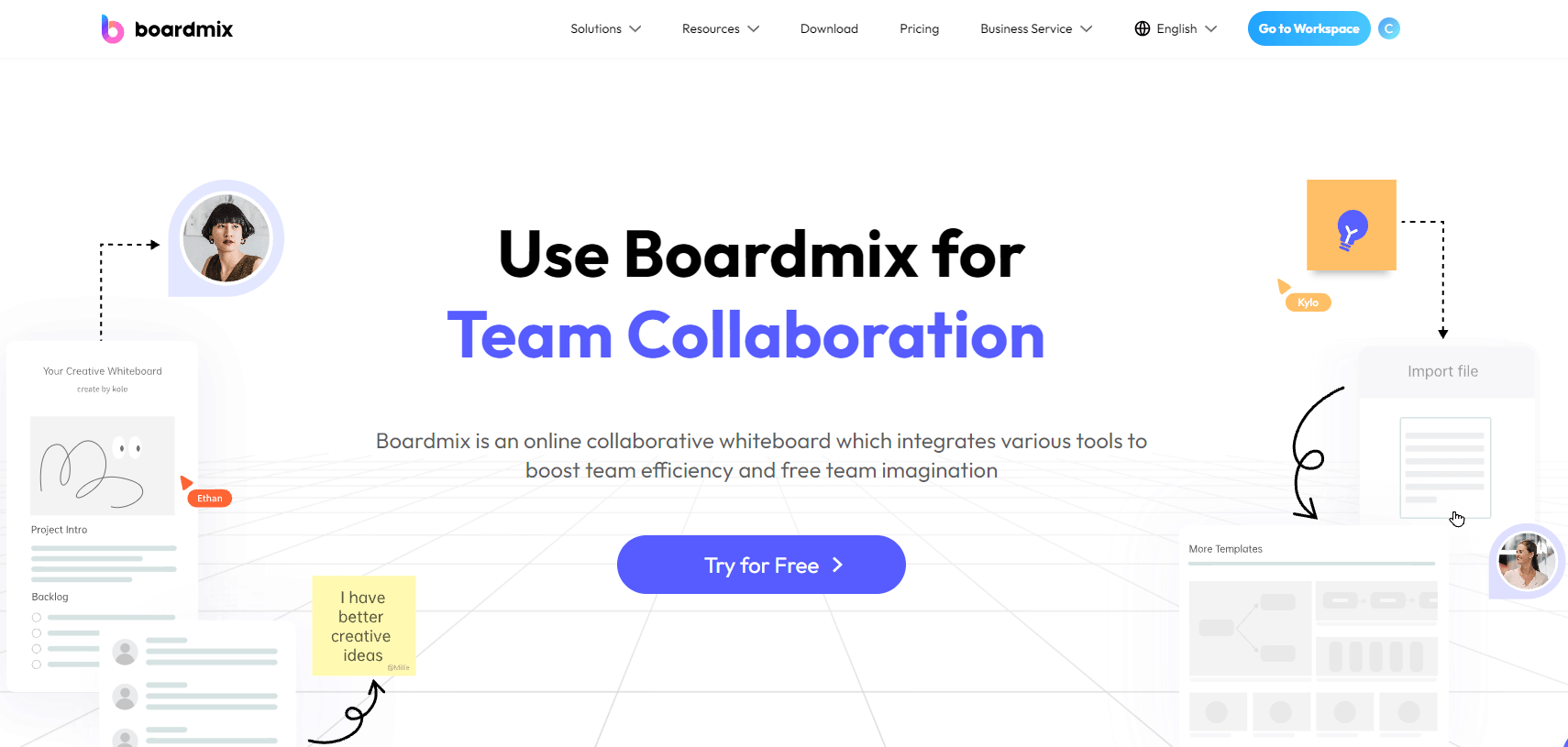 Conclusion
The SIPOC diagram stands as an invaluable tool in the service industry, helping businesses effectively map out and understand their intricate processes. From hotel bookings to online tech support, the clarity and structure provided by these diagrams are unmatched. In an era where efficiency and customer satisfaction are paramount, tools like these become essential. With platforms like Boardmix poised to make the creation of such SIPOC example for service industry diagrams even more seamless, businesses are on the cusp of experiencing increased ease in process management. As we anticipate the release of the SIPOC template on Boardmix, one thing is clear: streamlined service processes are the future, and with the right tools, any business can achieve them.