Getting started with product development can be daunting and challenging as there are many approaches that you can adopt. This is where impact mapping comes into play. This strategy planning method can become the guide you need to reach your goal. And what's even greater about this technique is that it allows you to view all of your available options.
In this article, we will thoroughly explain the technique of impact mapping and show you multiple examples to help you understand how to use it. Let's dive in.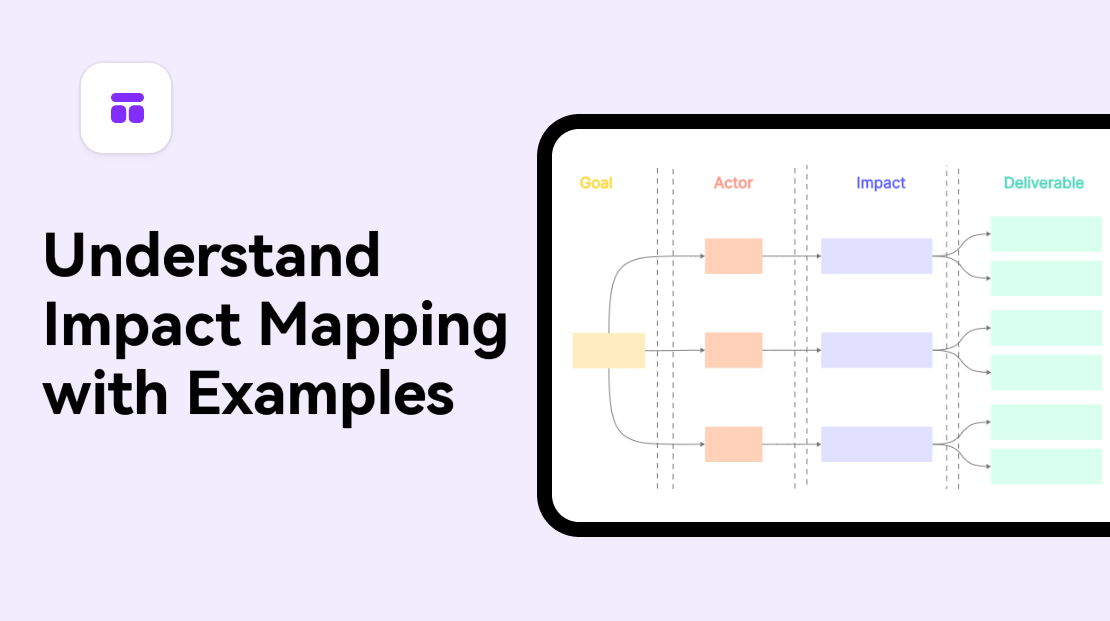 What Is Impact Mapping
In essence, impact mapping is a visual planning technique that helps a team develop a product or plan a project. It starts with the main goal and expands to include all the actors, impact, and deliverables. Therefore, an impact mapping example prioritizes features according to the impact they have on the outcome.
The technique made its first appearance in the book "Impact Mapping: Making a Big Impact with Software Products and Projects", written by Gojko Adzic and published in 2012. The software delivery consultant explains how to use this framework to create effective plans that follow the overall strategy of the organization.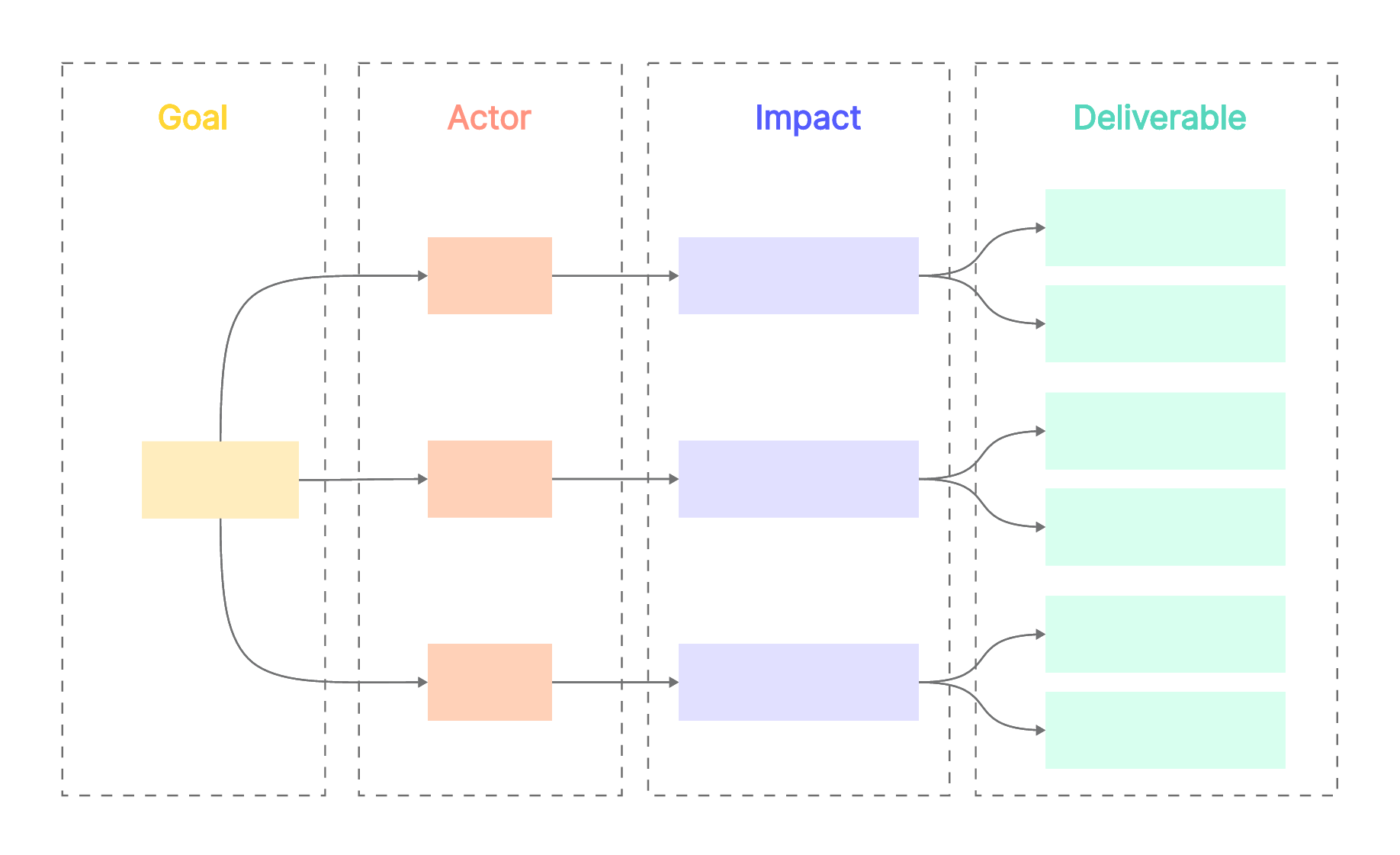 When and Why Use Impact Mapping
As you already understand, incorporating impact mapping into your planning has numerous benefits for your business. In particular, it is a great tool for project managers that aim to make planning more efficient. The main benefits that you are going to enjoy from an impact mapping example are the following:
Efficient strategic planning – an impact mapping example plays a significant role during the initial stage of a project. With this tool, you identify your main goal and then visually connect it to the relevant actors and the desired deliverables.
Alignment with stakeholders – showing a project's goal and expecting outcomes on an impact mapping diagram is the best way to ensure that all stakeholders are on the same page.
Definition of the project's scope – one of the greatest advantages that impact mapping has is that it allows you to understand the full scope of your project. This way, you can evaluate the impact of each deliverable on the goal you have set, thus allowing you to focus only on the ones that really matter.
Continuous improvement – an impact map encourages all team members to assess their progress and make any corrective moves they find fitting. This framework is perfect for evaluating the success of their endeavors up until now.
Identification of new options – in this diagram, you can also spot new options that you haven't yet explored. If you find that their impact is significant, you can incorporate them into the roadmap.
5 Impact Mapping Examples
Impact Mapping Example – 01
Nowadays, cybersecurity has become a priority in every organization. That's why the first impact mapping example we are going to see is about a project that aims to enhance the cybersecurity of a company. In this instance, we can clearly see how the goal of strengthening the company's infrastructure takes the form of numerous deliverables.
Therefore, the example will look like this: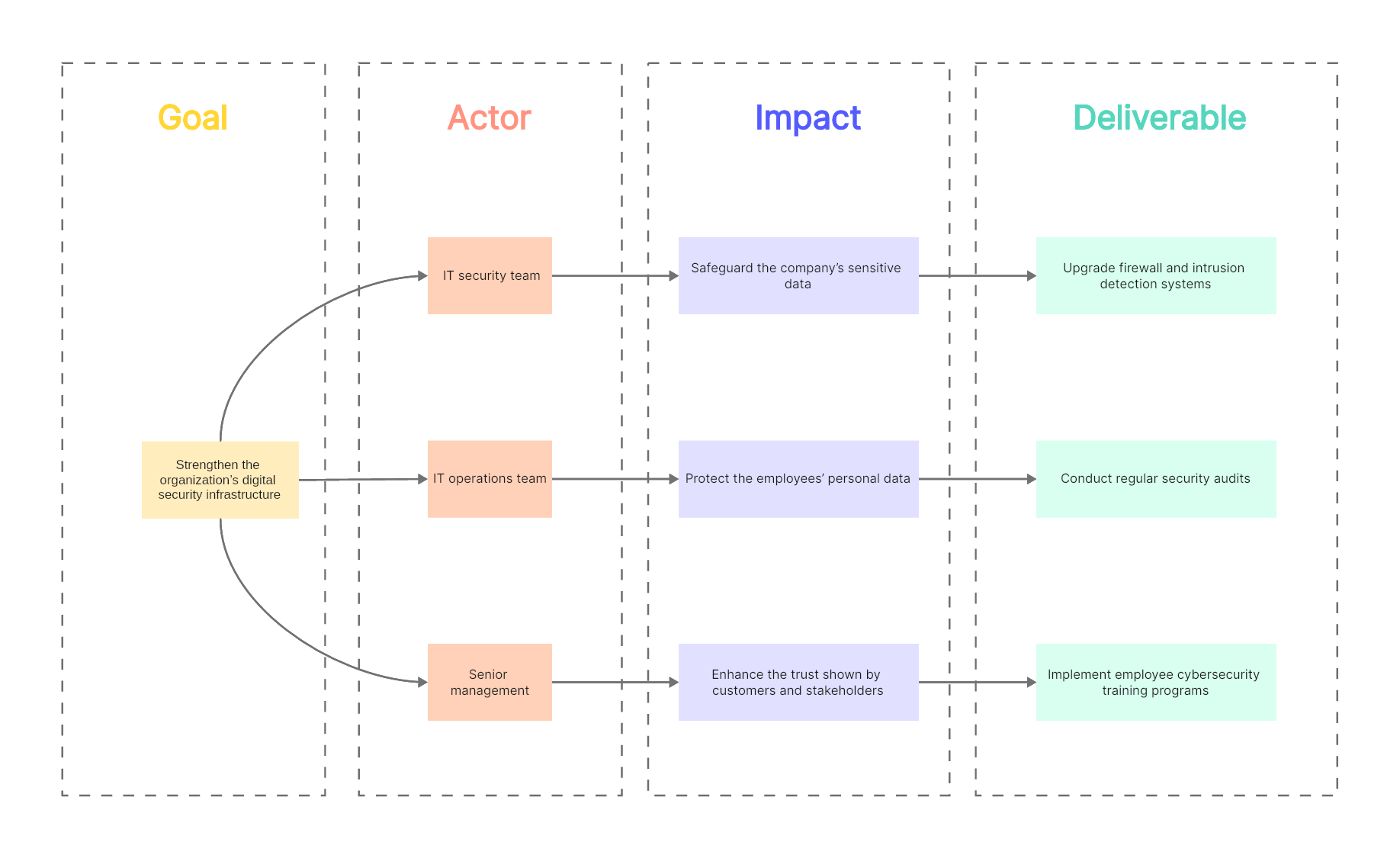 Goal: Strengthen the organization's digital security infrastructure to prevent cyberattacks.
Actors: IT security team, IT operations team, and senior management.
Impact: Safeguard the company's sensitive data, enhance the trust shown by customers and stakeholders, and protect the employees' personal data.
Deliverables: Upgrade firewall and intrusion detection systems, conduct regular security audits, and implement employee cybersecurity training programs.
Impact Mapping Example – 02
The following impact mapping example is a diagram of a rural entrepreneurship development program, implemented by a nonprofit organization. This program aims to give incentives to young entrepreneurs to move to a rural region to revitalize it.
This impact mapping diagram will be as follows: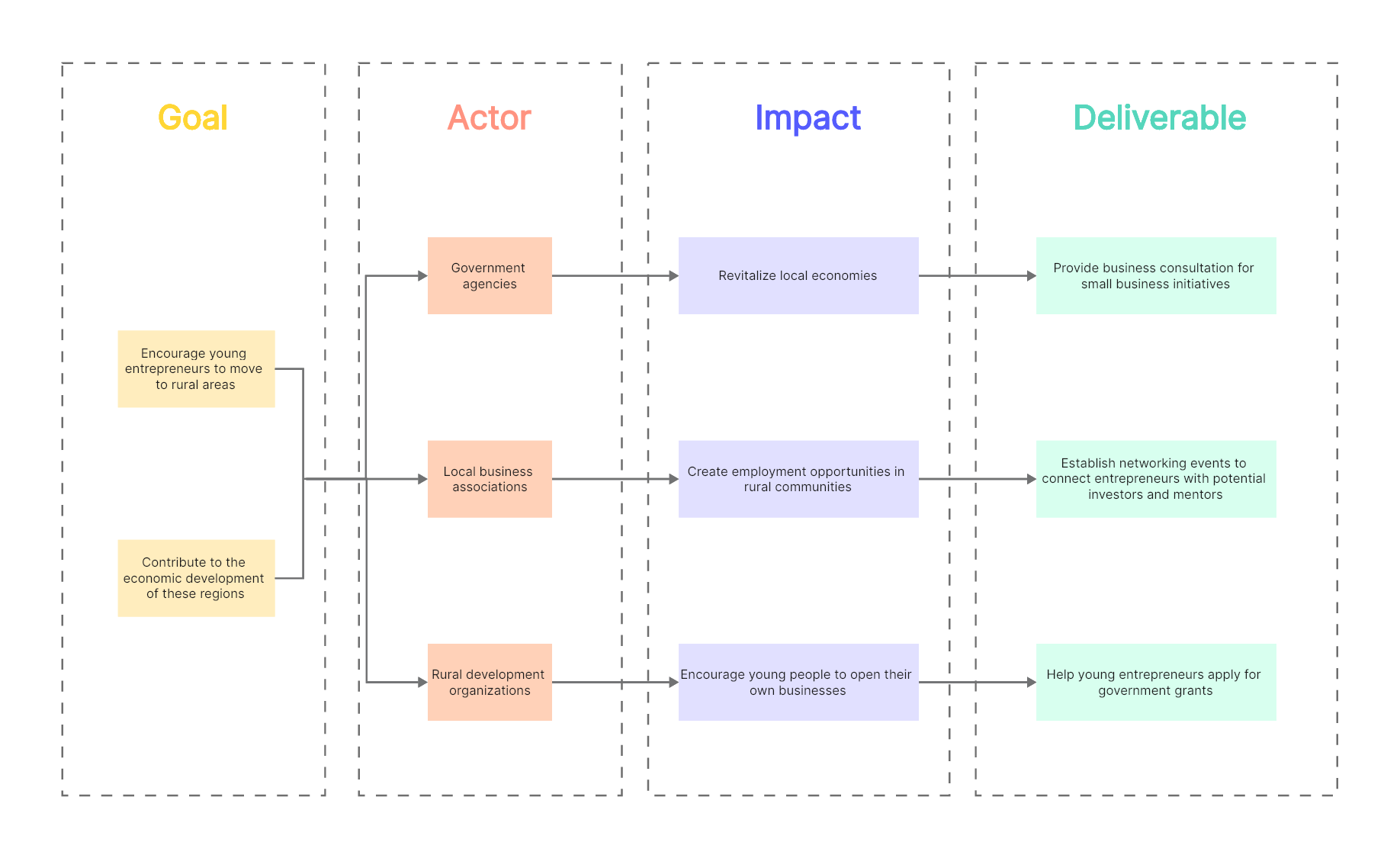 Goal: Encourage young entrepreneurs to move to rural areas, and contribute to the economic development of these regions.
Actors: Government agencies, local business associations, rural development organizations.
Impact: Revitalize local economies, create employment opportunities in rural communities, and encourage young people to open their own businesses.
Deliverables: Provide business consultation for small business initiatives, offer business management training workshops, establish networking events to connect entrepreneurs with potential investors and mentors, and help young entrepreneurs apply for government grants.
Impact Mapping Example – 03
Another great impact mapping example is for a company that wants to become environmentally sustainable. Since more and more people are concerned about the sustainability of the businesses they associate with, this is something that every organization wants to implement.
In this case, the example will be this way: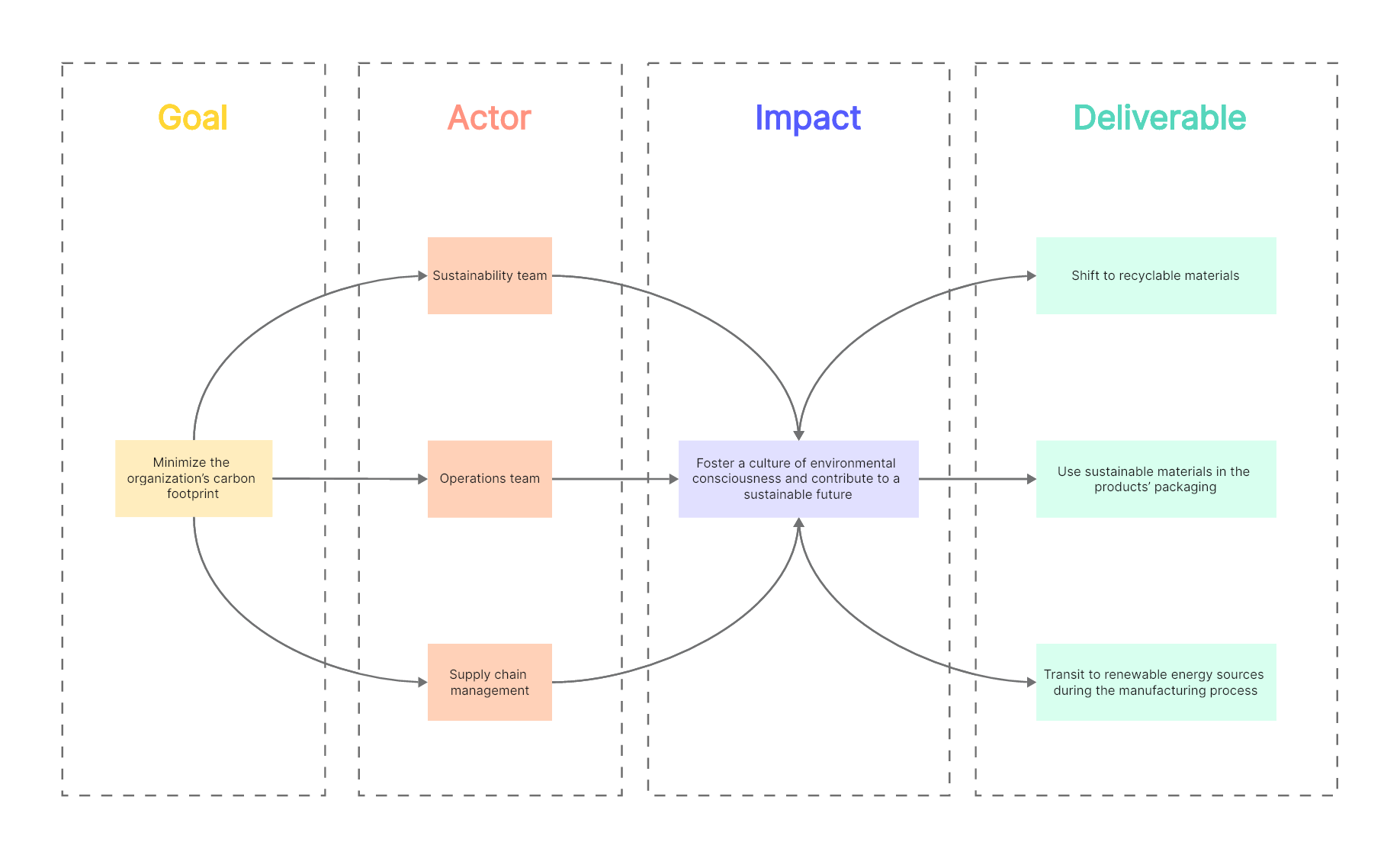 Goal: Minimize the organization's carbon footprint.
Actors: Sustainability team, operations team, and supply chain management.
Impact: Foster a culture of environmental consciousness and contribute to a sustainable future.
Deliverables: Shift to recyclable materials, use sustainable materials in the products' packaging, and transit to renewable energy sources during the manufacturing process.
Impact Mapping Example – 04
In the next impact mapping example, we are going to analyze the development of a corporate training program. This particular example shows you the versatility of this tool as any department can use it for their projects.
This is how this example of impact mapping looks like: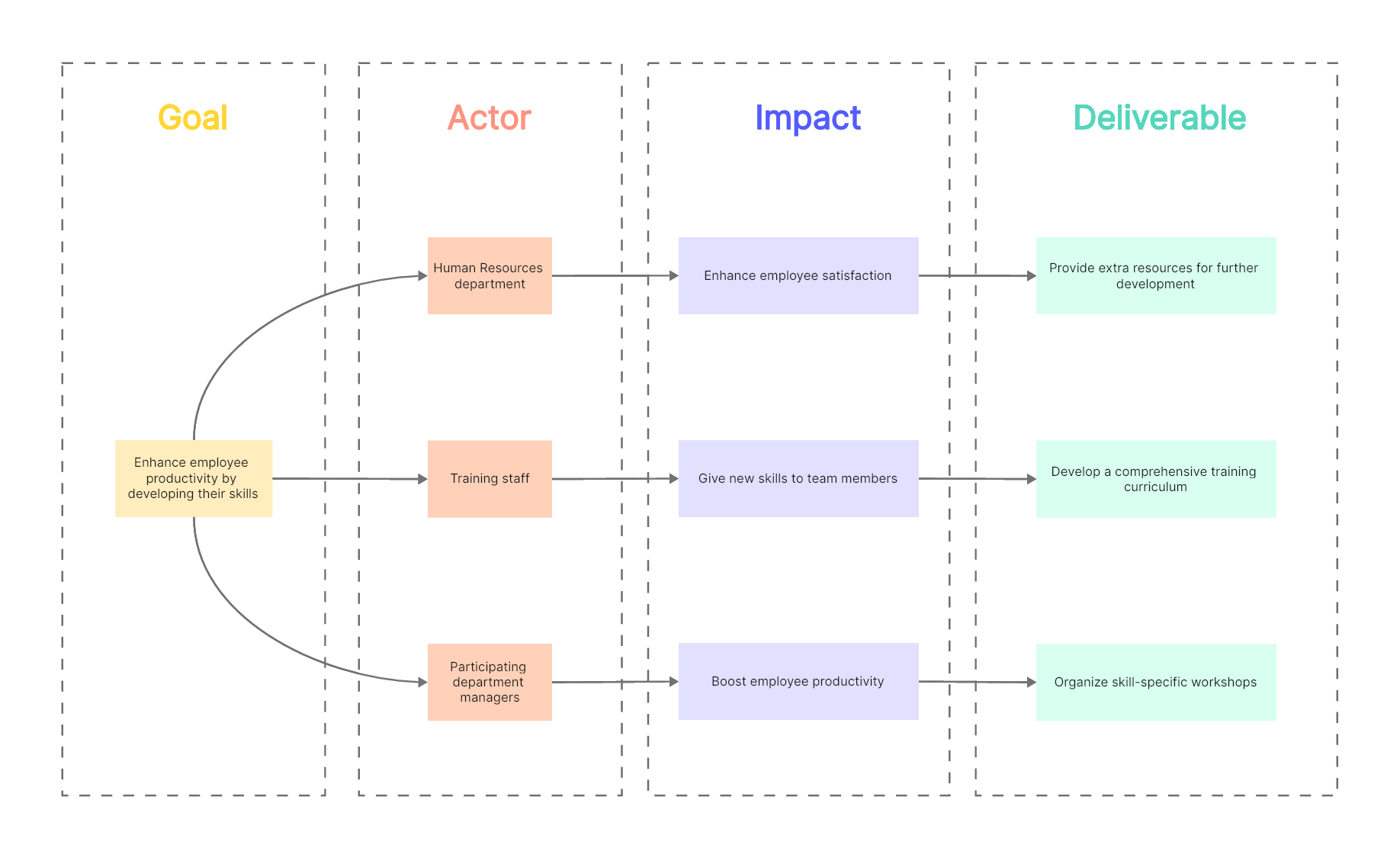 Goal: Enhance employee productivity by developing their skills.
Actors: Human Resources department, training staff, and participating department managers.
Impact: Boost employee productivity, enhance employee satisfaction, and give new skills to team members.
Deliverables: Develop a comprehensive training curriculum, organize skill-specific workshops, and provide extra resources for further development.
Impact Mapping Example – 05
In the final impact mapping example, we will see how to utilize this diagram in app development. In this particular case, we are examining a productivity mobile app. Therefore, the example will be as follows: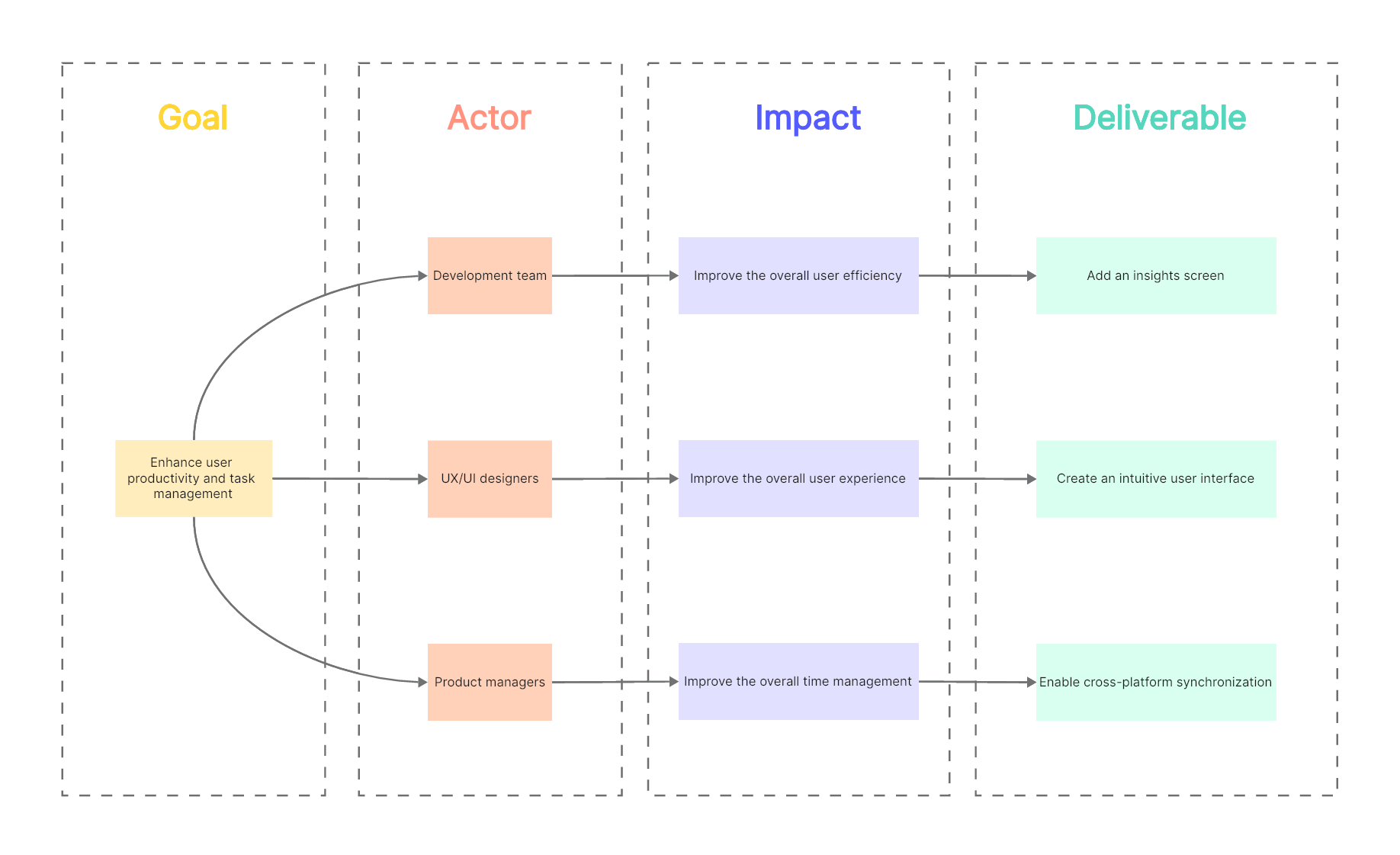 Goal: Enhance user productivity and task management.
Actors: Development team, UX/UI designers, and product managers.
Impact: Improve the overall user experience, user efficiency, and time management.
Deliverables: create an intuitive user interface, enable cross-platform synchronization, and add an insights screen.
Impact Mapping Template & Tool
As you can see from the examples above, impact mapping is a flexible tool that you can use on any type of project. Now, you can easily create this diagram by using a well-designed template offered by Boardmix. Boardmix allows you to dig deeper into the world of impact mapping by providing you with a ready-made impact mapping template that you can use as a base for your project. Just select it from the template library and you will have an efficient impact mapping diagram in just a few clicks. Create your free account today to get started!