In brainstorming sessions or group discussions, you will need some sort of way to organize ideas. An affinity diagram allows you to put those ideas in organized structures for easier comprehension.
In this article, let's have a look at what an affinity diagram can do and 10 tools you can use to create one.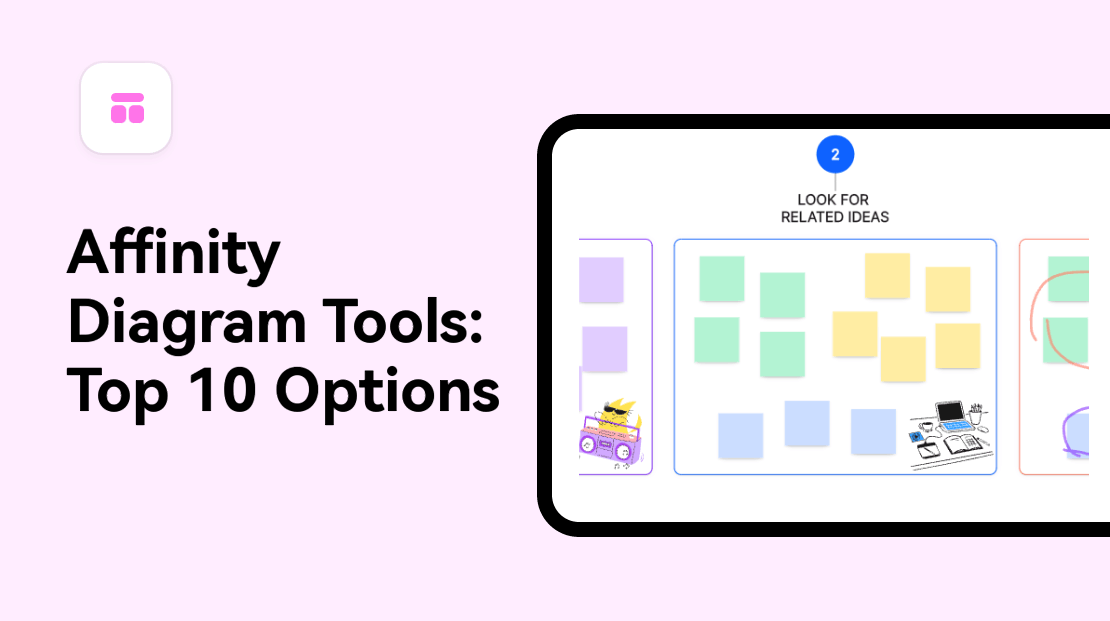 What Is an Affinity Diagram
An affinity diagram is a chart that is used to organize a large number of ideas into their natural relationships. It also goes by the terms affinity mapping, affinity chart, thematic analysis, and the K-J Methods. The diagram is simply the organized output from a brainstorming session and can be used to consolidate information related to a complex issue. Once you have generated ideas, you use the diagram to group them according to their affinity or similarity.
What to Look for in an Affinity Mapping Tool
The choice of an affinity mapping tool will depend on how well it represents your ideas of products. Essentially, an effective affinity diagram tool should be able to make a complex issue easy to understand without looking disorganized or overwhelming. Some of the things you need to look for in an affinity diagram maker include:
A variety of templates and customization options are available.
Ability to collaborate with others in real-time.
Scalability of the affinity diagram maker to meet growing needs.
Integration with other project management tools.
The ease of sharing the map with others and exporting options available.
10 Affinity Diagram Tools You Should Try
Choosing the right affinity diagram maker is crucial to ensuring a productive brainstorming session. With a good affinity mapping tool, you can achieve logical decision-making and ensure a straightforward problem-solving process with your team. Let's have a look at the top 10 affinity diagram tools that you can use:

Boardmix offers you a simplified diagram to create an infinity diagram for your organization. You only need to sign up an account with Boardmix, select the affinity diagram template, and customize it to meet your organization's needs.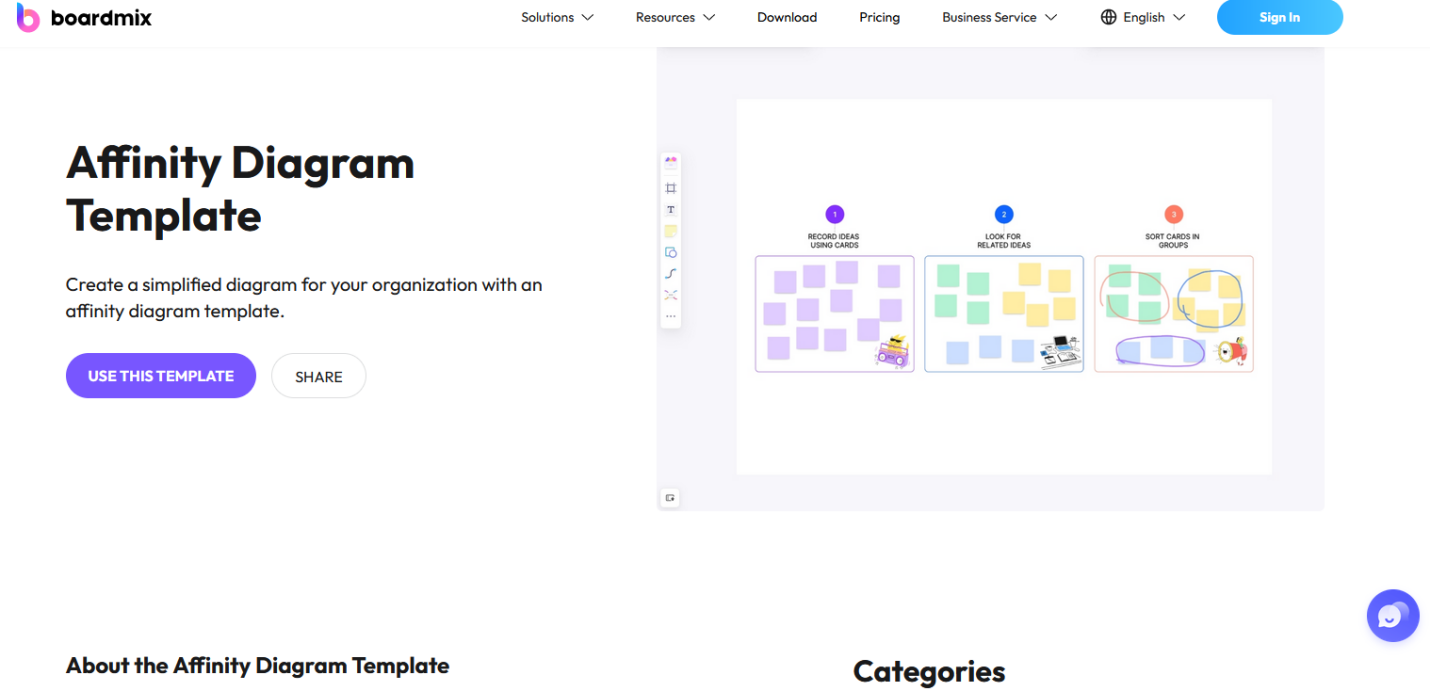 Pros
An easy-to-use affinity diagram tool.
User-friendly interface with a customizable template for your affinity diagrams.
More affordable than other affinity diagram makers.
Collaborative tools to share the affinity diagram with your team members.
Export the final affinity diagram in multiple file formats.
Cons
Requires you log in to customize the template.
You may need a bit of time to learn all the features.
Pricing
Free Plan
Monthly Plan: US$5.9/mo.
Annual Plan: US$ 4.9/mo. charged annually
3-Year Plan: US$ 2.9/mo. charged every three years
Edrawmax offers an array of features suitable for creating detailed affinity diagrams. With robust file compatibility, you can export your affinity map in multiple formats and allow multiple users to collaborate.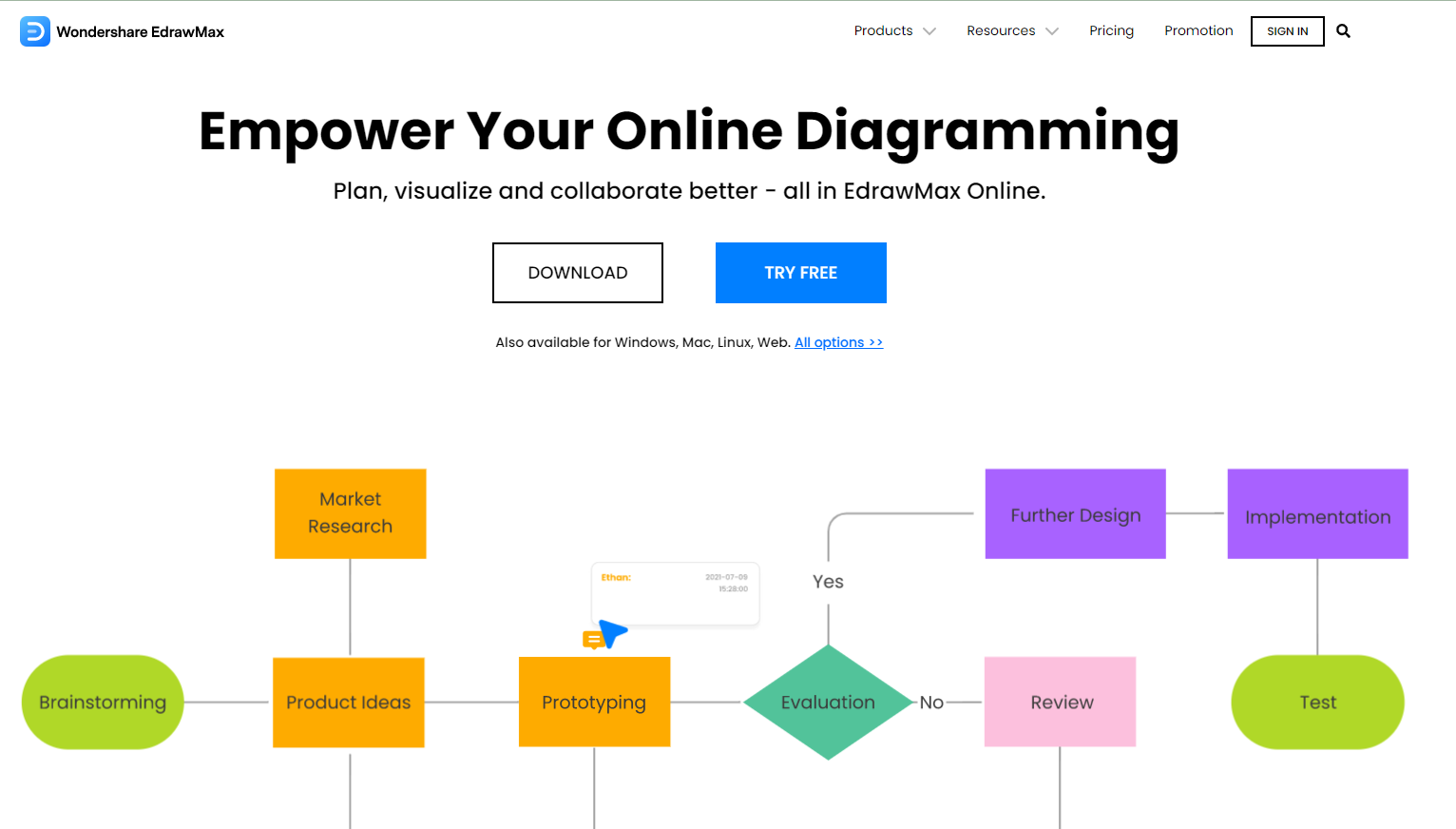 Pros
SSL encryption to protects all your diagram files.
Export and share your diagrams in multiple file formats.
Cons
There is no way to update text size or image scale automatically, and you have to update each element individually.
The user interface is not as intuitive.
No free plan is available.
Pricing
Subscription plan: US$99/yr
Lifetime plan: US$198 one-time purchase
Moqups offers a quick solution for a clean affinity map template that you can use to create a foolproof business strategy. The easy-to-use platform is ideal for both beginners and seasoned diagraming experts.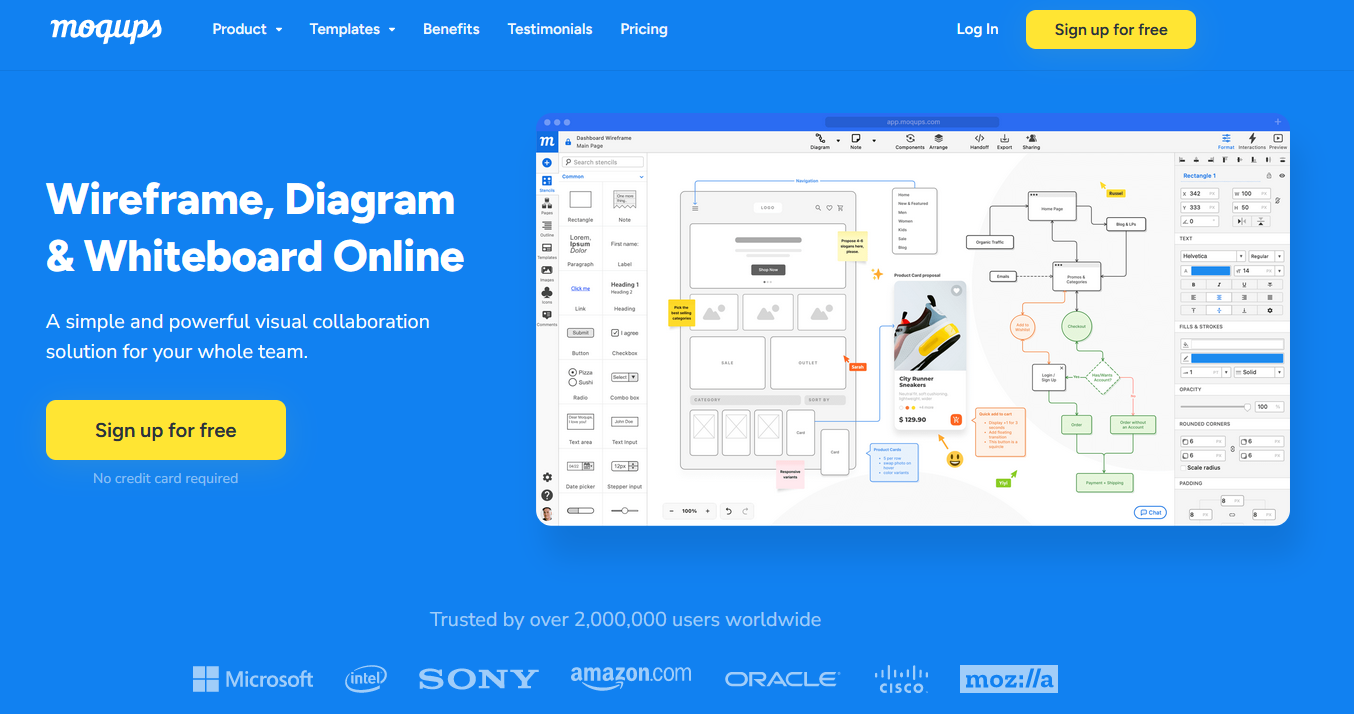 Pros
An easy-to-use
Ready-to-use templates for quick creation of charts.
Unlimited integrations, powerful expressions, animations, and designs.
Cons
Issues with payment with some users reporting automatic renewals without notice.
It can be time-consuming to select one element at a time when editing.
Pricing
Free Plan
Solo: US$13/mo.
Team: US$23/mo.
Unlimited: US67/mo.
Figma is one of the most highly collaborative tools when it comes to making affinity diagrams. The real-time collaboration capabilities and vector-based editing tools allow multiple teams to work together and create versatile affinity diagrams.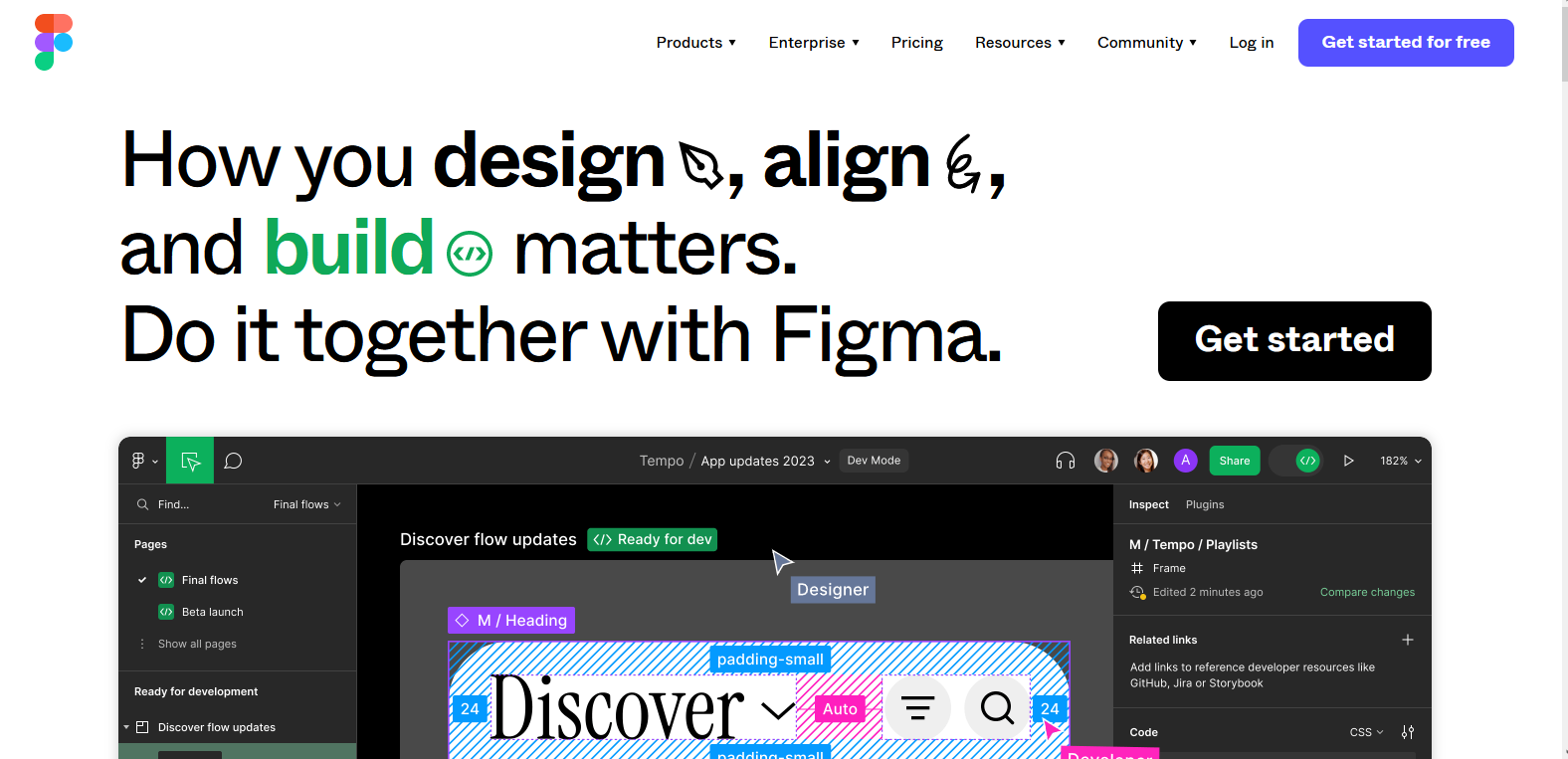 Pros
Vector-based design for precise creation and modification of visual elements.
Collaborative tools for teams to simultaneously work on an affinity diagram project.
Cloud-based features ensuring convenience and accessibility for remote teams and across different time zones.
Cons
Performance lags sometimes, especially when working on highly complex affinity maps or when many users are working simultaneously.
A steeper learning curve for non-designers due to the huge feature set.
Requires access to an internet connection when working on your affinity map.
Pricing
Free Plan
Professional: US$12/mo./user
Organization: US$45/mo./user
SmartDraw is a great tool for those looking for an affinity diagram tool with many templates to choose from. The website offers a wide range of symbols to help you create professional-looking diagrams quickly and various ways of collaborating with teams.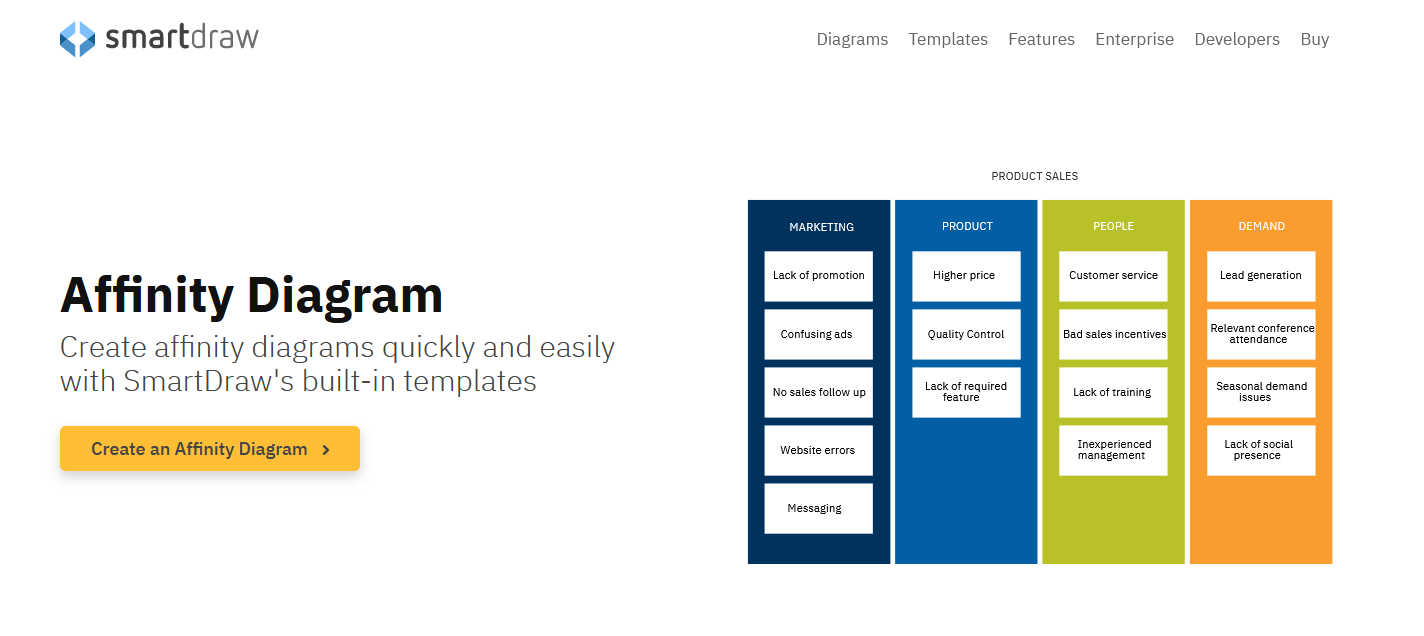 Pros
Show quantitative data with bar graphs, line graphs, and pie charts.
Automation features update existing diagrams to reflect information changes.
Integration with the tools like Microsoft Office, Google Workspace, OneDrive, Jira, Confluence, and Dropbox.
Cons
No free trial.
Problems with software crashes.
Pricing
Single user: US$9.95/mo.
Multiple users: US$8.25/mo./user
With Visual Paradigm, you can create an affinity diagram using a range of diagramming features. The website offers numerous templates and drawing tools that simplify the process of representing complex ideas visually.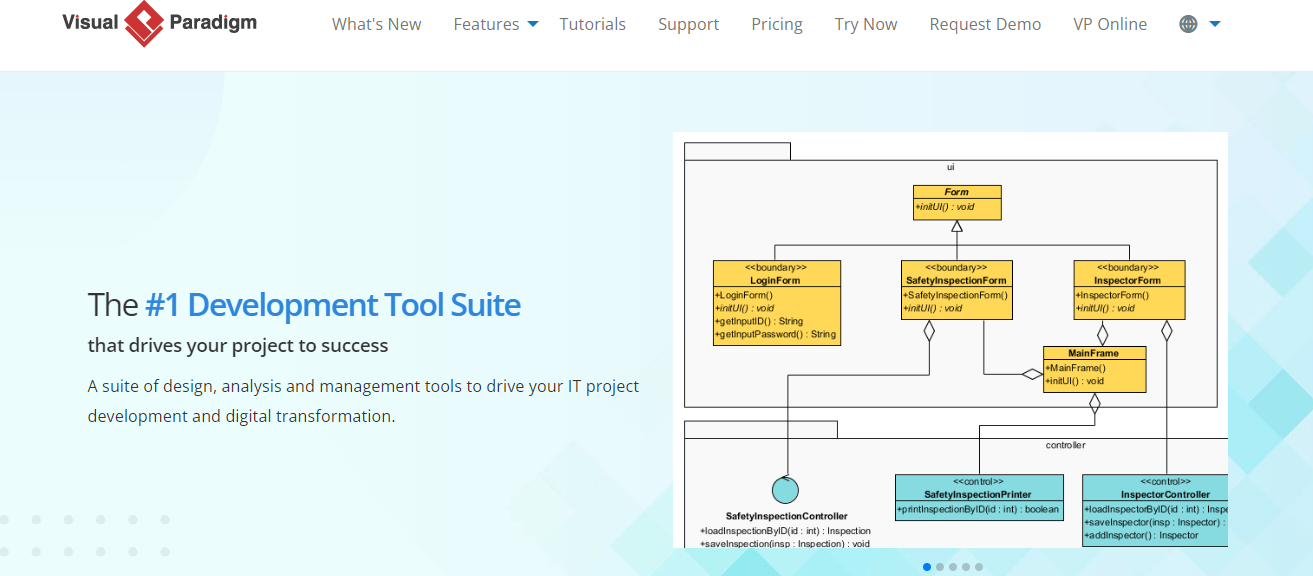 Pros
Dedicated infographics templates that simplify complex reports.
Drag-and-drop feature to create diagrams quickly.
Cons
Some users find diagram connections complicated when building maps.
Lacks essential collaborative features.
Shortcuts sometimes don't work.
Pricing
Modeler: US$6/mo./user
Standard: US$19/mo./user
Professional: US$35/mo./user
Enterprise: US$89/mo./user
Lucidchart offers a vast suite of affinity diagram tools coupled with an intrusive interface. With multiple affinity diagram templates and drag-and-drop functionality, the website allows you to streamline complex ideas for easier understanding.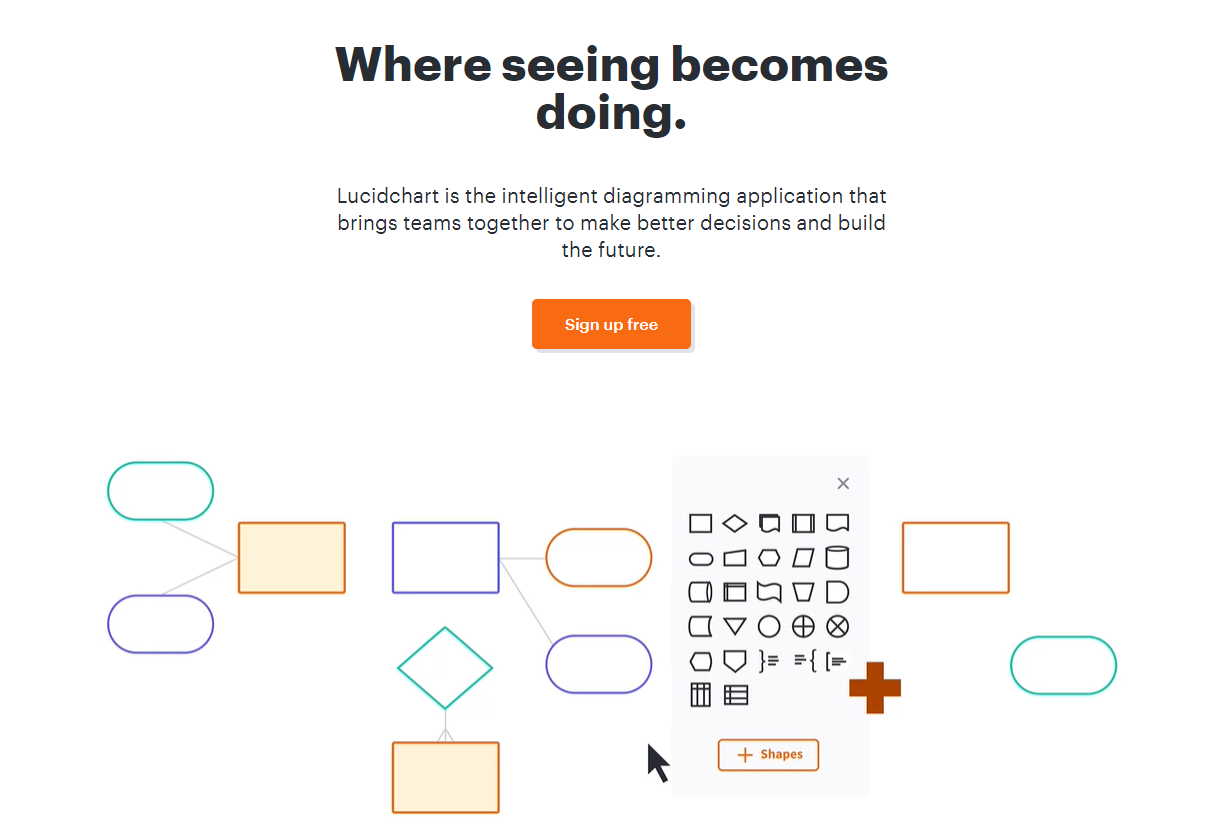 Pros
Affinity diagram template library.
Save your favorite elements.
Link diagrams to live data for dynamic visual representation.
Integration with Google Workspace.
Cons
Can be overwhelming initially for some users.
Data linking requires premium subscription.
The mobile app lacks the full range of features.
Pricing
Free Plan
Individual: US$7.95/mo./user
Team: $9/mo./user
Enterprise: Custom Pricing by the Lucidchart team
ClickUp provides a great tool for making an affinity diagram, with a user-friendly interface and several customization options. It also comes with a robust collaboration feature, allowing you to share your diagram with the team.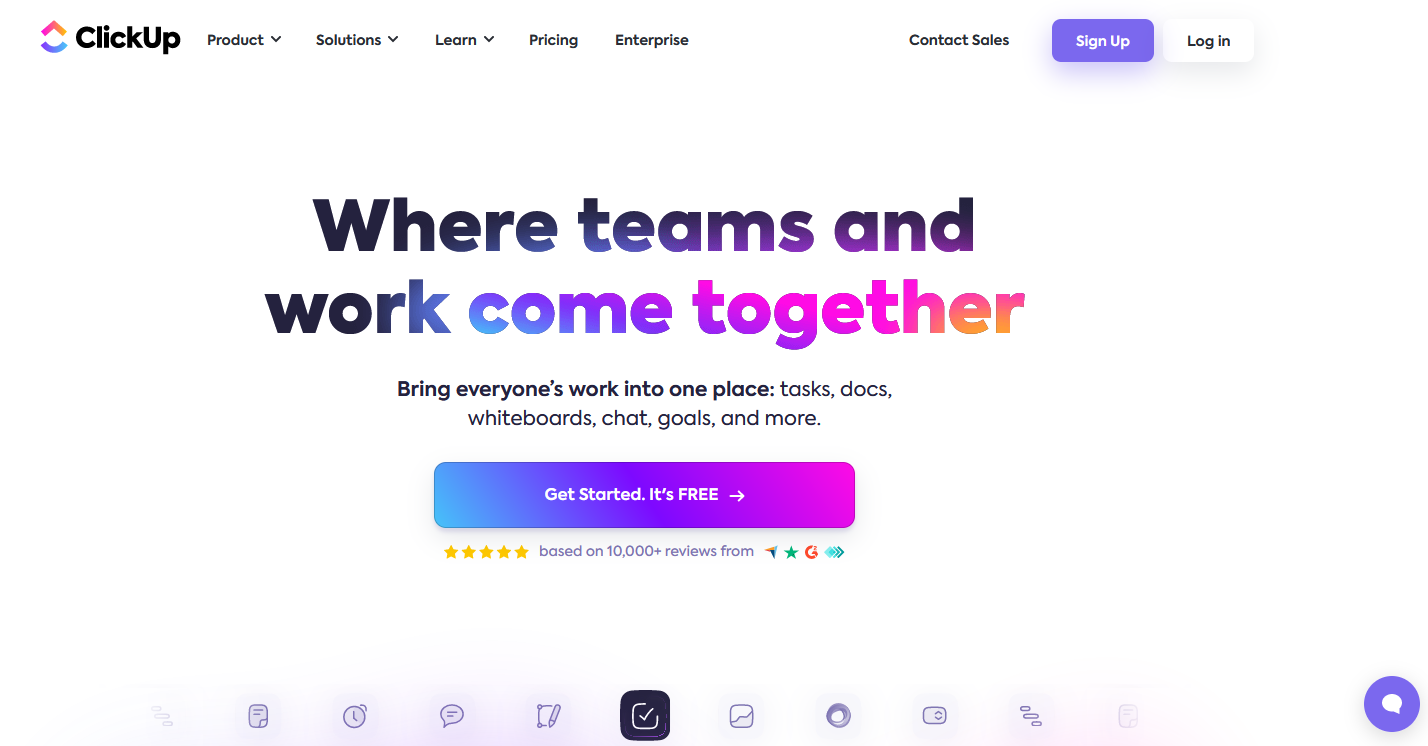 Pros
Versatile workspaces where you can sketch, construct diagrams, and insert shapes, charts, and graphs with a simple drag-and-drop interface.
Easily lay out the workflow and illustrate the relationships between ideas in your affinity diagramming project.
A wide choice of templates to choose from.
Cons
Needs a bit of time to learn and discover various use cases.
The mobile app lacks essential features available in the web-based and desktop versions.
Pricing
Free
Unlimited Plan: US$7/user/month
Business Plan: US$12/user/month
Enterprise: Custom pricing
Creately is a professional diagramming tool that offers its users speed and simplicity in making affinity diagrams. The site comes with an array of templates to choose from and drawing tools that make diagramming an easy task for beginners.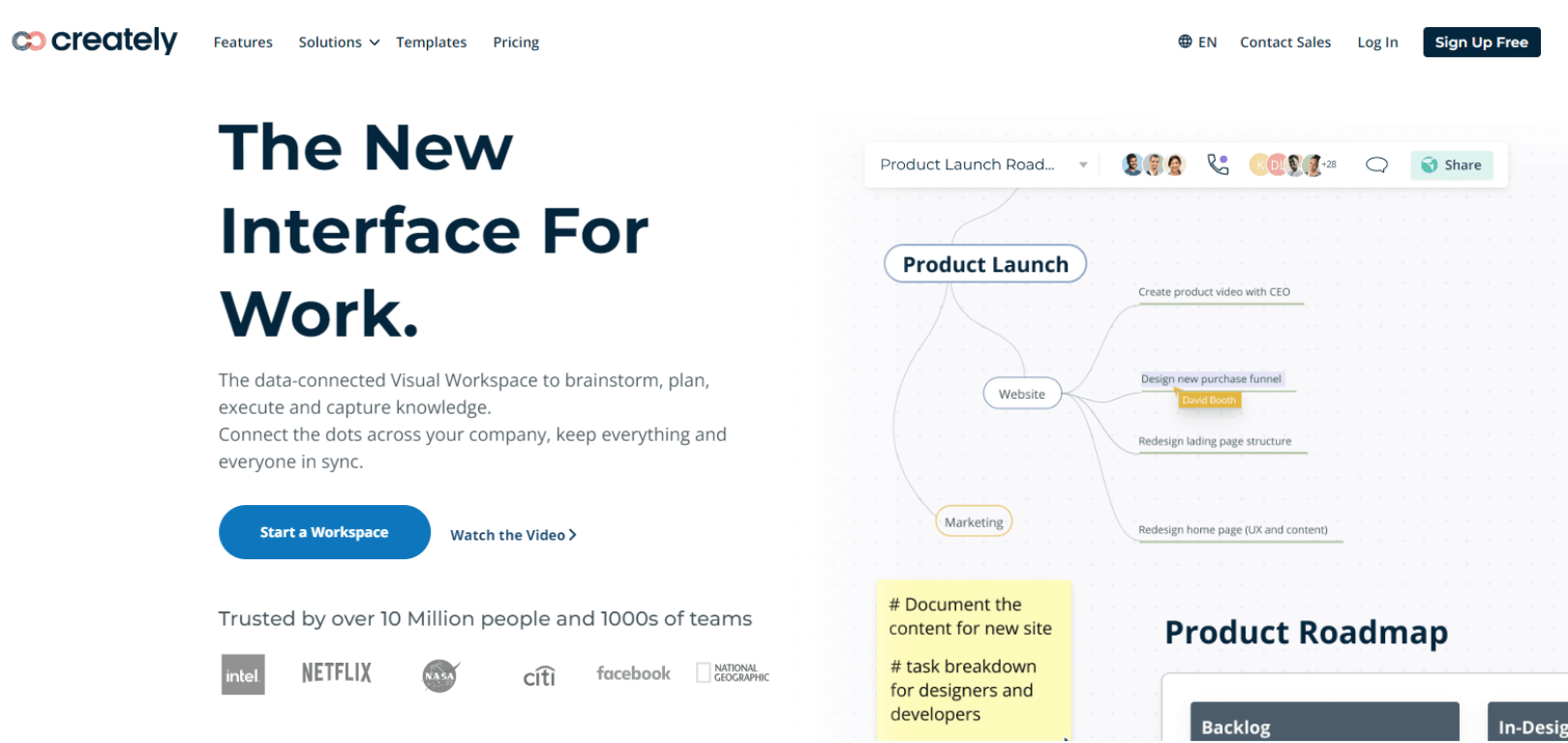 Pros
Users can add links and other data to visual elements in the diagram.
Supports collaboration by allowing only stakeholders to edit and other team members to  view or comment only.
Integrates most popular business software programs, including Github, Microsoft 365 programs, and Slack.
Cons
Often difficult to get all elements lined up for perfect layouts.
The mobile app misses some key features.
Pricing
Free: $0
Starter: $8 per month per user.
Business: $149 per month for unlimited users.
Miro is another great affinity mapping tool that comes with comprehensive digital whiteboarding capabilities. You can choose from the array of templates available and design an affinity diagram that matches your needs.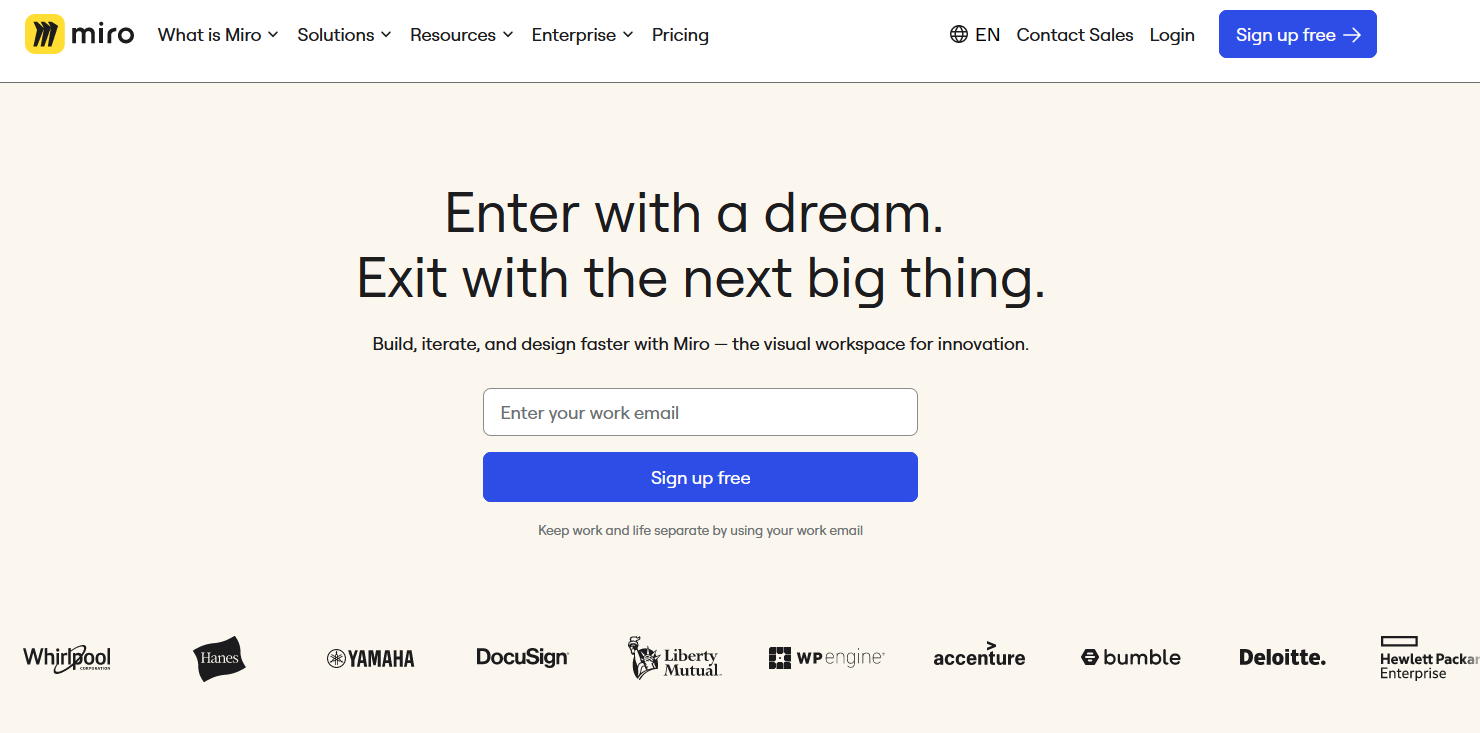 Pros
A rich library of elements including icons, shapes, connectors, and pre-built flowcharts.
Add notes, comments, and elements, or use the drag-and-drop feature to bring your affinity diagram template to life.
Integration with Atlassian project management tools such as Jira and Confluence.
Cons
Importing graphics is not seamless.
Lacks many of the best features for creating affinity maps.
The infinite canvas can be overwhelming or difficult to navigate.
Pricing
Free
Starter: US$8/mo./user
Business: US$16/mo./user
Enterprise: Contact the Miro team for pricing
Boardmix offers a versatile and dynamic experience when it comes to creating affinity maps. With a range of features to choose from and a ready-made template, getting your affinity diagram to life is just a matter of minutes. Just try it out now!