Mind mapping is a widely used practice to structure and visualizes ideas, processes, and other data. A mind map starts from a central point and then distributes into different branches to highlight all the aspects of the idea/process. Eventually, this makes it easy to understand complex things. With digital advancements, creating mind maps has become a lot easier through different available tools. Coggle is one such well-reputed online tool to create mind maps easily with simple clicks. Therefore, this article presents a step-by-step guide on how to create a mind map in Coggle. In the end, the article also presents the best alternative to the Coggle mind map.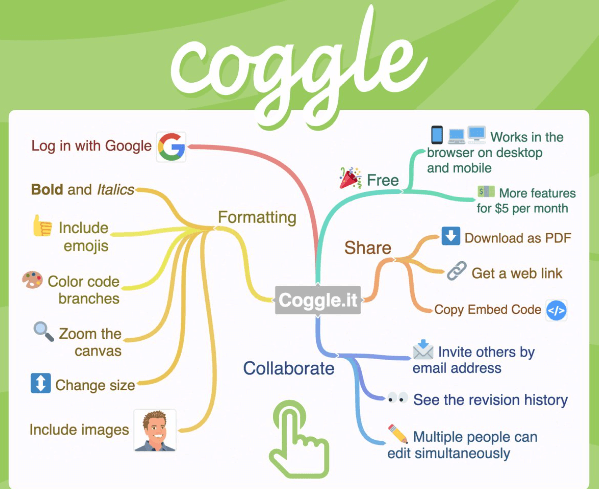 Part 1. A Brief Overview of Coggle Mind Map
Coggle is an online tool to create and share mind maps and flowcharts. It offers a click-based interface to create simple to complex mind maps by adding as many branches as you want. Moreover, it offers many advanced features, such as unlimited image uploads, adding floating text and images, creating loop branches, setting private diagrams, and many more. In fact, you can even share the file with colleagues and collaborate in real-time.
There are three pricing plans offered by Coggle, as follows:
Free Forever: This plan is completely free and is best suited to explore Coggle and create occasional mind maps. It offers unlimited public diagrams, 3 private diagrams, 1600+ icons, unlimited image updates, multiple export formats, multiple start points, etc.
Awesome: This plan is available for $5 per month and is best suited for personal/professional use with more advanced privacy features. It offers all the capabilities of the free plan along with unlimited private diagrams, more item shapes, control line style, full chat history, HD image uploads, etc.
Organization: This plan is available for $8/member/month and is best suited for teams who want to have strict control of their data. It offers all the capabilities of the Awesome plan along with SAML single sign-on, separate personal workspace, bulk export, consolidated billing, user/data management, and branded diagrams.
In addition to the above plans, enterprises can even get in touch with the Coggle team to manage security and authentication in-house.
Part 2. How to Create Mind Map with Coggle
Now that we know what Coggle is all about, let's discuss the steps on how to create a Coggle mind map. Consider that you want to develop a mind map for the onboarding HR process. So, follow the below steps to create the onboarding HR process mind map with Coggle:
Step 1. Sign up to coggle.
Step 2. Click the "Create Diagram" button from the top.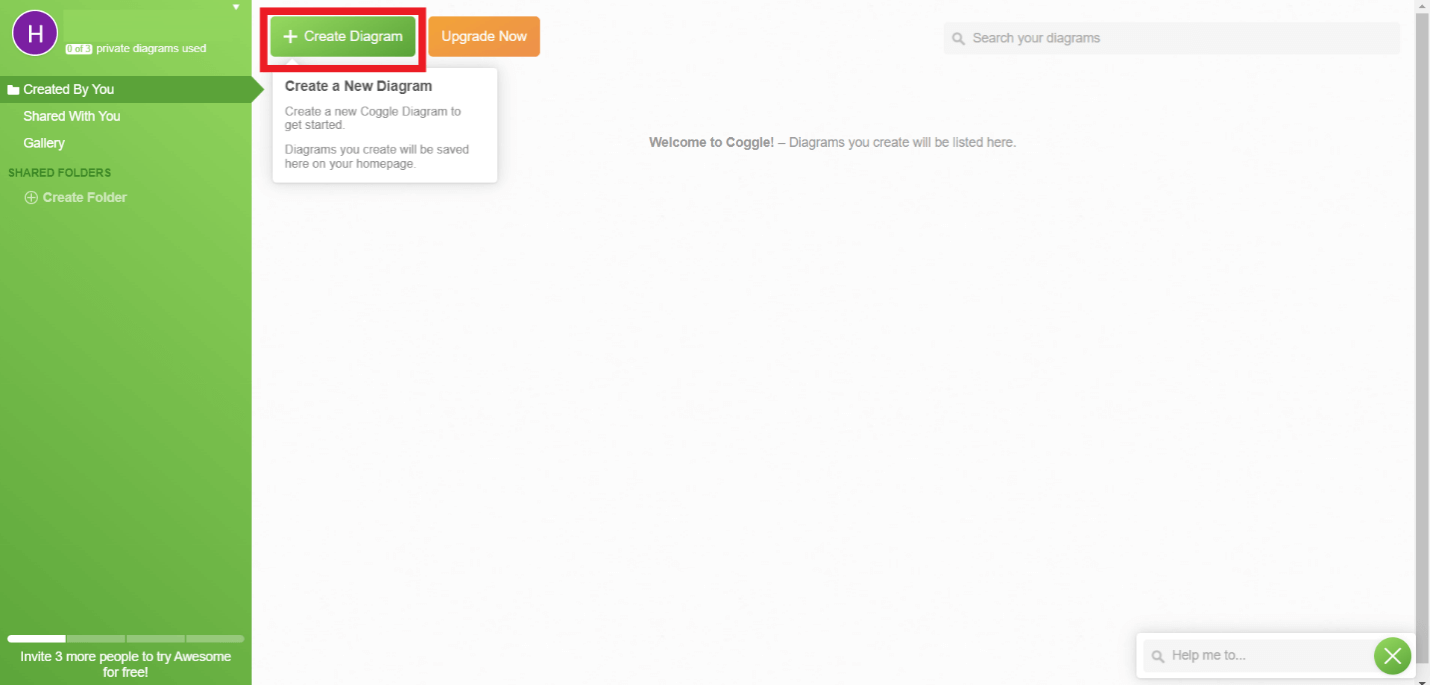 Step 3. Once the whiteboard appears, write the title by clicking "click to edit title".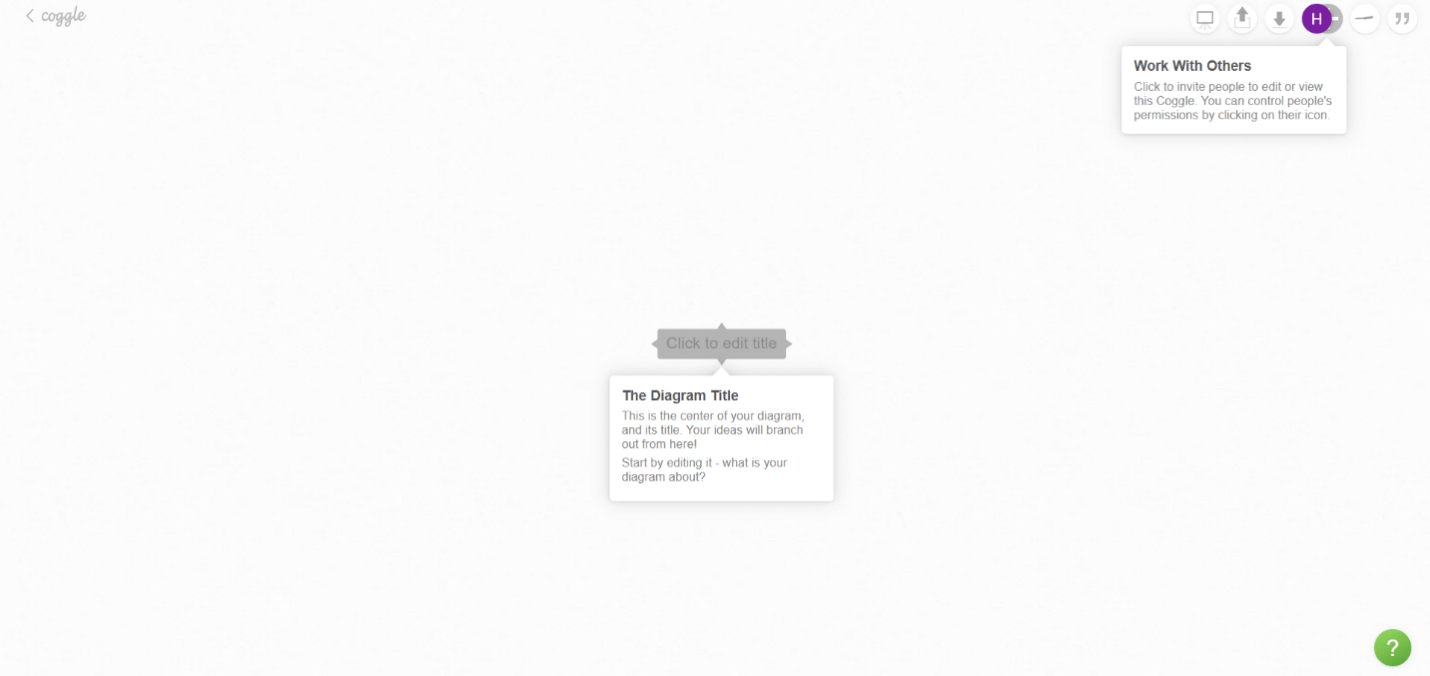 Step 4. Now you have to add branches to expand the mind map. To do that, click the "+" icon next to the title to create a branch. Afterward, you can add text to it or even add an image. Continue adding branches and sub-branches until all are added.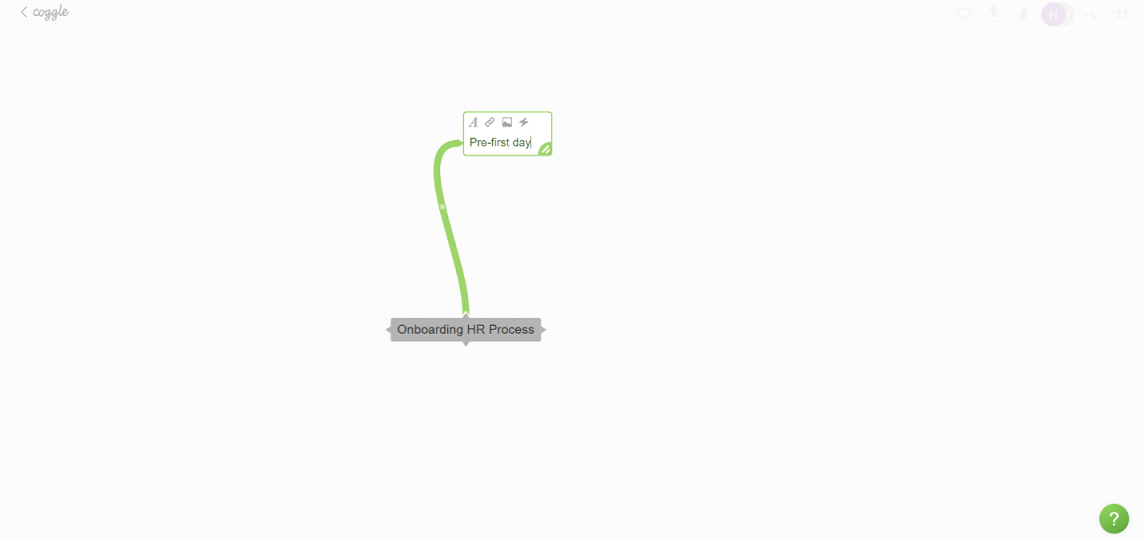 Step 5. You can also change the color and style of the connector line by clicking on them.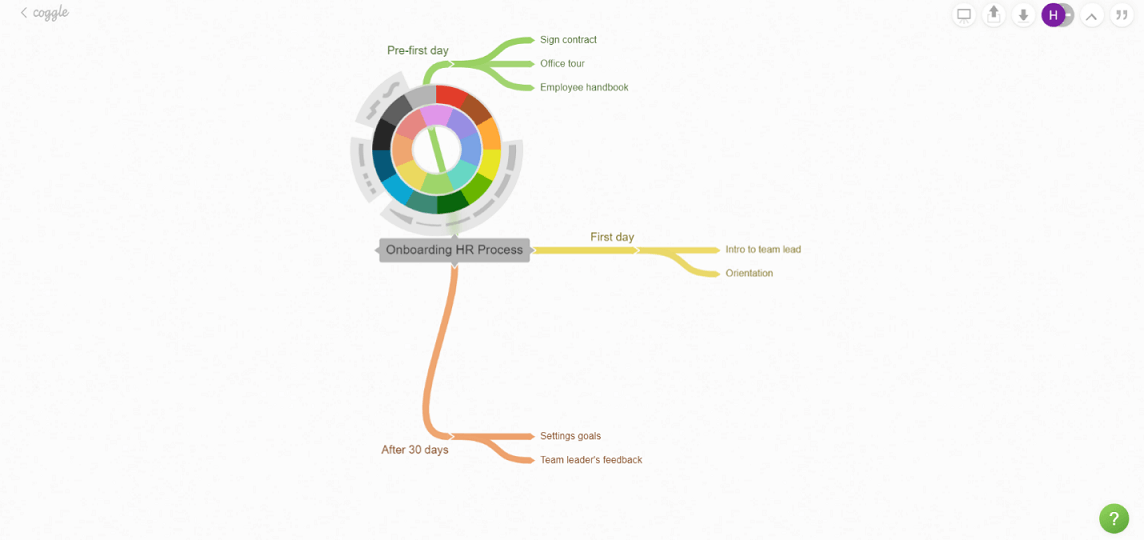 This way, you can easily create simple to complex mind maps with Coggle.
Part 3. Great Examples of User Flow Diagrams
Coggle is a handy tool if you want to create one-styled mind maps, but if you want to add different shapes of branches with more customizations, then it fails to offer a seamless interface and requires a bit of a learning curve. However, there is one ideal alternative to Coggle that provides the simplest and most powerful interface with multiple templates of mind maps, drag and drop of dozens of shapes, and plenty of customization options, including adding notes, using different connectors, and a lot more. The tool is known as Boardmix.

Boardmix is a web-based, collaborative tool for creating mind maps. It offers all the basic and advanced features users need to create intuitive mind maps. It offers built-in templates, a rich set of shapes, an infinite canvas, one-click switch layouts, and topic styles, real-time collaboration with a chat box, and a lot more.
Other than mind maps, Boardmix also provides other diagramming tools, such as timeline diagrams, flowcharts, UML diagrams, and many more. In short, it is an all-in-one and fully-featured online collaborative whiteboard.
Try Boardmix Free
Part 4. The Comparison Table of Coggle Mind Map and a Fully-featured Alternative
| Feature | Coggle | Boardmix |
| --- | --- | --- |
| Visual Assets | It offers the creation of multiple branches and sub-branches in one main tree-like style. | It offers the creation of different styles of branches using different shapes. |
| Ease of Use | It can add new branches with just one click but requires some learning curve to delete or reposition branches. | It offers drag & drop functionality to add branches with easy individual branch repositioning or deletion. |
| Collaboration | It allows real-time collaboration but does not allow collaboration by link in the free plan. | It allows real-time collaboration with link-based collaboration in the free plan with unlimited collaborators. |
| Cost | It offers cost-friendly plans but with limited functionality in the free plan. | It offers cost-friendly plans with full functionality in its free plan, including unlimited files, collaborators, teams, version management, etc. |
| Advanced Features | It offers only basic mind map creation features. | It offers many advanced features while creating mind maps for a comprehensive experience, such as frame, note, pen/eraser, table, document cards, timer, etc. |
| Additional Toolkits | Besides mind map, it supports creating flowcharts. | Besides mind map, it offers plenty of other toolkits, such as flowchart, SWTO analysis, user journey, timeline, weekly plan, reverse brainstorming, icebreaker games, etc. |
Conclusion
Coggle offers a simple and quick way to create mind maps with multiple branches, including loops. By following the above steps, you can easily create a Coggle mind map for any idea or process you want. However, Coggle makes it a bit challenging to add different shapes, reposition/delete branches, and do other customizations. So, if you are also looking for such features, then Boardmix is the ideal choice. Its multiple templates, dozens of shapes, easy customization, chat box, and other advanced features make it the best tool for creating mind maps online.
Try Boardmix Free