Ever wondered what online tool you can use to make flowcharts, network diagrams, ER diagrams, and much more?
Draw io is an online diagram editor that allows designers, product teams, and many other individuals to create charts and diagrams that help in project planning.
This blog will give an in-depth review of draw io online—giving its features, pros, and cons. No beating around the bush, let's get right into it.

Part 1. An In-Depth Review of Draw io Online
1.1 Is draw.io online free to use?
Draw.io is a completely free online diagram-making tool. It is built around Google Drive hence making it cloud compatible. You won't find any option for upgrading the account for paid extra features like other online tools.
1.2 Features of draw.io online
Here are the following features of draw.io online:
First and foremost, it is an easy-to-use diagram maker and editor. Using simple tools, you can make diagrams easily.
You can make diagrams wherever you want in the interface. Thus, making it a freestyle and free-flowing type of diagram editor. There are no bounds.
Your diagram will be kept data secured always so there is nothing to worry about when it comes to the online tool's security.
You can use it as a collaborative online tool with users sharing cursors and drawing diagrams in real time.
You can learn more about the problem's solution options as you map them.
You can utilize advanced tools available in the diagram editor and make a wide array of diagrams for any purposes related to your personal and business projects.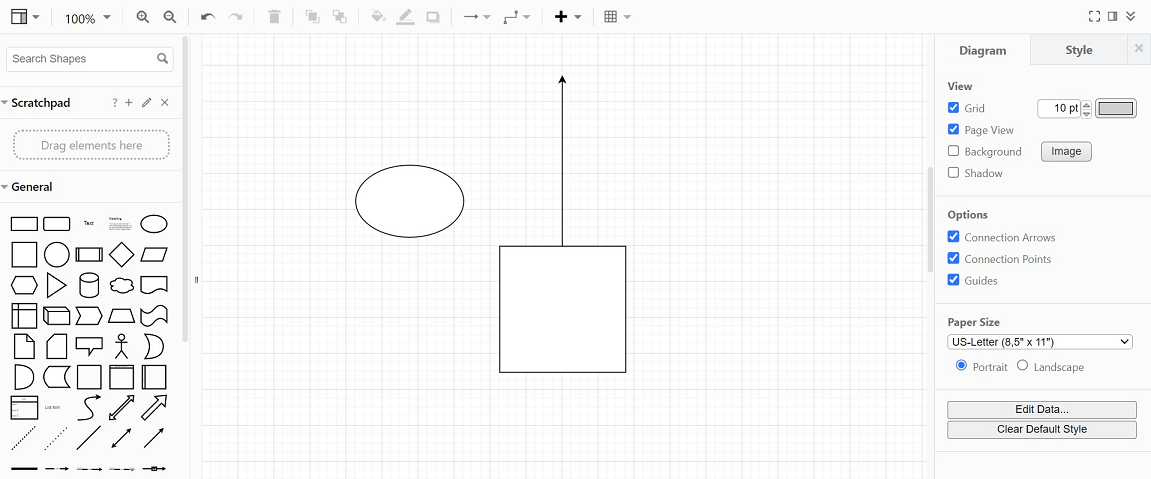 1.3 Pros & cons of using draw.io online
Let us now explore some of the advantages of using draw.io online and also learn some of its drawbacks:
Part 2. Draw io Online Alternative: Free & More Advanced Features
Despite Draw.io's benefits, you are probably thinking from reading the cons, if there is a better alternative diagramming tool. One that provides more advanced features and is free of cost as well?
Boardmix is a free online diagramming tool that provides predefined templates available in the community and allows users to add elements to the canvas. Thus, optimizing their diagrams and meeting different purposes.
Just like Draw.io, Boardmix allows collaboration in real-time and saves changes automatically. An added feature is it can export files as .png, .jpg, .pdf, .svg, and .bdx (Boardmix format) files.
Here is a quick tour of how you can use Boardmix to make different types of diagrams for your most important projects:
Create diagrams manually using the toolbar
One way of utilizing Boardmix is by using the vertical toolbar you can find on the left-hand side of your whiteboard. You can explore the different shapes available and draw them easily on your whiteboard. Additionally, add connecting lines and add text to create your diagrams manually from scratch.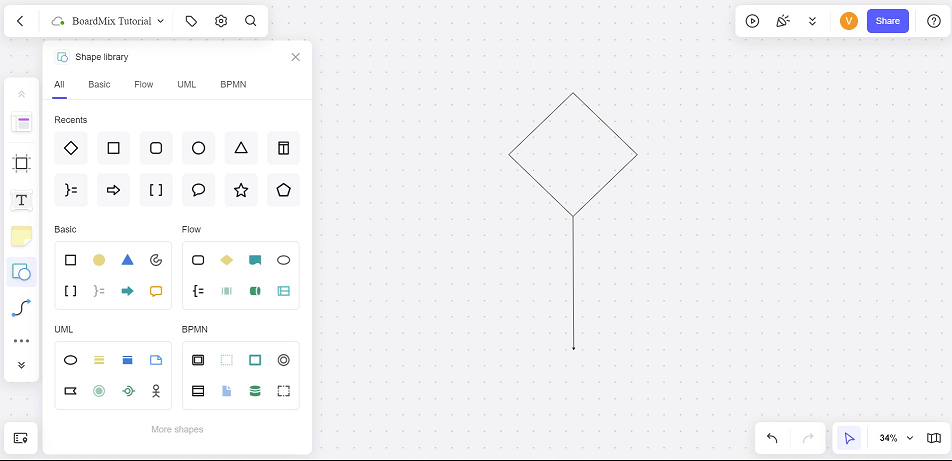 Browse through diagram templates
Another way of easily making diagrams in Boardmix is by exploring the templates page available on the web application. Head over to the Draw & Diagram tab of the templates page to explore ready-made templates. You can utilize pre-defined Mind Maps and Flowcharts. Insert any of them onto your whiteboard and then you can iterate it as per your requirements and also add more elements using the vertical toolbar. Note that using these templates is a point of inspiration and provides convenience in making your successful diagrams.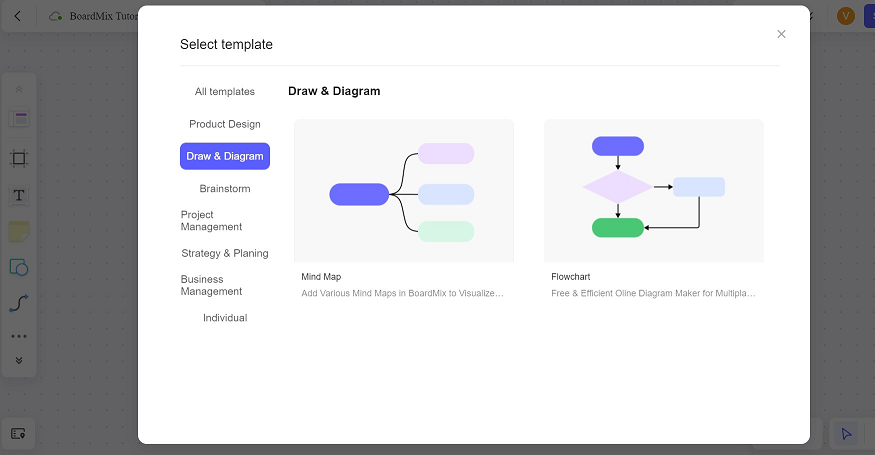 Part 3. FAQs About Draw io Online
#1 Can draw.io be used online?
Yes. Draw.io is a free online software that allows users to access tools to create diagrams and flowcharts flawlessly.
#2 Is there a desktop version of draw.io?
Draw.io desktop is a diagramming plus whiteboarding desktop-based app formed around Electron with the core draw.io editor.
#3 Is draw.io from Google?
Draw.io is basically built around Google Drive. The diagramming tool allows users to create flowcharts and other diagrams, and have them stored safely in Google Drive. Thus, not having another third party to keep all the data.
Go Advanced by Using Boardmix Diagramming Tool…
We have learned about draw io online and its several pros and cons. It is an amazing free tool that beginners and most advanced professionals can use with ease.
However, it is missing some added features and some sophisticated diagrams and designs require advanced tools to create them.
Each tool has different features that allow for real-time collaborative editing, depending on whether you need to generate mind maps for yourself or a team. Choosing a mind-mapping tool that integrates well with other collaborative features if you need frequent access to other capabilities.
Boardmix offers all those advanced tools and is free of cost. Explore Boardmix today and start making all kinds of diagrams.
Try Boardmix for Free