Fishbone diagrams provide an excellent way to categorize the potential causes of a problem. Creating a fishbone diagram is easy with online fishbone diagram builders.
In this article, we will explore 6 best fishbone diagram creators. Keep reading to find the one suits you best.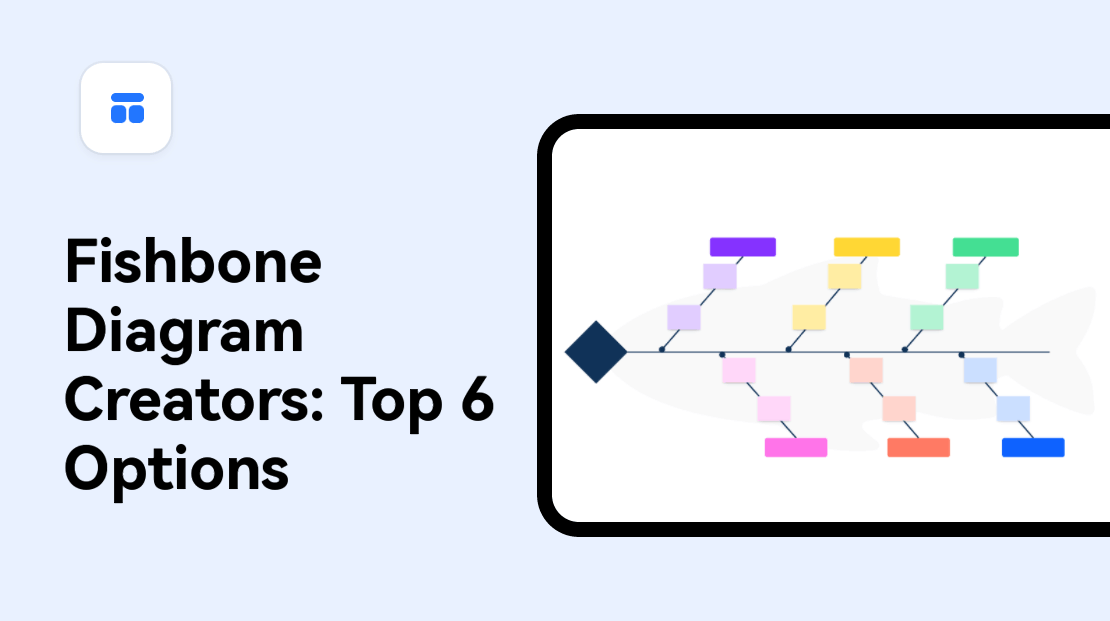 What Is a Fishbone Diagram
A fishbone diagram is also called a cause-and-effect analysis or an Ishikawa diagram. It is a visualization tool that is used to categorize the possible causes of a problem within a process. A fishbone diagram helps break down root causes that potentially contribute to an effect in successive layers.
A fishbone diagram, as the name suggests,  mimics the bone structure of a fish skeleton. The underlying problem is placed in the fish's head (leftmost part). The causes extend to the right as the skeleton bones. The ribs branch of the spine indicates the main causes, while the sub-branches under the main causes indicate the root causes.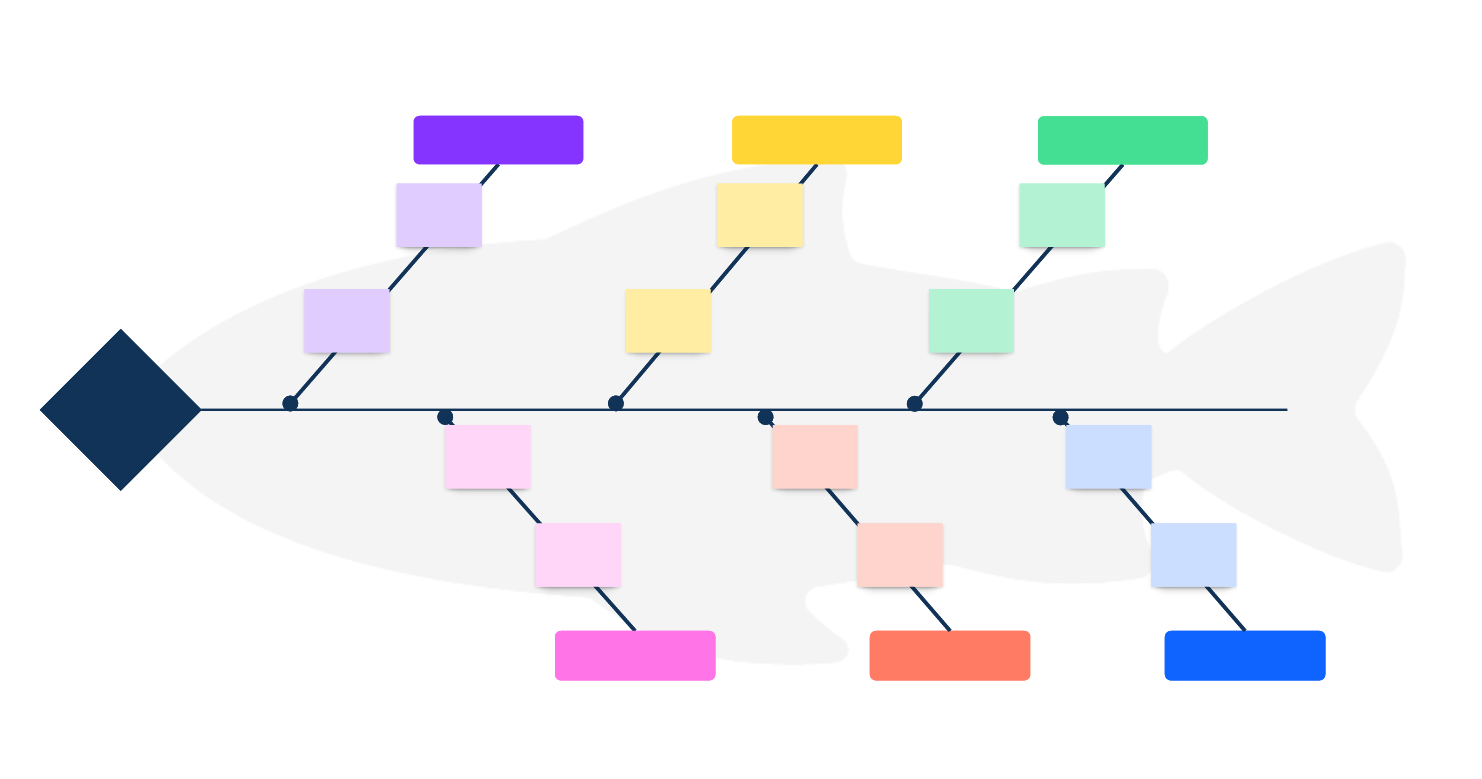 What to Look for in a Fishbone Diagram Creator
When choosing an online fishbone diagram creator, it is crucial to consider several elements to make sure that the software facilitates effective problem-solving and meets your needs. Some key factors to consider include:
Accessibility: Select a fishbone diagram creator that all your team members can access. This is vital for collaboration to promote efficient problem-solving.
Real-Time Collaboration: Choosing an online fishbone diagram creator with real-time collaboration features allows all the stakeholders to brainstorm and solve a problem more efficiently.
Integration Capability: The type of fishbone diagram creator you decide to choose should be able to integrate with other tools for data analysis or project management to streamline your workflow.
Ease Of Use: Your Ishikawa diagram creator should have a user-friendly interface to allow you to work faster and ease the problem-solving process.  
6 Best Fishbone Diagram Creators
Boardmix is one of the top Ishikawa fishbone diagram creators for creating effective illustrations or visualizations. Boardmix online fishbone diagram creator lets you brainstorm and find the root cause of an underlying problem.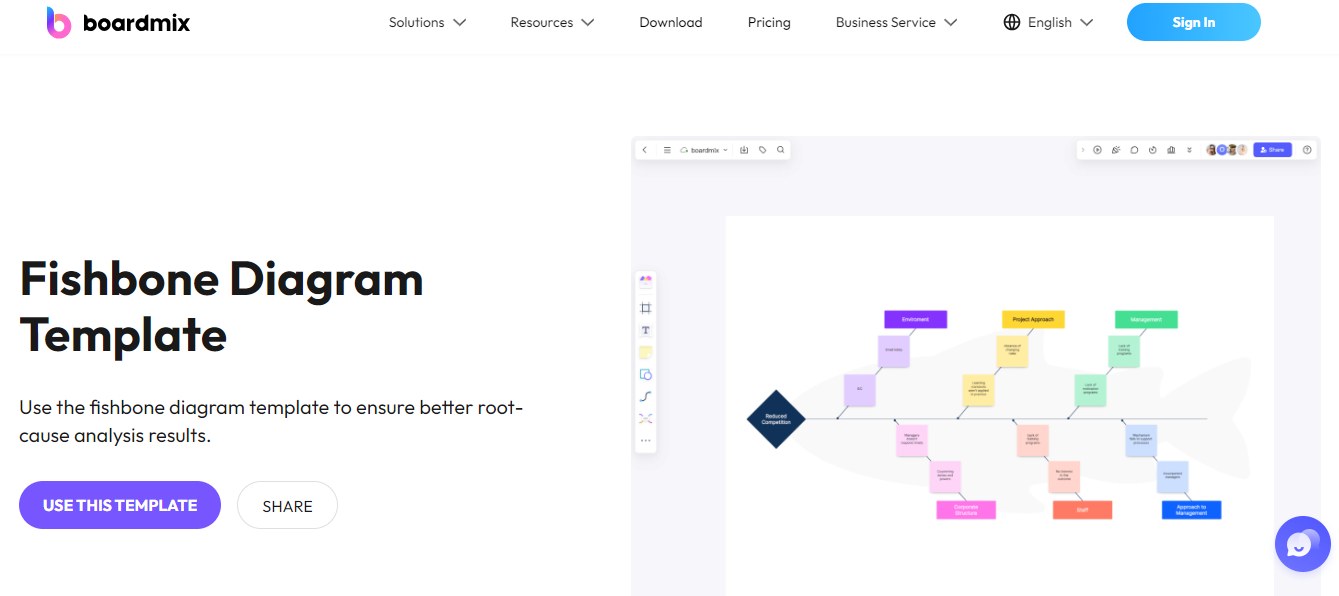 Pros
Ability to collaborate with your team in real-time.
Easy to use with an intuitive interface.
A ready-made fishbone diagram template that can be customized based on your needs.
A free version is available.
Ability to work on any device including Mac, Windows, IOS, and Android.
Integration with other tools such as Google Workspace to ensure better root cause analysis results.
Cons
The free version has limited features.
Pricing
Free: $0
Monthly Plan: $ 5.9 per month.
Annual Plan: $ 4.9 per month, billed $58.8 annually.
3-Year Plan: $ 2.9 per month, billed $104.4 every 3 years.
When it comes to creating varying diagrams and mind maps, SmartDraw is a versatile fishbone diagram creator. Architects, project managers, business executives, and contractors use SmartDraw for their problem-solving needs.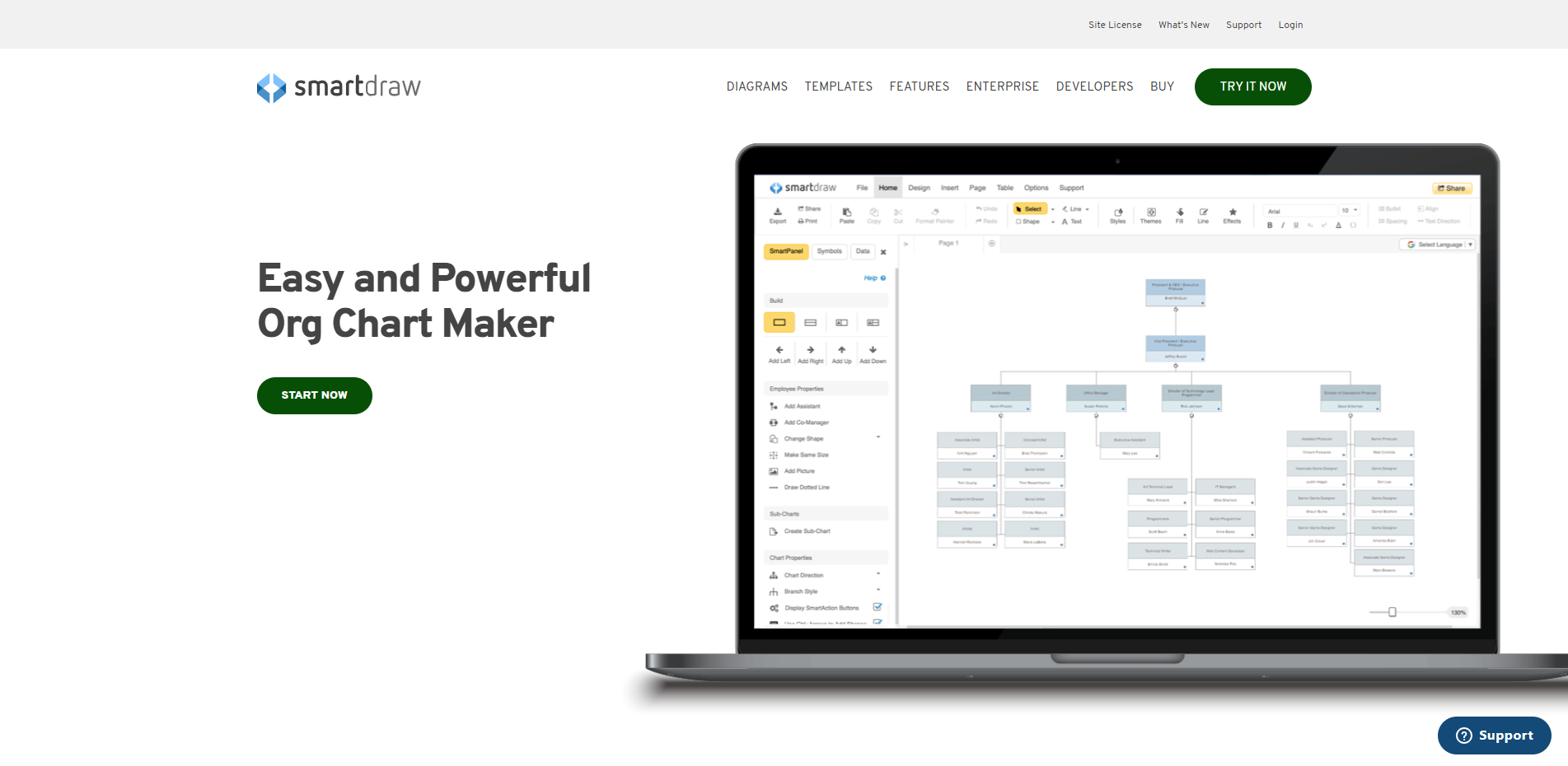 Pros
Variety of professionally designed templates, shapes, and tools to customize your fishbone diagrams.
User-friendly interface.
Integration with other tools like MS Office, Atlassian stack, and Google Workspace.
Ability to work on any device including Mac, Windows, IOS, and Android.
Customer support is available via phone and email.
Cons
Expensive compared to other Fishbone diagram creators.
Customizing the system is complex and difficult for some users.
Pricing
Individual: $9.95/month
Team: $8.25/ month per user
Organization: $2995
DesignCap is an online software that makes it easy to create high-quality graphic designs without advanced graphic design tools. With customizable illustrations, templates, and photos, DesignCap is a great online Fishbone diagram creator tool for effective problem analysis.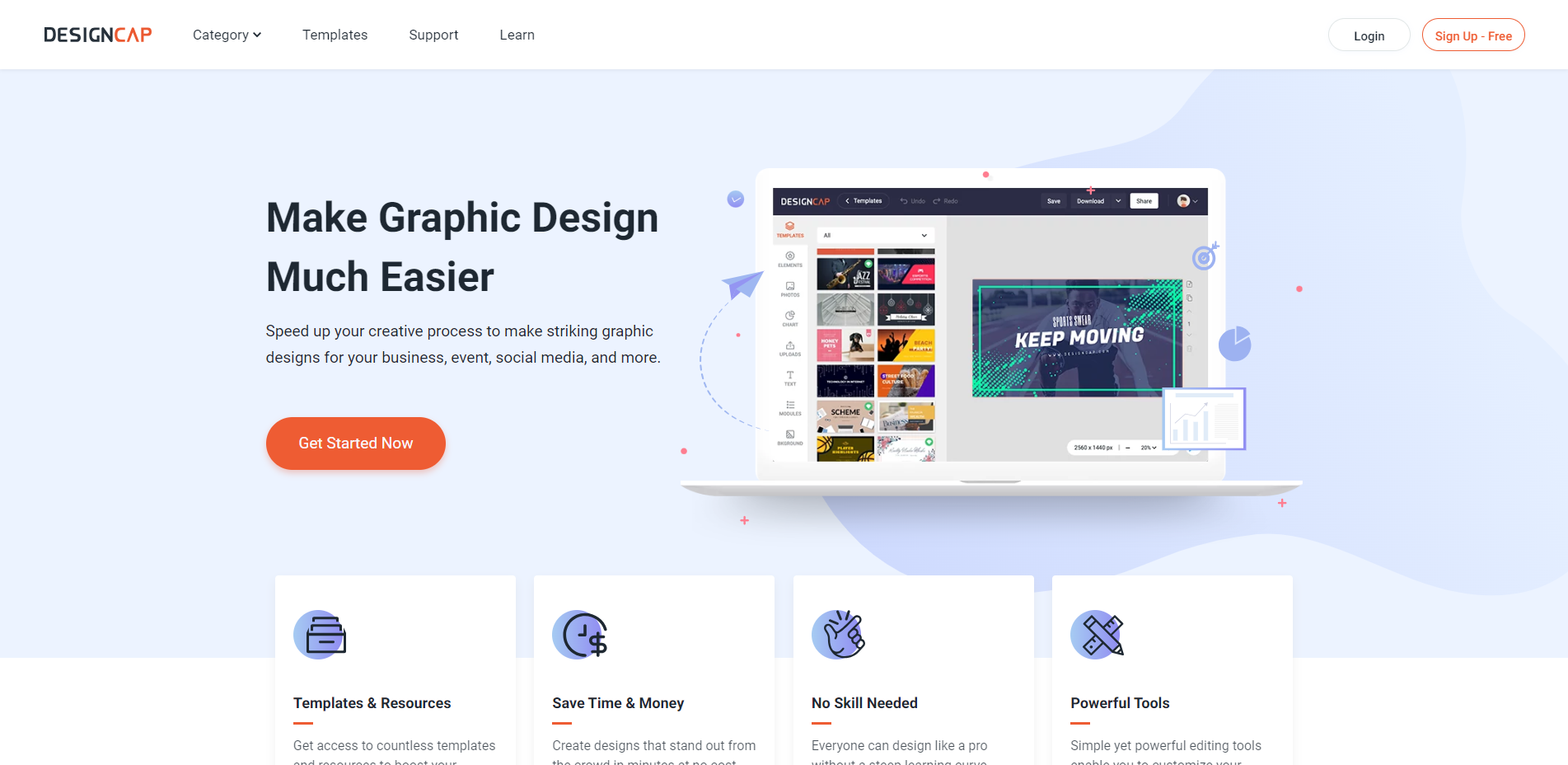 Pros
Wide variety of templates and stock images to use in your fishbone diagram designs.
Easy to use interface.
Free to use.
Ideal for beginners.
Affordable pricing structure.
Cons
The free version has limited features.
Compared to other Ishikawa diagram creators, DesignCap does not provide many customization options.
Pricing
Free: $0, limited templates.
Monthly Subscription: Basic - $8.99 per month. Plus - $12.99 per month.
Annual Subscription: Basic – $4.99 per month. Plus – $5.99 per month.
Lucidchart is a visual workspace that combines data visualization, diagramming, and collaboration to speed up understanding and promote innovation. Lucidchart Ishikawa diagram creator allows you to quickly analyze cause and effect to solve problems and turn them into organized solutions.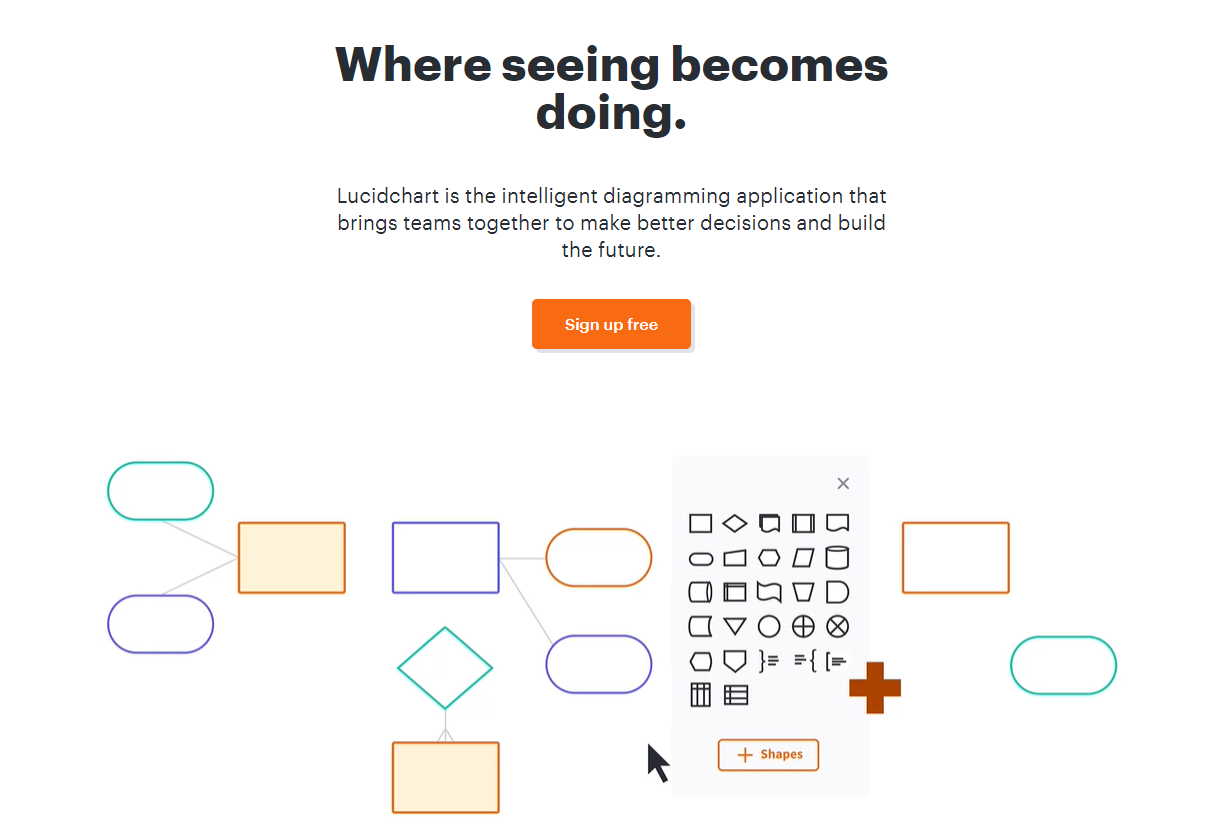 Pros
Ability to track your project progress.
Promotes teamwork through collaboration features.
Wide range of fishbone diagram templates.
Linking data is automated.
Cons
Users must maintain active subscriptions to access all the templates and features.
The amount of storage available is limited to users' subscription level.
Lucidchart is not available offline. Users must have an internet connection to use the tool.
Pricing
Free: Limited features
Individual: $7.95 per month
Team: $27 per month
Enterprise: $36.50 per month
Creately is another online fishbone diagram creator that can help you create a professional fishbone diagram. With a fishbone diagram creator, you can easily evaluate issues faster and come up with viable solutions.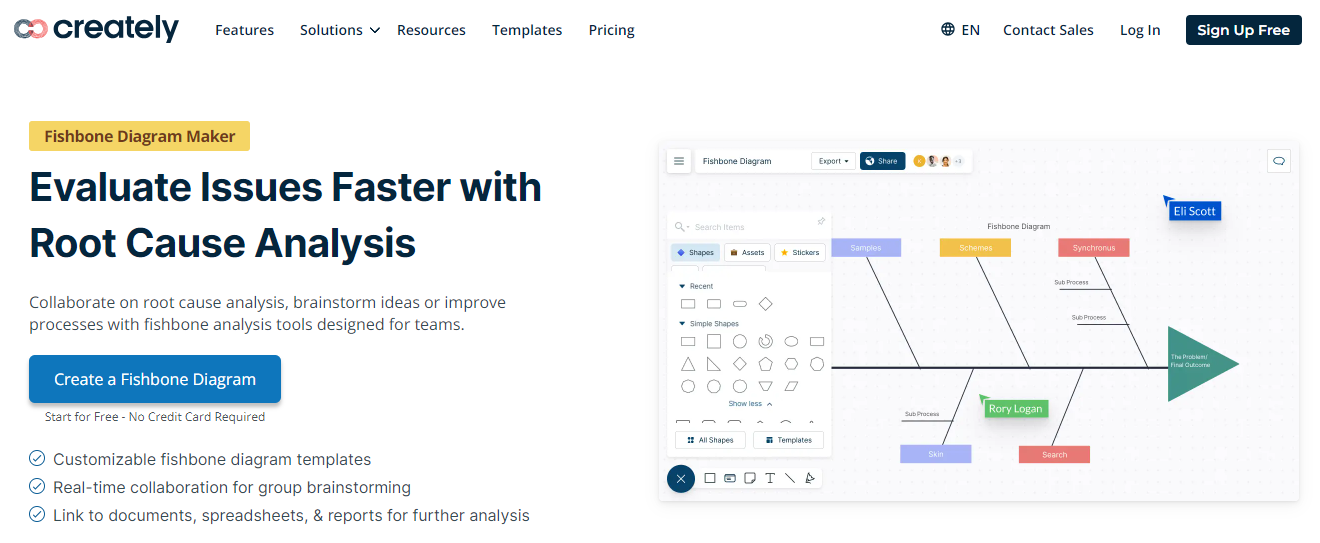 Pros
Different cause and effect templates for different industries.
Powerful integrations that allow you to connect existing tools and workflows.
Ability to collaborate with your team to assign and follow up tasks.
Ability to export your diagrams in different formats.
Cons
The software is not completely free.
You can only cancel subscriptions through email.
Pricing
Free: $0
Starter: $8 per month per user.
Business: $149 per month for unlimited users.
Canva is an online software that allows users to create marketing materials, professional graphics, presentations, and infographics. If you are looking for an Ishikawa fishbone diagram creator, Canva provides fishbone diagram templates that you can customize to fit your needs.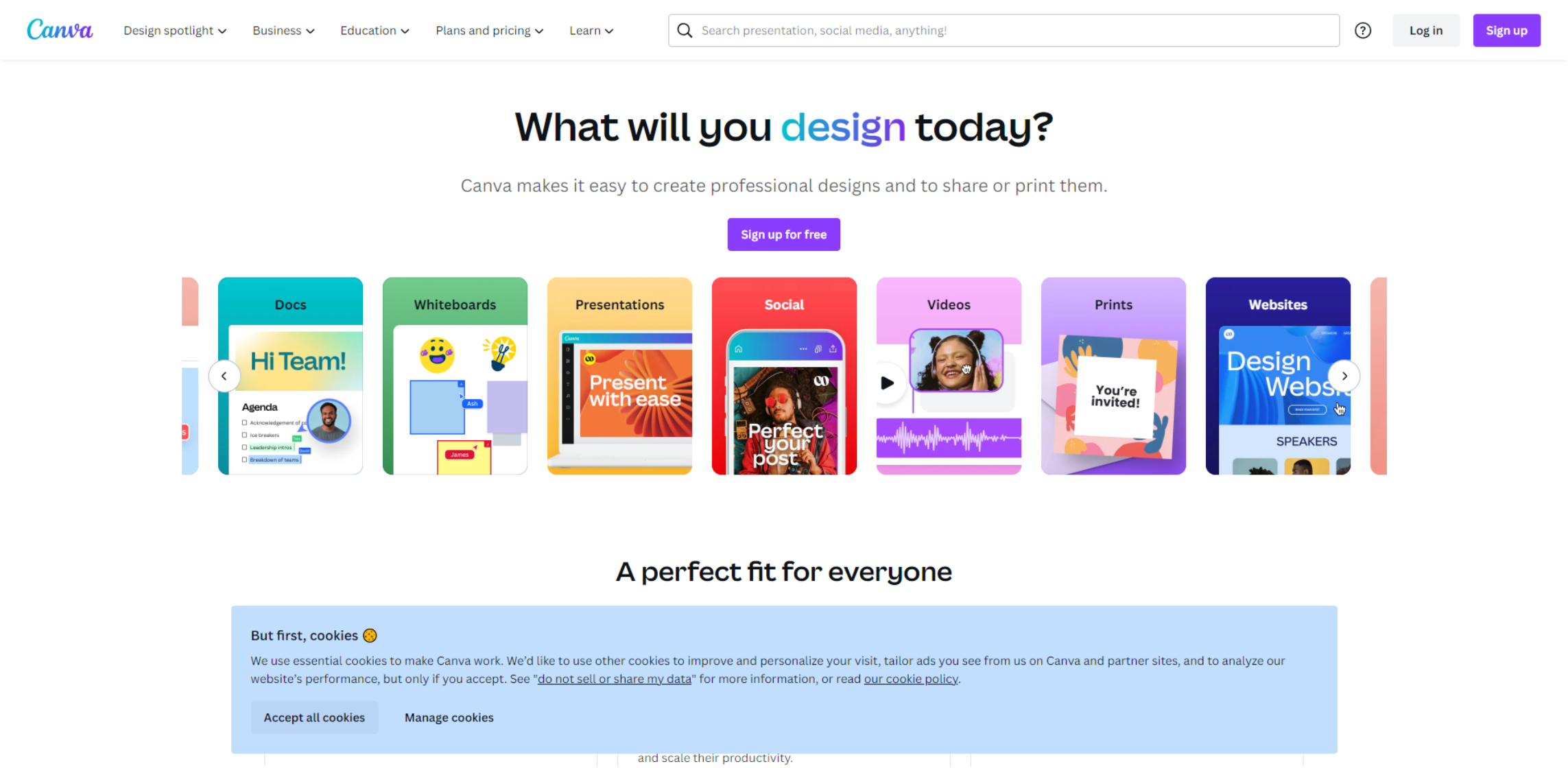 Pros
A vast library of elements and templates.
Collaboration features allow teamwork with participating members.
Easy to customize fishbone diagrams to your personal preferences.
User-friendly interface makes it suitable for beginners.
Cons
Inability to remove watermarks when using features limited to the free version.
Some users have reported occasional crashes or slowdowns.
Pricing
Canva Free: $0
Canva Pro: $99 per year for one person
Canva for Teams: $300 per year for the first 5 people
Choose the Best Fishbone Diagram Creator
Fishbone diagrams are an essential asset to solve problems efficiently. Having access to a reliable tool can help enhance processes. Boardmix online fishbone diagram creator is an innovative tool you can use to streamline your analysis and decision-making. It stands out as an easy-to-use tool for creating fishbone diagrams from ready-made templates. Just sign up and try it out now!