Remote teams are always on the lookout for good team collaboration tools and tech. These teams have to conduct a lot of collaborative sessions where they bring together remotely located team members through technology.
Online whiteboards have become common team collaboration tools for these team sessions because they allow sharing of ideas, brainstorming, problem-solving, and process development in real-time with ease. They offer visual representation which helps in putting together complex ideas into organized processes and business practices.
Mind maps are commonly used during these sessions, and today we are going to introduce to you a free mind map maker that's easy to find and use on the internet.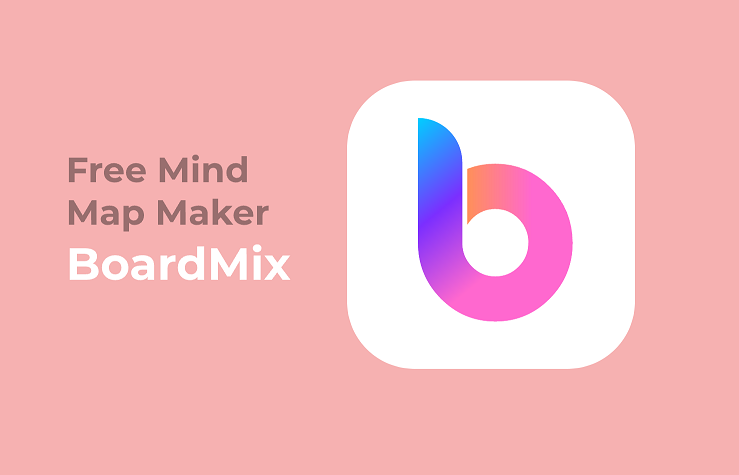 Part 1. The Best Free Mind Map Maker without Download
The thing about mind map-making tools is you want one that not only has all the functionality to draw various kinds of mind maps but also comes with an easy-to-learn interface.
Boardmix offers both and much more.
While there are many similar tools available in the market today, Boardmix is one of the latest and most innovative free mind map makers out there. It nails the user-focused interface goal and hits the bulls-eye on the features target.
And the best part is you don't have to download it. You don't need a desktop client or a mobile app to run the program. All you and your teammates need is to open your internet browser and use the session link created by the meeting host to join - and participate in - the session.
1. Introducing Boardmix - Free Mind Map Maker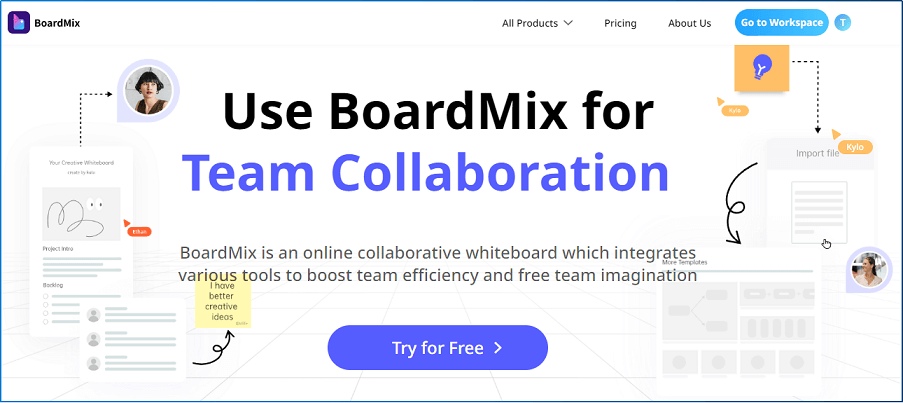 Boardmix mind map maker became a launch-ready product in 2022. It was designed as a solution to a growing problem for teams: the need for a free mind map maker that addresses functionality and performance issues many other similar tools have without requiring that every team member attending a session must download the application.
Boardmix breaks through these conventions and meets its audience's expectations. It offers the full spectrum of drawing features its users might want for all sorts of diagrams and also runs smoothly on any popular internet browser.
Because it stores all progress for each user on the cloud, you need not bother with having enough space on your device for the diagrams you create.
2. Creating a Business Mind Map on Boardmix
If you are new to Boardmix, you don't have to worry. Following the steps listed below, you can easily create a complete business mind map on Boardmix. You will see how easy these steps are.
Step #01: Sign in and you will see the screen shown in the image below. Select Mind Map as shown.
Sign Up to Boardmix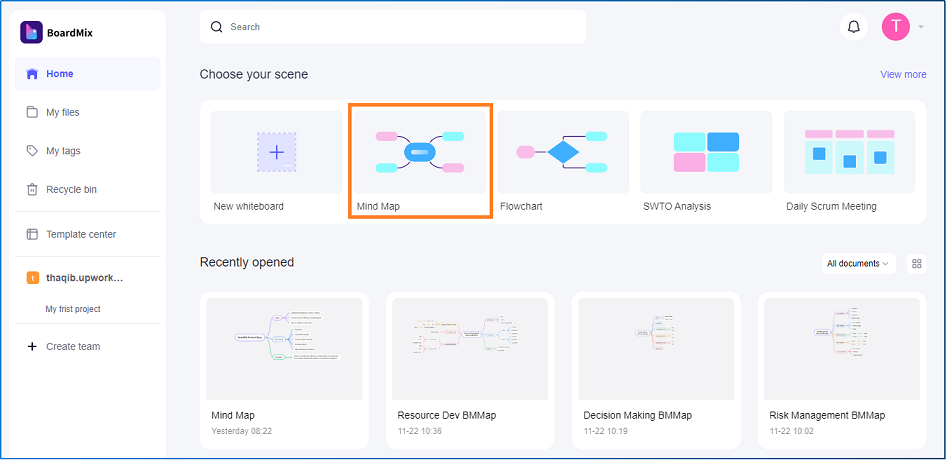 Step #02: A pop-up window will open with information about the Mind Map template. Click on the Use button as shown in the image below.
Step #03: Boardmix will open a new mind map template. You can simply drag-select the components you want to remove or replace using your mouse. Don't worry about covering the entire shape. As long as you drag over any corner or side of the shape, it will be selected.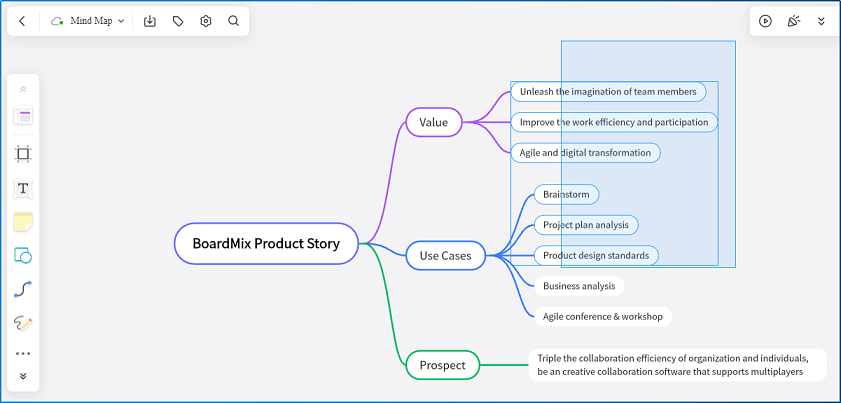 Step #04: You can then double-click in the title box to change the title, as shown below. It will open a text formatting bar, which you can use to change your font settings. There are plenty of fonts and a lot of other options to help you make your title stand out.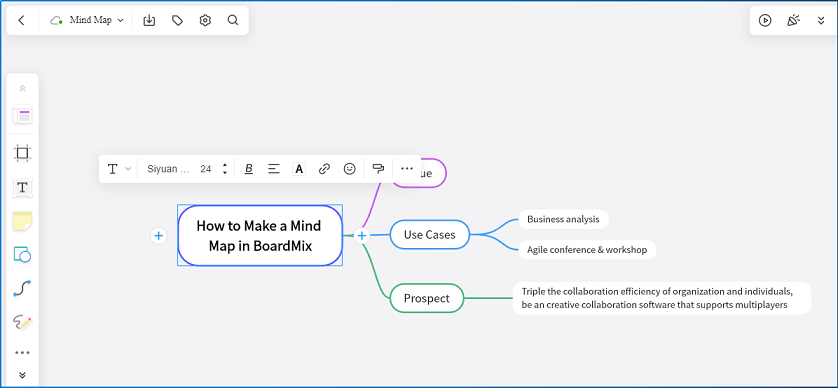 Step #05: You and your team mates attending the session can now customize the business mind map any way you want using the right-click menu. For example, to add a note or comment, a user can right-click on the screen where they want the note added, and Boardmix will add a new sticky note there (along with a helpful GIF tutorial of how to add more notes) as shown below.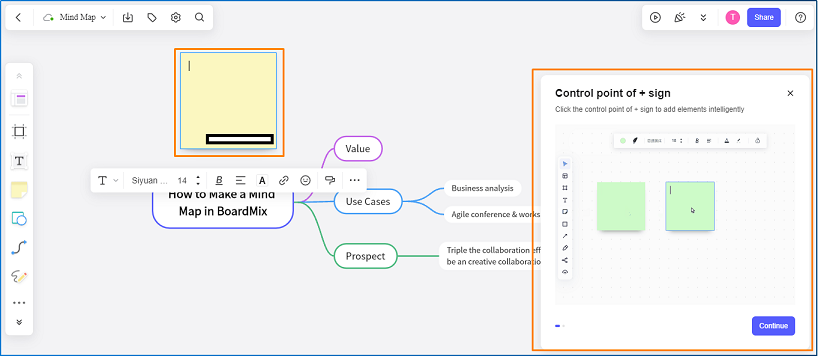 You can see how what types of mind maps you can make on Boardmix with our business mind map guide.
Part 2. Key Mind Mapping Benefits with Boardmix
As you can guess by now, Boardmix is much more than your basic, run-of-the-mill free mind map maker. With this one tool, you can host team sessions in real-time and create many types of diagrams. It offers:
Convenient Use
Boardmix offers intuitive commands and actions. You can do what you want and add or remove items to your diagram in the simplest way possible. Just drag and drop items from the menu bar on your left or right-click to check everything you can do to your selected item or area.
Templates
Boardmix offers a ton of presets and templates for a variety of diagrams to help you start you get ready for your session quickly.

When you sign in and get into your workspace, you can click on the Template Center or View more link (as shown above) to reach the complete template library, where you can select any template to use based on your specific need. Just hover on the template you want to use and a pop-up will open with available actions as shown below.
Value for Money
Of course, value for money is great because you don't pay a dime to use Boardmix. This mind map maker is free and you get access to all the features when you sign up for your free user account.
Part 3. What Really Sets Boardmix Apart from Other Online Mind Mapping Tools
There are many things that separate Boardmix from the pack. For example, it is a high-performance tool that does not lag or lose data like the performance issues we have seen in other free mind map makers.
It also makes creating mind maps and other diagrams very easy. You can sign up and instantly start making new diagrams, thanks to the intuitive software design and easy access to available options.
In conclusion, we strongly believe Boardmix has had a solid start in terms of product design. It can make things terribly easy for its users and just as difficult for its competitors.
Free to Try Boardmix