Microsoft Whiteboard is a widely used collaborative online whiteboard product. Many consider it the pioneer in the field - the first collaborative drawing tool for businesses and teams.
It is a collaborative tool that allows teams to conduct brainstorming sessions from various locations and visualize ideas using freehand drawing.
As with all products launched by Microsoft in the past, the software received a lot of praise for its innovation. However, now that it has a lot of competition, users have come to realize a number of shortcomings in Microsoft Whiteboard that are now causing them to move away to other similar tools.
The biggest problem with this online whiteboard tool is its limited capability. We will talk about this drawback and much other good and bad things regarding the famous application in this review. So let's get started.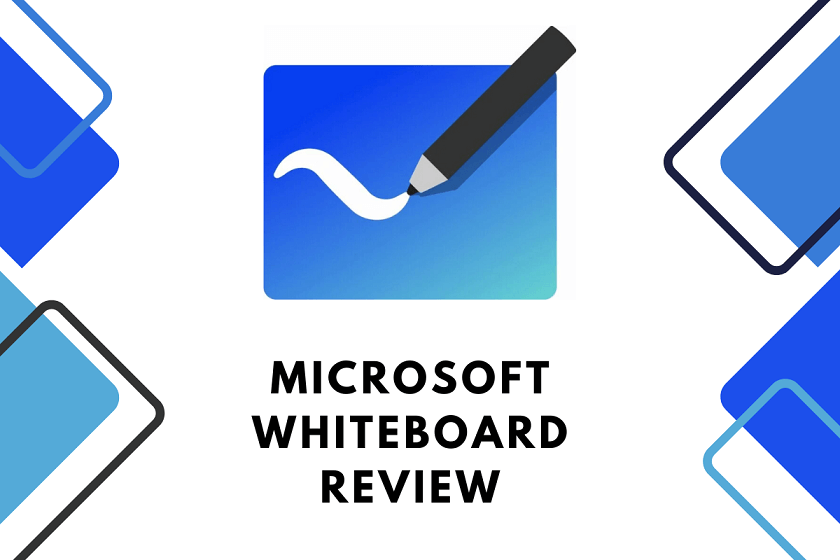 Part 1. Microsoft Whiteboard In-depth Review
If you think about it, the most important quality of a good collaborative tool would be to let team members freely share ideas. This involves dropping comments and notes, using diagrams to visualize ideas, and much more.
To anybody reviewing this completely free online collaborative tool, Microsoft Whiteboard feels as if it was built to achieve this goal.
And it captured what it aimed for. Collaborating on Microsoft Whiteboard is remarkably easy. You will find a set of tools and features to draw your basic concept maps and diagrams.
But basic is the focal word here. You cannot dream of building any sophisticated diagrams on MS Whiteboard. To do that, you will need to find a more comprehensive Microsoft Whiteboard alternative, like the one we discuss at the end of this review.
1.1 Ratings
Pricing: 5 stars
Functionality & features: 3.5 stars
Ease-of-use: 4 stars
Value for money: 3.5 stars
Customization: 3 stars
Customer support: 4 stars
Overall rating: 3.75/5.0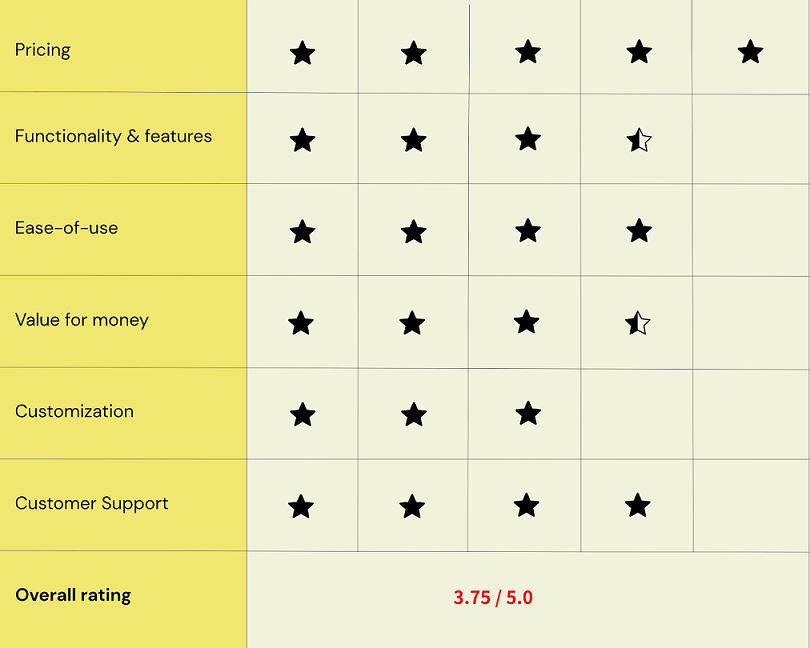 Pricing rating: Microsoft Whiteboard is a completely free whiteboard app. Unlike most other Microsoft products, it does not come with a hefty price tag.
Features rating: The tool has many features for basic diagrams. It does not offer advanced functionality like its competitors.
Convenience rating: Ease-of-use rating is good because the tool is simple enough to download and operate.
Value rating: The value for money is quite good simply because you get plenty of basic features while the tool is completely free.
Customization rating: Microsoft Whiteboard offers very limited customization. For instance, you cannot import your templates. Hence the low rating.
Customer support rating: Microsoft has a decent customer support history, but with the usual limitations of a global supplier of various software products.
1.2 Features
Microsoft Whiteboard offers a variety of standard collaborative drawing features. For instance, team members can join a board following the invite they receive. These contributors can then draw on the board and insert comments that look like sticky notes, observing each other's edits in real-time.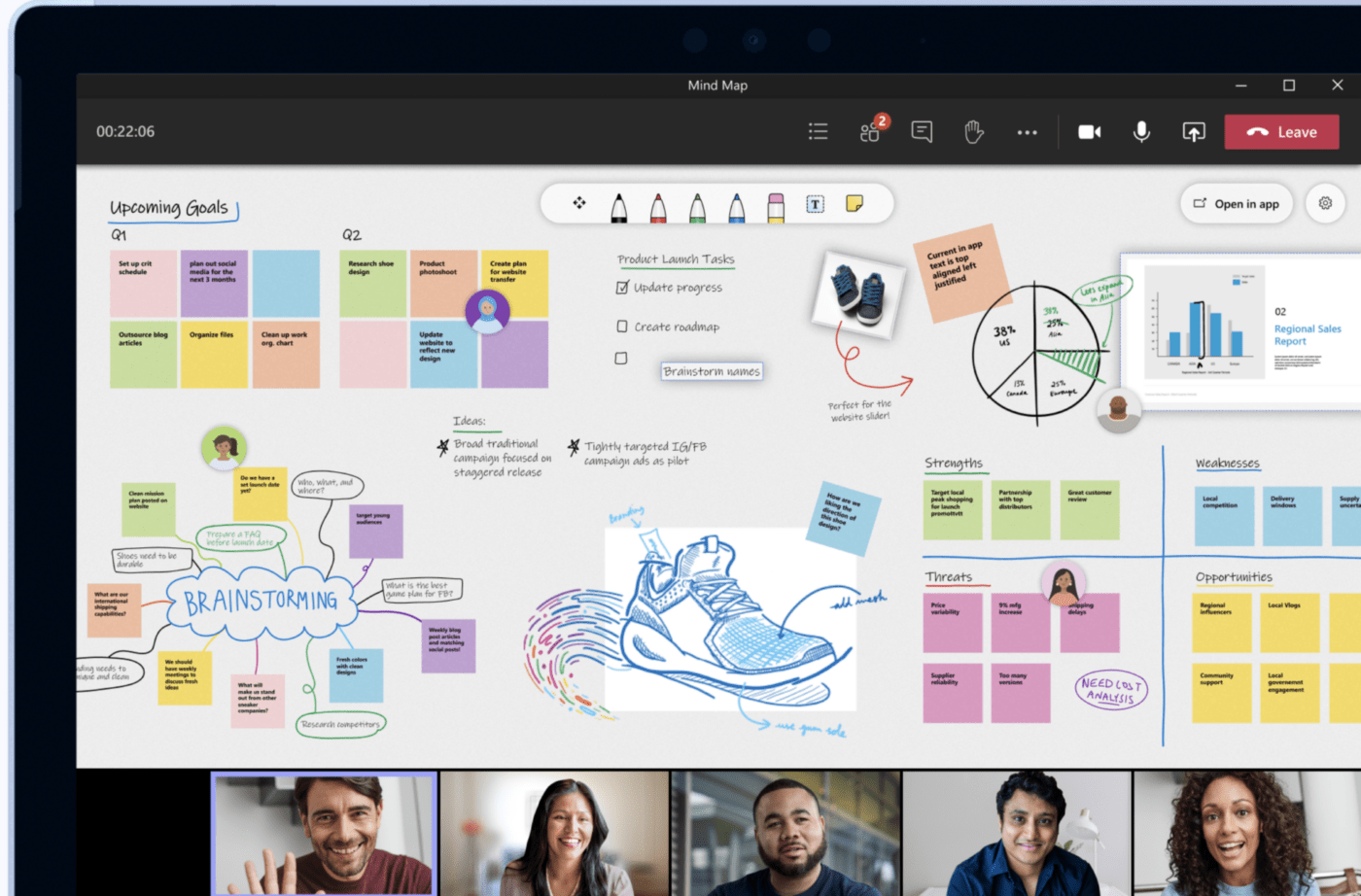 That's mostly about it. But let's break down the key features available:
Any user with a Microsoft account can create a new board and generate its link for sharing with teammates.
Users can open the whiteboards they create in Microsoft Teams, and their team members can also view the annotations made on the board in Whiteboard.
Board creators can share the link to their board with team members who then become contributors.
Contributors can draw on the board using freehand drawing as well as add sticky notes with their comments and ideas.
These sticky notes are posted on the board grids using a drag-and-drop feature.
If you use Whiteboard on your Windows desktop, you can also download your boards in PDF.
Additionally, there are a number of templates in the Whiteboard library that can be used in various languages supported across the Microsoft suite.
These highlighted features give you a clear picture of the capabilities you can expect from Microsoft Whiteboard. As you can see, these are elementary features that you would expect in any collaborative online tool meant to help teams build ideas together.
Unfortunately, Microsoft Whiteboard has little to show for any capabilities beyond the basics.
1.3 Pros & Cons
Microsoft Whiteboard is a popular software tool, which means it certainly offers many benefits to its user. At the least, it serves an important purpose and solves a problem for the user. The problem, of course, is to be able to work with team members on different locations on a collective project or idea and Microsoft Whiteboard conveniently solves that problem.
Some other key advantages of using Microsoft Whiteboard include the following:
CONVENIENT USE: MS Whiteboard is a truly simple tool - from finding the software to downloading and using it. The application is available for downloading on its dedicated page on the Microsoft website. And, once you open the app, it is fairly easy to work with.
FREE SOFTWARE: A great advantage of using Microsoft Whiteboard is that it is a free application. When you sign up for Whiteboard with your Microsoft account, you get access to the complete version.
LIMITLESS CANVAS: When you use a board in Microsoft Whiteboard, you can move in any direction to extend the board and add new elements.
BODY OF TEMPLATES: Microsoft Whiteboard has its own library of templates. These templates make working on the tool much easier.
When it comes to the shortcomings of this collaborative online whiteboard, there is much to talk about:
NATIVE APP: Since Whiteboard is a Microsoft native application, you can only use it if you have a Microsoft account. Even viewing a board requires you to open a Microsoft account.
LIMITED INTEGRATION: You cannot integrate Microsoft Whiteboard with any platform other than Microsoft Teams. This is a huge limitation.
NO EXTERNAL TEMPLATES: Another major problem with Whiteboard is you cannot import any templates of your own.
Part 2. How to Use Microsoft Whiteboard
We have mentioned above using Microsoft Whiteboard is quite easy. Here is how you can do it.
As with any application, Whiteboard has its own requirements. These are:
You must have a Microsoft account;
You must download the Whiteboard application on your desktop, laptop, or smartphone - or use the web-based version available here.
Once you have the client/application on your device, you can easily sign up with your Microsoft account and start creating whiteboards.
In short, Microsoft Whiteboard is a useful online tool for collaboration, but it is quite limited in its capabilities in comparison to the new online whiteboards now available in the market.
Part 3. Recommended: Boardmix - a Reliable Microsoft Whiteboard Alternative
Boardmix is an innovative online collaborative whiteboard that offers a wide range of features and drawing functions that few other team-oriented tools can offer today. Boardmix allows you to make various types of diagrams during a live team session where your team members can add their comments, visuals, and annotations without any significant restrictions.
While Boardmix has 3 pricing plans, even its free plan offers a lot more to the user than Microsoft Whiteboard. You also get thorough version management controls, and strong customer support during day hours.
All of that is apart from the extensive tools and features you get once you begin drawing on Boardmix.

Try Boardmix for Free
Conclusion
To conclude, this detailed review shows that Microsoft Whiteboard is an effective diagramming tool for basic illustrations. While it is free and collaborative, it has a lot of limitations in terms of features, creative freedom, and integrations.
If you want a more robust business drawing tool, you should use one of the modern and comprehensive platforms, like Boardmix.