There is no denying that customer perception is one of the things that can greatly affect the successful launch of a product or service. With the right perceptual map creator, you can dig into this concept and discover where your business stands.
In this article, we will explain what perceptual mapping is and compare different tools to find the best perceptual map creator for you.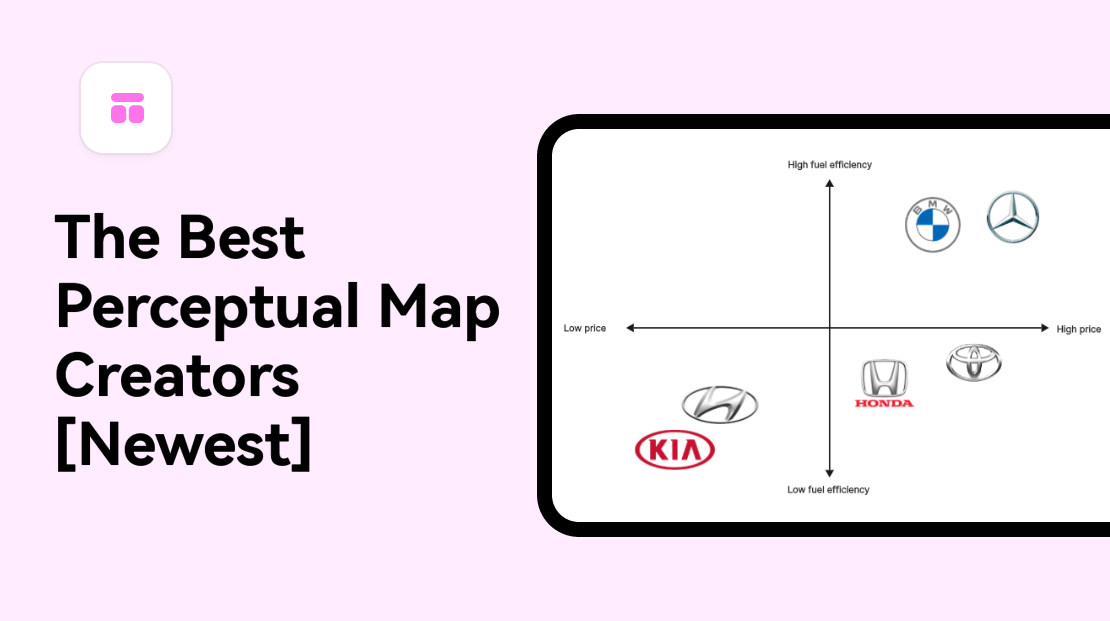 What Is Perceptual Mapping
Perceptual mapping is the process of creating a visual representation of customers' perception of a particular item, service, or brand as a whole. In reality, it is a graph where you can rank your brand and your competitors depending on your criteria. For example, these criteria could be quality, price, or even experience and brand recognition. Therefore, a perceptual map will eventually uncover what consumers actually think of your industry and the existing products or services.  And with the right perceptual map creator, your team can take full advantage of this invaluable tool.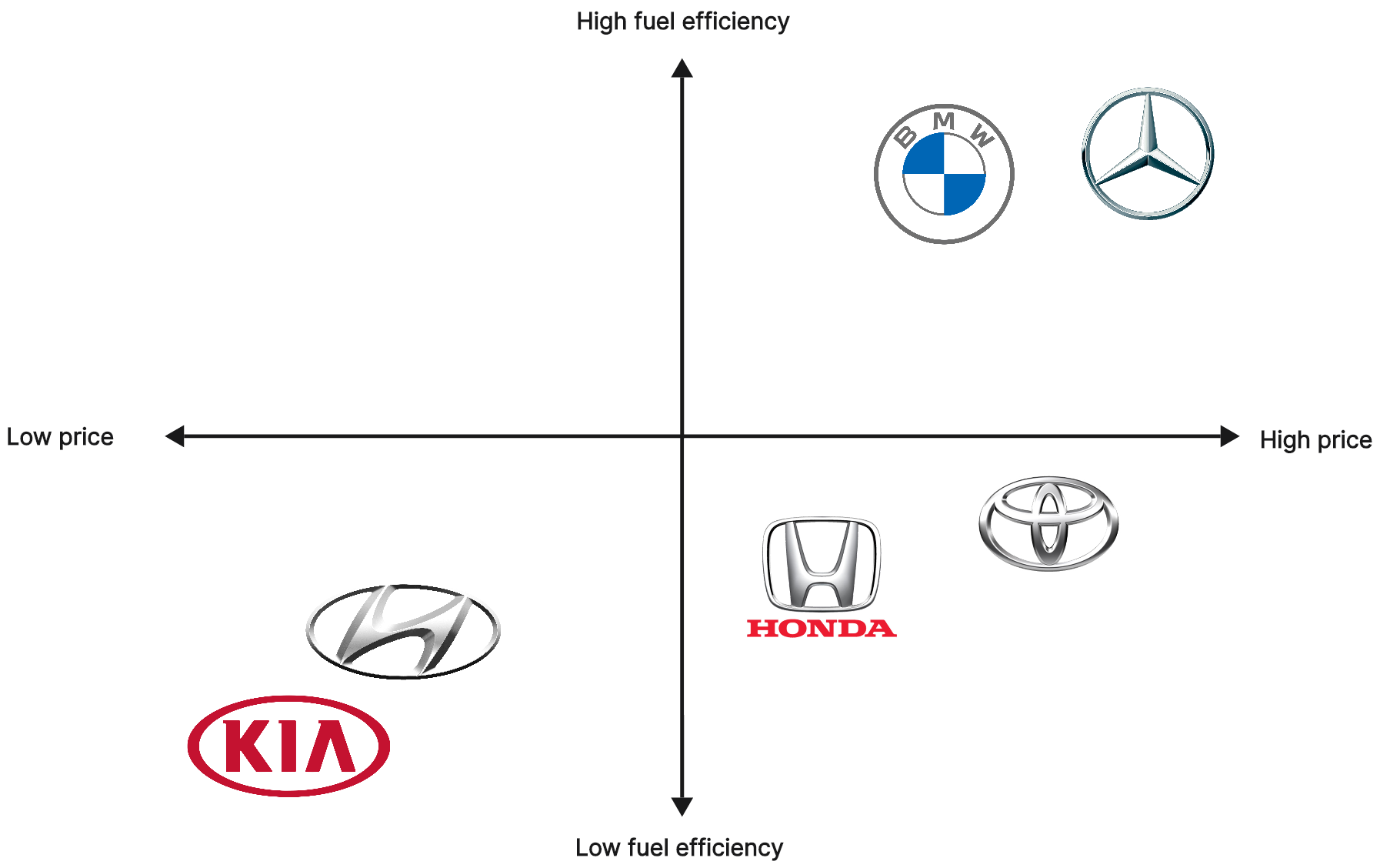 Why Use a Perceptual Map Creator
Using a perceptual map creator will greatly benefit your marketing team. A tool like that provides you with ready-made templates that you can use to create the graph without wasting time.
But the reason you should start using one is to gain all the advantages of perceptual mapping. Namely, these are:
Evaluate your product's position in the market – in this visual representation, you can put your product into perspective by evaluating it according to your specific criteria.
Compare your brand to your competitors – in the same graph, you can also include your competitors so that you find their strengths and weaknesses.
Spot gaps in the market – a perceptual map will also allow you to overview the market, thus allowing you to notice gaps that your product might potentially cover.
Identify your customers' changing behaviors – even if a product stays the same, customers are often behaving differently. A perceptual map will allow you to spot this shift.
What to look for in a Perceptual Map Creator
As you can understand, a perceptual map creator is an invaluable tool for your brand. That's why you should make sure that you have selected the best one for you. Here are the things you should look for in the one you're going to use:
Templates – a perceptual map template will help you create the graph much quicker than creating it from scratch. Moreover, a ready-made template will also be aesthetically pleasing, thus giving a more polished look to your perceptual map.
Customization options – even if you are using a template, the tool should allow you maximum customization. This way, you can create a graph that corresponds to your brand or product.
Easy sharing – a perceptual map is a tool that every member of your team should be able to access. Therefore, the creator you will choose should make it easy for you to share the graph with your coworkers.
5 Top-notch Perceptual Map Creators
Boardmix
Boardmix is definitely a tool that can claim the title of the best perceptual map creator. This is an online collaborative tool that allows your team to connect, collaborate, and create any type of graph and diagram you might need. What makes Boardmix such a great tool is that it has a rich template library that will make diagramming much faster than ever before. You can customize the template to meet your needs. After completion, you can share the map with all stakeholders via a link.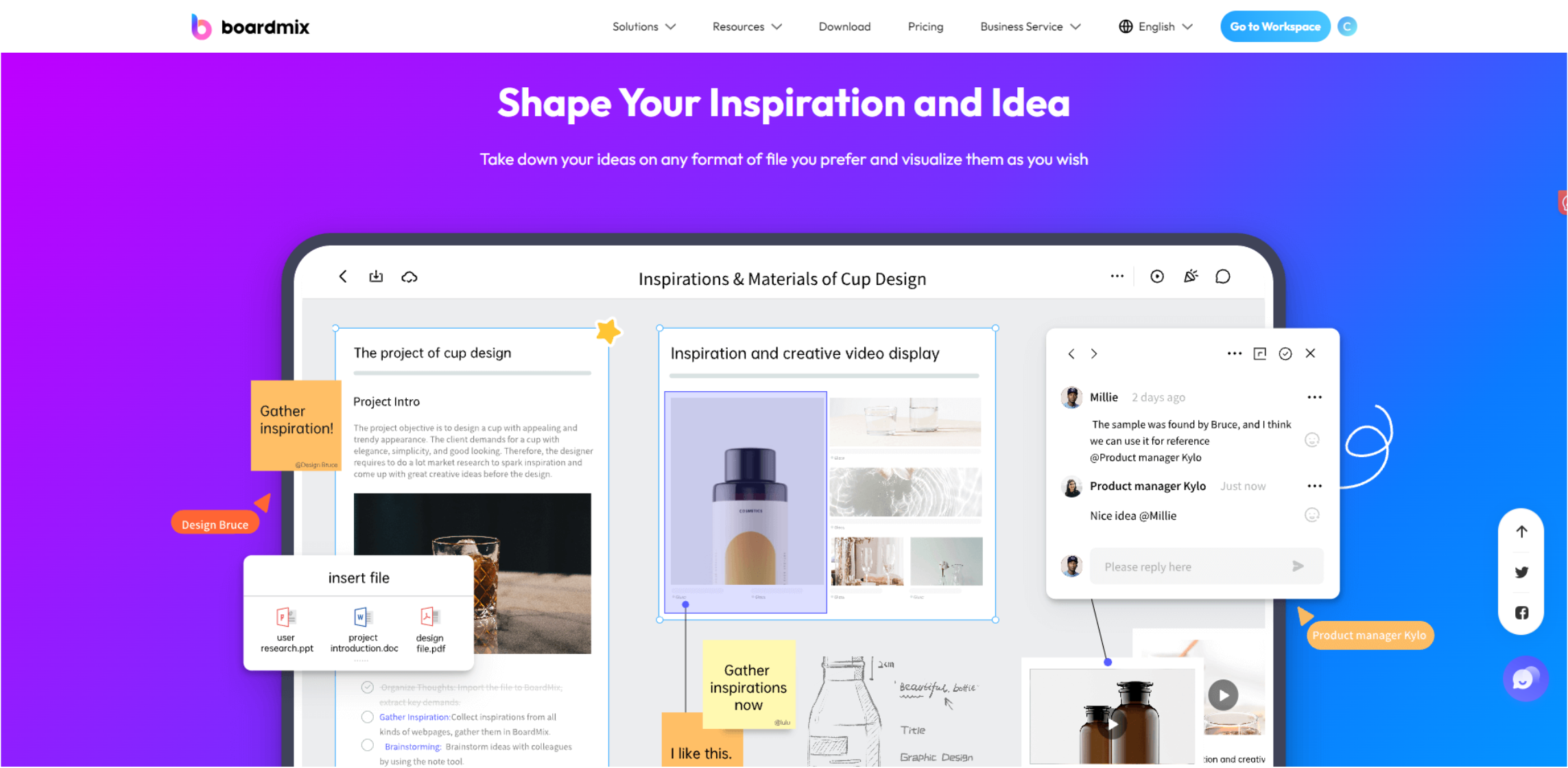 If you prefer to make a perceptual map online with your teammates, then Boardmix's infinite canvas and real-time collaboration features will be the reason why you choose it.
Pros
Huge library of ready-made templatesincluding the perceptual map,
Easy sharing options,
Team members can view changes in real-time,
Can save diagrams in multiple file formats,
Has implemented its own AI assistantfor data collection and analysis.
Cons
Limited number of editors in the free plan,
Dedicated customer support only available to Team plans.
To show you how easy it is to create a perceptual map with Boardmix, we will explain the steps you need to follow:
Step 1 – Create your free account or sign up for the plan that meets your demands.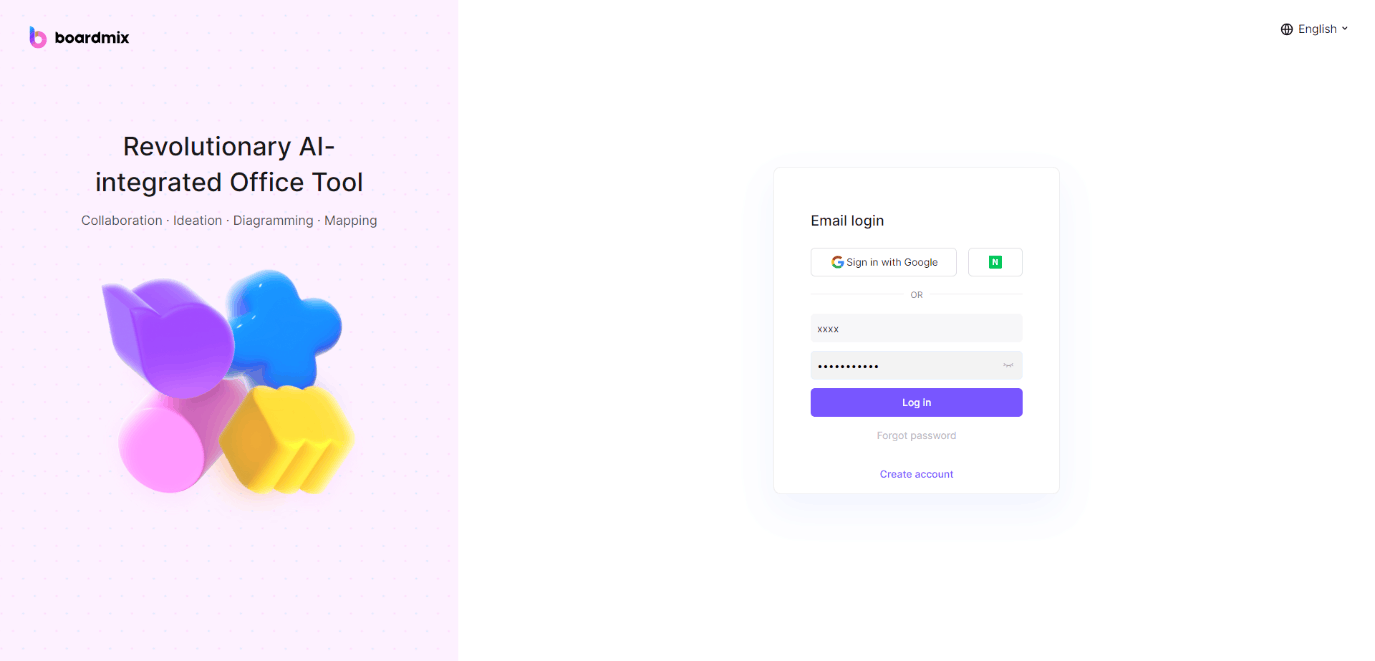 Step 2 – Click the Templates button on your workspace and select the perceptual map template.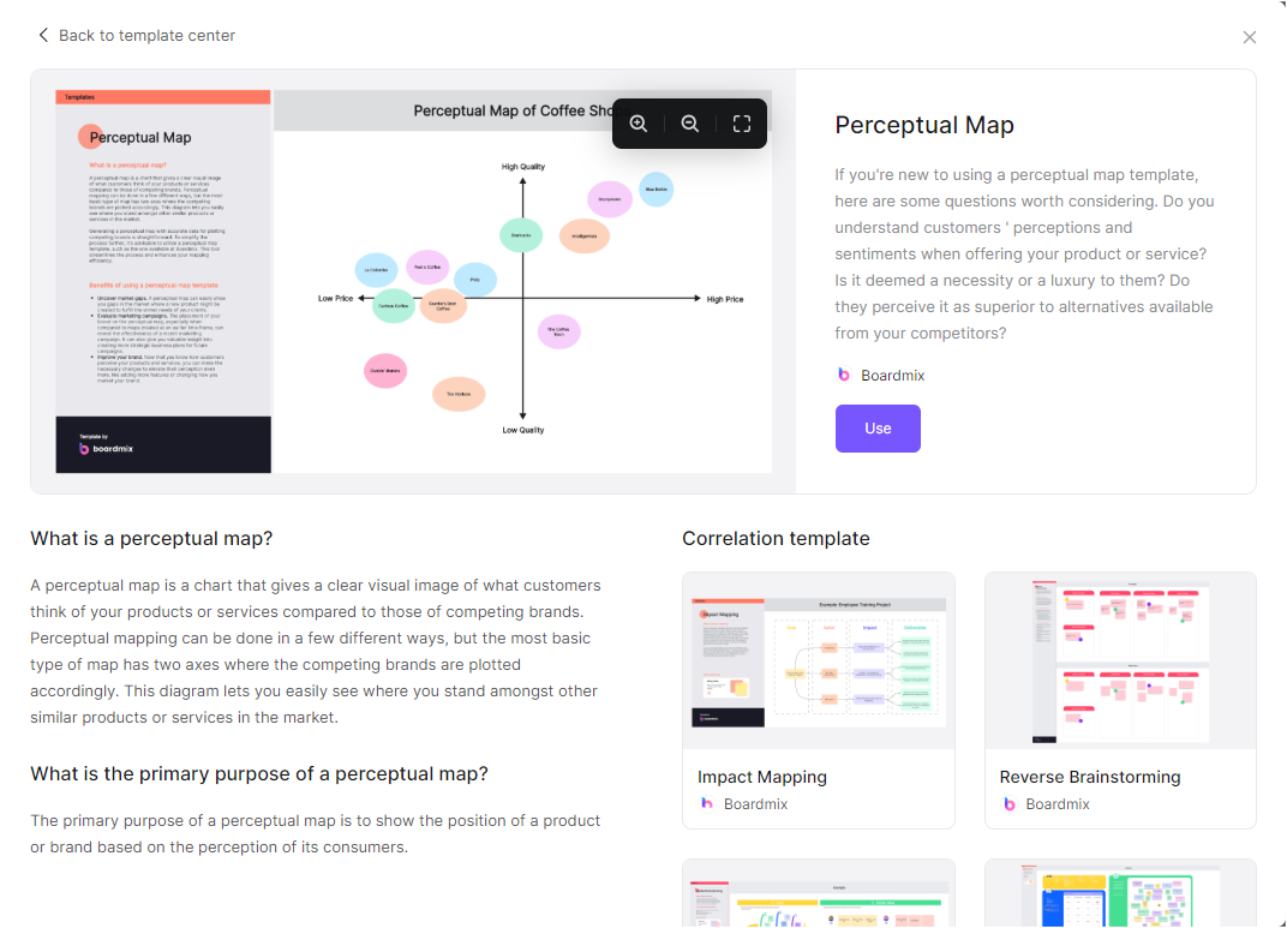 Step 3 – Select your criteria, with which you will evaluate your product.
Step 4 – Place your product and your competitors on the graph.
Step 5 – Share your perceptual map with your team.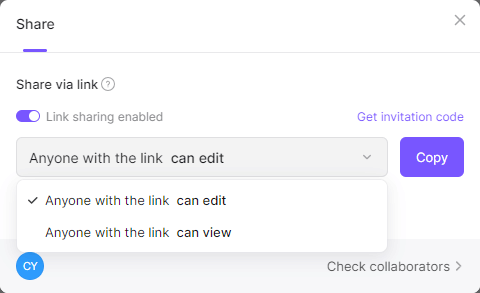 Conceptboard
Another perceptual map creator that you can try is Conceptboard. This is a collaborative whiteboard app that has been designed to help remote and hybrid teams work in the same space. You can use your canvas for any purpose you might need, such as brainstorming, diagramming, and collaborating.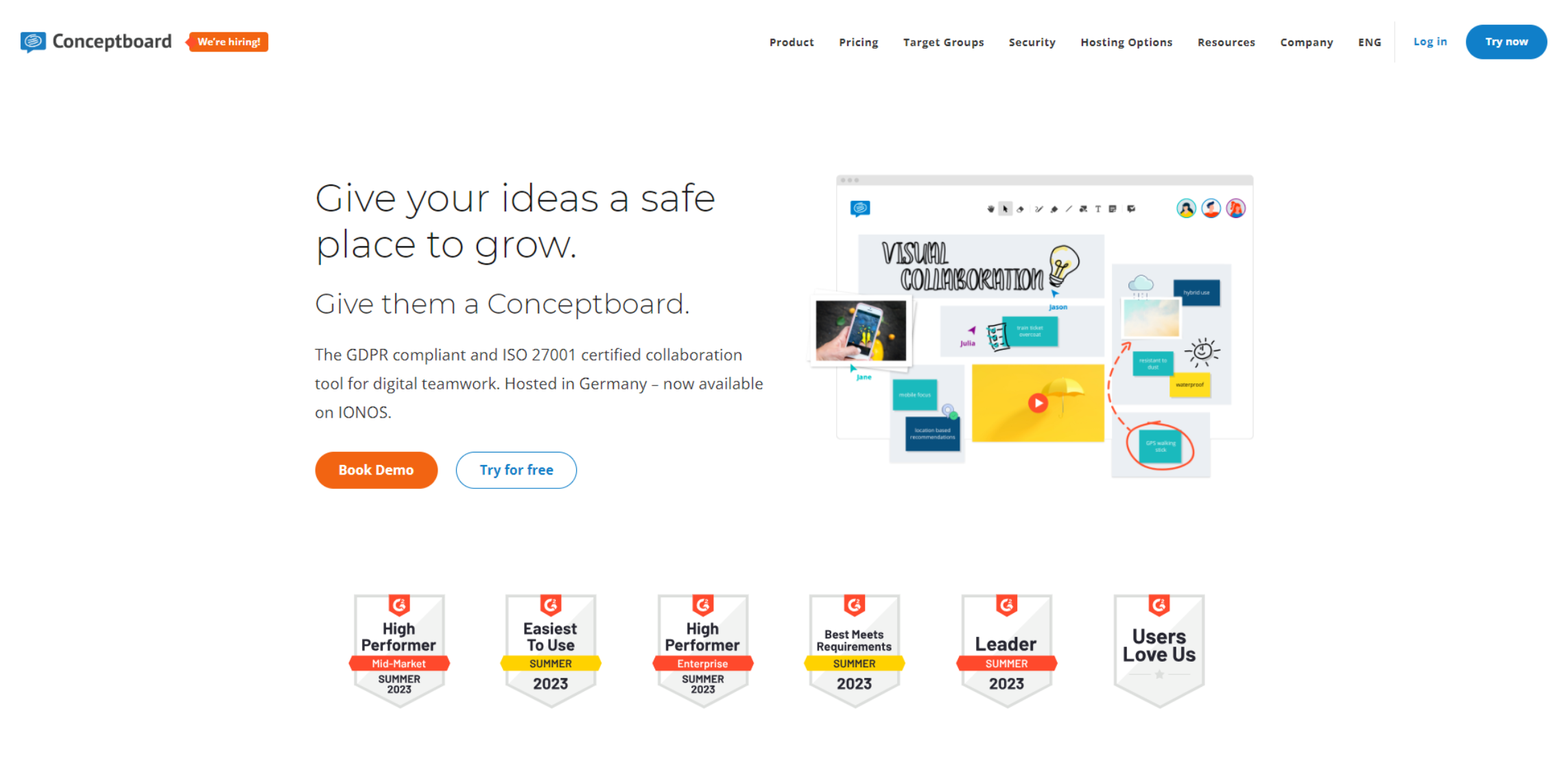 Pros
Competitive pricing,
Supports audio, video, and screen sharing,
Infinite canvas,
Web-based tool.
Cons
Board history not available in the free plan,
Lacking in integration options.
EdrawMind
One more reliable perceptual map creator is none other than EdrawMind. As its name suggests, this app's focus is mind mapping. This means that you can bring your team together to create efficient mind maps for your projects.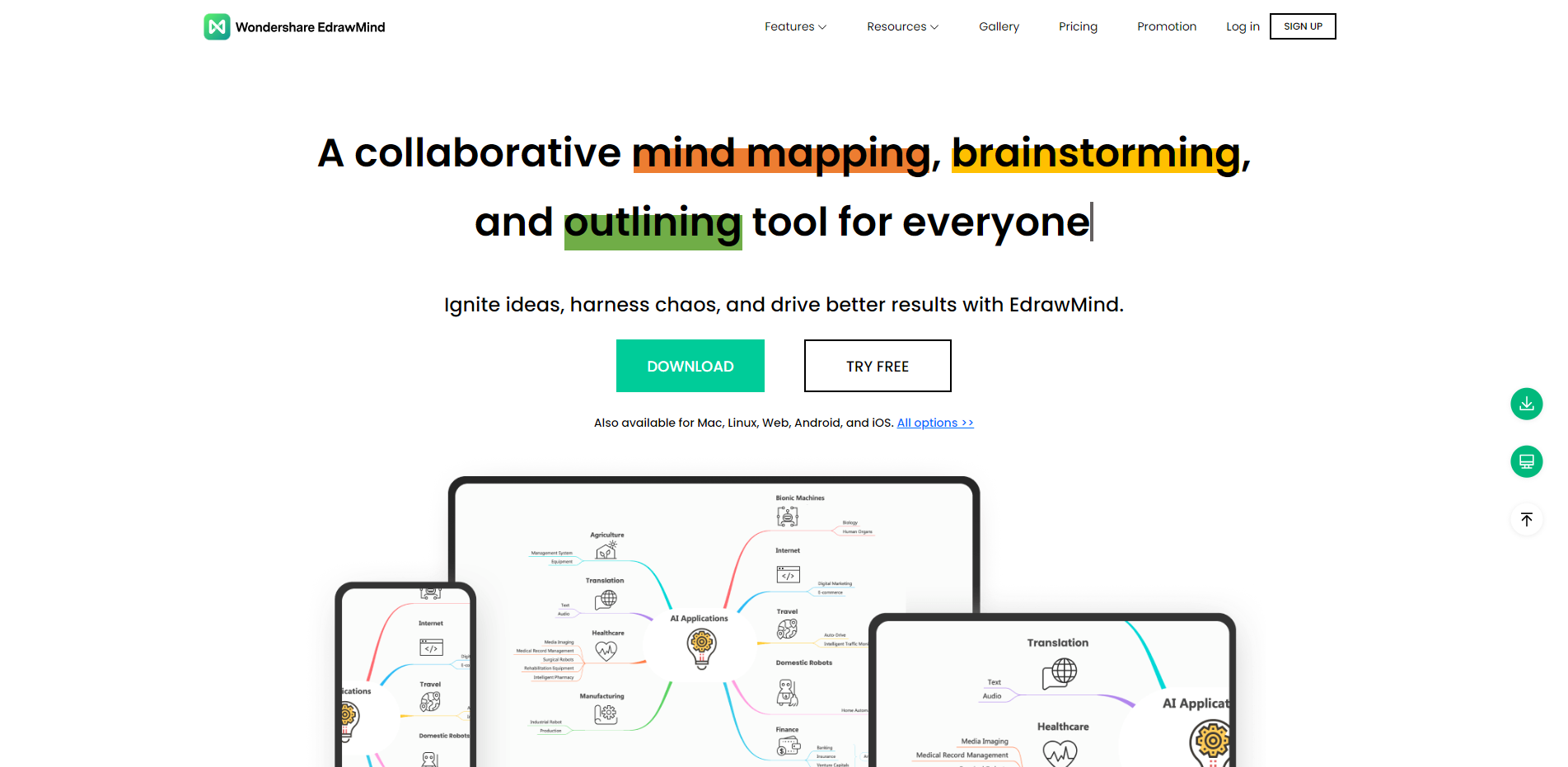 Pros
Plenty of customization options,
Can easily save maps in various file formats,
Has integrated AI features,
Has a rich library of templates,
Can download the app on every OS.
Cons
The templates don't have flexibility,
It has a steep learning curve.
Asana
Another tool that can be used as a perceptual map creator is Asana. In reality, this is a project management tool that utilizes a Kanban interface, but you can still use it for perceptual mapping. The tool has managed to become one of the most widely used project management apps since it is simple to use and offers a variety of features.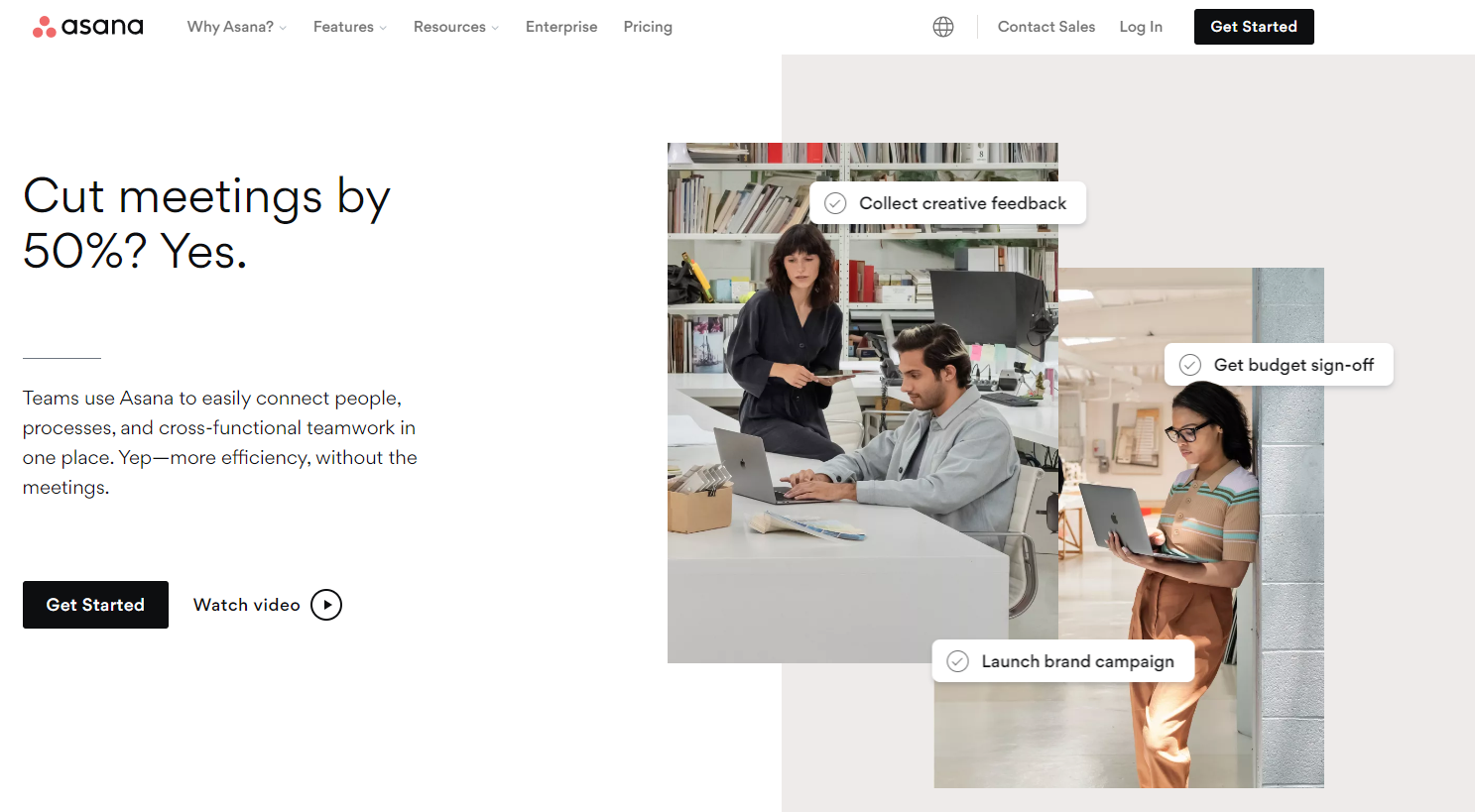 Pros
Many capabilities even in the free plan,
Excellent integration with numerous apps,
Intuitive interface,
Supports easy file sharing.
Cons
There isn't a mobile app,
Customer support is lacking,
Limited templates for quick use,
Pricier option in the premium plans.
Creately
The final perceptual map creator that you can try is Creately. With this tool, collaboration among remote team members becomes easy as the tool provides you with a workspace, where you can work simultaneously.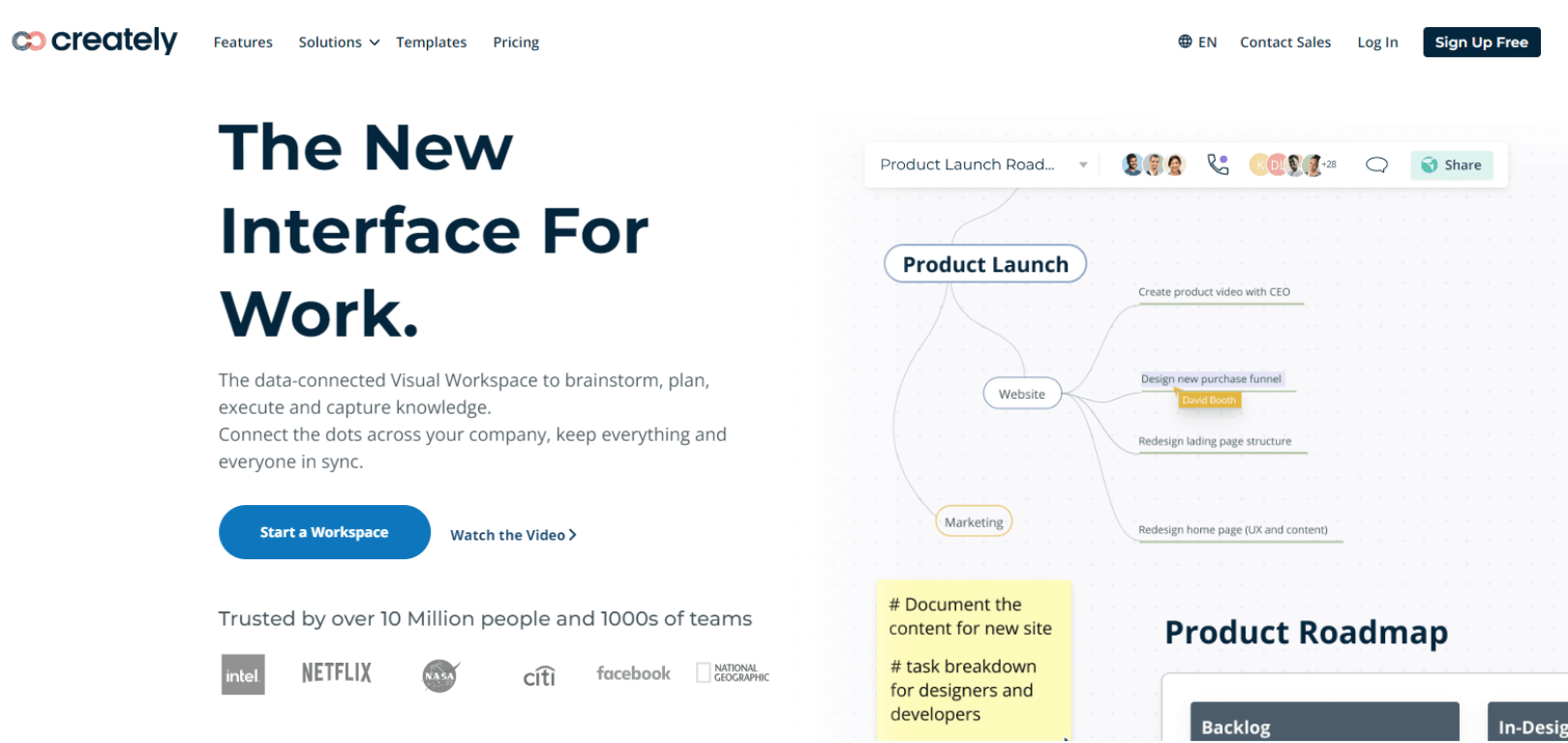 Pros
Very easy-to-use app,
Rich library of objects for your diagrams,
Allows real-time collaboration,
Supports export in various file formats.
Cons
The app might lag if the board has a lot of data,
Paid plans are expensive,
Limited integration options.
Bonus: Dig into Perceptual Maps Deeper with Various Examples and a Ready-made Template
All of the above creators will help you create a perceptual map with just a few steps. However, having a ready-made perceptual map template will make the process much quicker. For instance, Boardmix enables you to have a professional-looking graph, fully customized to your brand.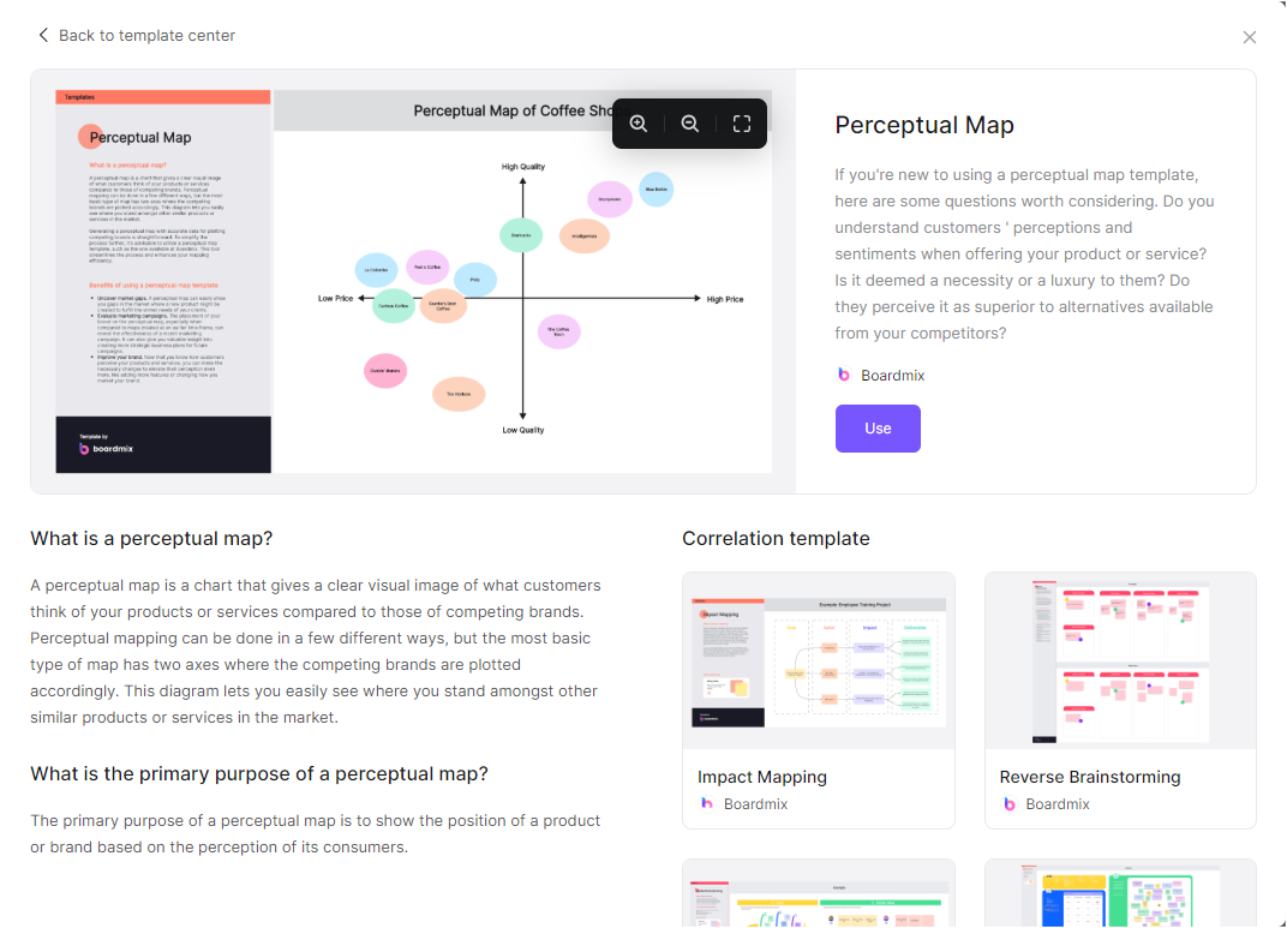 If you need further inspiration, you can browse brand perceptual map examples that show you how popular brands compare with each other. Additionally, you can study perceptual map marketing examples to see how you can apply this tool to your product or service. With Boardmix, the best perceptual map creator, you have access to amazing templates and examples that will streamline this process for you. Just try it out now!