In recent years, many companies have changed the way they operate. The pandemic has motivated much more businesses to try remote working, a thing that resulted in many hybrid teams. These changes highlighted the need for new platforms, such as a remote whiteboard, that let team members cooperate, even when they are in a different part of the world. Therefore, the need for reliable remote whiteboard tools has skyrocketed.
The good news is that there is more than one remote whiteboard that can claim the title of the best platform. Some of these tools are just plain whiteboards, while others offer some additional features. Depending on your needs and your team, you might require various functions. This is the reason why you should carefully research the available remote whiteboard tools to find out each one's pros and cons.
In this article, we will go through the best remote whiteboard tools that you can use with your team. Keep reading.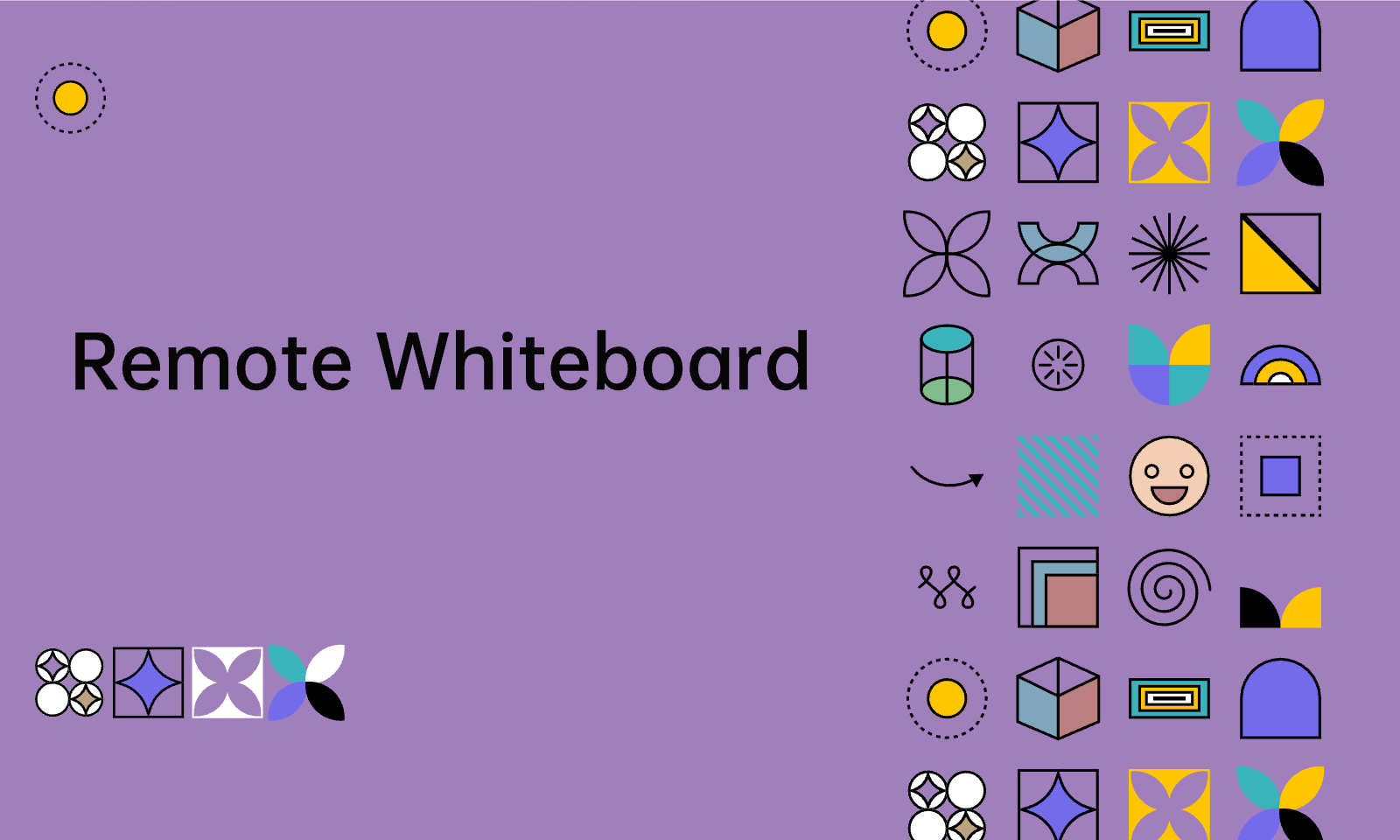 Introduction to the Remote Whiteboard
What Is a Remote Whiteboard
First of all, we will explain what a remote whiteboard is and why it is such a great tool for every team. In essence, a remote whiteboard is a blank canvas where everyone can write. It is just like a physical whiteboard, and you can use it in the same way.
What makes these remote whiteboard tools so great and effective is that they are extremely flexible. You can use them to assign tasks, take notes, give feedback, draw mockups, and even visualize data. In fact, your capabilities are limitless and are only affected by the needs of the project at hand.
Remote whiteboard tools have become so popular because they can bring together all the members of the team effortlessly. Each person can simply log in, view the changes on the whiteboard, and make the appropriate comments. This enhances collaboration and facilitates communication as physical presence is no longer needed.
Standards of a Qualified Remote Whiteboard
But how can you be sure that you have selected a high-quality remote whiteboard? This decision will become much easier if you consider some elements that your chosen platform must possess. These standards make up a great remote whiteboard that will cover the needs of your team. In more detail, these elements are the following:
Canvas space: this element refers to the available space that the platform provides you with. The right remote whiteboard app will give you infinite space to cover all of your needs.
Collaboration features: remote whiteboard tools are used to boost collaboration between team members. Therefore, any additional collaboration features are a plus for each platform. For instance, you should select an app that allows real-time interaction and video calls.
Additional features: apart from the collaboration features, you should also check the other available functions. For example, premade templates might make the organization of the whiteboard easier and quicker.
Board organization: when you have this much available space, it is easy to organize it wrongly. When this happens, the important information gets buried and the team loses its focus. For this reason, the reliable remote whiteboard tools should offer an amazing organization.
Accessibility: everyone in your team must be able to access the whiteboard easily. Moreover, you should be in a position to add new members, and even export the board to report to your managers or clients. This flexibility is required for teams with members that work remotely.
Top 6 Remote Whiteboards
To make things easier for you, we have spotted the best remote whiteboard tools to try for your team. Each remote whiteboard meets the criteria we have explained above to ensure that they are exactly what you are looking for.
Boardmix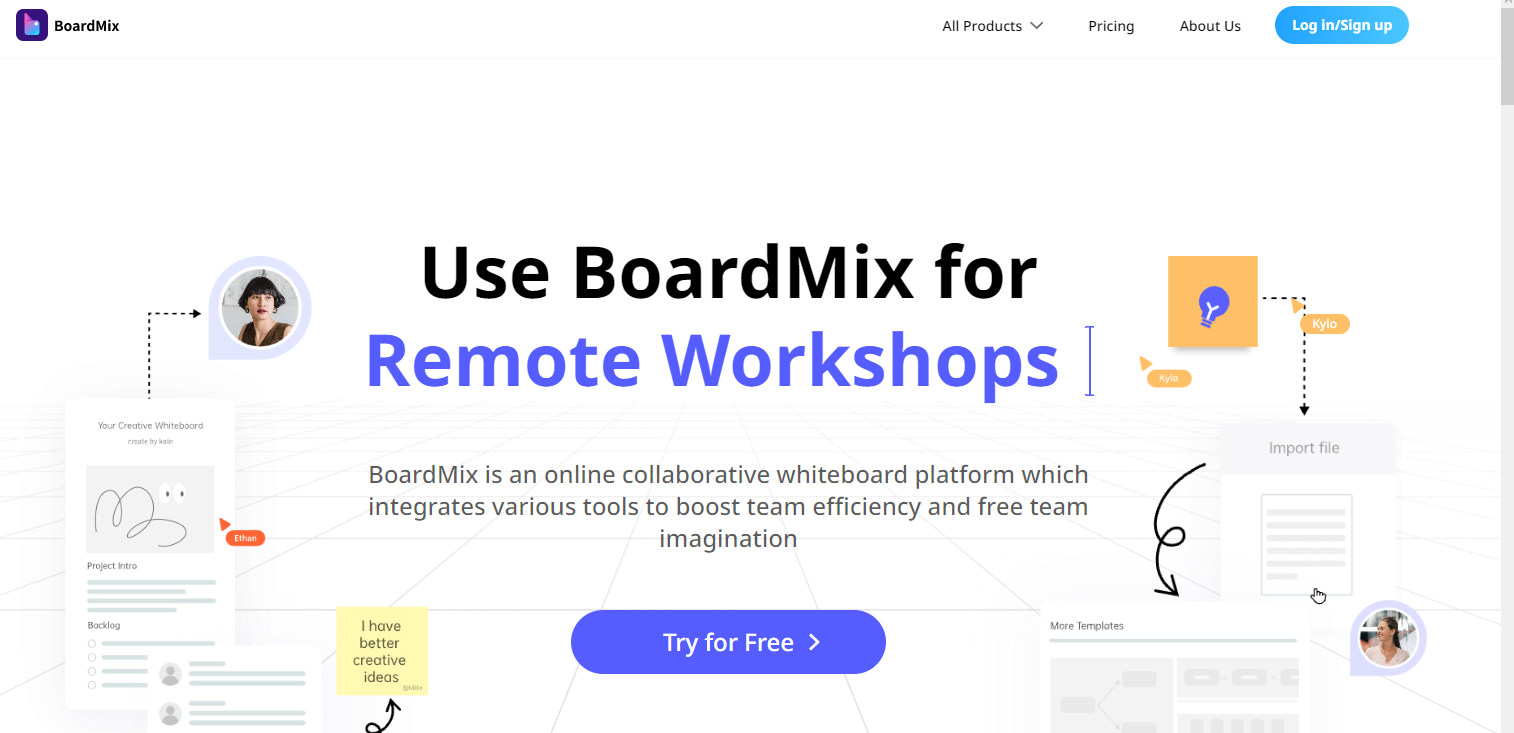 Boardmix is one of the remote whiteboard tools that set itself apart for its outstanding collaboration features. This specific remote whiteboard excels at facilitating communication between team members as it allows commenting in real time.
However, Boardmix is not just a simple whiteboard. It has numerous other features that can satisfy even the most demanding teams and projects. In the platform, you will find a limitless space, where you can brainstorm, exchange files, visualize data, and host online meetings. And the great thing is that the free plan offers everything that a small team might need.
Mural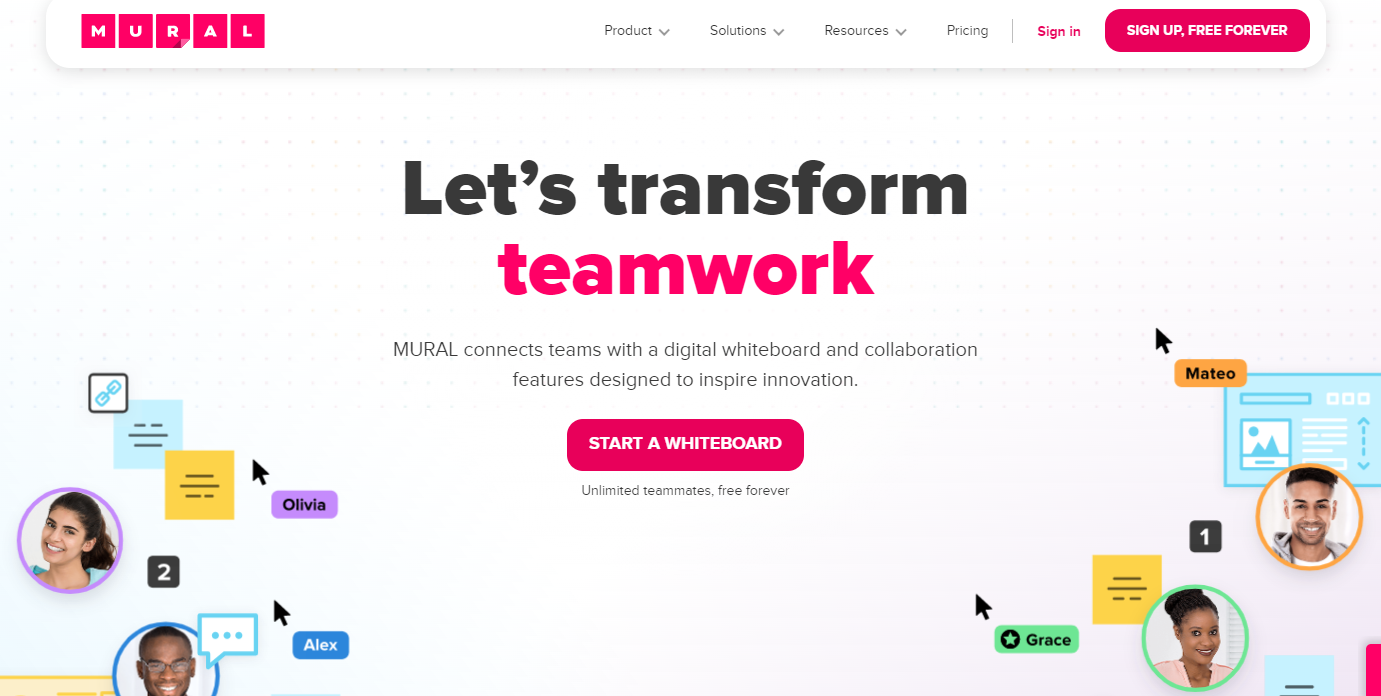 Mural is yet another one of the remote whiteboard tools that have gained a lot of popularity among remote teams. What makes it stand out is that it allows real-time communication between team members. In addition to this, it has several features that help decision-making. To make things even better, the interface is sleek and extremely user-friendly.
This remote whiteboard has a free plan that gives you 3 murals and unlimited users. However, if you are working on multiple projects, you will need one of the paid plans. The Team+ plan offers you unlimited murals for $9.95 per user/month.
ClickUp
When it comes to remote whiteboard tools, ClickUp is one of your top options. This platform has been specifically designed to boost collaboration. One of its most interesting features is the shared-task function, which has also implemented status alerts. In addition to this, on this remote whiteboard you can create detailed reports that are highly customizable.
ClickUp's free plan is perfect for an individual. However, small teams will need to get the Unlimited plan, which costs $5 per user/month. This plan gives you everything you might need from a remote whiteboard.
Explain Everything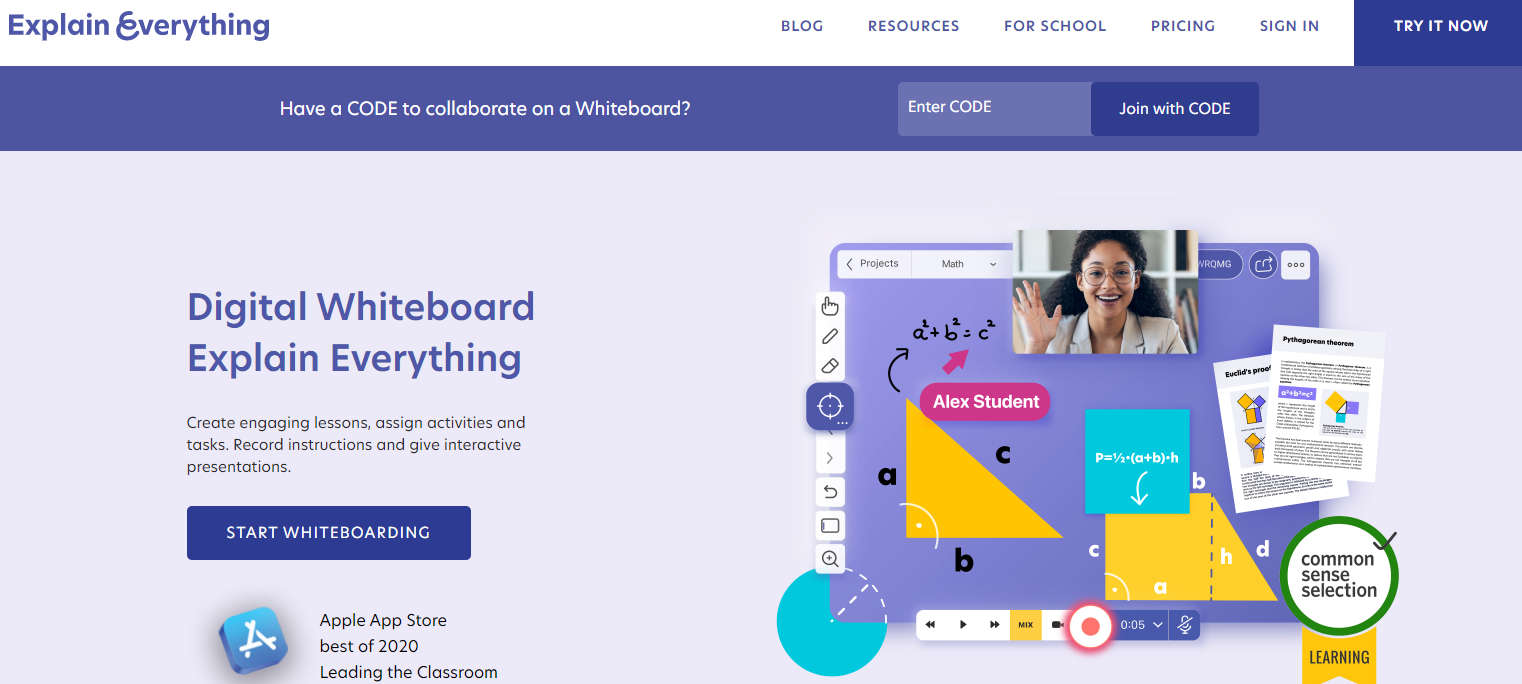 Explain Everything is one of the remote whiteboard tools that are perfect for educational purposes. It provides you with all the tools you might need to create interactive lessons and training sessions. And to top things up, it can also record these lessons to save them for later. Furthermore, it allows you to slightly edit the file before you upload it to the cloud.
This remote whiteboard is free for whiteboarding and recording. Nevertheless, it only allows you to record for 3 minutes and gives you just 500 MB of cloud storage. The Solo Teacher plan costs $34.99 per year and upgrades all of the services.
Grapic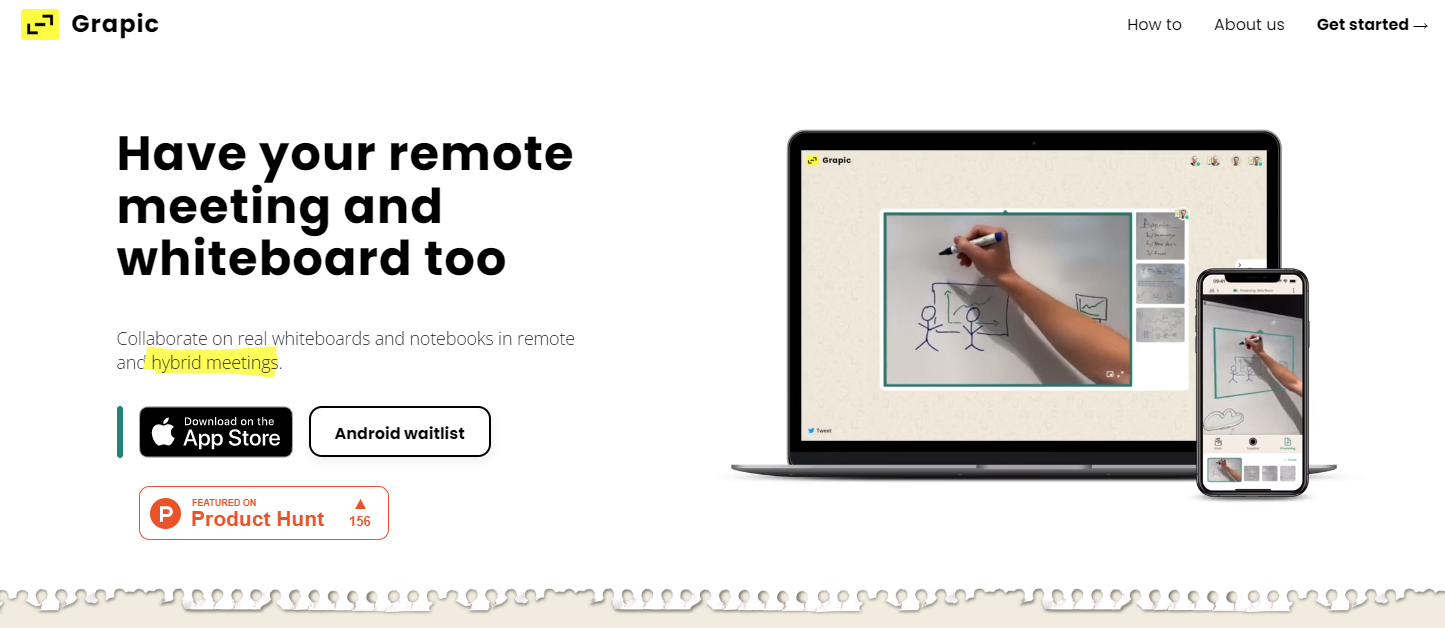 Grapic is definitely one of the most unique remote whiteboard tools in the market as it combines both the physical and virtual whiteboard. What this app does is allow you to share your screen with your colleagues as you are making changes and explaining your concept. This enables you to utilize the power of pen and paper.
Grapic is a free remote whiteboard app that you can download from the App Store.
Ziteboard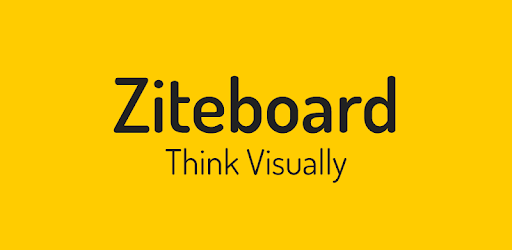 One of the most well-known remote whiteboard tools is undoubtedly Ziteboard. This is a tool that is characterized by its simplicity and user-friendliness. In this remote whiteboard, you can draw, insert images, PDF files, and export PNG images of the board. All of these features are perfect for educators.
The Ziteboard free plan allows you to create up to 3 boards. If you want to upgrade, you can get the Monthly Pro plan for $9 per month.
The Bottom Line
All of these remote whiteboard tools have transformed the way that remote and hybrid teams work together. These platforms support real-time communication that truly boosts productivity. Among them, Boardmix is one of the most reliable tools that you can start using today. All of its features are designed to help your team collaborate better than ever before. Try the tool to uncover its full potential right now!