If you are working on a project, you have probably heard that you need to find a dependable piece of UML software. In reality, UML (or Unified Modeling Language) is a general-purpose language that you are using to visualize every aspect of a software system. A UML diagram tool uses the graphical notations created by the modeling language to create and edit diagrams.
In fact, a piece of UML software can help you create any of the 13 types of diagrams that the modeling language distinguishes. For this reason, it is an essential tool that you must get for your team. In this article, we have included the best pieces of UML software so that you can spot the free UML diagram tool that meets your demands. Let's get started.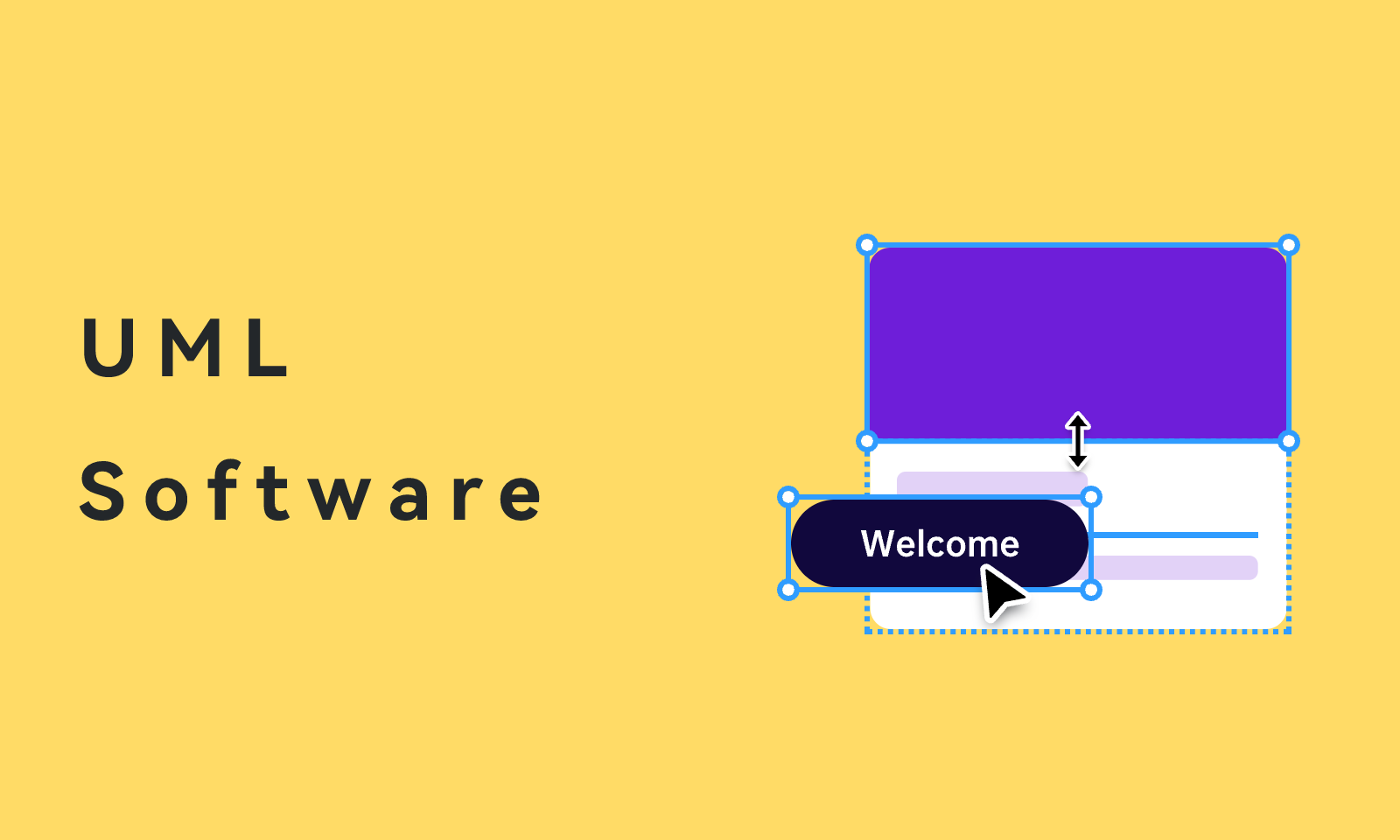 How to Select the UML Software
Before you choose any free UML diagram tool, you need to ensure that you have made the right choice for your case. Right now, you will find numerous pieces of UML software in the market. However, we must mention that not every free UML diagram tool is offering you the same features. For this reason, you must research each individual case to find the UML software that is the most suitable for your project.
Some of the things that will determine which free UML diagram tool you should select are the following:
The types of diagrams that you can create with the UML software – the truth is that not every tool will be able to create all 13 of the different types of UML diagrams. For this reason, you must determine whether the free UML diagram tool can create the type that is of interest to you.
The collaborative features in each free UML diagram tool – another important factor is to find a tool that can boost collaboration between your team members. These features will allow them to communicate more and update the diagrams in no time.
The platform that each piece of UML software is using – one more important factor is the platform that each tool uses. For instance, a web-based tool is perfect for teams with remote members.
The file formats you can export your diagram with the free UML diagram tool – this is an important aspect since it will make the use of the free UML software very practical. In fact, some tools even allow you to export your diagram as code.
6 Top-notch UML Software
Below, we have compiled a list of the best UML tools that we have found. You can compare each of them to decide which one suits you best.
Boardmix - A Free UML Diagram Tool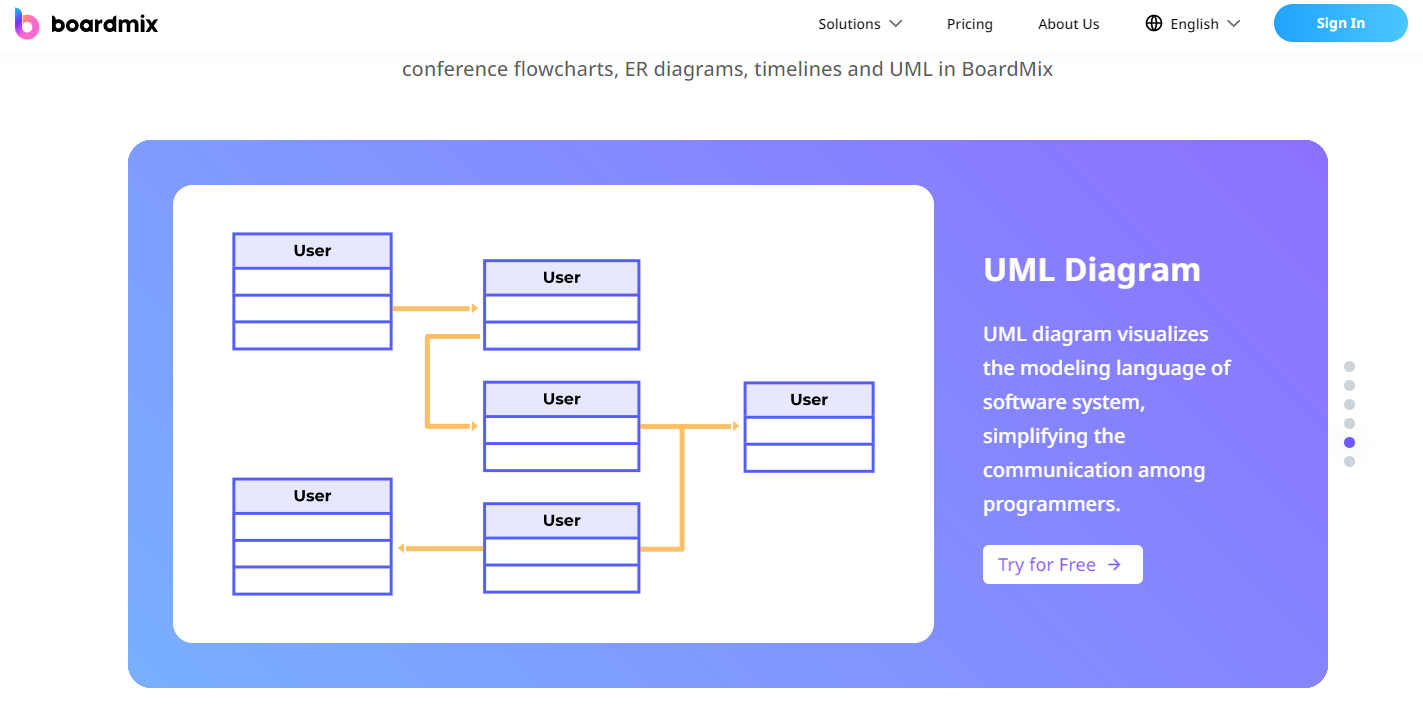 Boardmix can easily be called the best free UML diagram tool since it offers you all the tools you need to create your diagrams without much time or effort. In fact, the platform has such an intuitive interface that allows you to create any type of diagram or chart you might need.
Moreover, Boardmix is not just a UMLhttps://cms.boardmix.com/images/articles/uml-software.png software, but also a tool that you will use in every step of your project. This happens because it has features that are perfect for brainstorming, planning, scheduling, and even reporting. On top of that, Boardmix allows you to have audio and video calls within the platform.
Pricing: Starter plan for free, and Organization plan has a free trial right now.
Microsoft Visio Pro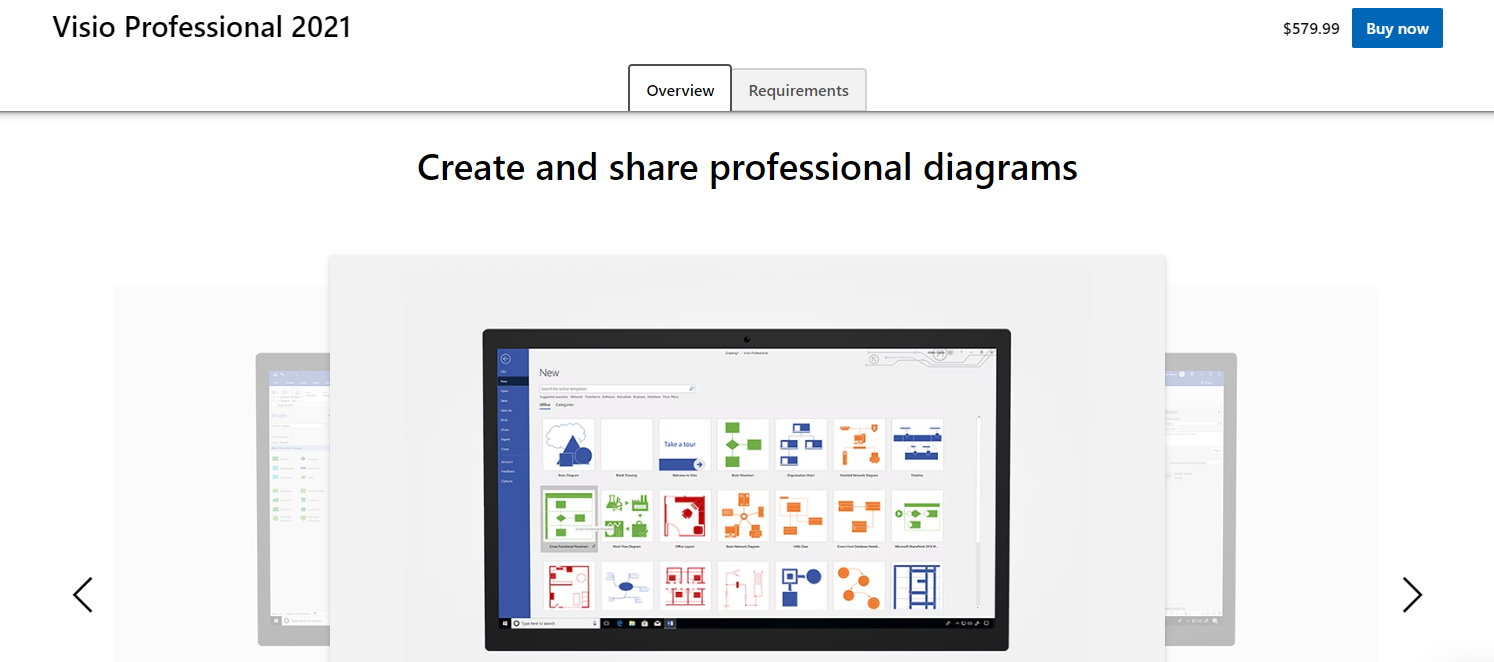 If you are looking for a dependable UML software, then you don't need to look any further than Microsoft Visio Pro. This platform integrates into your Microsoft Office Pro suite, a thing that you might find very convenient. In fact, it is a great choice for large organizations that need a tool that can quickly work with the existing system.
Microsoft Visio Pro is a UML software that works with a drag-and-drop editor. Moreover, it allows multiple users to work on the same diagram in real time.
Pricing: Vision Plan 1 for $5 per user/month, Visio Plan 2 for $15 per user/month, Visio Standard 2021 One-time purchase for $309.99, and Visio Professional 2021 One-time purchase for $579.99.
Lucidchart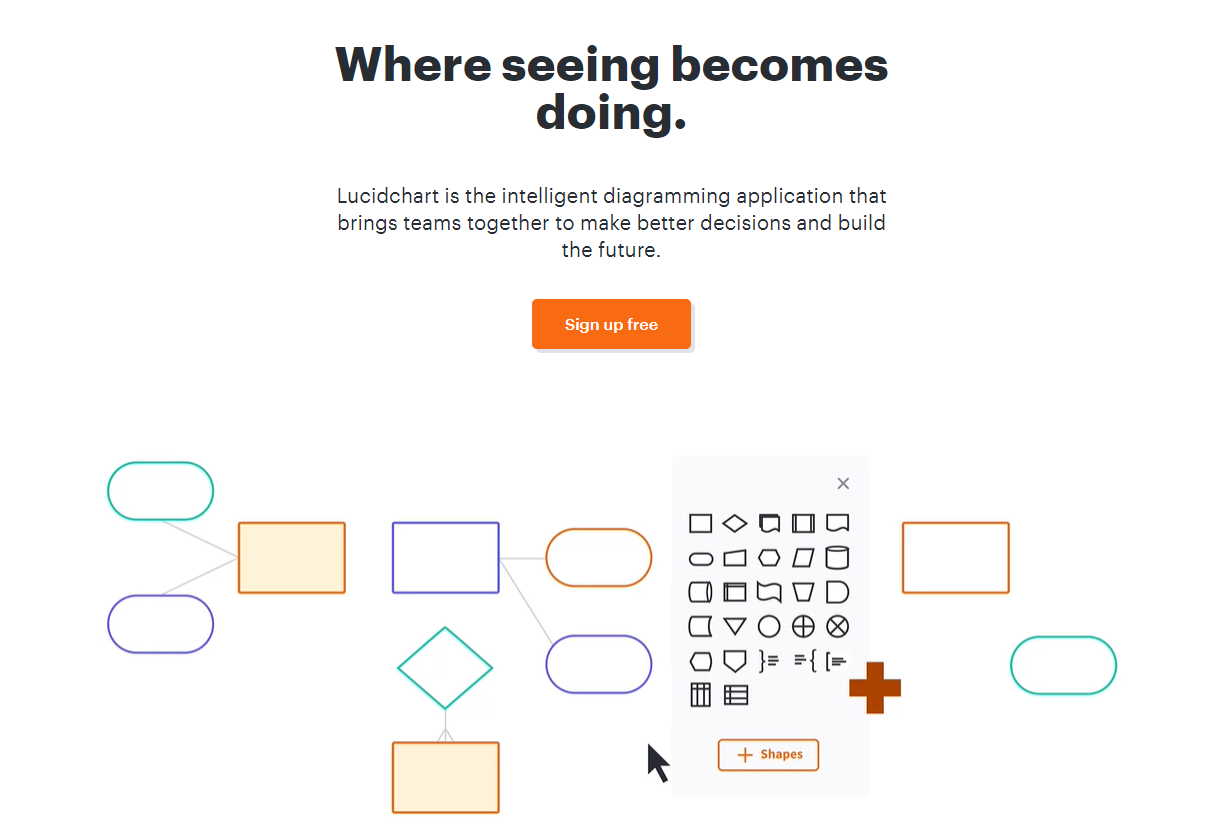 If you are looking for a free UML diagram tool, you have to check Lucidchart. This is a great platform, where you can create numerous types of charts, including 7 UML charts.
Furthermore, the free UML diagram tool enhances teamwork as it has introduced several collaborative features. On top of that, you gain access to a rich library of templates that allow you to work on any diagram you wish to create.
Pricing: Free plan, Individual plan for $7.95 per month, and Team plan for $9 per user/month.
EdrawMax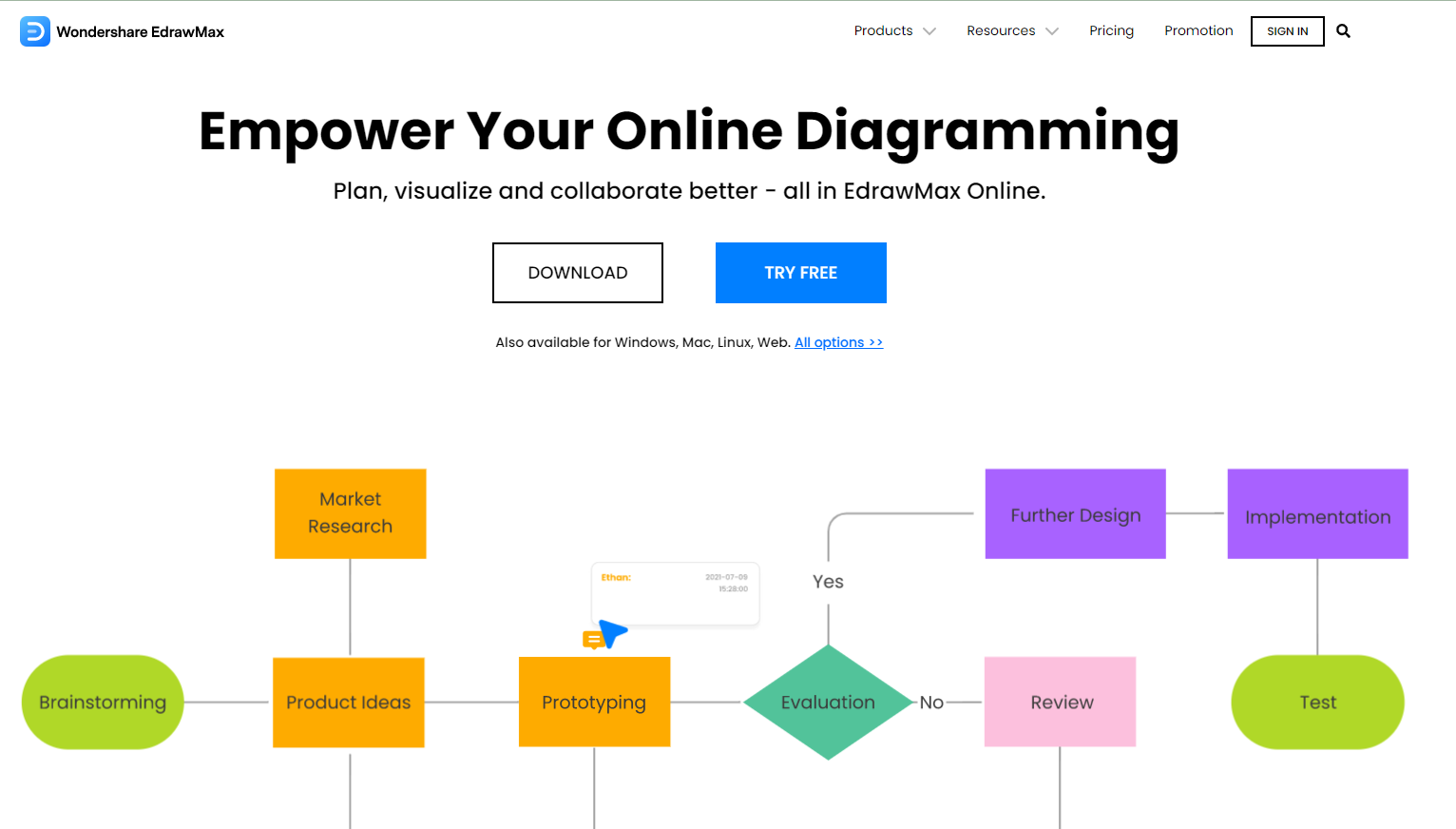 Another great option for a free UML diagram tool is EdrawMax. This is a platform that enables you to create UML diagrams, as well as numerous other charts, like flow charts, mind maps, and network diagrams among others. What makes this UML software stand out is that it has a very user-friendly environment that welcomes all users, regardless of their technical knowledge.
Pricing: Individual plan for $99 per year, Team Annual plan for $505.75 per year for 5 users. There is also a free trial version that allows you to use 2 templates and export files with a watermark.
Visual Paradigm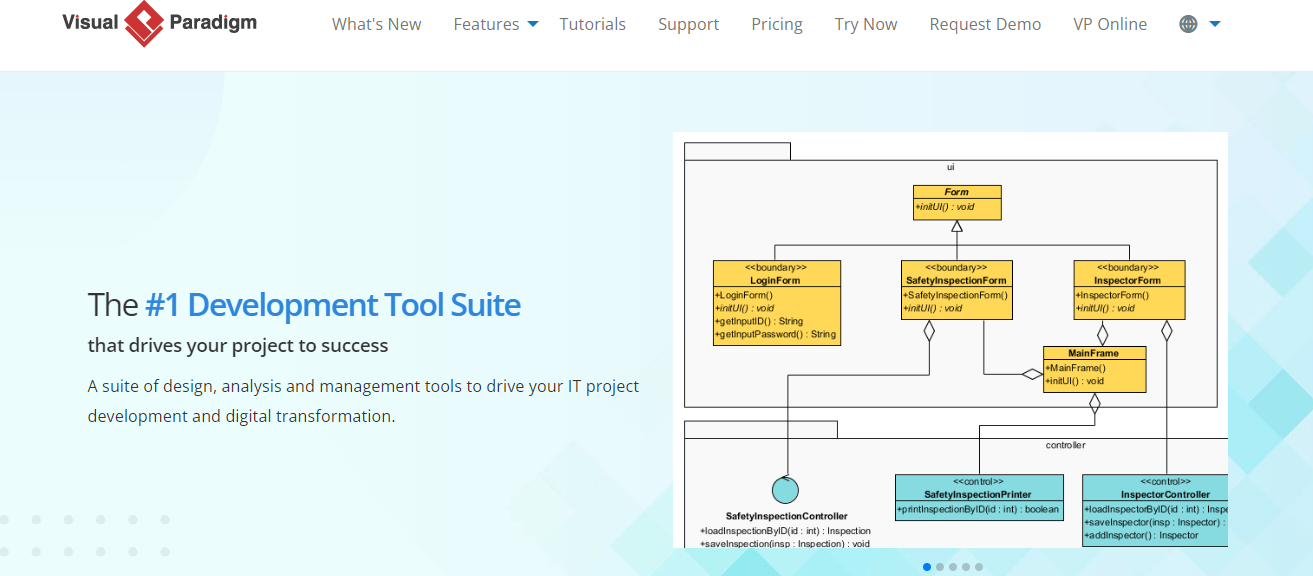 One more great UML software that you can use is Visual Paradigm. This is a diagramming tool that is ideal for agile teams that need to organize their projects. The great thing about this free UML diagram tool is that it also focuses on team collaboration. In more detail, every team member can work on the same diagram with others and create changes that are visible in real time.
Pricing: 30-day free trial available. Modeler plan for $6 per month, Standard plan for $19 per month, Professional plan for $35 per month, and Enterprise plan for $89 per month. Perpetual licenses are also available.
Diagrams.net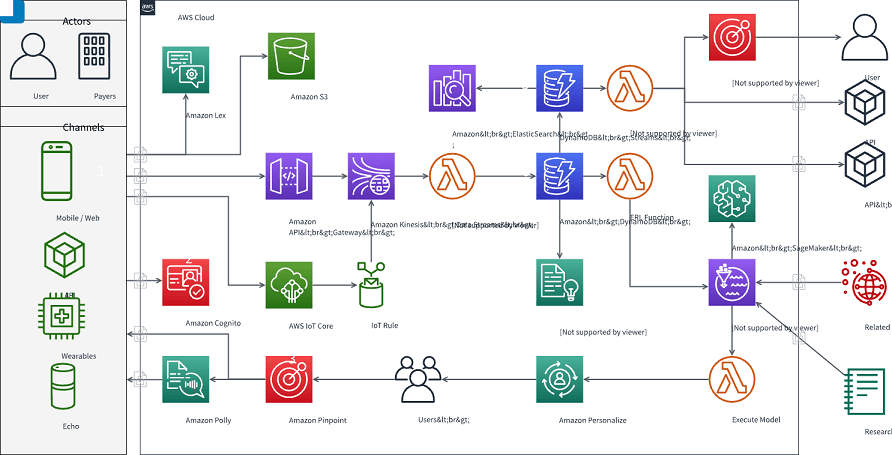 One more free UML diagram tool that you need to consider is diagrams.net. This is an open-source tool which means that you can use it completely out of charge. Moreover, you don't need to create an account. You can simply select a template and create the UML diagram you need.
Pricing: free.
In Conclusion
In this list, you have probably found a dependable UML software that meets your requirements. Boardmix is definitely one of the best tools in the market, with which you can create any type of diagram you need. Try the app to discover its full potential and bring your team together.