The BCG matrix, developed by the founder of Boston Consulting Group back in the 1970s, is a heuristic tool used by businesses as a guide for creating suitable strategies for each of their products. The brand portfolio is sorted into four categories, namely stars, cash cows, question marks and dogs, based on each individual product's market share and growth rate.
In this BCG matrix analysis of Nestlé, we will take a close look at the many products offered by the company and see how they have been performing in their respective markets.
Background of Nestlé
In 1867, Henri Nestlé created an innovative baby food product and marketed it under the company Farine Lactée Henri Nestlé. A year earlier, brothers Charles and George Page had formed the Anglo-Swiss Milk Company. Over the next two decades, these two companies became rivals as both were manufacturing milk-based baby foods at the time. Eventually the two companies merged in 1905, becoming Nestlé and Anglo-Swiss Condensed Milk Company. A series of expansions followed and soon enough, the company was operating in the US, UK, Germany and Spain.
In the beginning, the company manufactured and sold primarily baby food and condensed milk but after the numerous expansions and acquisitions, their product portfolio also quickly expanded. Today, their massive product portfolio includes chocolates, coffee, noodles, bottled water, ice cream, dog food, and many more. With a net worth of $315.63 billion, Nestlé is now the biggest company in the food and beverage industry.
Nestlé BCG Matrix Analysis
Nestlé has a very wide and diverse brand portfolio, currently with more than 2,000 products that are available around the world. It's quite impressive that for such an expansive selection, Nestlé manages to maintain the lead in almost all markets that they cover. In this BCG matrix of Nestlé, we might see the reason why.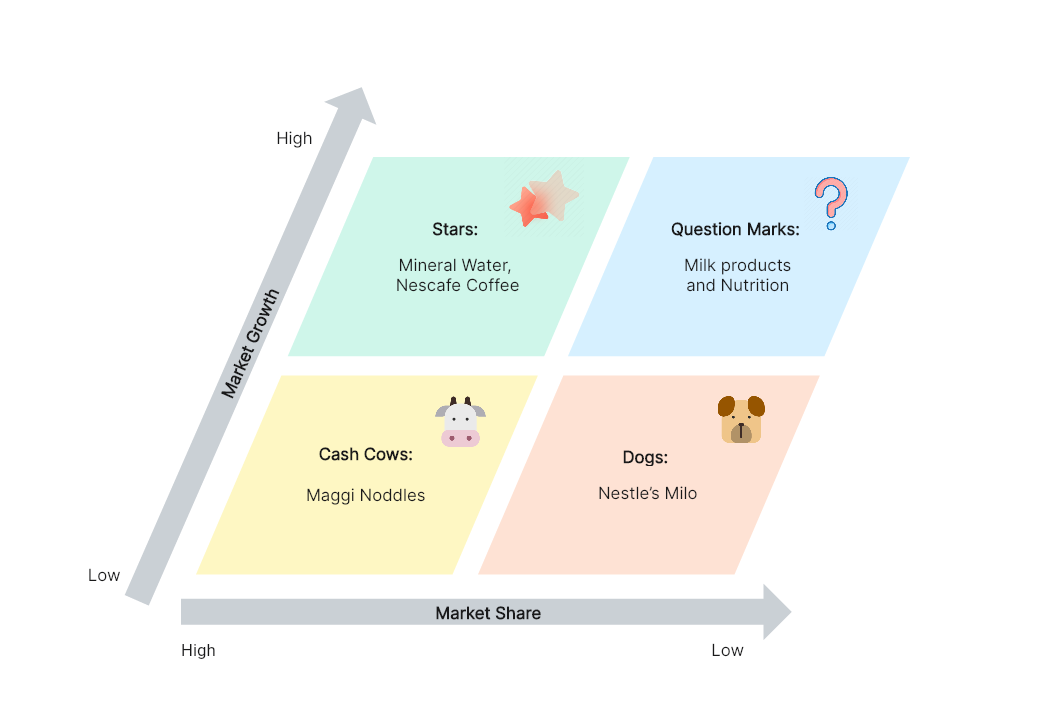 Nestlé BCG Matrix Analysis Created in Boardmix
Based on the most recent market data, we have classified the products of Nestlé into the four categories, creating a very clear representation in this BCG matrix of Nestlé. Let's take a look at the different products that fall into each of the categories.
Stars
Stars denote products securing substantial market share within a rapidly growing industry. Nestlé's BCG matrix prominently positions mineral waters like Pure Life and Nestlé Waters, alongside innovative Nescafe Coffee variants like the Creamy Latte, in this category. These products showcase immense potential for ascending to cash cow status with strategic investments. Their significant market presence, coupled with the high industry growth rate, offers an advantageous blend for swift progression. By capitalizing on this trajectory, Nestlé can expedite their journey from star to cash cow, enhancing their position within the market and bolstering sustained profitability.
Question Mark
Question marks are products that are usually still in the development stage, and are in a market that does not exhibit much growth. Nestlé's question marks are their various milk products and chocolates, not because these products are not superior because they are. In some parts of the world, these products have actually already turned into stars. But in general, there is steep competition in these markets and high investment would be needed for these products to become leaders in the niche, and so there is still a chance that they might eventually find themselves in the Dog category.
Cash Cows
Cash cows are products that demand minimal investment due to their steady revenue generation in a mature market. Nestlé's BCG matrix prominently features Maggi Noodles in this category, boasting an impressive market share of 85%. Evolving into a beloved staple, this product has cultivated a steadfast consumer following, solidifying its role as a consistent revenue generator in Nestlé's portfolio. The enduring consumer loyalty Maggi Noodles commands signifies its enduring stance as a cash cow within Nestlé's BCG matrix, poised to sustain this advantageous position for the foreseeable future. This exemplifies Nestlé's ability to leverage established products and capitalize on their enduring popularity to ensure enduring success.
Dogs
The dogs in the BCG matrix for Nestlé are the products that have been unable to obtain a firm hold in the market and thus have not generated considerable income. Maintaining them might require too much of an investment to be feasible for the business. For Nestlé, the chocolate malt drink Milo can be considered a dog because it has not had much impact in the market.
Key Takeaways
The BCG matrix of Nestlé clearly shows which brands have been contributing significantly to the success of the company, and which have not really generated much revenue. Maggi Noodles have been the company's cash cow for a long time, while Nescafe and Nestlé Waters might soon be joining this revenue-generating category as well. Product managers might have to look more closely at the milk products and chocolates to determine whether investing in them further would be worthwhile and could turn these products into stars.
A BCG matrix can really influence a company's decisions when it comes to creating marketing and positioning strategies for their products. For a company such as Nestlé that has a very diverse range of offerings, it can be somewhat of a challenge to create a BCG matrix, with all the data that need to be taken into consideration. But the process will be much easier by using a well-designed BCG matrix template, just like the one available at Boardmix.
Boardmix offers a wide selection of mind-mapping tools that are very useful for planning business strategies. They have very easy to use tools and fully customizable templates that you can modify to fit your specific business needs.
References
https://www.Nestlé.com/about/history/Nestlé-company-history
https://heartofcodes.com/bcg-matrix-of-Nestlé/
https://en.wikipedia.org/wiki/Nestl%C3%A9
https://www.macrotrends.net/stocks/charts/NSRGY/Nestlé-sa/net-worth