What is the BCG matrix?
The Boston Consulting Group Matrix (BCG Matrix) is also called Growth/Share Matrix. As the name suggests, it is a framework for portfolio management used to prioritize different products. It was developed by the Boston Consulting Group in the 1970s and is widely used for strategic planning and decision-making regarding investment in competitiveness and market attractiveness.
The BCG matrix categorizes products or business units into four quadrants based on their market growth and relative market share. These quadrants are: Stars, Cash Cows, Question Marks (or Problem Children), and Dogs. 
1) Stars -- High Growth, High Market Share
Stars units are leaders in the category. They have the potential to generate substantial returns and are considered strategic assets for the organization. 
2) Cash Cows -- Low Growth, High Market Share
While Cash Cows operates in a matured market and may not have significant growth prospects, they generate stable and positive cash flow, contributing to the financial stability of the organization. Usually, these products finance other activities in progress (including stars and question marks).
3) Question Marks (or Problem Children) -- High Growth, Low Market Share
Since the development rate is high here, with the correct strategies and ventures, they can turn into Cash Cows and even Stars in the end. However, the low market share means that wrong investments can downsize them to Dogs significantly after loads of speculation.
4) Dogs -- Low Growth, Low Market Share
Dogs do not have strong prospects for growth or profitability and may drain resources from the organization. Businesses may consider divesting or discontinuing dogs if they are not strategically valuable.
How to Make a BCG Matrix Diagram?
The following shows the six basic processes of creating a BCG matrix diagram:
Step 1: Identify your products or business units
BCG matrix can be used to analyze Business Units, separate brands, products, or a firm as a unit itself. The choice of the unit impacts the whole analysis. So be careful to determine the products or business units that you want to analyze and classify.
Step 2: Define the market
An incorrectly defined market can lead to a poor classification of products. For example, Daimler's Mercedes-Benz car brand would be considered a Dog if analyzed in the passenger vehicle market, but it would be a cash cow in the luxury car market. 
Step 3: Calculate the relative market share
This can be calculated by dividing the company's market share by the market share of the largest competitor in that particular market. Categorize them as high, medium, or low market share.
Relative Market Share = Product's sales this year/Leading rival's sales this year
Step 4: Find out the market growth rate
This can be done by analyzing industry data, market research, or internal sales data. It can also be calculated by determining the average revenue growth of the leading firms. The market growth rate is usually given by: 
(Product sales this year – Product sales last year)/Product sales last year
Step 5: Draw the circles on a matrix
Having calculated the above measures, now you need to just plot the brands on the matrix. The x-axis shows the relative market share, and the y-axis shows the industry growth rate. You can plot a circle for each unit/brand/product, the size of which should ideally correspond to the proportion of revenue generated by it.
Step 6: Analyze and regularly update
Analyze the positioning of each product or business unit on the matrix. Develop appropriate strategies for each quadrant. Also, remember to regularly update and review the matrix to reflect changes in market conditions, performance, and strategies.
15 BCG Matrix Examples
BCG Matrix for Coca-Cola
1) Stars: Kinley and Dasani
Bottled water brands Kinley and Dasani are Stars because they dominate the market in Europe and the US and show no signs of slowing down.
2) Question marks: Diet Coke, Minute Maid, Honest Tea, Sparkling water
With an aim to cater to the changing needs of consumers for zero calories and no-sugar drinks, the Coca-cola company has launched a number of products/brands to cater to the same. However, some products/brands are still in the initial/development phase of the product lifecycle and have a huge potential to grow. Diet Coke, Minute Maid, Honest Tea, and Sparkling Water are the few Question Mark products, as they appeal to a modest audience but still have room for growth.
3) Cash Cows: Coke
Coke for years has been a market leader in the carbonated soft drink segment and a major cash generator for the company. However, demand for carbonated soft drinks is declining, fueling a growing demand for healthier options or low-calorie drinks like Diet Coke.
4) Dogs: Coke
Declining demand for carbonated soft drinks due to increasing demand for low-calorie and healthy beverages and snacks is what is attributing to the diminishing sales of the Coke brand.
BCG Matrix for Apple
1) Stars: iPhones
Apple's iPhones continue to generate excess profits, and the company dominates the growing smartphone market. Apple iPhones have a high stature because of their unique design and advanced technology. Also, the iPhone enjoys a loyal customer base that makes it beat all the competition in the booming mobile phone market.
2) Question marks: AirPods and Apple Smart TVs
Apple's AirPods are growing extremely quickly but have yet to dominate the market. Likewise, Apple Smart TVs makes a little money but is still far from its true potential, and it can become a star if Apple can fix a few ecosystem issues.
3) Cash Cows: Apple iTunes, Apple MacBook, and iMacs
Once an innovative product, some products like Apple's laptops are no longer in a fast-growing industry but generate healthy profits for the company. Over the years, these products have retained their market share and have increased cash flows for the company. Apple has a strong, loyal customer base that prefers Apple products exclusively.
4) Dogs: iPods
Apple's iPods are considered dogs because they have lost their attraction due to high competition and low customer demand. They have now been cannibalized by its iPhones and should no longer receive further heavy investment.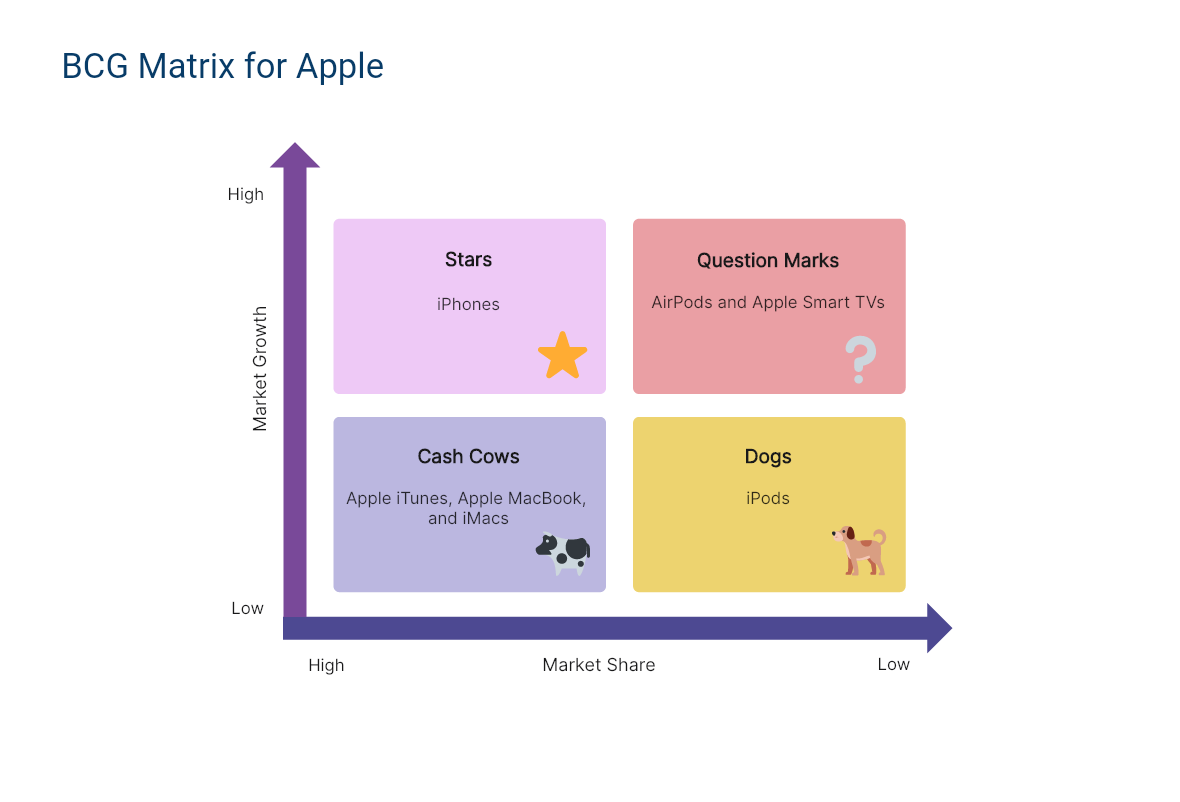 BCG Matrix for Amazon
1) Stars: online store, AWS, and cloud segment
Amazon's claim to fame is definitely its online store called Amazon.com. It continues to generate great ROI with a high growth rate. Amazon's AWS and cloud segment is also showing growth potential, and the market is also becoming attractive.
2) Question marks: Amazon Live and video on demand
In the Amazon BCG matrix, video on demand and Amazon Live can become a question mark because of limited growth. However, they still have promising growth potential.
3) Cash Cows: E-books, audiobooks, and movies on demand
The E-books division is a lucrative cash cow for the company. Amazon has its native e-book reader called Kindle, and it has generated substantial ROI. Audiobooks and movies on demand also generate potential revenue and are in high demand from consumers. 
4) Dogs: Alexa and physical stores
Amazon's physical stores are the least competitive in terms of market share. They represent only about 0.015% of the market share, which is almost negligible. Besides, Amazon Alexa can also be categorized as a dog in the Amazon BCG matrix because its market is shrinking and showing negative market growth.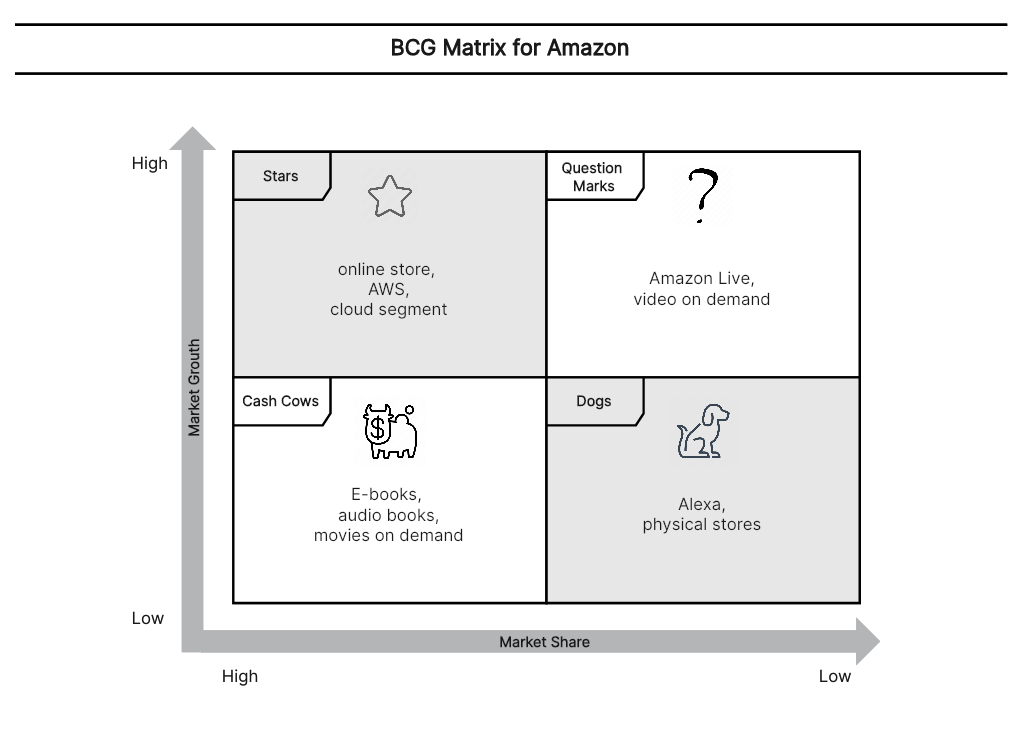 Reference: https://www.edrawmax.com/article/amazon-bcg-matrix-analysis.html
BCG Matrix for Samsung
1) Stars: Samsung smart TVs
Samsung smart TVs are quite competitive in this industry, continuing to gain traction as consumers demand more smart products. Mobile phones from Samsung also fall into this quadrant because the industry is still evolving. It is an industry developing fast with newer advancements in mobile computing devices.
2) Question marks: Samsung laptops
Samsung laptops fall in the question mark quadrant, owing to a poor reputation for unreliable battery life and basic design among their counterparts.
3) Cash Cows: Samsung home appliances, refrigerators, and washing machines
Samsung home appliances, refrigerators, and washing machines are the cash cows in its BCG matrix analysis, for they contribute to a significant share of the company's revenue.
4) Dogs: Samsung printers 
Samsung printers is a business that Samsung tried to push but has failed. The printers business was finally transferred to HP, which is a good choice because HP is one of the well-known printer brands.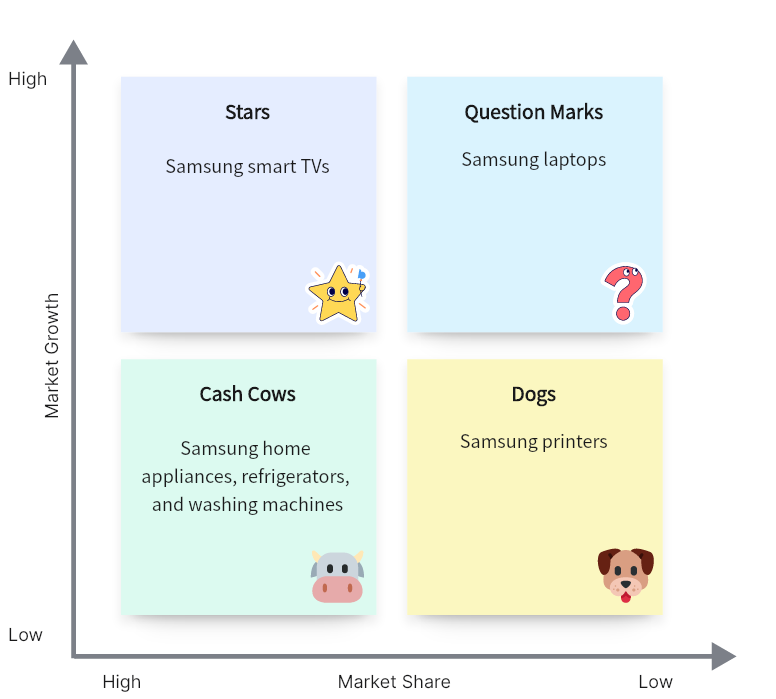 Reference: https://www.financefied.com/education/bcg-matrix-example/
BCG Matrix for Microsoft
1) Stars: Azure Cloud Platform, Microsoft Teams
Azure is Microsoft's cloud computing platform that offers a wide range of services, which has experienced significant growth and has a strong market position. 
Microsoft Teams is a collaboration and communication platform that has gained significant traction, especially with the rise of remote work and virtual meetings. Its high growth potential has made it a central product in Microsoft's portfolio.
2) Cash Cows: Windows operating system, Microsoft Office Suite
Windows is Microsoft's flagship operating system that powers a vast majority of personal computers worldwide. While the growth of the PC market has slowed down, it continues to generate substantial revenue and profit as a mature and established product.
The Office Suite is widely used in business, education, and personal settings. As a dominant and well-established product, it generates steady cash flow for Microsoft.
3) Question Marks: Surface hardware, Xbox gaming console
While the Surface lineup (laptops, tablets, and hybrid devices) has gained recognition for its design and innovation, it faces strong competition in the hardware market. These products have the potential for growth but require further investment and market share expansion.
Xbox is Microsoft's gaming console brand. Born in the highly competitive gaming console market, Xbox faces challenges from competitors such as Sony's PlayStation, which has restricted its growth potential.
4) Dogs: Windows Phone (discontinued)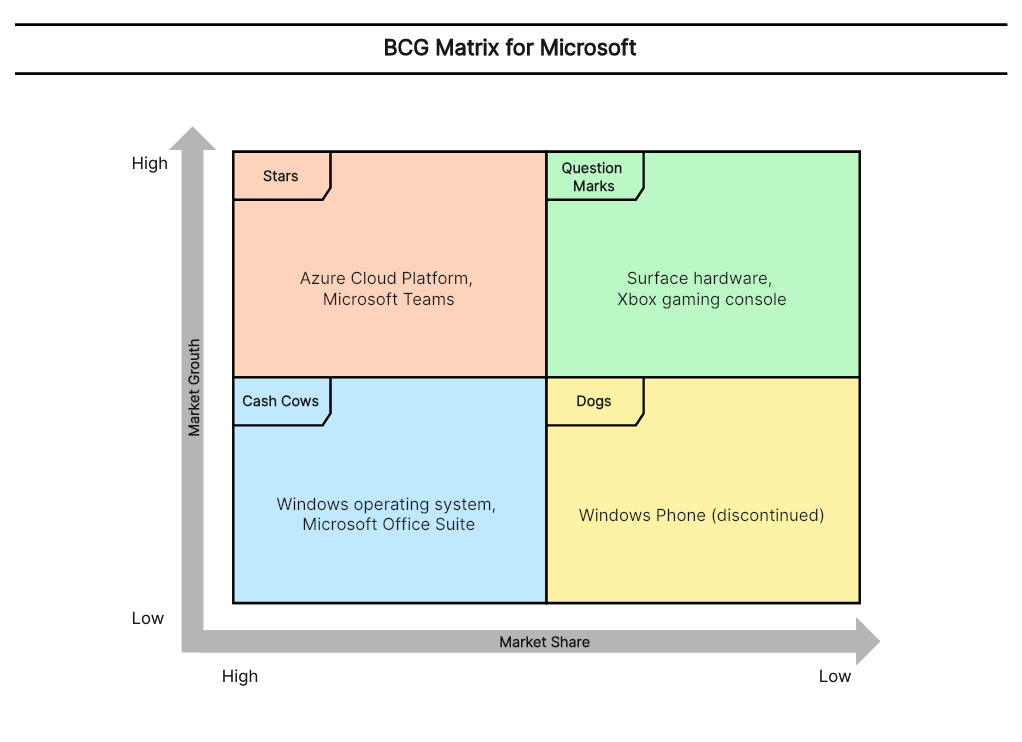 Microsoft discontinued its mobile hardware efforts, and the Windows Phone platform no longer receives active development or support.
BCG Matrix for Toyota
1) Stars: Toyota Prius (hybrid cars), Toyota Camry (midsize sedans)
The Prius, known for its fuel efficiency and environmentally friendly features, has enjoyed significant market growth and has established a strong market share in the hybrid car segment. Toyota Camry, a popular midsize sedan known for its reliability, comfort, and fuel efficiency, has consistently performed well in the market.
2) Cash Cows: Toyota Corolla (compact cars), Toyota RAV4 (compact SUVs)
The Corolla is one of the best-selling compact cars globally, while Toyota RAV4 is a compact SUV that has gained popularity for its versatility, practicality, and fuel efficiency. They both enjoy a well-established market share and generate substantial cash flow for Toyota. 
3) Question Marks: Toyota Mirai (hydrogen fuel cell vehicles), Toyota C-HR (compact crossover)
While Toyota Mirai is a technologically advanced and environmentally friendly option, the market for hydrogen fuel cell vehicles is still in its early stages. Besides, Toyota C-HR has shown promise with a distinctive design. Still, it is not impressive enough in the highly competitive compact crossover segment.
4) Dogs: Scion brand (discontinued)
Scion was a brand owned by Toyota that targeted younger demographics with compact and sporty vehicles. However, due to various reasons, Toyota has abolished the Scion brand. It represents a low-growth, low-market-share product that no longer exists in Toyota's portfolio.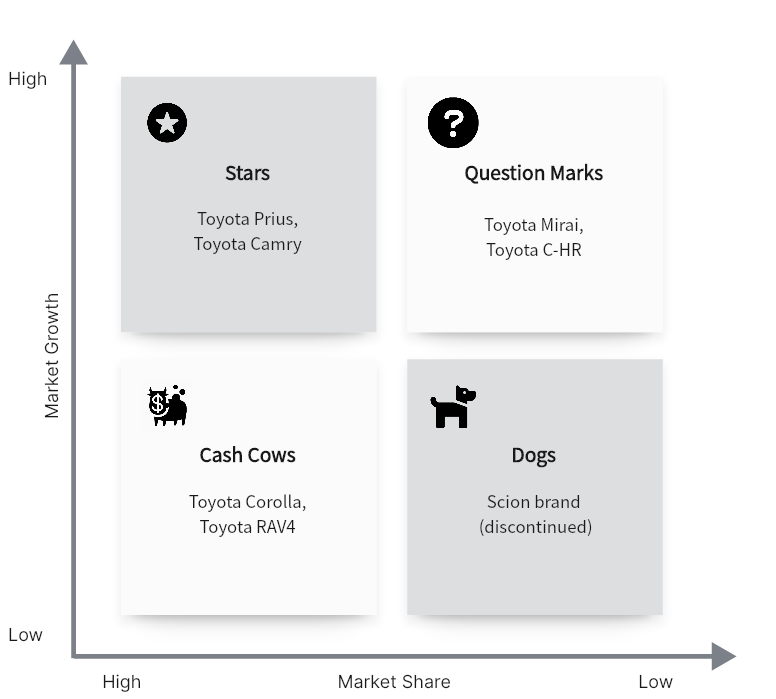 BCG Matrix for Nike
1) Stars: Nike shoes (Nike Air Max etc.), sportswear
Certainly, the leader of the Nike product portfolio is Nike shoes. However, due to the pandemic period, sportswear has become a star of the portfolio because there have been changes in the lifestyle of consumers.
2) Cash Cows: equipment and accessories
The equipment and accessories are Cash Cows for the Nike company. They generate cash to turn questioned products (dilemmas) into dairy cows.
3) Question Marks: Nike Converse
The Nike Converse product category can be found in the dilemmas. If Nike adopts effective and specific strategies, this product can be converted into a Cash Cows. 
4) Dogs: Nike Skateboarding
Nike Skateboarding products fall in the dogs quadrant since these offerings are not very popular among the skateboarding community. However, the company continues to produce skateboarding shoes and clothing despite a large number of competitors.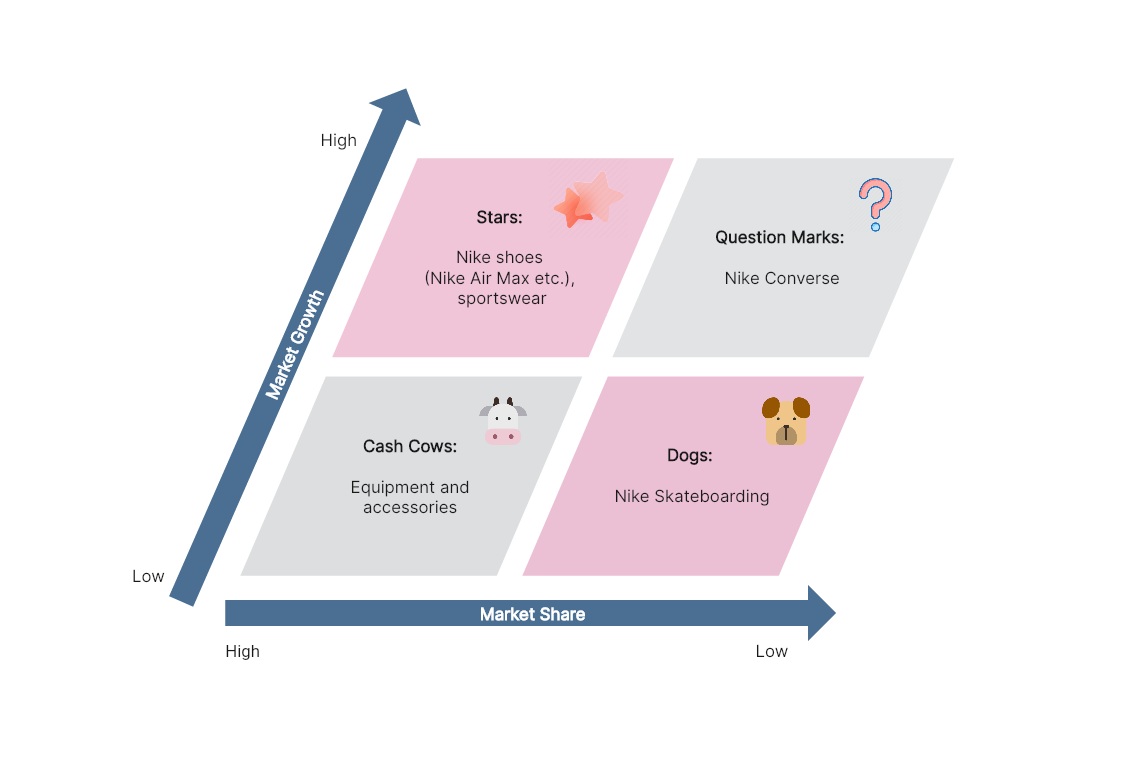 Reference: https://awware.co/blog/bcg-matrix/
https://www.researchgate.net/figure/BCG-Matrix-for-Nikes-Portfolio_fig2_351123152
BCG Matrix for Procter & Gamble (P&G)
1) Stars: Gillette, Oral-B
Gillette is a well-established brand known for its shaving products, while Oral-B is a leading brand in the oral care market, specializing in toothbrushes and other dental products. They have experienced strong growth and have a significant market share.
2) Cash Cows: Tide, Pampers
Tide is one of P&G's most successful brands, offering a wide range of laundry detergent products. Pampers is a leading brand in the baby care market, particularly known for its diapers. They enjoy a well-established market share and generate consistent cash flow for P&G.
3) Question Marks: Olay, Head & Shoulders 
Olay is a skincare brand offering a variety of products, and Head & Shoulders is a popular brand in the hair care industry. While they have a strong presence, they face challenges in a competitive market. 
4) Dogs: Duracell
Duracell is a battery brand that has a relatively low growth rate and market share compared to P&G's other brands.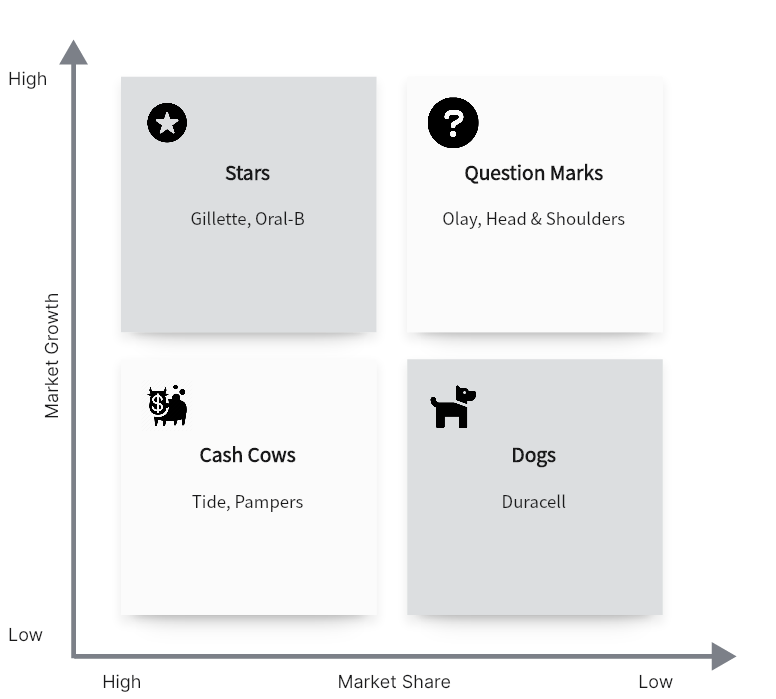 BCG Matrix for Nestlé
1) Stars: Mineral Water, Nescafe Coffee
Nestle's Mineral Water and Nescafe Coffee (like Nescafe Latte) fall in the Star quadrant of the BCG Matrix of Nestle. With the growing number of health-conscious customers, these products have the potential to produce greater ROI later. Even though it might take heavy investment to make Nestle brand visible in that market, they may turn to cash cows in the short run.
2) Cash Cows: Nestle's Maggi Noddles
With a market share of 80-85 %, Maggi Noddles holds a very strong hold in the market and have high customer loyalty. This product requires very less investment to maintain its market share and fight off any competition.
3) Question Marks: Milk products and Nutrition
Nestle Everyday, Nestlé Slim, and Nestlé Milk Maid are some of the milk and milk-based products from the house of Nestlé. Being in the phase of development, this domain needs a higher investment. And there is a high-risk decision to invest in them too. 
4) Dogs: Nestle's Milo
Nestle's Milo was launched as chocolate and malt powder for milk and water; however, the product failed to create any significant impact on the business.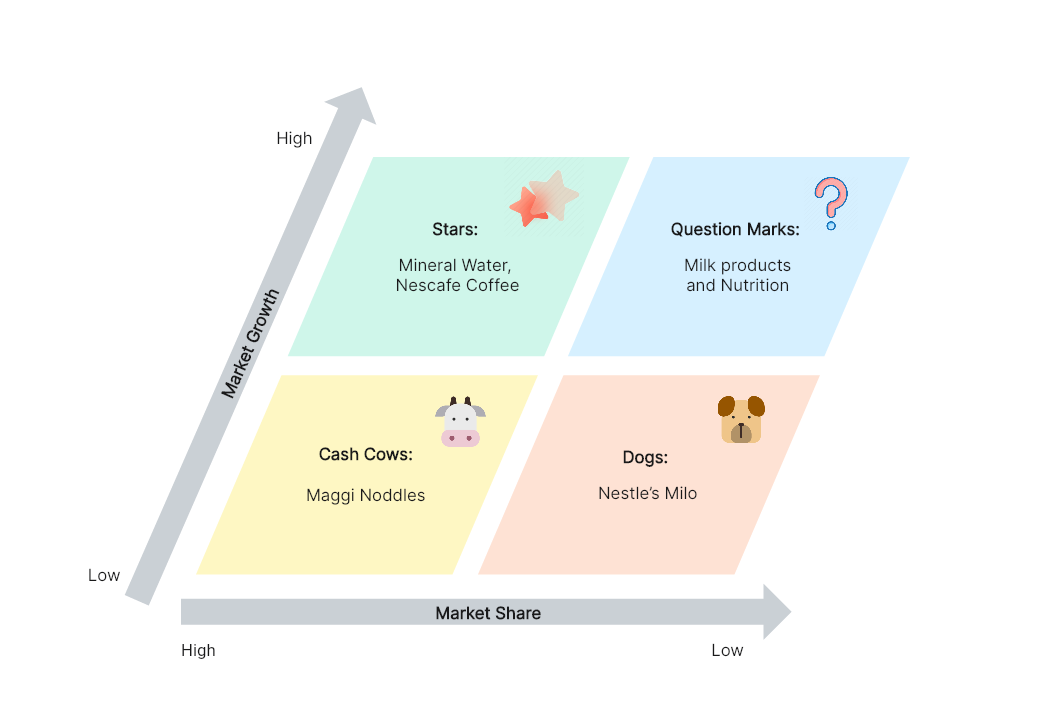 References: https://heartofcodes.com/bcg-matrix-of-nestle/
https://www.superheuristics.com/bcg-matrix-of-nestle-detailed/
BCG Matrix for PepsiCo
1) Stars: Aquafina, Gatorade, and Powerade
Aquafina holds 15% of the bottled water market share and is second to Bisleri. The trend for carbonated drinks has decreased significantly as consumers move away from sugar-laden sodas. Gatorade is now the market leader in sports drinks, with 77% share of the market, up from 63% a year ago. Powerade has a 20% share of the market. With rising health trends and emerging markets, the brand is investing huge amounts of money into healthier foods and beverages, making a bigger dent in the soft drink category.
2) Cash Cows: Frito Lay
Frito-Lay has a dominant 72.4% market share in the chip segment, but its main competitors are Doritos with 7% and Tostitos with 8.7%. The product requires a little investment to maintain its market share, as its sales don't fluctuate significantly with new products.
3) Question Marks: Diet soda
Not many people associate the term "Diet soda" with PepsiCo. The company launched Diet Pepsi to take back a portion of the market share it had lost to Coca-Cola and recapture the consumers' attention. In its initial launch, Diet Pepsi captured just 5 percent of the market, but soon after, it began losing market share to Coca-Cola's diet version.
4) Dogs: Pepsi
The present and future trends suggest that Pepsi will shift from Star to the Dog quadrant. The segment share of Pepsi has dropped from 10.3% to 8.4% due to increasing demand for low-calorie and healthy beverages and snacks.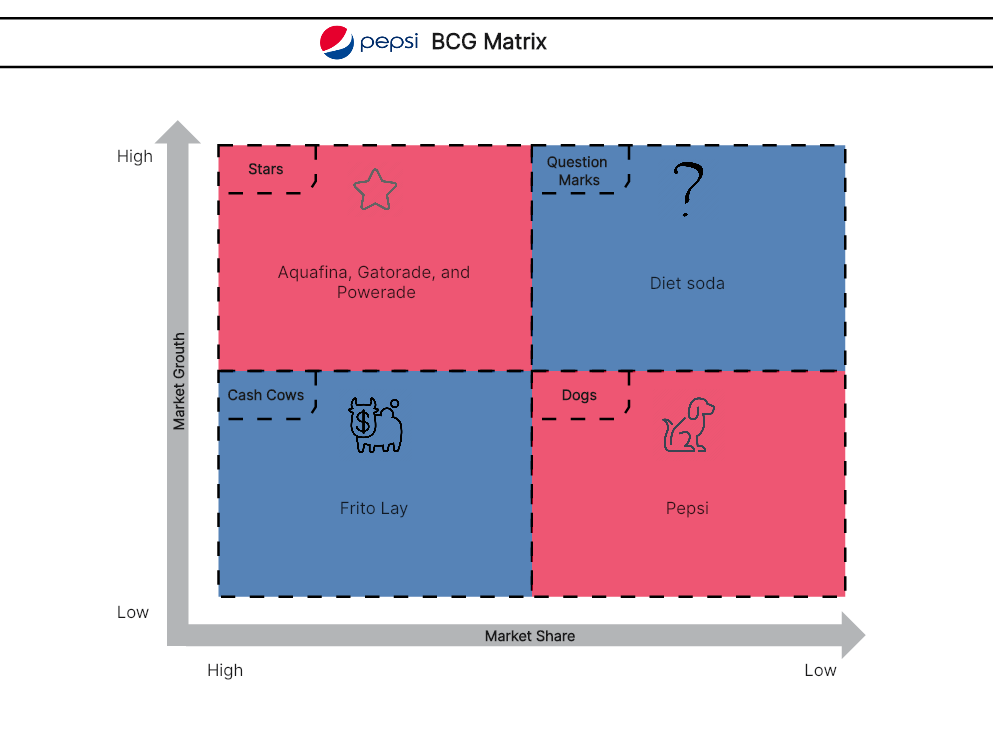 Reference: https://www.edrawmax.com/article/pepsi-bgc-matrix.html
BCG Matrix for Google
1) Stars: Google search engine
For Google, its star product would be its search engine, which is the company's flagship product and has a dominant market position in the search engine industry.
2) Cash Cows: Advertising business
For Google, its cash cow product would be its advertising business, which is a major source of revenue for the company. The advertising business generates high revenue for the company but does not require much investment to maintain its market position. 
3) Question Marks: Google Glass, Google Home, and Google Stadia 
The newer ventures such as Google Glass, Google Home, and Google Stadia may be counted as Google's question mark products. They are new products and services that require significant investment to improve their market position but have the potential to become stars or cash cows for the company in the future.
4) Dogs: Google Video Player, Google Glass, and Google Plus
The popularity of YouTube is part of the reason why Google video player failed to get income. Another example, Google Glass was a product whose "target problem" wasn't chalked out properly. Also, Google Plus was another example of such failure that couldn't keep up with the competition.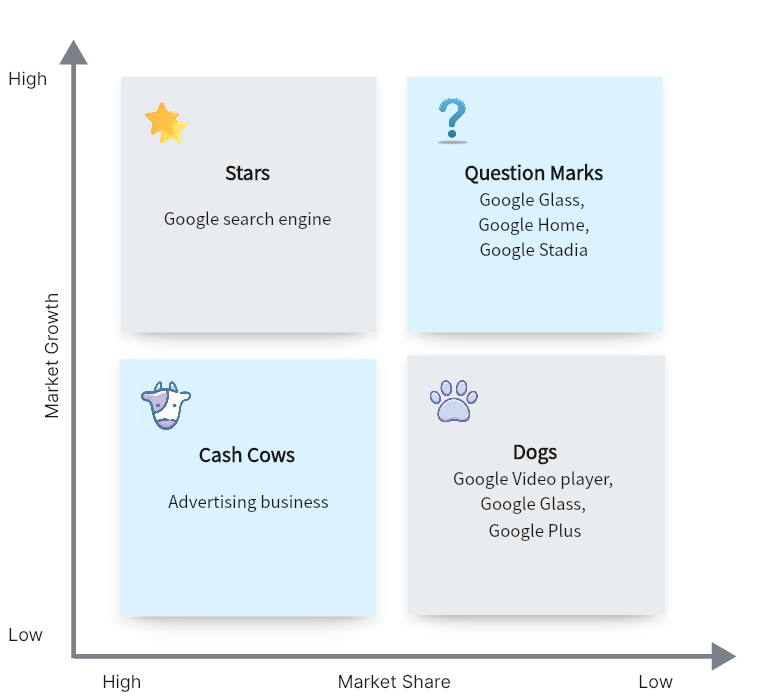 Reference: https://heartofcodes.com/bcg-matrix-of-google/
BCG Matrix for General Electric (GE)
1) Stars: Renewable Energy, Healthcare
This business unit encompasses GE's offerings in the renewable energy sector. With the increasing focus on clean energy and sustainability, this segment has experienced significant market growth and has established a strong market share. GE's healthcare division includes medical equipment and solutions. Likewise, this segment has seen substantial growth due to the growing demand for advanced healthcare technologies and equipment.
2) Cash Cows: Aviation, Power
GE's aviation business is known for its jet engines and related services. The aviation industry has a consistent demand for aircraft engines and maintenance services. The power division focuses on gas turbines and related products for power generation. This segment also has a strong market position and generates substantial cash flow for the company.
3) Question Marks: Digital Solutions, Transportation
GE's digital solutions and transportation division have the potential for growth, while at the same time, they also face challenges in the competitive market.
4) Dogs: Lighting (discontinued)
GE had a lighting division that was involved in manufacturing and selling lighting products. However, the company decided to exit this business, and it is no longer a part of GE's portfolio.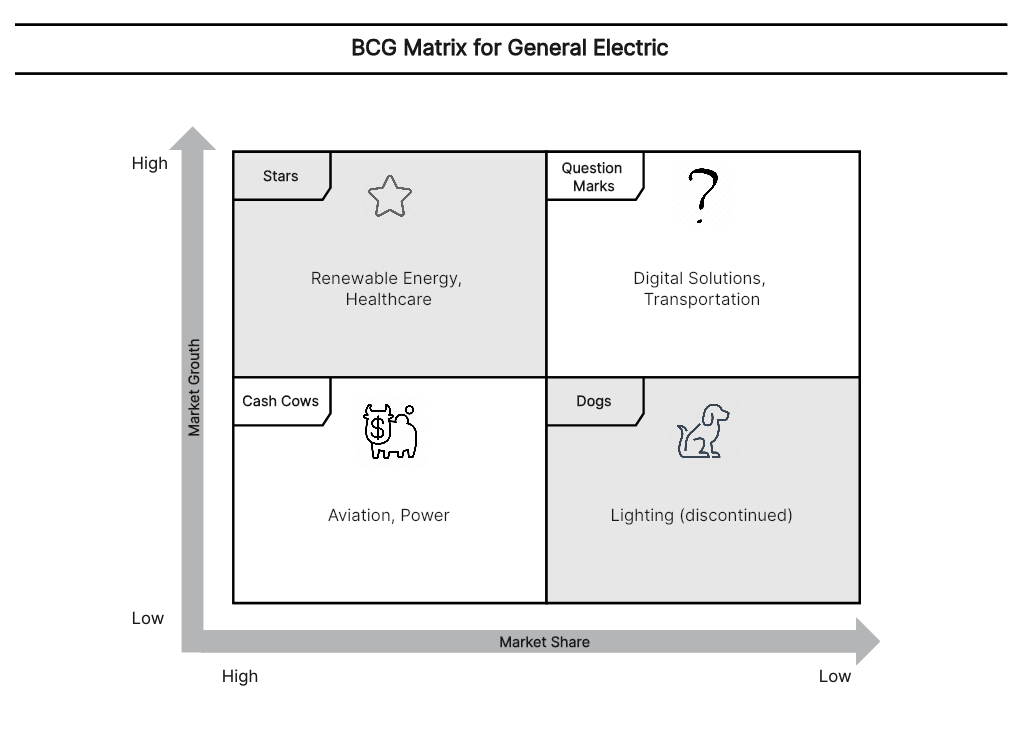 BCG Matrix for Tesla
1) Stars: electric vehicles, cleaner energy
Tesla is indeed a leader in the sustainability industry, and all of its products and services are focused on a healthier environment. The three series is the latest vehicle that has been released and has proven to be the most popular with consumers.
2) Cash Cows: Powerwall
This is the case for all other vehicle models, which require little investment. The Powerwall also falls into this category. This battery can be used in domestic settings.
3) Question Marks: miscellaneous accessories, energy storage, and solar power
The dilemmas faced by the company include miscellaneous accessories, energy storage, and solar power. Competition in these markets is very high, so it is difficult to differentiate yourself over the long term. Ecology remains a niche market in today's world that interests more and more players. These services require larger investments to be profitable.
4) Dogs: certain models
It is possible to highlight the manufacturing complication of certain models, which can largely compromise consumer orders, especially since the competition is becoming increasingly fierce.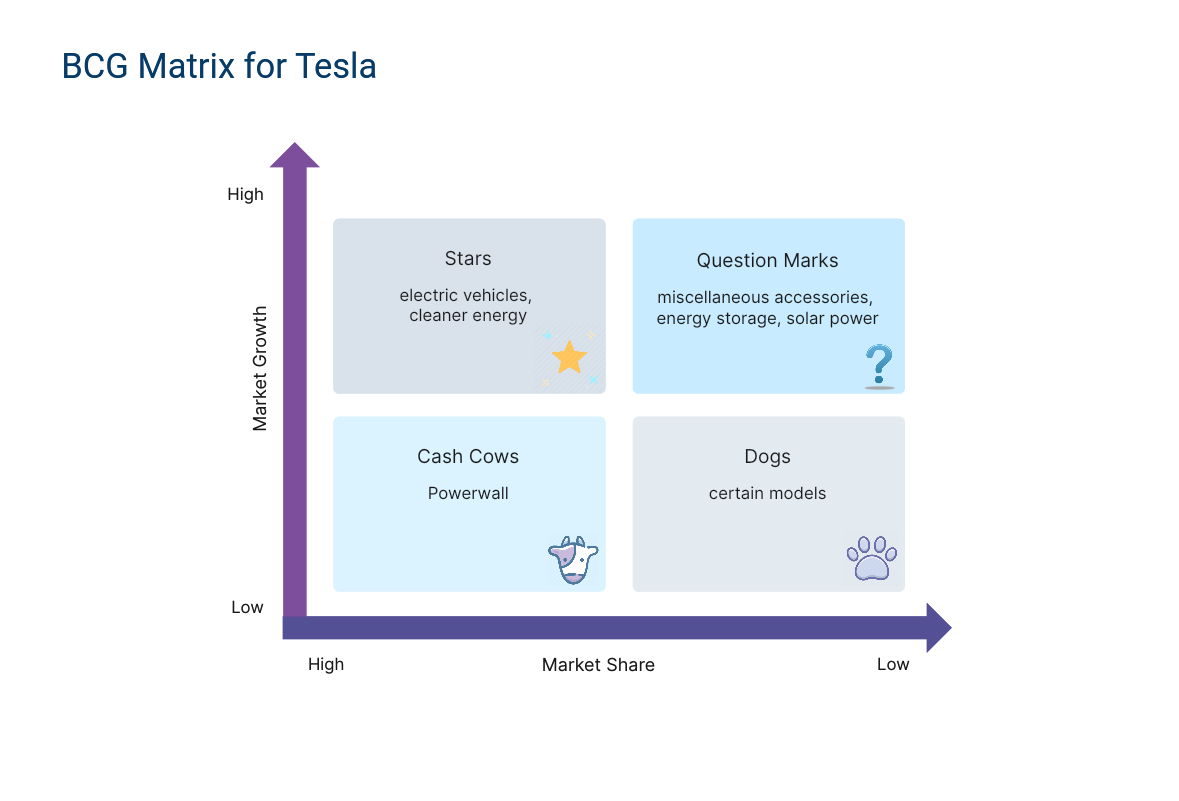 Reference: https://www.oboolo.com/blog/our-tips/tesla-bcg-matrix-02-03-2022.html
BCG Matrix for Adidas
1) Stars: Reebok, Adidas
For the Adidas group, Reebok and Adidas are the stars, as both have the stronger market share, despite of the tough competition they are facing in the fitness and sports industry, mainly its shoes. 
2) Cash Cows: Clothing and apparels
For Adidas, its clothing and apparels are the cash cow items, and it is necessary for Adidas to consider this point, and position itself well in customers' minds by targeting different geographic markets
3) Question Marks: Taylor Made, Rockport
Taylor Made and Rockport are the question marks for Adidas, as both have very low market shares but still possess the potential to grow more in the competitive market. Adidas needs to revise its strategies for turning potential into benefits for the strategic objective of the Group.
4) Dogs: Hats, sunglasses
The hats and sunglasses of Adidas are categorized in this quadrant because these are the least-selling items of the company, and many people are not interested in spending their money on them, as they have better options in this category.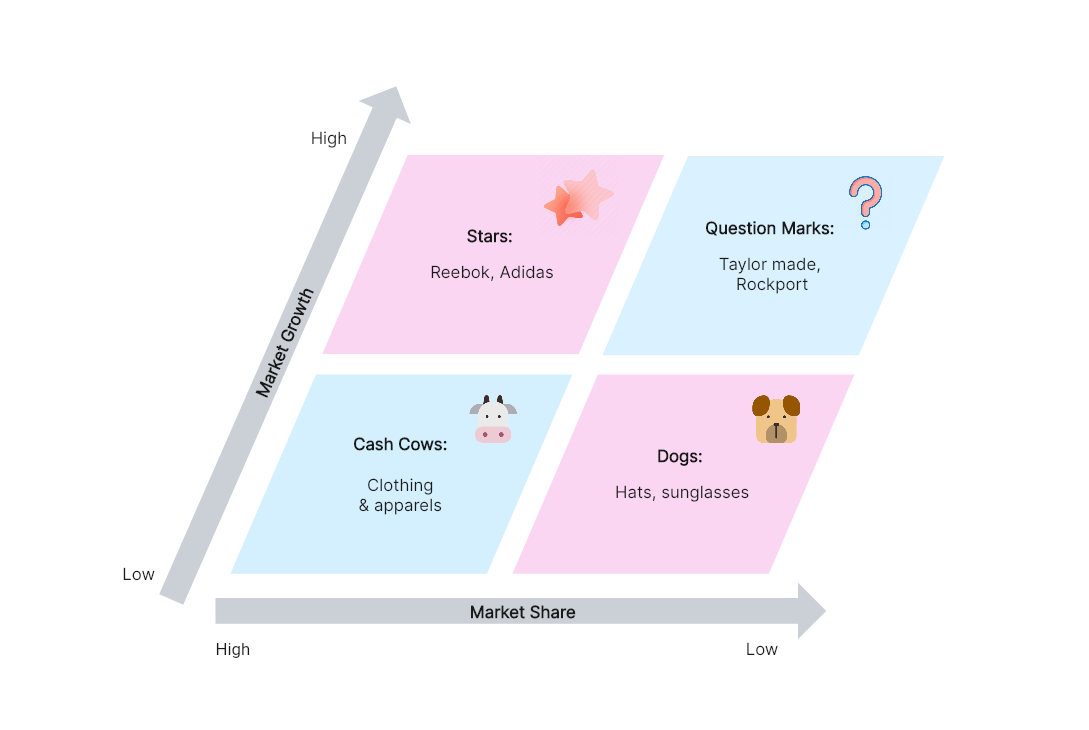 Reference: https://bcgmatrixanalysis.com/bcg-matrix-of-adidas/
BCG Matrix for IBM
1) Stars: IBM Cloud, IBM Watson
IBM's cloud computing services have shown significant market growth and have established a strong position in the cloud market. In addition, IBM's Watson AI platform has demonstrated rapid growth and has become a prominent player in the field of artificial intelligence.
2) Cash Cows: IBM Software, IBM Global Business Services
IBM offers various software solutions, such as enterprise software and analytics, which generate steady cash flow for the company. Besides, IBM's consulting services have a well-established market share and provide consistent revenue and profitability for the company.
3) Question Marks: IBM Quantum, IBM Blockchain
The company is actively involved in quantum computing research and development, representing a high-potential but uncertain market segment. Also, its blockchain technology has potential growth opportunities, although the market is still evolving, and its long-term potential is uncertain.
4) Dogs: IBM Systems
IBM's hardware division, including servers and mainframes, represents a low-growth, low-market-share product category in comparison to their other offerings.