Creativity happens when a group of people collaborates, which can be made possible with digital whiteboards. In this article, you'll know why people choose shared whiteboard online, how to select the right whiteboard tool and several amazing whiteboard tool. Keep reading.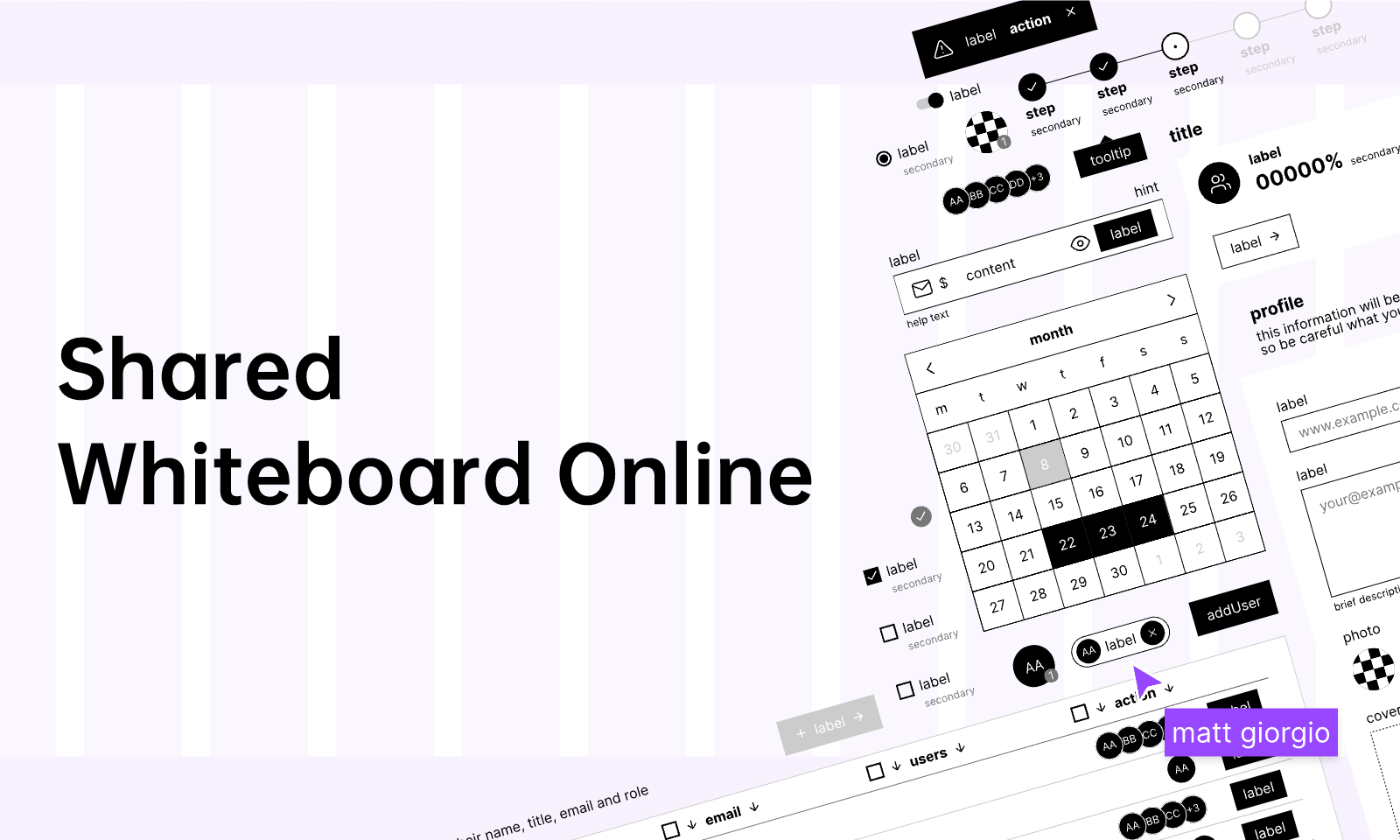 Why Shared Whiteboard Online
Communication and collaboration are two key factors for better team productivity in almost all aspects of life, business, and education. Using an online collaborative whiteboard with the team can increase the productivity of projects, meetings, and remote learning courses. Wondering why you need shared whiteboards online? Well, here are some reasons;
Enable Better Communication and Communication
The communication gap caused by the remote work has been closed thanks to shared whiteboards online because of the features built on web, guaranteeing more effective communication among participants. The best part of the online collaborative whiteboard is that communication takes place in real-time, allowing teams to move beyond screen-sharing and achieve a genuine level of productivity.
Boost Team Engagement
Real collaboration is facilitated when all online meeting participants are placed on a single board where they can post content and communicate with one another in real-time.
When participants participate actively in an online meeting and others can see what they are doing, the meeting becomes more engaging.
Foster Innovation
The virtual whiteboard is an excellent tool for conducting organized seminars on innovation. Working remotely enables you to have innovative practices to encourage creativity. More frequently than any other digital toolbox, sticky notes, cards, and pens are used. When a team wants to develop a creative solution, having an online whiteboard available is a terrific approach to keep individuals thinking creatively even when working from home.
Keep Information in One Place
Using a user-friendly design, a collaborative online whiteboard enables you to easily communicate key information, updates, and objectives with your team. It enables more effective cooperation and saves time while updating a project because all information is kept in one convenient place. Everything you require, from your most crucial information to original concepts only your team can access, is there to keep your team on track.
Force Remote Workshop
Hosting a successful remote workshop is impossible without an online whiteboard that offers you all the tools you need. Starting with electronic voting possibilities, colored digital pens, presenter- and facilitator features, sticky notes, and much more. Not to mention that everyone benefits when they can always observe what is happening. Who wouldn't also want to guarantee that everyone is showcasing their finest work?
Standard for a Qualified Online Shared Board
A good quality whiteboard can take your real-time collaboration experience to the next level. They offer many features other than the common ones, like drawing and note-taking. Some of the key features that are standard for a qualified online shared board are:
Access control - The leader must have full control of who enters the space.
Should be easy to set up.
Should work on any device.
Commenting tool is necessary.
Messaging features should be efficient.
Sticky notes is a preferable tool.
Audio and video calling feature.
Image recognition and smart shape tools.
Able to save multiple file formats.
Version history enabled.
Smooth to upload files and images.
A complete library of pre-made templates.
5 Top-Notch Shared Whiteboards Online
Boardmix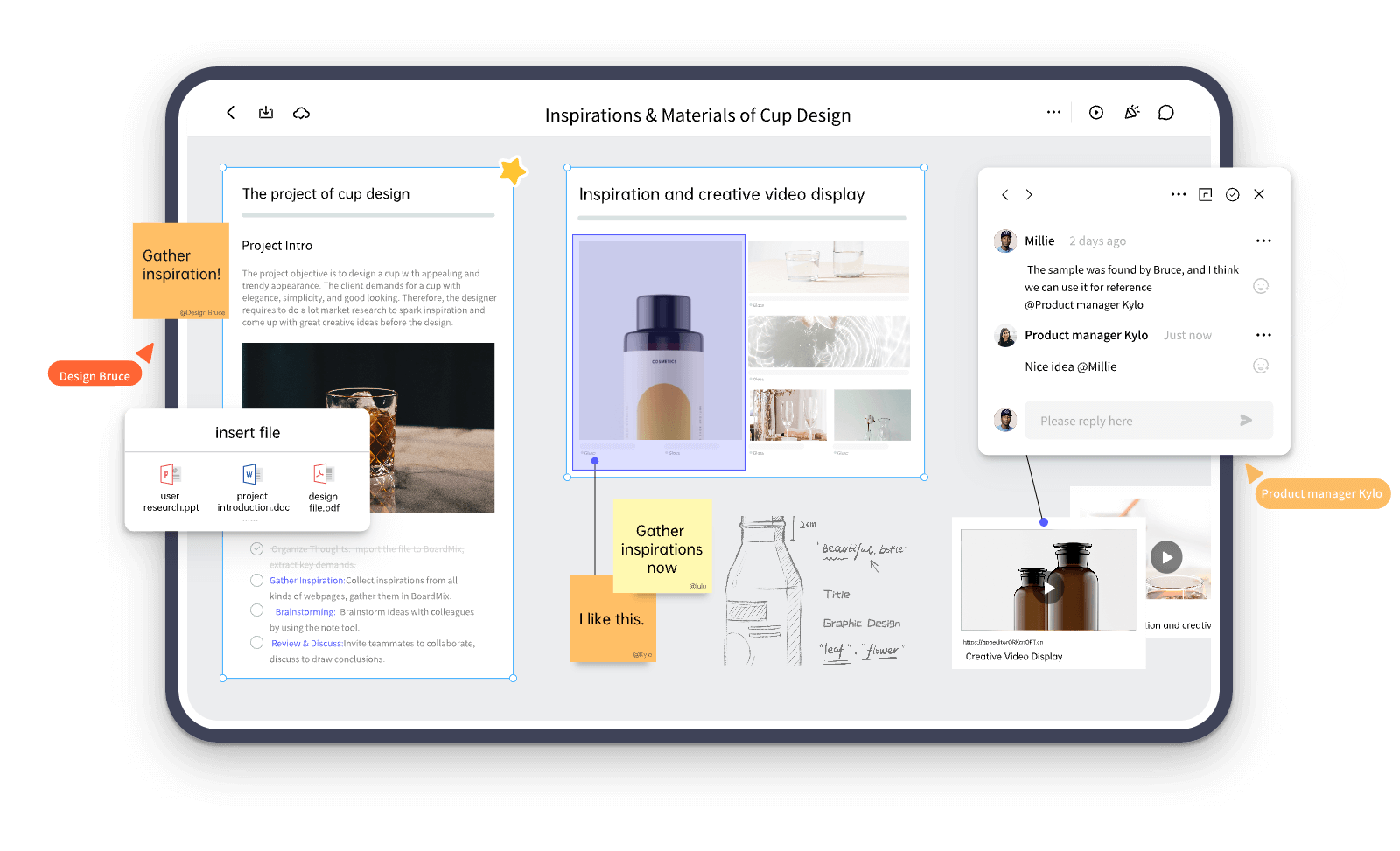 Boardmix is the leading digital collaborative whiteboard with the most versatile, powerful, and purpose-built tools for project management and communication. It is meant to get more work done in less time.
Boardmix incorporates a wide range of technologies to let teams get together and exchange ideas intuitively. It integrates the flowchart, mind map, venn diagram, SWTO analysis, timeline, weekly Plan, reverse brainstorming, and many other tools that teams need to present and collaborate on ideas in real time. It gives all the fundamental tools, such as pen, note, eraser, shape, frame, and similar others, to make it easier for users to organize ideas graphically, boost creativity and establish rapport through shared knowledge with clients or team members anywhere in the world.
Pricing
Starter - $0
Organization- Free trial
Enterprise - Custom
NoteBookCast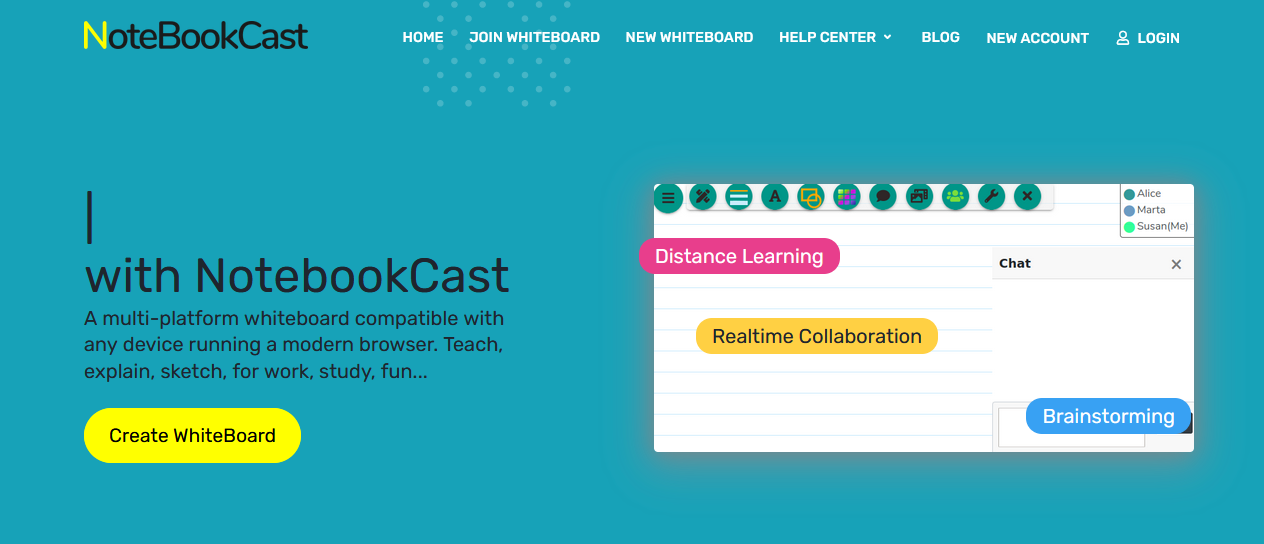 NoteBookCast is a free shared whiteboard online for working, teaching, and other collaborative tasks. Each whiteboard session may be started without an account and can accommodate up to 20 simultaneous users for large-scale note consumption. Furthermore, the program offers automated handwriting smoothing, virtual sticky note attachment, and limitless voice call services for two-user sessions.
It runs on an Internet browser, allowing numerous users to engage in real-time. Write and draw on the whiteboard with a pen-compatible device (certain types of PC, tablet, or mouse) (types of PC, tablet, or mouse). You can make templates for repeated usage, and from such templates, you can create as many whiteboards as needed.
Pricing: Free
Mural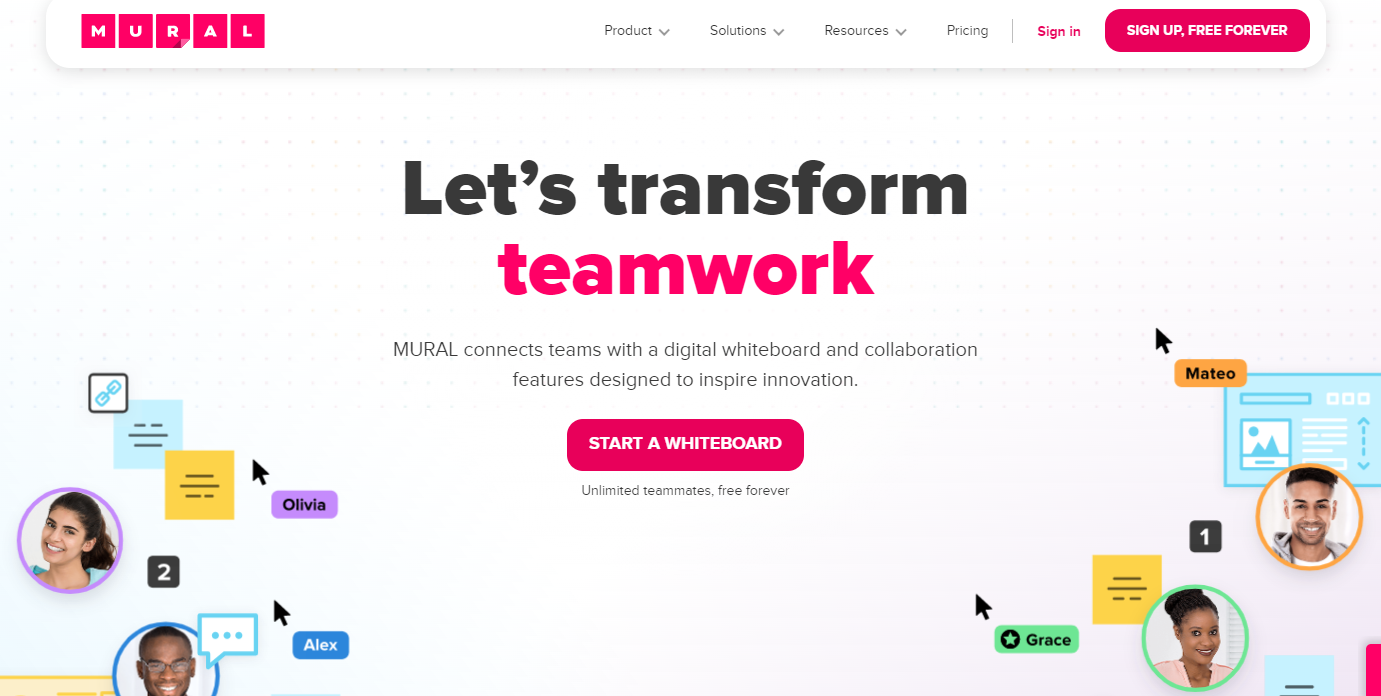 Mural is a revolutionary collaborative application that includes an infinite & resizable canvas possibility which enables you to choose the ideal canvas for your cooperation aims – flexibility without boundaries. You can Express your ideas visually or lead an interesting team-building activity with Noun Project, GIPHY, & Unsplash integrations. Users can submit ideas, action items, & more as a sticky note or text box — then change colors and cluster to uncover trends or solutions.
Mural is particularly strong as a collaboration tool, letting you create many "rooms" for your whiteboards, each with varying rights to limit access. You might have one space for your design team, one for your marketing team, and so on. You might also design rooms that correspond to certain projects.
Pricing: Free for three murals with unlimited members, from $12/user/month for the Team+ plan.
WebWhiteboard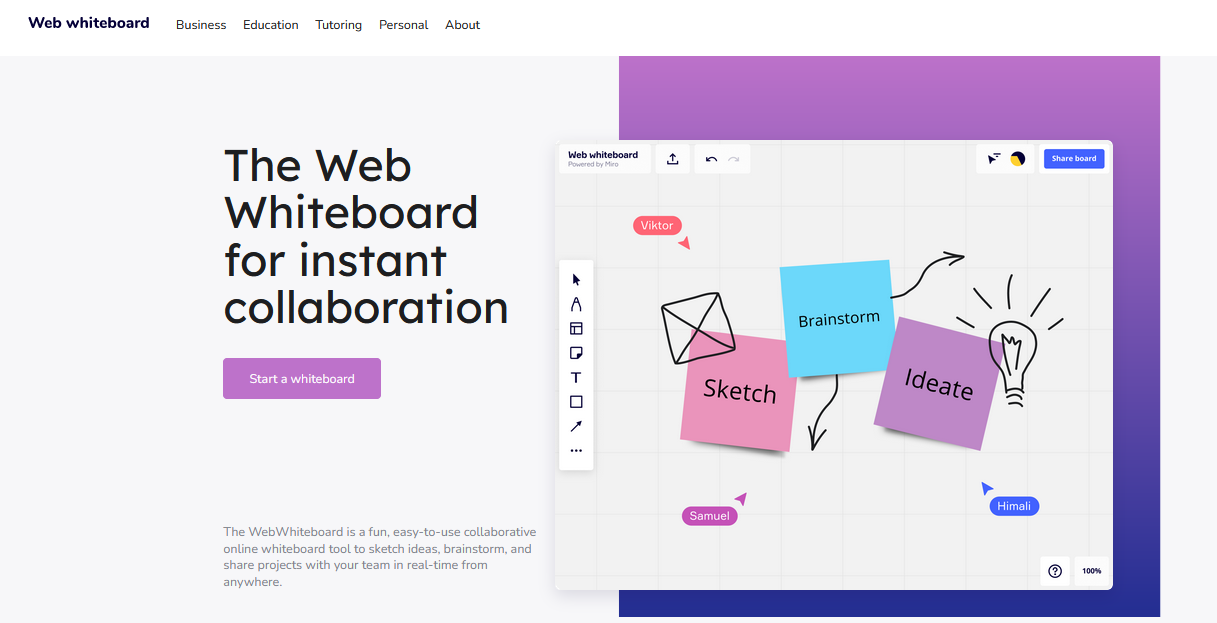 Webwhiteboard is an easy-to-use shared whiteboard online for drawing or performing quick brainstorms with no sign-up necessary. With the Webwhiteboard, you may invite your team for rapid collaboration, utilize it with your students, or for personal projects and everyday organization.
You will gain quick access to all of the basic tools like sticky notes and pen tools, and the boards you create will survive for 24 hours.
Pricing: Free
Whiteboard.fi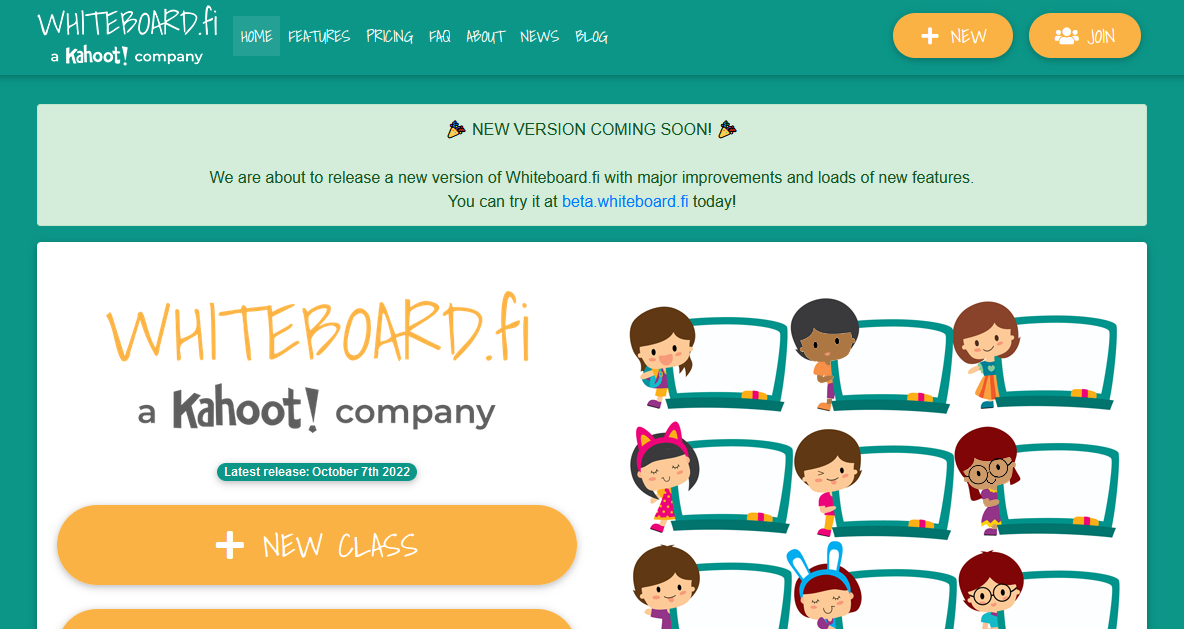 With live feedback and a quick overview of your students, Whiteboard.fi is an online shared board for your classroom. Engage the entire class, ask everyone to participate, and allow everyone to respond, even the reserved or reluctant students!
There are no downloads or installations required, and it works on all devices. No personal information is shared with third parties. Each person will have their own personal digital whiteboard, which they may use to draw, write, annotate, and more.
Tools like Insert photos, backdrops, arrows, shapes, and words are available on Whiteboard.fi. Additionally, it contains a Math Editor that has a visual interface and a mathematical keyboard that allows you to insert mathematical symbols, expressions, and equations.
Free - $0
Basic - $4.99 per month
Premium - $12.99 per month