In this highly competitive and digitalized era, understanding the customers' needs and providing them with the best experience is the key to increasing customer retention and growing the business. In fact, customers today prefer those brands that understand them and give them premium value for their time and money. Therefore, it is vital to understand the customer journey in order to offer the best customer experience. So, this article focuses on what is customer journey all about and discusses all the different customer journey stages. In addition, the article also highlights some of the recommended strategies for every stage of the customer journey. So, let's jump right to it!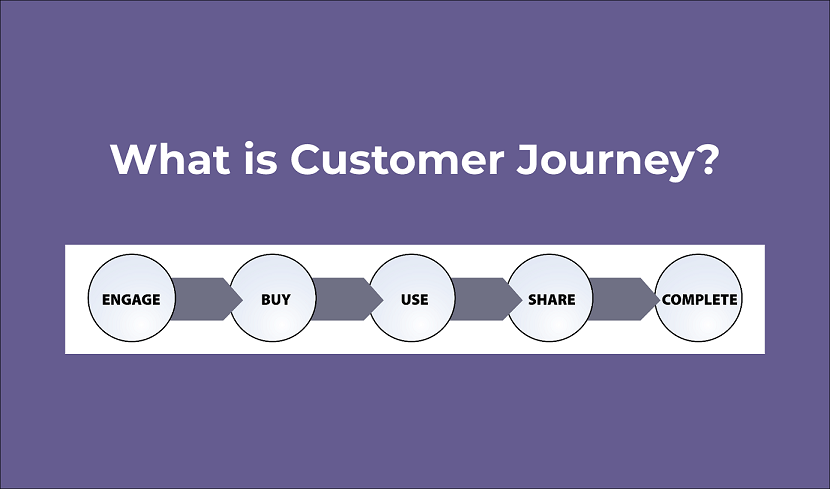 Part 1. What is Customer Journey for?
In simple words, the customer journey implies the path of interactions a customer has with the brand while buying a product/service. It involves all the stages a customer goes through, from initial research to post-purchase services. These stages help the customer to find, explore, and purchase products/services.
During all the customer journey stages, the customer faces different touchpoints and hurdles. So, there are two main goals of the customer journey. The first goal is to analyze how your brand is currently interacting with the customer, and the second is to find areas where you can improve the customer experience.
Part 2. What Are the Five Customer Journey Stages/Phases?
In total, there are five customer journey stages, i.e., Awareness, Consideration, Conversion, Retention, and Advocacy. In the past, the first three stages mostly complete the customer journey, but digital advancements have now made Retention and Advocacy also vital stages in the customer journey. So, let's now explore what these five customer journey stages are all about:
1. Awareness
This stage comes into action when customers need something and start exploring the available solutions. During this stage, customers get to know about your brand through any channel, like social media, word-of-mouth, or other advertisements. This is the stage where you must present your brand as the "solution" customers need.
2. Consideration
This stage is another pre-sale stage where customers have shortlisted a few brands, including yours. Now they are comparing your products with others, including key features, price differences, benefits, reviews, and similar other attributes. Brand awareness is vital in this stage, as customers are automatically attracted to brands they are familiar with.
3. Purchase
This stage is where customers make a decisive decision and make a purchase. In this stage, you have to provide customers acknowledgment and other order confirmation details they are expecting to receive. Basically, this stage is where you make customers feel that they have made the right decision by providing value for their time and money.
4. Retention
This stage triggers when the customer has used your products/services, and now it's time to make them keep coming back. This stage involves providing the best customer experience, asking them to provide feedback, and addressing the hurdles they might face.
5. Advocacy
This stage is every brand's dream in which the customers become free marketers. This stage triggers when the customers are happy with your products/services and now willing to promote your brand to their friends and family. In this stage, you encourage your loyal customers to spread the word about your brand to others.

Part 3. Strategies for Each Customer Journey Stage
Now that we know the five main customer journey stages, it's time to focus on some of the best strategies to adopt in each stage to provide a state-of-the-art customer journey experience. So, some of the must-know strategies for each customer journey stage are as follows:
1. Awareness – Present Yourself as the Right Solution Provider
Customers have many doubts at this stage and need an ideal solution provider that can serve as the one-stop solution for them. Moreover, this stage is also the first interaction of your brand with the customer. Therefore, you should:
Make sure that customers get to know about your brand.
Present your brand as the solution customers are looking for.
Provide them with all the values and experiences they will get by using your products/services via how-to content, videos, etc.
Make sure all the information about your brand is easy to read and understandable.
In short, you must set a solid first impression of your brand in the awareness state so that customers can consider your brand in the next stage.
2. Consideration – Outclass other Competitors with Premium Products/Services
The consideration stage is where you have to outperform your competitors in every main comparison element, whether its product features, benefits, value to money, etc. Customers will make different comparisons in this stage, so you must present your brand clearly and address the main customer pain points. Therefore, you should:
Present the benefits of your products/services clearly.
Make customers realize the value of money they can get with your brand compared to others.
Have a web presence because customers most likely read reviews before making a final decision to purchase.
Provide them with all the necessary information through documents, demo videos, FAQs, use cases, etc.
In short, you have to present your brand as the best option in this stage.
3. Purchase – Make the Purchase and Post-Sale Experience Worth Every Penny
In the purchase stage, the customers are either ready to finalize a decision or ready to buy your product/service. In any case, the sentiments of customers can still change very quickly if you fail to offer them the support they need here. You have to provide the right resources and a streamlined approach to make them complete the purchase. Therefore, you should:
Provide them with a free trial or live demo. If not possible, then authentic reviews or social proofs should be presented.
Provide answers to the most common questions they would ask during purchasing.
Provide free consultation if possible.
Provide a user-friendly approach to placing the order or completing the transaction.
In short, you should make the mindset of customers that they have made the right decision and should complete the purchase now.
4. Retention – Show Customers You Value their Engagement with the Brand
In this stage, the main player is the quality of your products/services. If customers are fulfilling all their needs with your products/services without any complications, then they must already be willing to stay with you for the long run. However, you should also input some extra efforts to ensure customer retention. Therefore, you should:
Gather feedback from customers about their experience with the products/services.
Run surveys with some discount offers so that more customers participate in surveys.
Request and display customers' testimonials.
Offer loyal customers some premium/bonus offerings.
In short, make the customers feel special, so they always want to stick with your brand.
5. Advocacy – Make Customers Talk about Your Brand
If customers have reached this stage in their journey, then it means you have won their hearts with your products/services. Now all you have to do is encourage them to promote your brand to others. Therefore, you should:
Listen to your customers and show them respect.
Set up an easy and rewarding referral program.
Address issues of customers rightly and even call them to make them feel special.
In short, this stage is all about the great experience that automatically turns into free word-of-mouth marketing.
Part 4. Bonus: Plan and Structure Customer Journey with the Right Drawing Tool
Drawing always helps to visualize the scenario better and address the shortcomings rightly. When it comes to the customer journey, you can create a journey map from the customer's perspective and then see how your brand address all those stages. This is where Boardmix comes into action.
Boardmix is a collaborative online whiteboard that offers a simple drag-and-drop interface to draw the customer journey easily without installing any software. Boardmix provides built-in templates that you can use to create the customer journey instantly and then share it with others for real-time collaboration.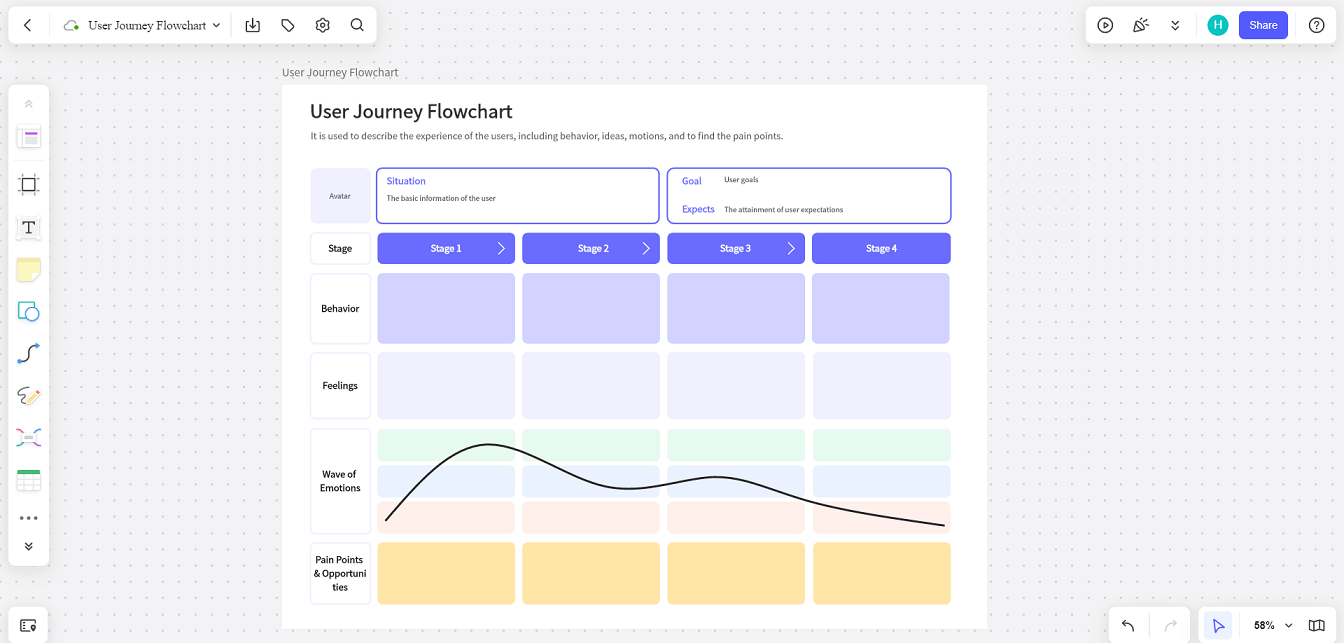 Boardmix also offers other top-notch features that make the whole drawing experience super-productive, such as notes, version control, multiple format export, demonstration, and many more. In addition, it can serve other business drawing purposes due to many integrated tools, such as Mind Map, Flowchart, SWTO Analysis, Timeline, and many more. In short, it is an all-in-one web-based whiteboard that helps businesses like yours create intuitive diagrams easily and collaboratively.
Sign Up to Boardmix
Conclusion
The digital era has empowered customers to do proper research before making a purchase. Moreover, minor issues in products/services let customers to shift to other alternatives due to high competition. So, besides developing premium-quality products/services, you should also focus on the customer journey. Above we have discussed the five main customer journey stages and some key strategies for each stage. So, follow the above tips, draw your customer journey on Boardmix, and increase customer retention and revenue growth.