A flowchart is an excellent tool to visualize processes and is used in a wide range of industries, such as engineering, computer programming, etc. For example, a flowchart helps in simplifying project planning by providing a visual representation of a project cycle. Moreover, it helps teams to clarify, coordinate, communicate, and analyze the process flow to have a better understanding and even optimize the process. There are multiple ways to create a flowchart and Google Docs is one of them. So, if you are looking for creating a Google flowchart in Google Docs, then this article is for you. Here we present a step-by-step guide on how to create a flowchart in Google Docs through multiple methods.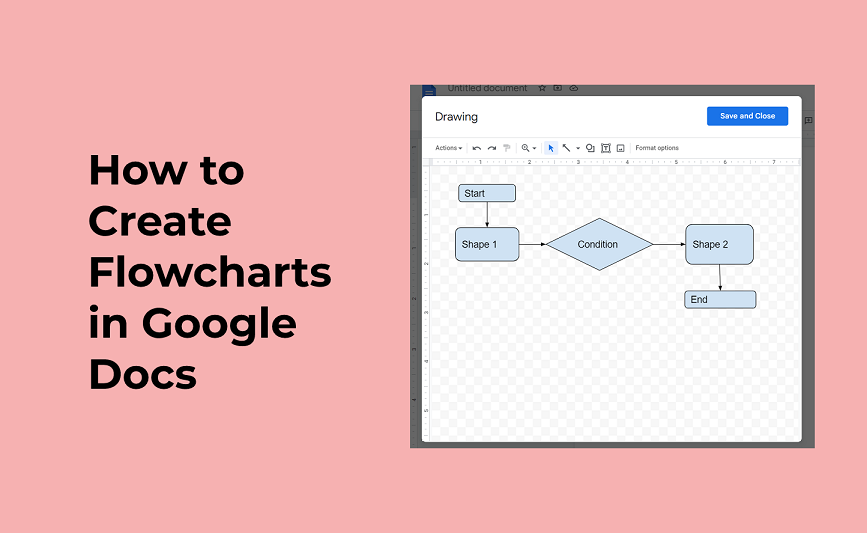 Part 1. How to Create a Flowchart in Google Docs
Google Docs provides users with a dedicated drawing window from where they can create flowcharts easily. Follow the below steps to learn how to create a Google flowchart in Google Docs:
Step 1. Go to https://docs.google.com/document/ and click "Blank" to start a new document.

Step 2. Click "Insert" from the above menu bar and then click Drawing > + New.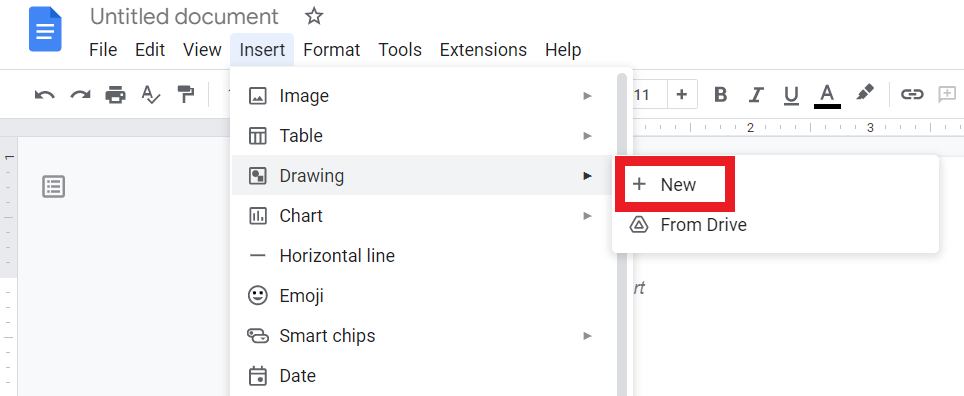 Step 3. In the pop-up drawing window, click the "Shapes" icon and select the shape.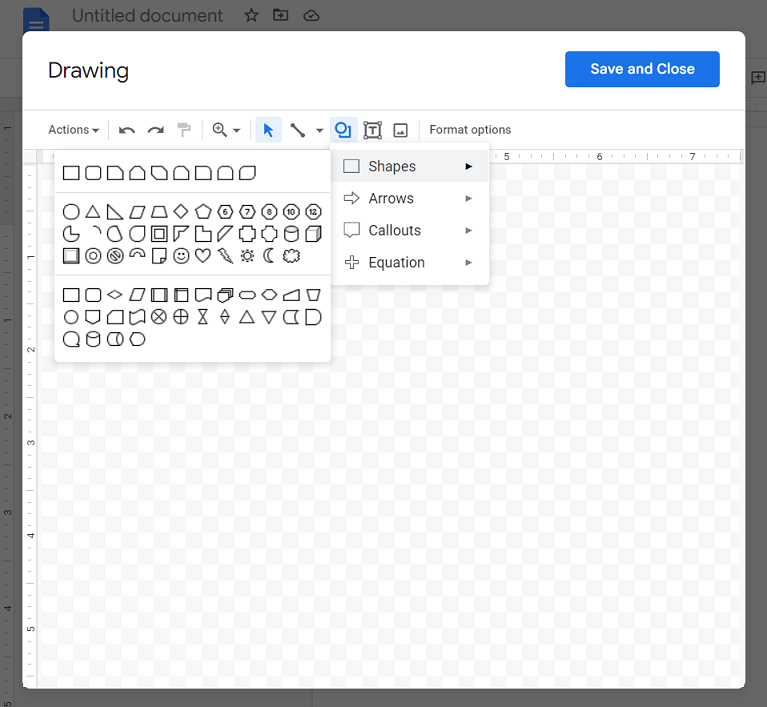 Step 4. Afterward, drag the mouse on the drawing screen to paste that shape. Similarly, pick all the shapes you want to add, such as rectangles, diamonds, etc.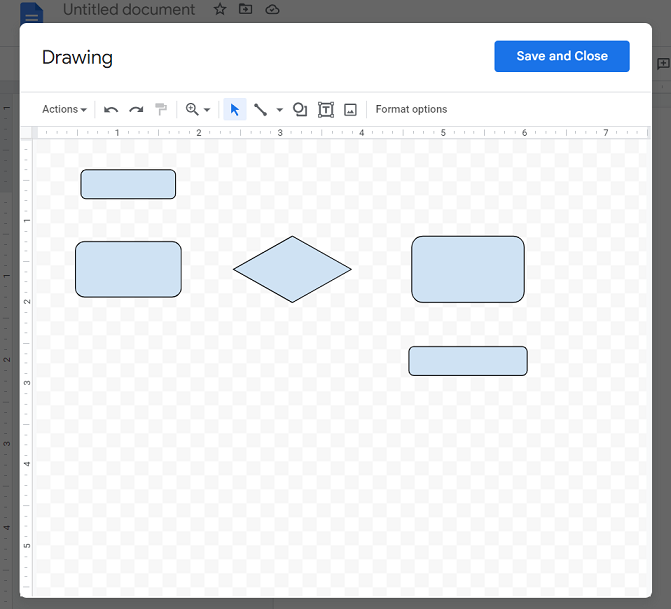 Step 5. Name the shapes by double-clicking them and then entering the text.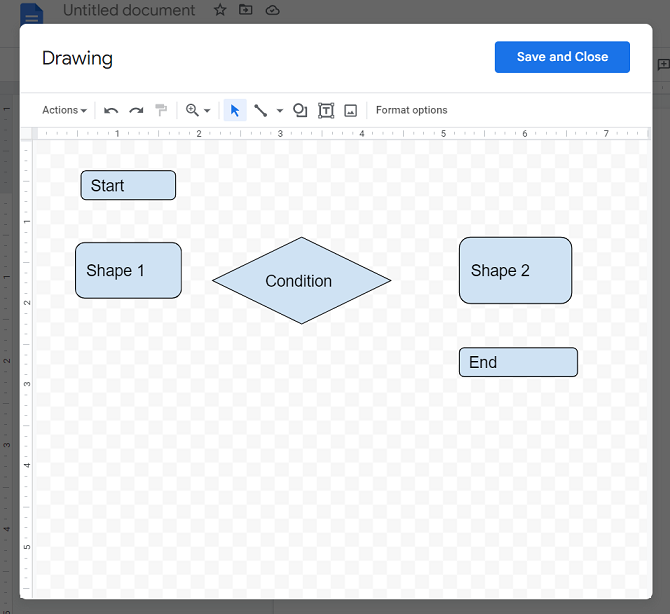 Step 6. Click the drop-down menu next to the "Line" icon and select "Arrow".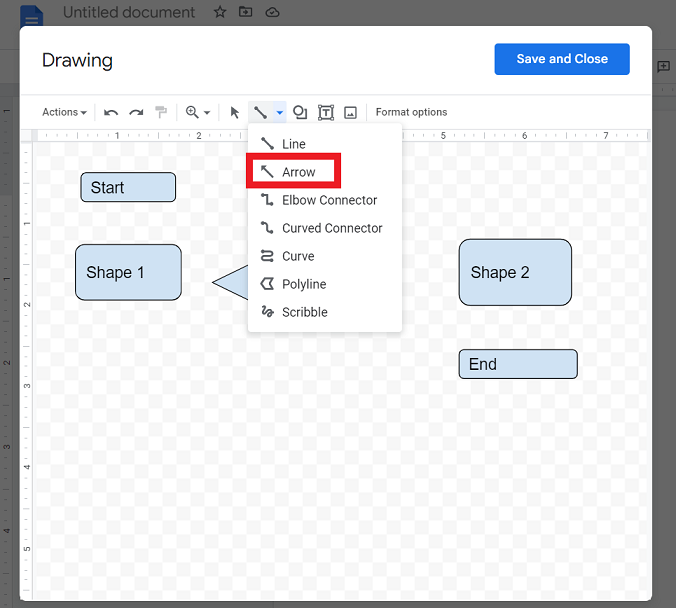 Step 7. Now press and drag the mouse between two shapes to connect them. Continue doing so until all shapes are connected.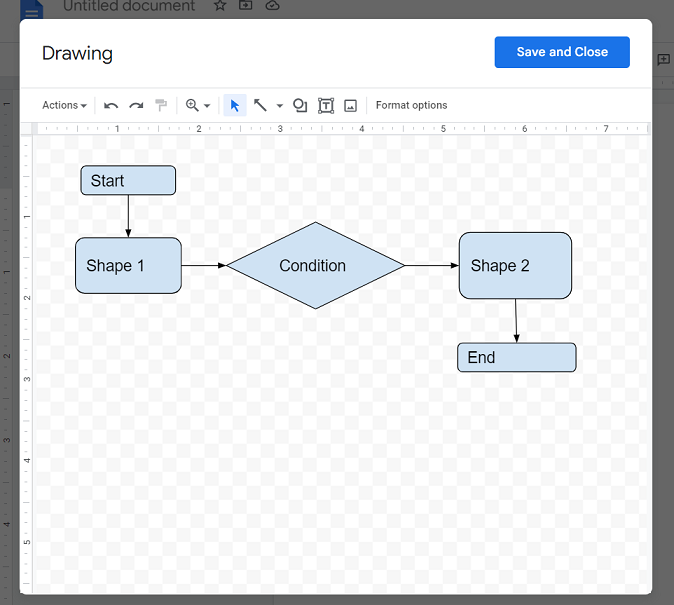 Step 8. Once the flowchart is completed, click the "Save and close" button from the top. It will take you to the main document screen that now has your flowchart. Afterward, you can download the file or even share it with others.
That's it! This way, you can easily create a flowchart in Google Docs.
Part 2. Create & Annotate Flowcharts and Collaborate with Teams Easily
Google Docs provides an easy way to create Google flowcharts but it fails to offer templates that can speed up creating flowcharts. Moreover, Google Docs is not ideally designed to create flowcharts. However, what if we tell you that there is an even better way to create and annotate flowcharts powered by real-time collaboration? Yes, that's exactly what Boardmix has to offer.
Boardmix is a collaborative flowcharting and diagramming online tool. It offers customizable templates that make it super-easy and instant to create flowcharts. The simple drag-and-drop interface makes it easy to drag shapes and flow lines, add notes, change colors, etc. Moreover, it offers real-time collaboration, making it easy for multiple team members to collaborate on the same flowchart at the same time.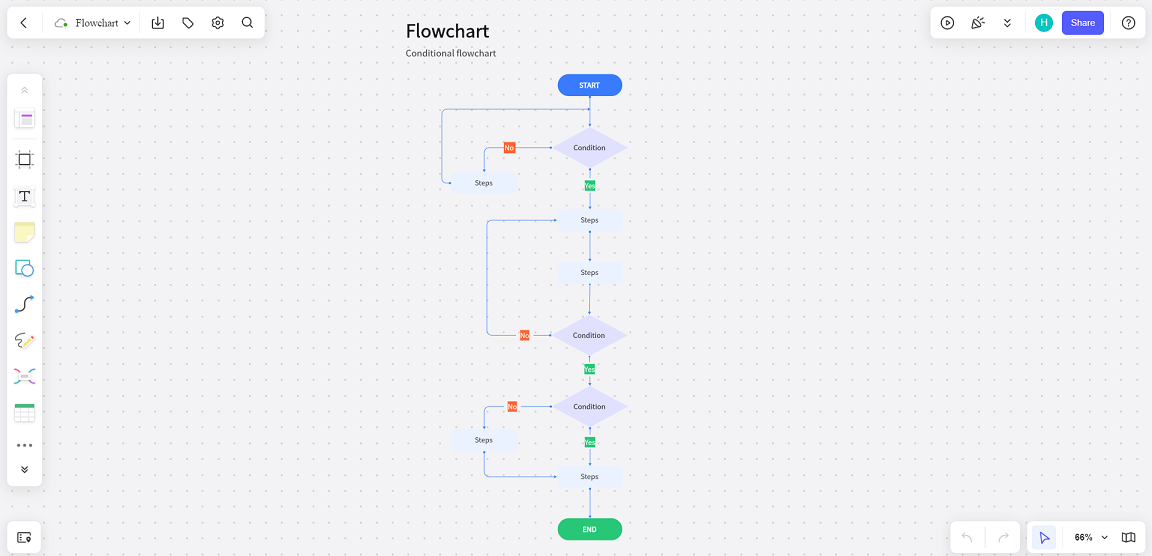 Below are the key reasons why Boardmix is a better option for creating flowcharts:
It is a dedicated online flowchart diagramming tool.
It provides multiple customizable flowchart templates.
It is free for individuals and small teams and provides unlimited file support.
It allows exporting diagrams as PDF, PNG, and JPG files.
It allows real-time collaboration with the involvement of unlimited collaborators.
It provides version control for easy rollback to previous versions.
It can export flowcharts to the PC in multiple formats, such as PDF, JPG, PNH, SVG, and BDX.
It also offers other diagramming tools, such as Mind Map, SWTO Analysis, Timeline, Organizational Chart, Brainwriting, and many more.
It is an online tool, so there are no operating system restrictions and no need for downloading.
Free to Try Boardmix
In short, whether you are running a small business or a part of a large enterprise, Boardmix is a one-stop platform for you and your team to create high-graphical flowcharts without hassles.
Part 3. Free Flowchart Examples
As mentioned above, Boardmix is free for individuals and small teams. So, below is a glimpse of the 3 high-graphical flowchart diagrams created with Boardmix for free:
1. Lamp Repair Flowchart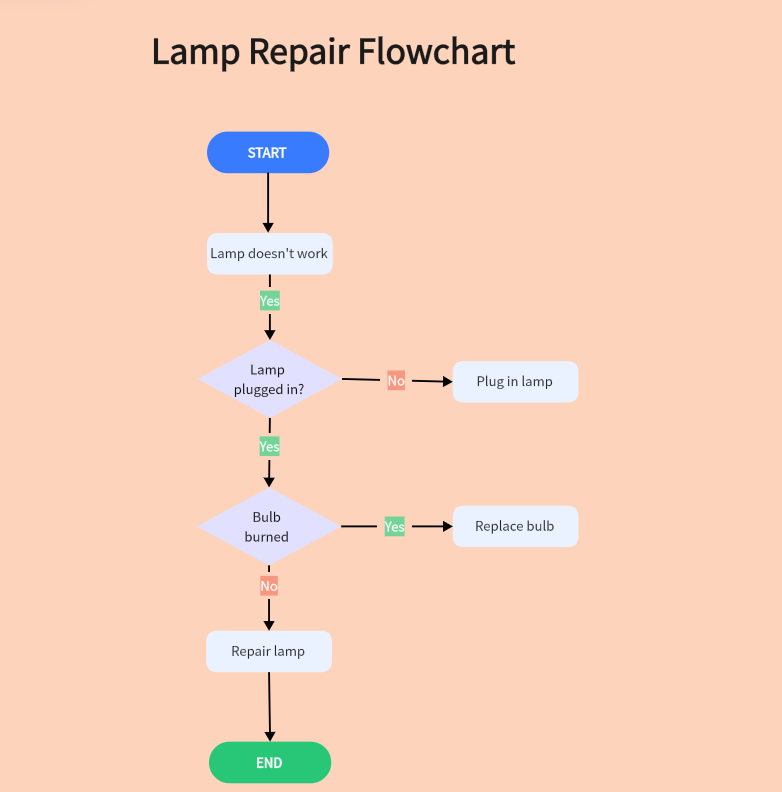 2. E-commerce Shopping Process Flowchart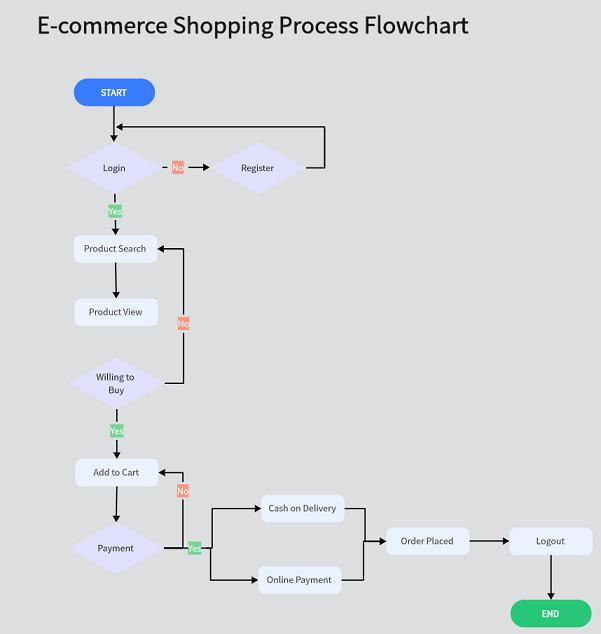 3. Patient Checkup Flowchart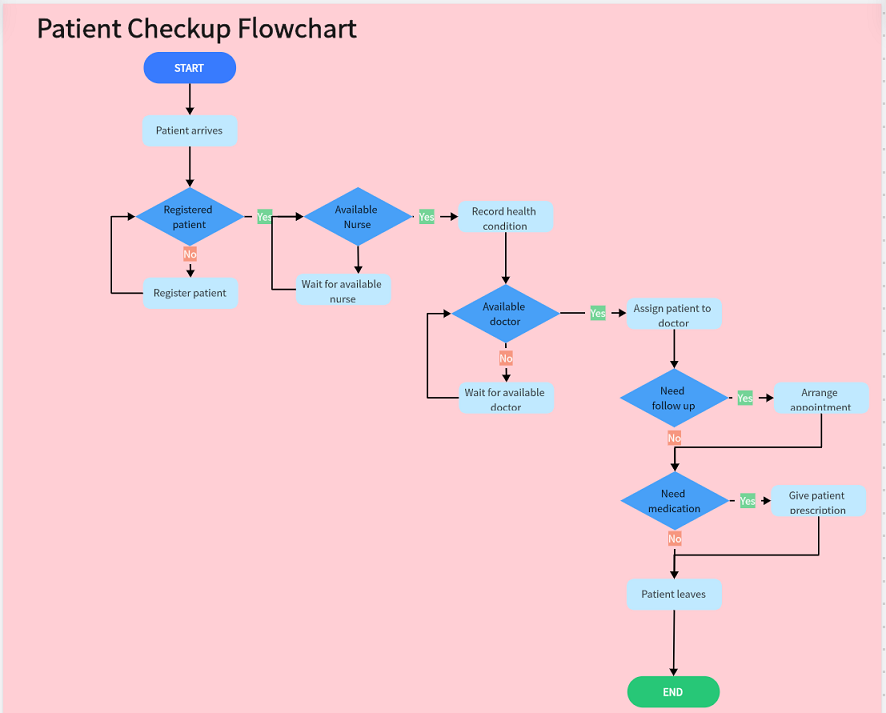 Part 4. FAQs about Google Flowchart
Q1. Can I make a flowchart in Google Sheets? How?
Yes, you can make a flowchart in Google Sheets. You can follow the steps in part 1 to create a flowchart in Google Sheets.
Q2. Is Lucidchart owned by Google?
No, Lucidchart is not owned by Google. Karl Sun is a co-founder and CEO of Lucidchart. However, Lucidchart is fully integrated with Google workspace.
Q3. What program is best for creating flowcharts?
Boardmix is the best tool to create flowcharts. It is a web-based collaborative whiteboard that provides many customizable templates for the speedy creation of flowcharts. Moreover, its intuitive drag-and-drop support and real-time collaboration result in the creation of high-quality flowcharts.
Conclusion
Flowcharts are the best way to visualize the bigger picture of the process and even organize tasks during project planning and management. Google Docs provides one handy way to create Google flowchart. The steps discussed above can easily let you create a flowchart. However, if you are looking for a more dedicated solution that offers an instant way of creating flowcharts using built-in customizable templates and other rich features, then Boardmix is the best platform for you. So, try out Boardmix by creating a free account and create your first flowchart right away.