Mind mapping is a common technique for brainstorming or capturing information around a central topic. Although the term only dates to the 1970s, when it was popularized by a British author, the use of radial or branching networks of notes dates back centuries. Many believe it works better than linear notes since it reflects the way people think, with lots of ideas branching off each other.
OneNote is a slightly more modern innovation. Originally part of Microsoft's software suite, it was made free to all users, on all platforms, in 2014. It has since become a popular tool for anyone who wants a single digital repository for notes, diagrams, and almost anything. And, predictably, people have developed ways to mind map for OneNote.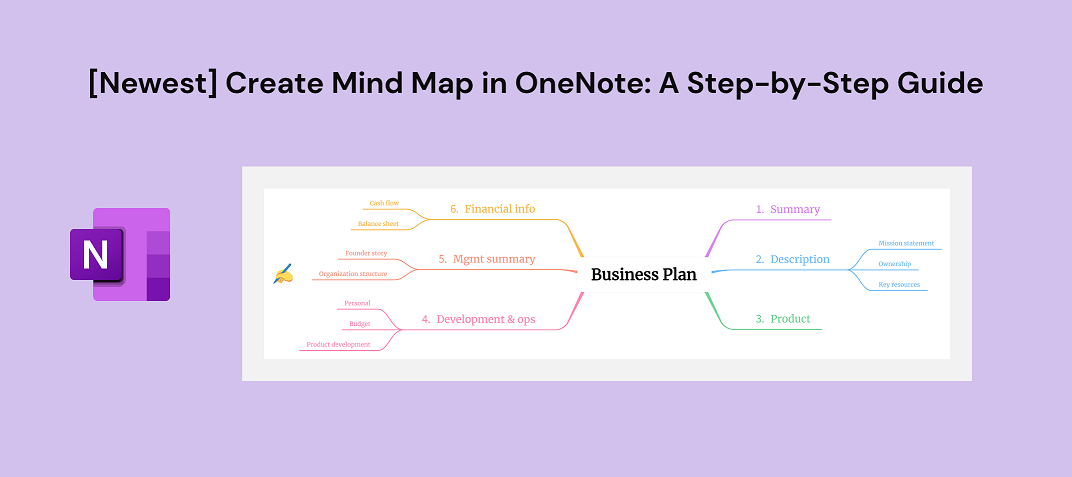 Part 1. OneNote Mind Map: A Quick Overview
OneNote is a versatile digital note-taking app. Whether it's text, sketches, images, links, or even whole documents from elsewhere, it makes it easy for people to capture information in a single digital location. However, while people can use it for almost everything, its design origins — a humble notebook — remain, meaning it tends to work best with linear, text-based, notes and illustrations.
OneNote does not have any built-in support for mind maps, although some people have tried to create their own OneNote mind map templates. It is possible to create a mind map for OneNote notebooks, it means using tools designed for other purposes to create it.
Part 2. How to Create a Mind Map with OneNote
Although there are different approaches to mind-mapping, the basic approach is that ideas or concepts all branch from a central topic, and further ideas branch from those. As a mind map builds up, it captures not just ideas and knowledge, but also provides a visual representation, with the distance from the central idea reflecting anything from importance to the level of detail.
Without built-in support, creating a mind map for OneNote requires using the basic tools to emulate the mind map structure.
Step 1. Use the drawing tool to draw a rectangle and to create your central concept. OneNote has a range of text and drawing tools that you can use to create the style you want. You can simply type, or write, your central idea, then use a shape to contain it.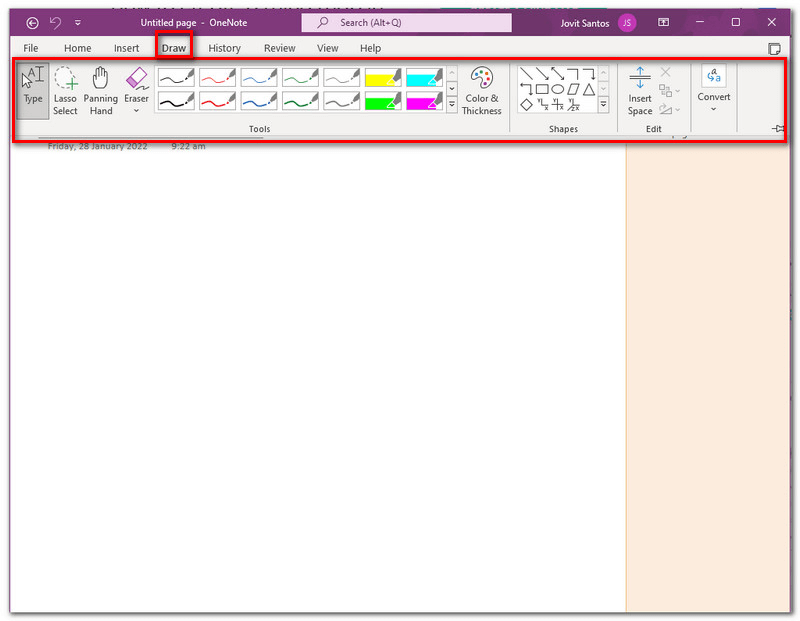 Step 2. Add in the secondary concepts. You might want to change font size or pen style to emphasize that these are lesser concepts. You can move these around to ensure your map is balanced, then use the drawing tools to connect these to your central topic.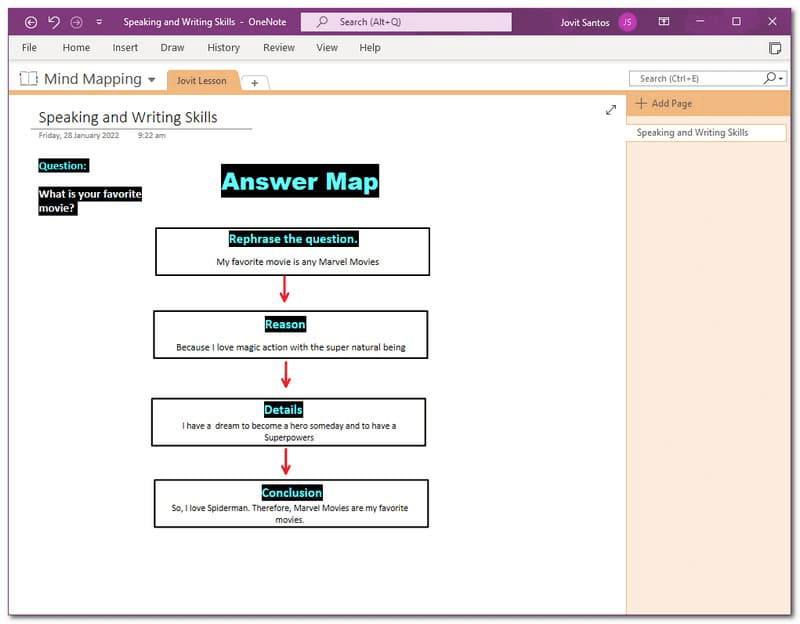 Step 3. As your mind map develops, you can add more and more branches. You can position text appropriately, and then use the drawing tools to add highlights, connections, and more.
If you frequently create mind maps, you might want to create a blank OneNote mind map template that you can copy and paste to fill in each time, saving effort when you create future mind maps.
Part 3. How to Create a Mind Map More Easily
When you create a mind map for OneNote, it quickly becomes apparent that the app was not designed for mind mapping. In fact, the need to switch between tools, and the difficulty in fitting in later thoughts, mean that, unless you start with a good idea of the size and shape of your mind map, it will probably be quicker and easier to mind map on paper first, then add it to OneNote.
Fortunately, if you are looking for a way to create mind maps online, there are better tools available. Boardmix, an online collaborative whiteboard, has built-in mind map tools. These make it easy to create a mind map and mean that you can concentrate on the ideas, not the design.
Try for Free
Step 1. You can start with the template, or just click on the mind map button. This allows you to add your central topic.
Step 2. When you have started your mind map, you can simply click to add a sub-concept, or just use a shortcut key, so you never take your fingers from the keyboard. It's easy to either continue the branch or add a branch at the same level.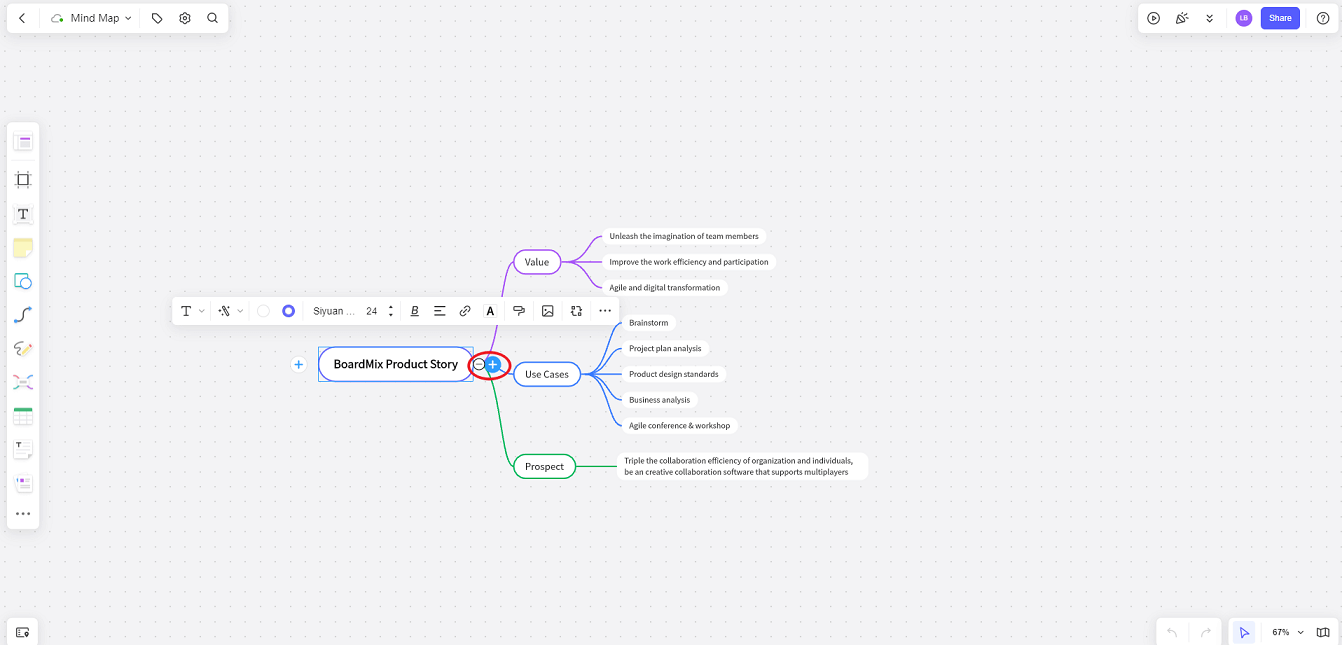 Step 3. Once your mind map has been created, you can organize it as you need. Boardmix has a simple drag-and-drop interface, making it easy to rearrange your mind map as new ideas and thoughts occur to you.
And Boardmix's mind maps aren't just quick to make and attractive because it allows you to export them in a variety of formats, you can save them to return to later, or share them wherever you want, you can even make your mind map for OneNote!
Part 4. Some Mind Map Examples to Get Inspiration
There is no right or wrong way to mind map, and you might find that you develop your style the more you mind map. But here are a few mind maps to illustrate how it works, and how they can be created in Boardmix.
Get Templates

Note: Choose and copy the templates to your own file and directly customize them.
#1 The planning mind map
Mind maps are great for planning. Imagine you are moving offices; your central topic would be 'Office move'. As you think about the move, you can add branches to help plan, like 'removal company' or 'packing', or have a branch that helps you cover practical issues like changing addresses or advising customers.

#2 The brainstorming mind map
Sticking with the office theme, why not use a mind map to brainstorm the new office? The branches on this would look very different from your planning map, even taking flights of fancy, like a 'fun' branch that includes slides between floors, or ideas for recreation areas.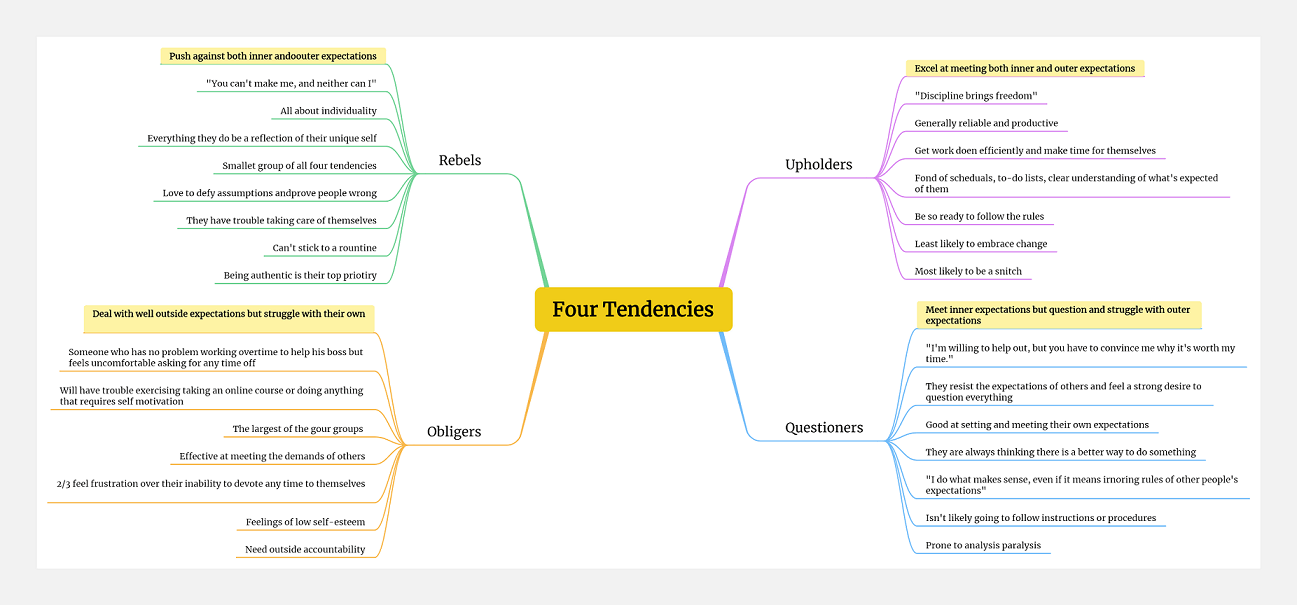 #3 The purist mind map
Tony Buzan, who popularized the concept, had some strict rules. One was that each branch should only be one word. He argued it created more freedom. For example, if you had a food mind map, a 'margarita pizza' might be the end of a branch, but 'pizza' on its own could branch into different recipes and different types, like Neapolitan, which could then branch off into other types of cuisine.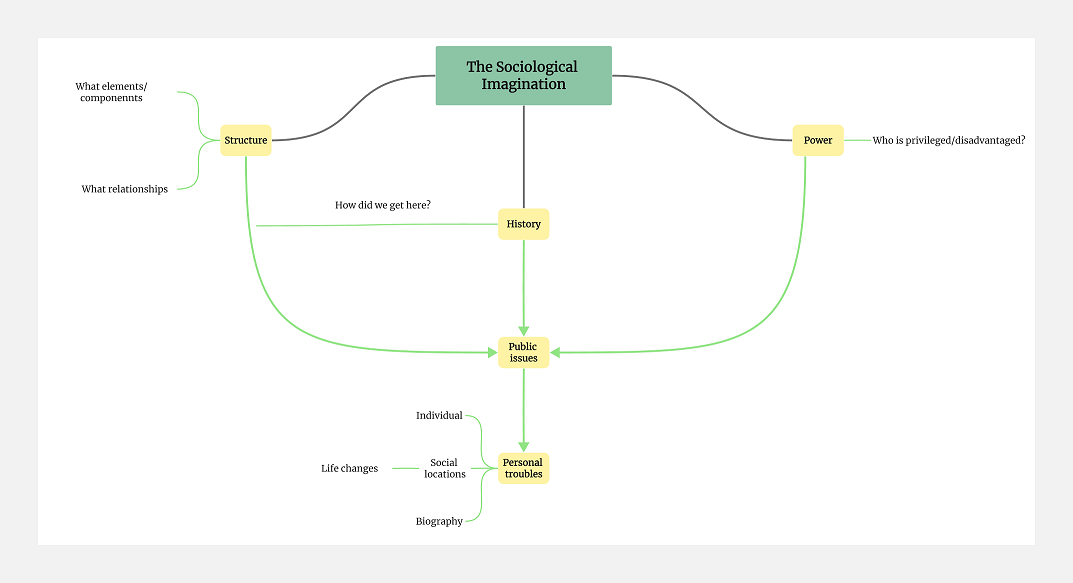 Conclusion
Mind mapping is a versatile way to capture ideas and brainstorm, whether it's thinking through a forthcoming project, features for a product, or even your life goals, mind maps have been used for anything and everything.
However, they work best when they allow you to quickly capture thoughts, rather than thinking about the mind map itself. That means that tools that aren't designed for mind mapping, like OneNote, are far from ideal. Using Boardmix provides a far superior experience.
Making it easy to build mind maps, whether you are using a mouse, touchscreen, or keyboard, Boardmix's online interface means that you have the same experience whatever device you use, and because it's cloud-based, you can add to your mind map whenever and wherever ideas occur to you.
And, as well as making mind mapping easy, Boardmix comes with a range of whiteboarding and collaboration tools, so once you've completed your mind map, you can use it to take your ideas from mind map through to project design and launch.