OKR planning is one of the most famous strategies used by big companies like Google and Intel. It has proven effective for making quarterly and annual planning, for both individuals and organizations. We have listed eight steps that will benefit you if you want to do OKR planning.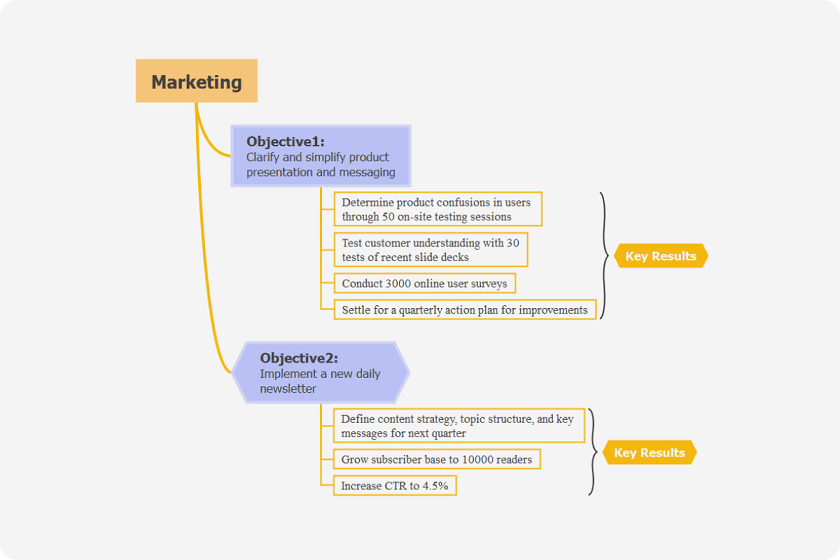 Part 1. What is an OKR?
The full meaning of OKR is objective and key results. It is a method used to make measurable ambitious goals and the process of achieving measurable results. OKR planning is done on the company's level to align the workers with the goals of the company as a whole. The process to achieve the measurable result is shared among the employees, who will come together to achieve the company's objectives.
An OKR can let employees know how their little tasks matter in the bigger scheme of things. With an OKR strategy, you can track your goals, and create engagement around your goals. This will help in achieving your goals in an easy, and measurable way.
Part 2. OKR Planning: How to Plan an OKR in 8 Steps
Planning an OKR is not as complicated as it seems. The process is quite easy, however, it requires the joint collaboration of all the workers in a company. By taking data from everybody and considering the current position of the company, you can choose your goals. This includes you considering what your company has already achieved, then thinking up the next challenging and measurable goal.
Step 1. Revisit mission and vision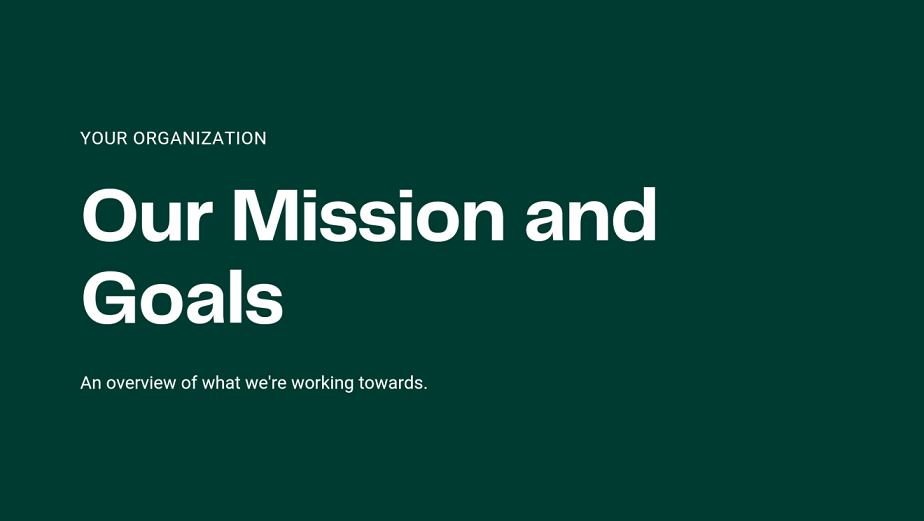 To plan a goal for your company you must take into consideration why your company exists. What is your company's business, its goals and objectives and how do you plan to achieve them? Where does your company aspire to go?
Your goals must align with your company's overall vision for its establishments. Revisit your mission and vision then think up a new ambitious goal that will bring you closer to your mission and vision. You should brainstorm this with the stakeholders of your company, from the executives to the employees.
However, you must remember that your goal however challenging should be measurable. This will provide clear precise steps to achieving measurable results. If the goal or result is not measurable, then you may find yourself in one place with no clear path to follow.
Step 2. Choose 7 specific objective
The highest number of objectives should not be more than 5. It should be in a single sentence, which is straight to the point, inspirational, action-oriented, and measurable. For example, the goal for this quarter is to get 5 contracts from top-rated companies, in 6 months.
As you can see, this goal is measurable, what they need to work towards is 5 contracts within a quarter. The time should be clearly defined to avoid spending unproductive time on a single goal. So 3-4 or 5 goals like the example mentioned above with specific wordings targeted at furthering the ambition of your company.
Step 3. Choose 3-5 key results per objective

For every goal, there should be 3-5 targeted results. So you target not one but up to 5 results for each objective. Therefore if you have three objectives your targeted results should b be at least 9. They should be written in clear and precise wording that anybody can understand.
The result should be ones that will contribute to the development of your company's aims and objectives.
Step 4. Communicate with your team to foster a great corporate culture
Many people in a company are not aware of how their individual tasks contribute to the company. Convey to your team how their tasks help to further the ambition of your organization. This will help them feel included in something bigger and they will be more motivated to realize the objectives of the company.
You can do this by having meetings
Sending emails
Having one-on-one meetings
Creating an environment where all is heard
Step 5. Use distinct and basic terminology
You might be tempted to use complex terminologies to make your OKR planning look more legitimate, however, you should overcome the temptation. The OKR should only contain words that are concise, and easy to understand. By doing this you can ensure every member of your organization can understand the words in simple terms.
The team are the ones who will work on the objectives, therefore you have to make it as straightforward and understandable to them as possible.
Step 6. Plan execution of team OKRs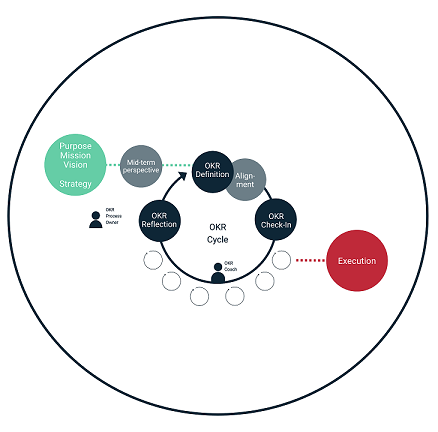 Your OKR does not begin and end on the paper. You need to take active steps to bring the final measurable results into fruition. Therefore you have to actively plan how your team will go from the measurable objectives to the measurable results within a measurable time. You can implement the following steps to do this:
Assign specific tasks to each team
Work on raising the morale of your team members
Create a workable schedule with breaks
Coordinate your available resources
Discuss risks and accountability
Share Plans and Update Progress
To actively track the progress of your OKR, facilitate easy sharing of plans and progress among team members. You can do this by having weekly meetings, automating team status updates e.t.c.
Step 7. Give feedback
You should give your team feedback on the current status of your OKR. This can be done in weekly meetings or spontaneous ones. You should actively seek suggestions and opinions from your members on how to better move from objectives to results.
Step 8. Use a project management tool
The rate of advancement of the world in technology is like a miracle. The rate at which new technologies spring up is nothing short of amazing. This includes project management tools. These tools have been made to help team members manage their tasks better and communicate with their team. Examples of such tools include asana, Zoho, Trello projects, Boardmix e.t.c.
Part 3. How to Use OKR for Quarterly and Annual Planning
A quarterly OKR planning spans 3 months which is a quarter of a year. To use OKR for a quarter you need to plan the objectives and results for that quarter. Then you will track your progress to ensure you meet your aim within 3 months. During this time you can use initiatives to turn the OKR into smaller actionable steps.
To use OKR for annual planning spans the length of a year. A full annual calendar, during this time every task, planning, and initiative will be aimed at achieving the measurable objectives and results for that year. All the weekly and monthly executions are to facilitate the challenging objective set for the whole year.
Great OKR Examples Created with Boardmix
Here are some great OKR examples created with Boardmix, a project management tool.


Try Boardmix for Free
Conclusion
OKR strategy is an excellent methodology by which you can clearly define your goals and how to achieve them. With OKR you can make plans on how to achieve ambitious results for your organization. You can use it for both quarterly and annual planning of your organization.