E-commerce and online shopping is a rising phenomenon in the modern world and it keeps growing each year. Online businesses looking to maintain an effective information system and manage their day-to-day processes through thorough strategic planning.
When talking about maintaining an effective information system, an ER diagram helps to identify all the relevant and important details or attributes to be present in the database.
Therefore, this blog will teach you how you can create an ER diagram for online shopping for free and use different templates to speed up your workflow.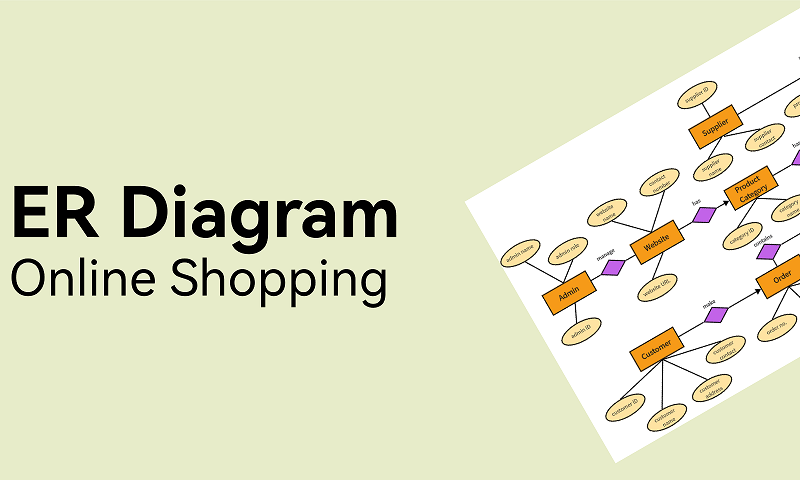 Part 1. ER Diagram for Online Shopping
1.1 What is an ER diagram?
An ER diagram or an entity relationship diagram is an illustration that depicts relationships among various objects, people, etc., within a database management system (DBMS). ER Diagrams visually represent the data and show how each entity can be related to one another.
1.2 What is the purpose of creating an ER diagram for online shopping?
First and foremost, ER diagrams are important when it comes to specifying the data we store—which mainly includes the entities and its attributes. An entity is the individual data that is distinguishable from other entities, while its attributes are the key elements describing the characteristics of that entity. As a result, it promotes clear graphical representation—making it easier for people in the business to interpret data.
Hence, when it comes to online shopping, there are a lot of steps involved from the point of first contact with the customer—all the way through the customer journey—and ending with the delivery of the product. For that, to manage everything efficiently within an information system, an ER diagram is most useful to determine the relevant information required for each step in the online shopping process.
Drawing a well-explained ER diagram for online shopping purposes shouldn't stop you and it is much easier now to create them online using templates or drawing it freely in a whiteboard solution. Let's move on to the next section to learn more.
Part 2. Examples of ER Diagram for Online Shopping

Note: Click the "Copy and Use" button, choose all the elements on the canvas, and then create a new file and paste them in it. This way you can customize the template.
Example 1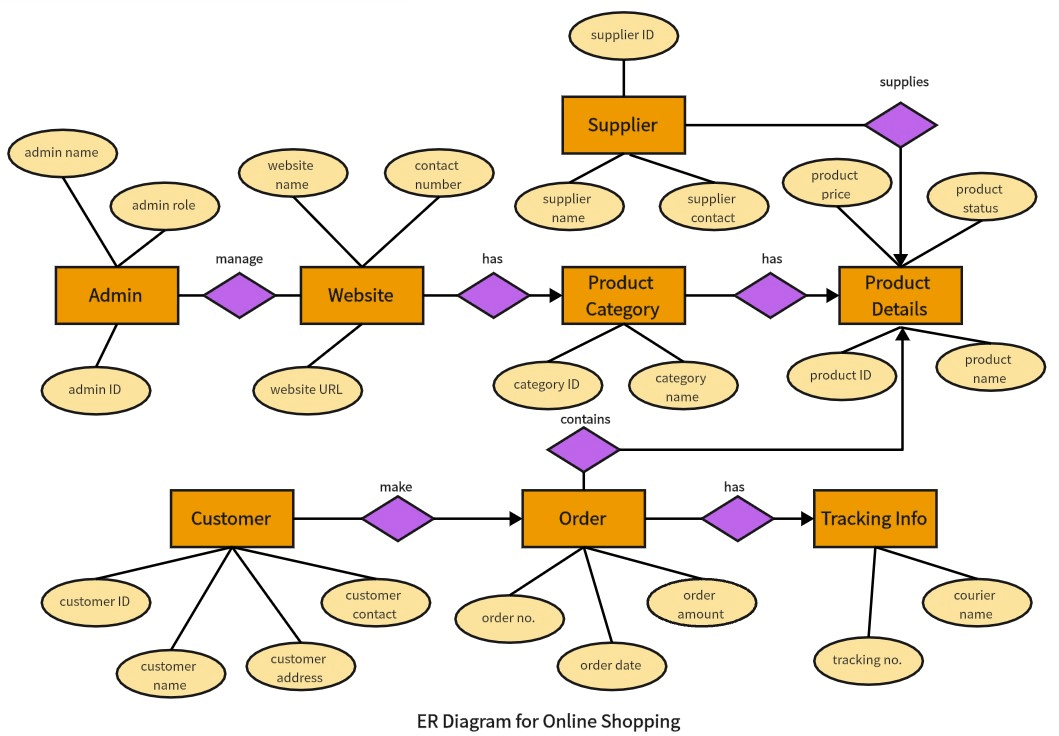 Copy and Use
Example 2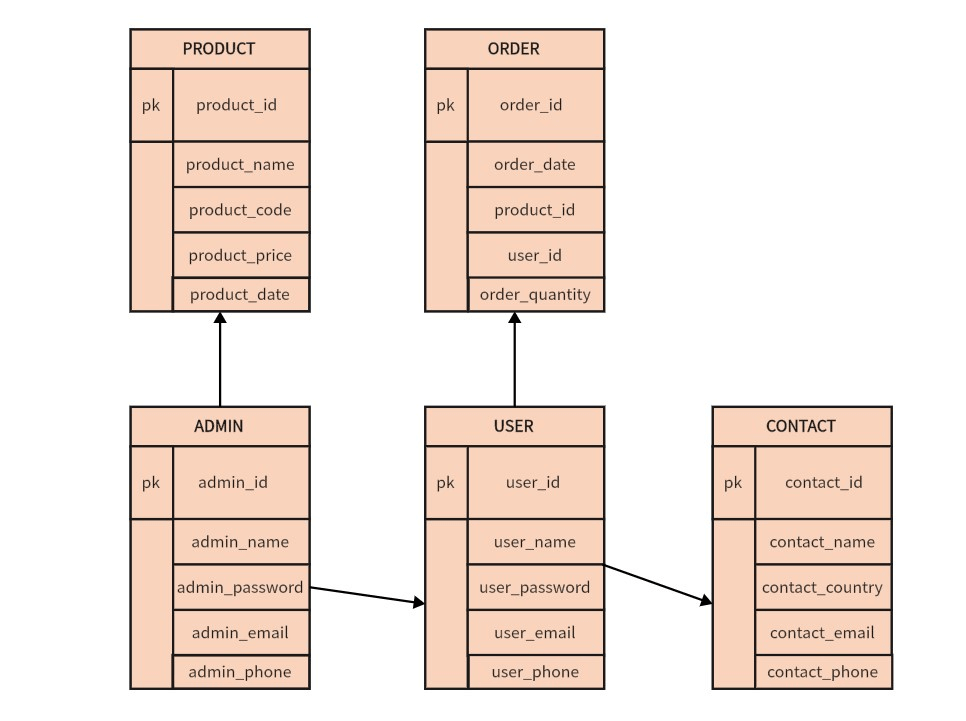 Copy and Use
The above ER model is displayed in a table format. Over here, you have entities such as admin, product, order, user, etc. All the attributes are mentioned in each entity table. Hence, making it a great model to manage large quantities of online shopping transactions in DMBS.
Part 3. How to Create ER Diagrams for Online Shopping
On Boardmix, you can create ER diagrams that relate to online shopping with ease. Boardmix is a collaborative whiteboard that enables businesses to transfer their ideas into a visual representation—making it a useful tool when building their ultimate strategy. Boardmix offers various templates and easy-to-use tools in a canvas with no bounds to flex your imagination.
Without further ado, let us go through each step to learn how to create ER diagrams for online shopping or for banking system on Boardmix:
Creating from scratch
Try Boardmix for Free
Step 1. Open your new Boardmix file. In the canvas, you can either start drawing the ER diagram directly or insert a frame by clicking on the frame icon on the left-hand side panel or pressing the F key. Insert a frame if you want a background that contrasts well with your ER diagram.
Step 2. From the left-hand side panel, you can simply explore the shapes by clicking on the shape icon or pressing the S key. You can insert ovals and rectangles to represent your entities and attributes. For weak-related entities, you can insert the shape twice and adjust the dimensions to the extent where you will get a weak entity illustration.
Step 3. After inserting your shapes, you can simply click on each shape and fill in the color or modify the border weight. Moreover, you can add text to each shape by clicking on the text icon or by pressing the T key to label your entities and attributes.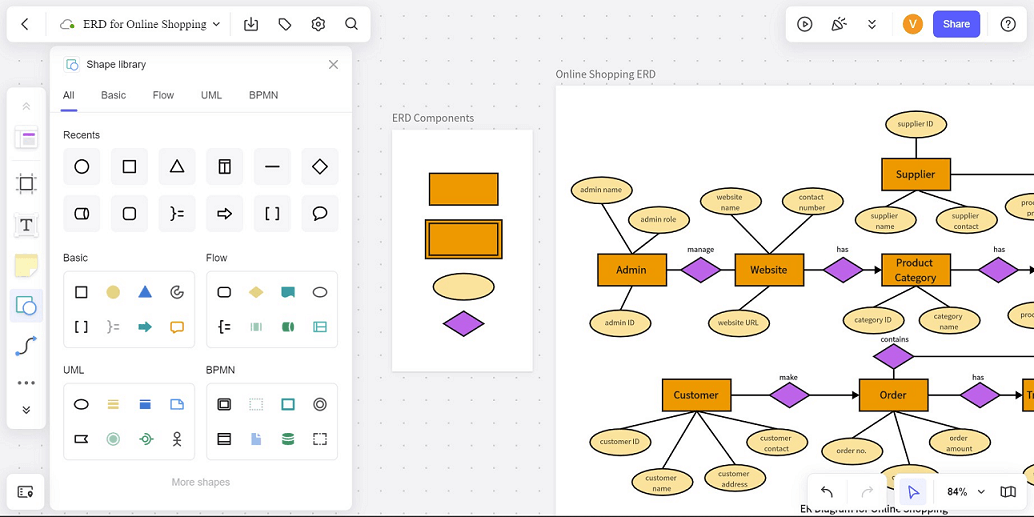 Step 4. Now it is time to connect your data. Just below the shape icon, there is a connection line tool, or simply press the L key. Over here, you can find lines with arrows and without arrows to perfectly connect your entities and attributes in your online shopping DMBS.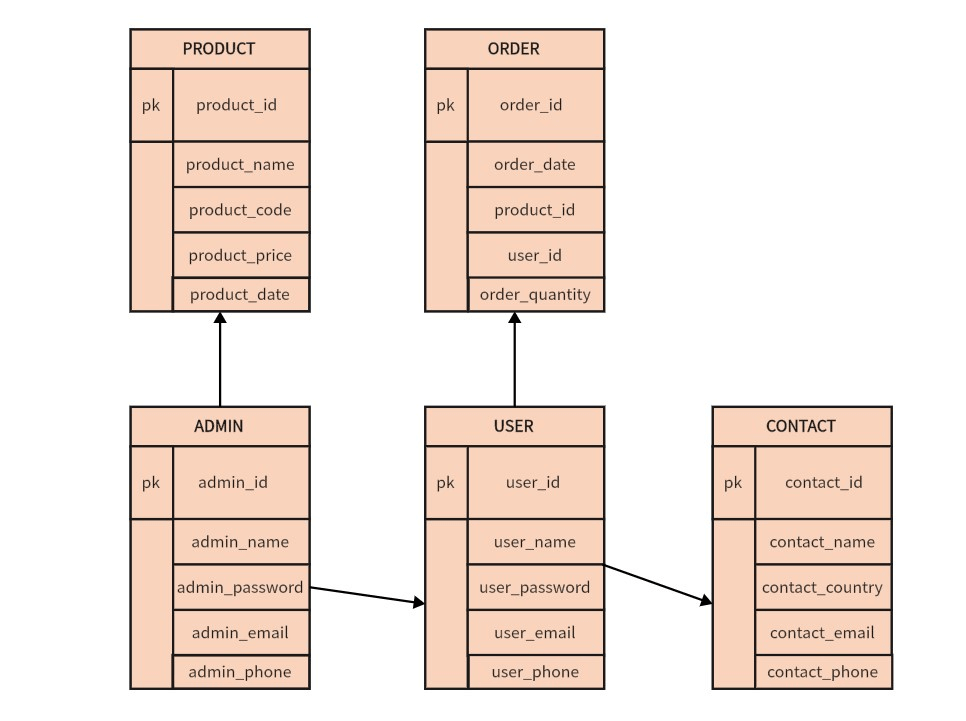 Using templates
A quick way to skip most of the creating is to head over to the template section by clicking on the template icon on the left-hand side panel. Once the template pop-up box appears in front of you, head over to the Draw & Diagram section and add a Flowchart to your canvas.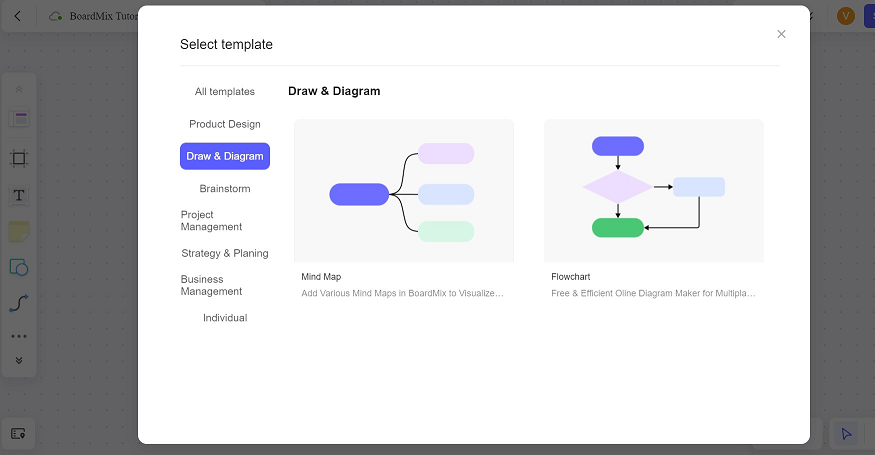 You can preview it first and then add it to your file. Once the flowchart is added to your Boardmix canvas, you can quickly modify each shape and connection to meet your online shopping DMBS needs.
This method can help you to quickly start designing your ER diagram for online shopping if you are lacking inspiration or time.
Customize Your Ultimate Online Shopping ER Diagram…
Online shopping involves a lot of sophisticated transactions and with the help of an ER diagram, organizations can manage their information system effectively if they can draw it with ease.
Use Boardmix today and make various ER diagram for online shopping templates in your comfort using these advanced tools and share it with others in your team.