As a product and project manager, being in charge of a project is a huge responsibility. It's exciting yet all that weight is on your shoulders to make sure everything is well executed.
For that, planning is the essential bedrock for a successful project. Having a plan for your project significantly increases your chances of achieving your client's goal whilst utilizing all the available resources given to you diligently.
In this blog, you will learn what a project plan is and why it is important to your project. Also, you will learn how you can quickly make one using built-in templates. Let's dive in.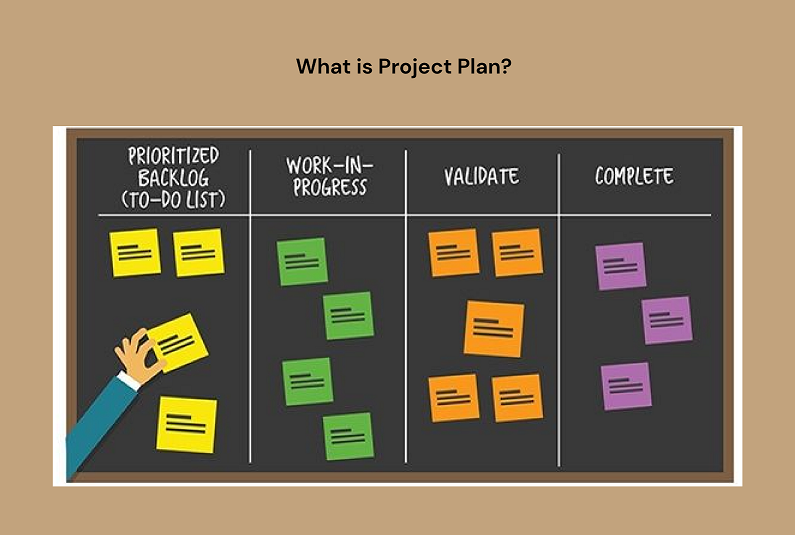 Part 1. Everything You Need to Know About a Project Plan
1.1 What is a project plan?
A project plan is basically a document that depicts how the project is going to be executed. It provides a basic overview of the project goals, scope, and objectives. Additionally, it outlines how the project is going to be monitored and how all the allocated resources and budget will be controlled—aligning with the project requirements.
1.2 Why is a project plan important?
A project plan can make or break the outcome of your project. Simply put, it is an imperative stage in your project management where you ensure the allocated resources are utilized within the budget, specified timeline, and other constraints involved.
Moreover, having a project plan helps to mitigate risks in a specific project. Thus, improving project execution and enabling you to take precautionary measures to improve your project workflow and avoid drawbacks.
Part 2. What Are the 7 Parts of a Project Plan
In a specific project, some areas can be overlooked or neglected which can cause a detrimental effect on your project outcome. Hence, here are seven parts of a project plan that project managers should keep their focus on and address in their project planning:\
1. Goals
First and foremost, having a well-defined goal is crucial to any project plan. Setting out specific goals before beginning all the work helps you to have your team and other stakeholders on board with your ideas and head everyone in the desired direction. The best way to implement well-defined goals is by following the SMART approach by listing goals that are Specific, Measurable, Attainable, Relevant, and Time-bound.
2. Resource allocation
In every project, you and your team will have scarce resources to work with. The next important part in a project plan is to plan how you are going to utilize those resources wisely. It is pretty obvious that if you mismanage and run out of these resources, your project is going to be incomplete and this will lead to further consequences. Hence, a good resource allocation plan includes addressing how you will spend the budget, how much manpower you will utilize for each deliverable, how many suppliers are required to support the project, whether are there enough physical resources to fulfill the project, and how you are going to deal with obstacles on the way.
3. Task management
Planning how you will manage your tasks is another important area to look at. Each small task has a huge impact on the outcome of your project so they must be managed and executed properly. Having a good task management strategy like utilizing a Kanban board can help you execute large volumes of tasks efficiently.
4. Risk management
Identifying the risks involved in the project is an important skill and part of project planning. It makes you prepared for potential risks that can affect your project and also plan ahead to mitigate and combat these risks. It makes you a visionary. The best way to identify potential risks is to check with your cross-functional teams and other stakeholders involved. Some risks are out of your control but it is best to list down them to keep them at the back of your mind.
5. Communication
Communication is key when it comes to effective project management. Hence, planning how your team and other stakeholders will communicate during the project is important. Are they going to communicate using email, slack, text messaging, or using project management software? Deciding on your communication tools helps to put everyone on the same page and boost effective collaboration.
6. Project schedule
Having a project schedule helps you to keep track of the project's progress breaking a big project into milestones and taking it one step at a time. It helps you to decide on a timeline to complete each task and head closer to project completion. Using project scheduling tools and charts is a fine way to list specific tasks and deadlines within a project.
7. Quality management
Quality control is important as it determines a minimal viable product plus provides you with a benchmark to follow early on in the project. Your quality management planning includes addressing the cost of quality (COQ), cost-benefit analysis, design of experiments (DOE), etc.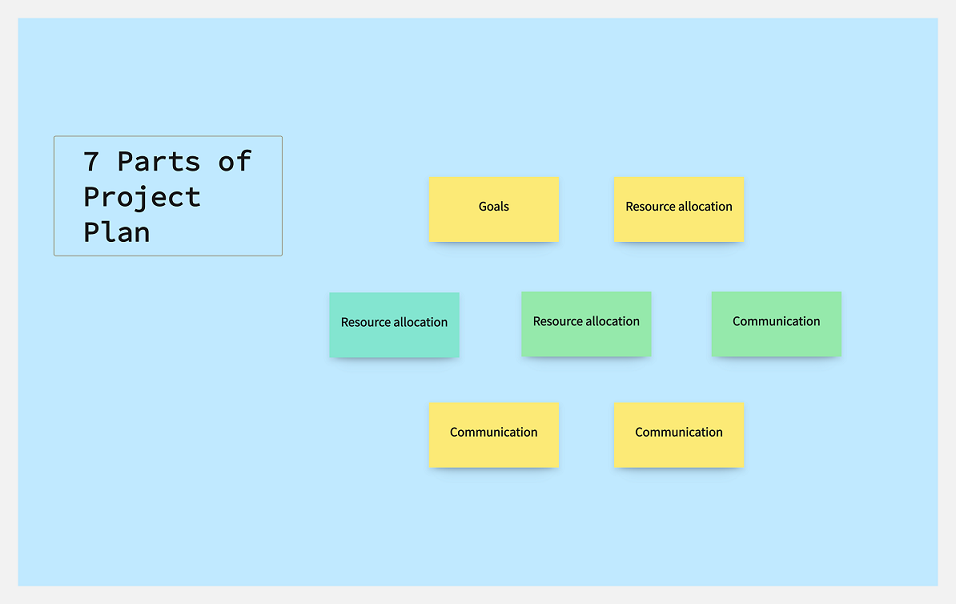 Part 3. How to Create a Perfect Project Plan Quickly Online
You have learned the importance of a project plan and seven key areas that you need to focus on as a project manager. When working with your team and stakeholders, you will need to have a plan prepared instantly so you can start the project on the right foot and inform everyone involved of the right measures to take before all the work begins.
Boardmix is an online tool that helps project managers to create a project plan quickly by using built-in templates and allows them to iterate the plan by adding elements and setting timelines.

Here's how you can start creating a basic project plan using Boardmix:
Step 1 - Create an account on Boardmix
Enter your email and create a password for your new account on Boardmix. You will receive a verification code via email to confirm your account.
Step 2 - Create a new project and open a new file
Head over to your projects page, and create a new project. Once you have created a new project, you can click on "New File" to open your whiteboard.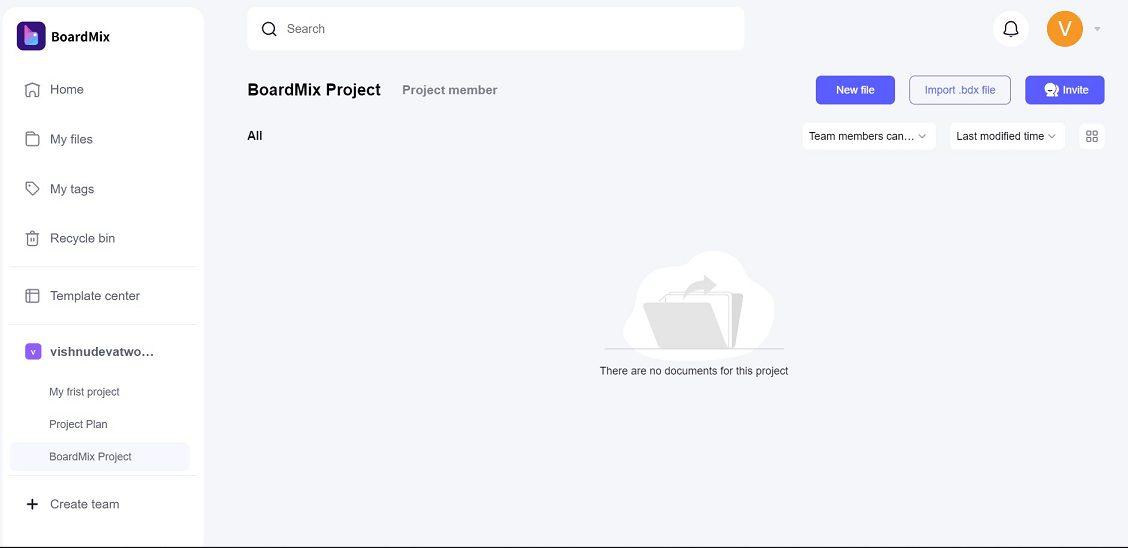 Step 3 - Browse through templates
Click on the Templates icon on the left-hand side of the canvas and browse through all the templates available on Boardmix. Head over to the Project Management section to find suitable templates for your project plan.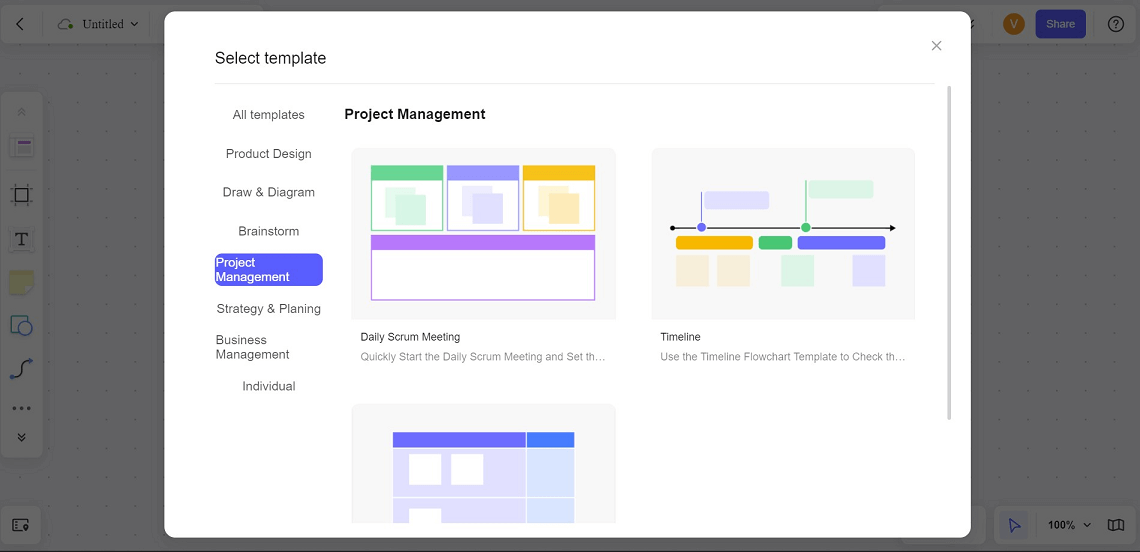 Step 4 - Insert the timeline template
Insert the project timeline template onto your whiteboard. You will have a template divided into four quarters and you can effectively add elements such as notes and markers to plan each deliverable within the specified timeline.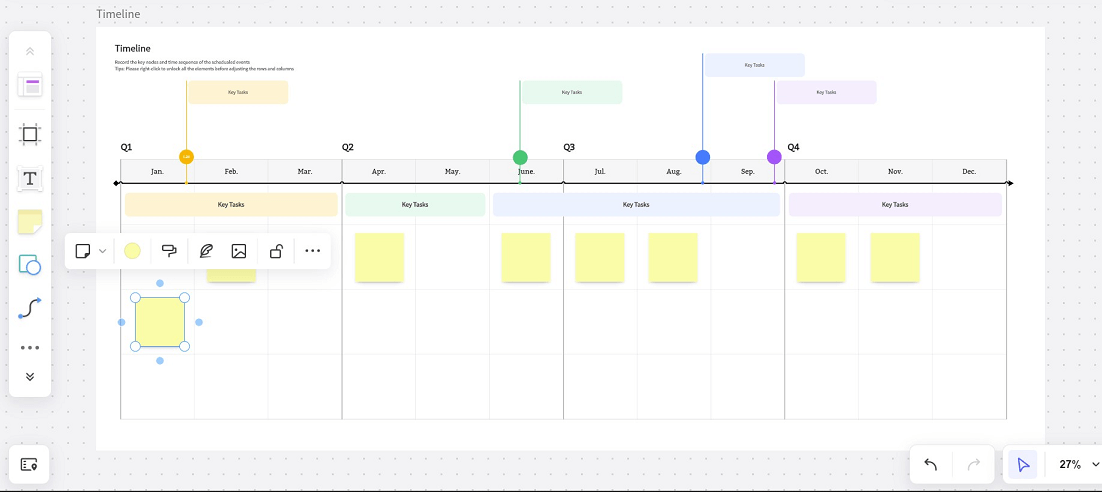 Step 5 - Plan a weekly schedule
To make things even more detailed, you can add the Weekly Plan template to your whiteboard. You can plan the tasks assigned to each team member which allows them to know their deadlines and accomplish each task.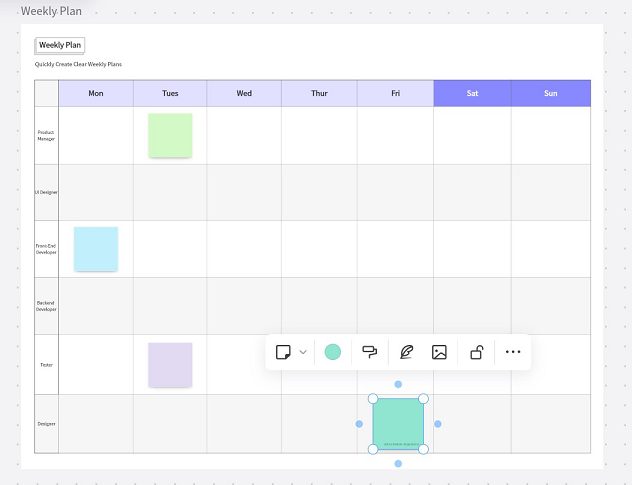 Part 4. Best Project Plan Templates to Help You Write a Perfect Plan
You have discovered that you can make a project plan quickly using templates on Boardmix. However, it would be cool to explore more detailed and designed project plan templates that you can get inspired by. Just sign up for free to access more project plan-related templates now!
Try Boardmix for Free
Nail Your Next Project with an Effective Project Plan…
Excellent project planning helps in communicating all the essential details to your team and also helps you to manage the project effectively. It is an important step during the initial stages and when done right, you can see the positive impact on your project outcome.
Don't hesitate and look to craft your project plan using Boardmix today and ensure your project utilizes the resources you have efficiently and ensures you complete it successfully.
Each tool has different features that allow for real-time collaborative editing, depending on whether you need to generate mind maps for yourself or a team. Choosing a right tool that integrates well with other collaborative features if you need frequent access to other capabilities.