A scrum task board is an integral part of scrum. It comprises columns and rows. Each row is a user story that serves as a unit of work that the scrum team often uses for the product backlog. Usually, tasks are documented on colored cards. New tasks are written on a new card and placed on the board. The cards can be adjusted, replaced, and remove from the board.
In digital settings, the scrum task board is hosted by scrum task board software. It's a visual project management tool that helps scrum team members visualize backlog items and overall work progress. The scrum task board monitors the sprint of each team member and helps see their progress on the project.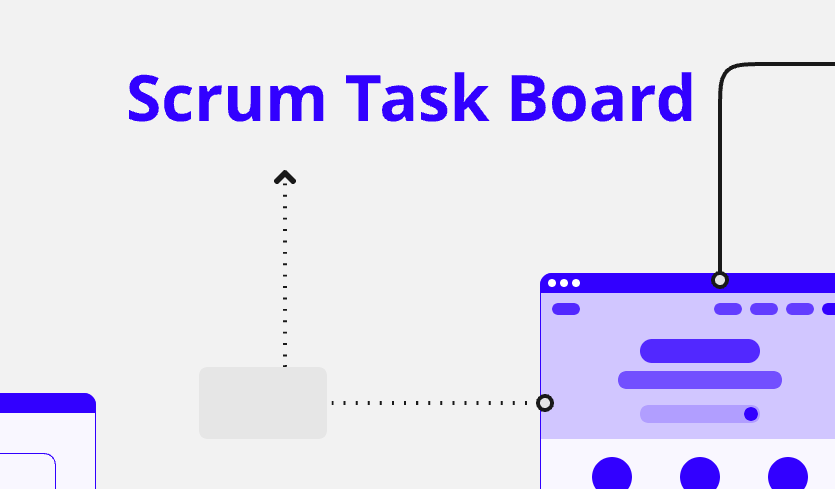 Pros and Cons of A Scrum Task Board
To help you have a better understanding of scrum task board, you should learn about its pros and cons.
Everything You Need to Know About Scrum Task Board
Before learning about how to create a scrum task board, you should know these terms:
User story: User story is a description of one or more features of a product in a scrum project.
Sprint: It's a stipulated period for accomplishing the product. Within this period, the team focuses on each development cycle.
Product backlog: It's a list of things to be done to complete a scrum product.
Sprint backlog: It's a list of product backlog items that the team can complete during each sprint.
Workflow of A Scrum Task Board
Identify user story. Your team ought to choose each product backlog item that would be worked on in the sprint. After selecting the user stories, add them to the sprint backlog.
Share tasks. The team divides the user story into individual tasks and moved them to the To-Do column. After which your team commences working on each task.
Work on the tasks. As the sprint continues to progress, members move the tasks from the left side to the right side of the board. This implies that tasks shift from the 'To-Do column' to 'In Process'. The board is updated regularly if the need arises and new tasks are added during each scrum meeting.
Finish tasks. When members move a task from 'To-Do column' to 'Done', they go back to 'To-Do' and work on the next task.
Review sprints. Sprint review is done at the end of the sprint process. Members discuss tasks that were completed and the ones that were not. Also, problems faced by the team are identified and solved.
The Layout and Elements of A Scrum Task Board
The component of a scrum task board varies depending on the goals and objectives of a scrum team. However, there are a few basic elements generally found in it.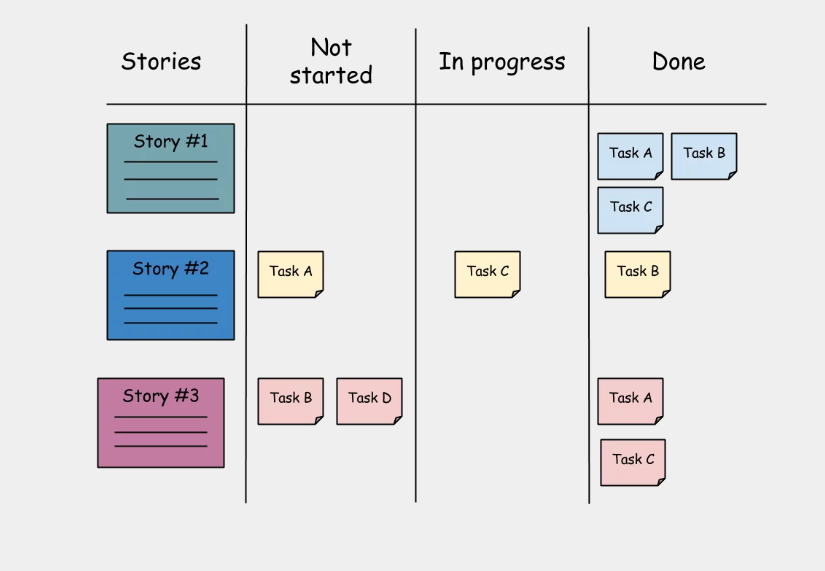 Columns and rows: Scrum task board software has colored columns that can be labeled. The first label is usually the user stories, followed by To-Do, Work In Process, and Done. The row contains each user story in the sprint backlog.
Index cards: User stories and tasks are written on index cards. The cards are posted in labeled columns. It can be moved from column to column at a given time.
Advanced elements: This section contains a predictability graph that shows the trend of sprint success. It also comprises working agreements made by team members.
Your One-stop Scrum Task Board Software - Boardmix
Innovations have been introduced into the scrum to solve certain challenges associated with the use of the scrum task board. One of the products of the innovations is the Boardmix scrum task board software. This software has various tools for faster and better project delivery. We recommend it for you, but first, let's unravel why the Boardmix scrum task board is the best choice.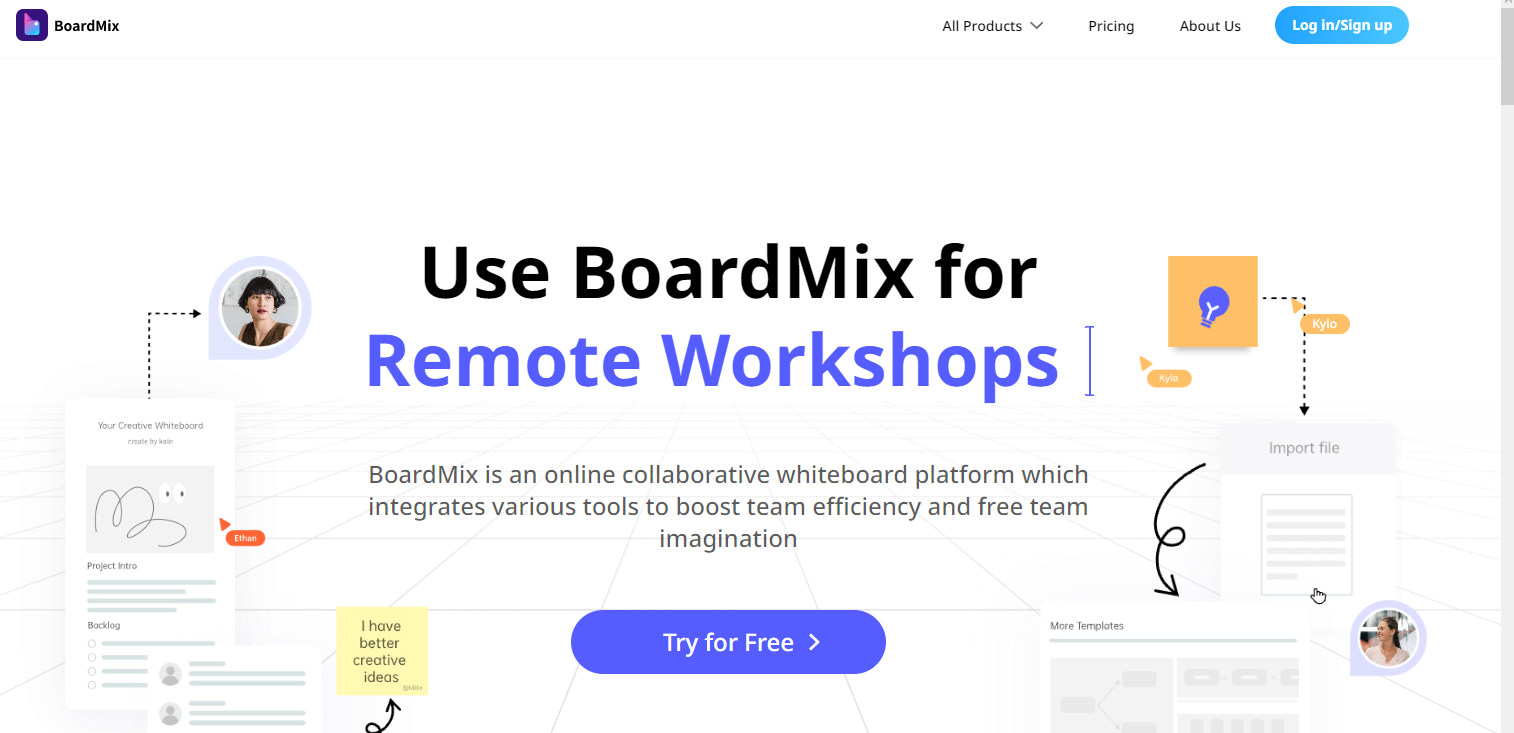 Why Boardmix Scrum Task Board Is the Best for You
It's flexible and has the most intuitive interface for team collaboration and communication. The colored cards are foldable and can be arranged in blocks for easy retrieval. The card colors can be changed into any color you prefer. The task board has arrays of colorful layouts that spark social communication. Emoji are deployed to drive deeper communication and make the whole setup fun. Team members can upload their profile picture, biodata, and rank for clearer identity. It has several share features which are password protected making the whole meeting inaccessible to unwanted parties.
It supports efficient collaboration on a whole new level. Every team member has the liberty to comment and communicate even from a remote location. Comment box sections are accessible to everyone. You can experience the truly real-time collaboration on Boardmix.
It is versatile for product illustration. Contrary to the traditional scrum task board, it is designed to support 3D images, and mind mapping images, and the whole board can be changed to suit the nature of the meeting. It's built with UX design tools to support any scrum meeting geared toward product design. It also has color-editable flow charts and diagrams for illustration.
It provides all sorts of ready-made templates. Users can use these preset templates to create a scrum task board easily and quickly.
It's free for small teams. Unlike other similar task board software, you don't have to pay to use most tools available on the Boardmix scrum task board.
How to Create Your Scrum Task Board Using Boardmix
Boardmix scrum task board is simple, easy to use, and highly flexible. The following guide will help you set up a scrum task board without hurdles;
First go to boardmix.com, sign up with an active email and password.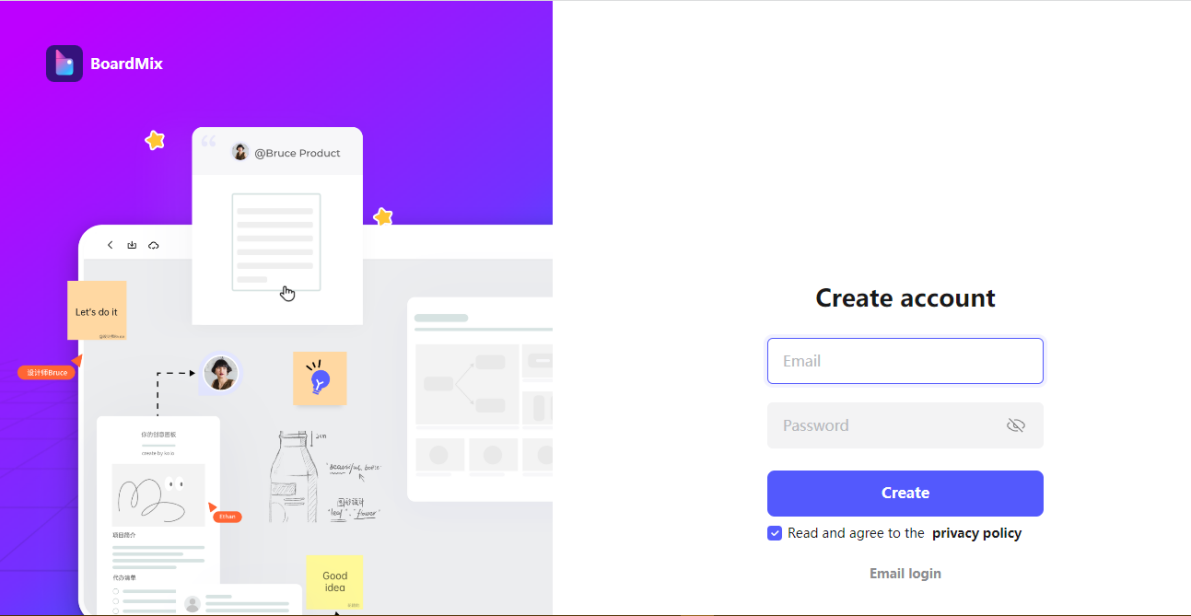 Under home, highlight Daily Scrum Meeting and click use. It will open a new task board template.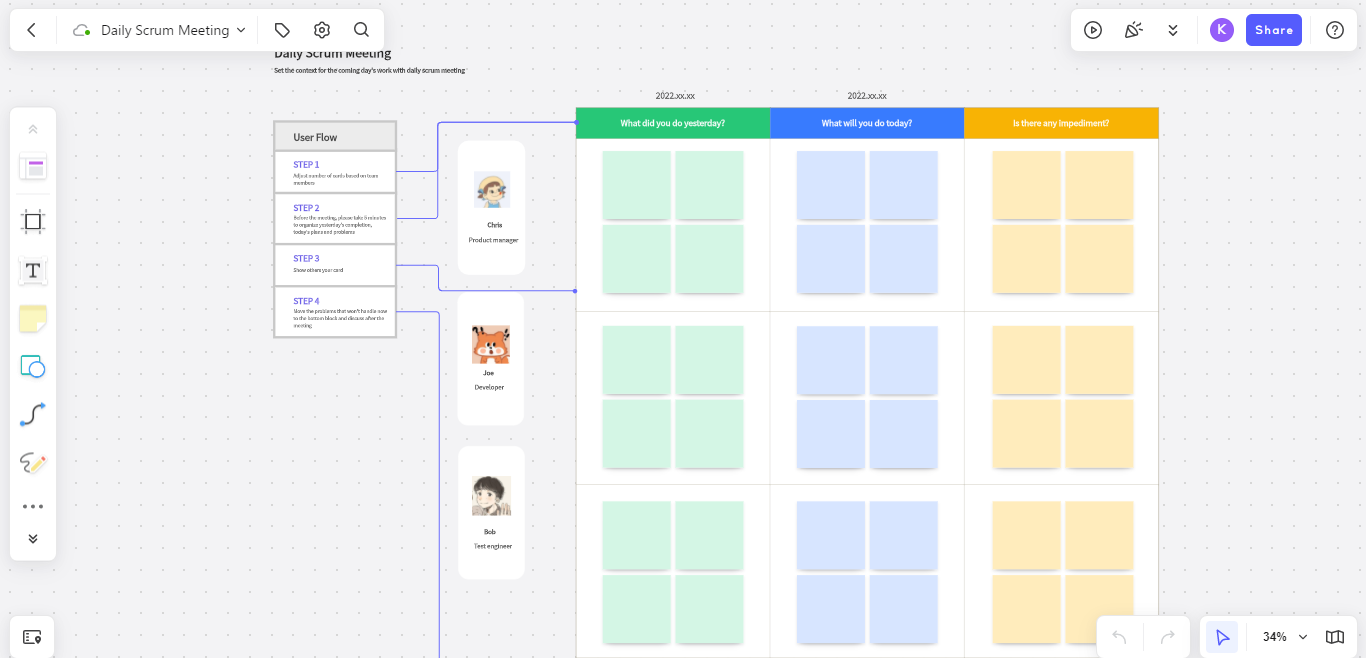 Pictures showing a new template for the scrum task board
Create your user flow chart that explains how the scrum task board will be used.
Press and hold the Ctrl key along with the + or – key to zoom in or zoom out on any section of the board.
The task board cards are arranged in columns and blocks, use text tools to label the columns and write on the cards. There are tools listed on the left side, which are used to make different changes on the taskboard.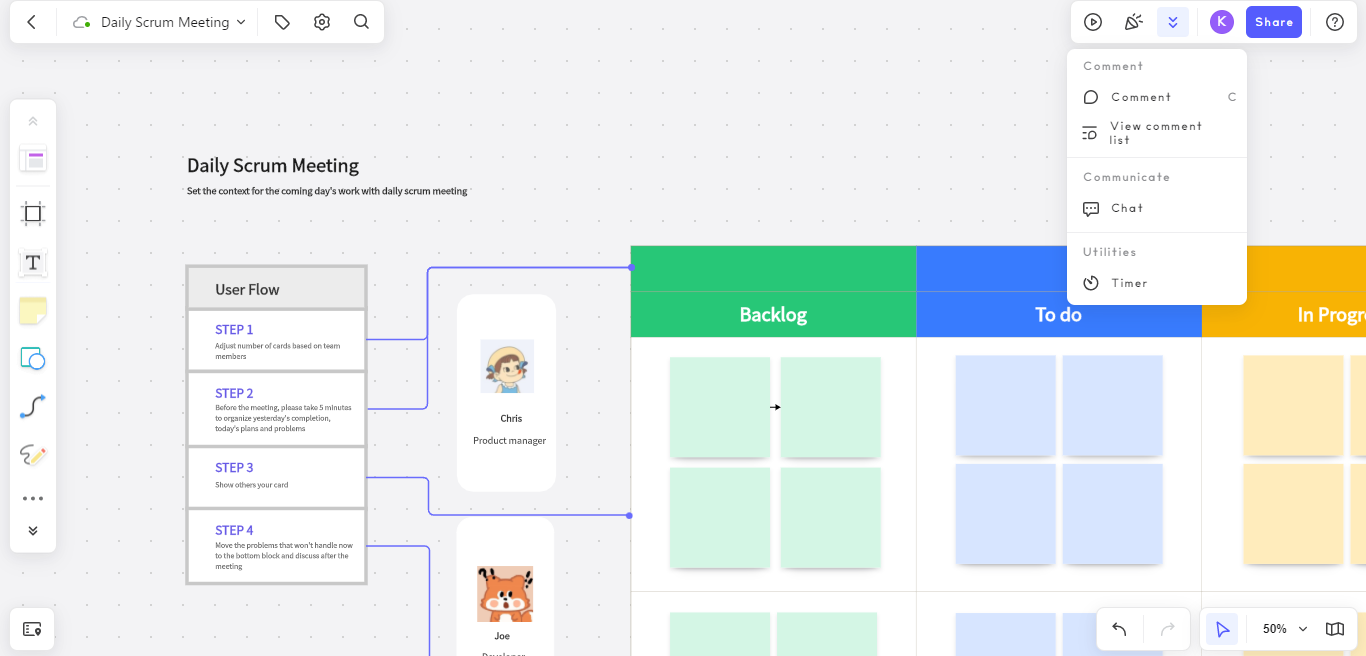 Picture showing a run-down option where the scrum team can drop their free comment in real-time, facilitating strong collaboration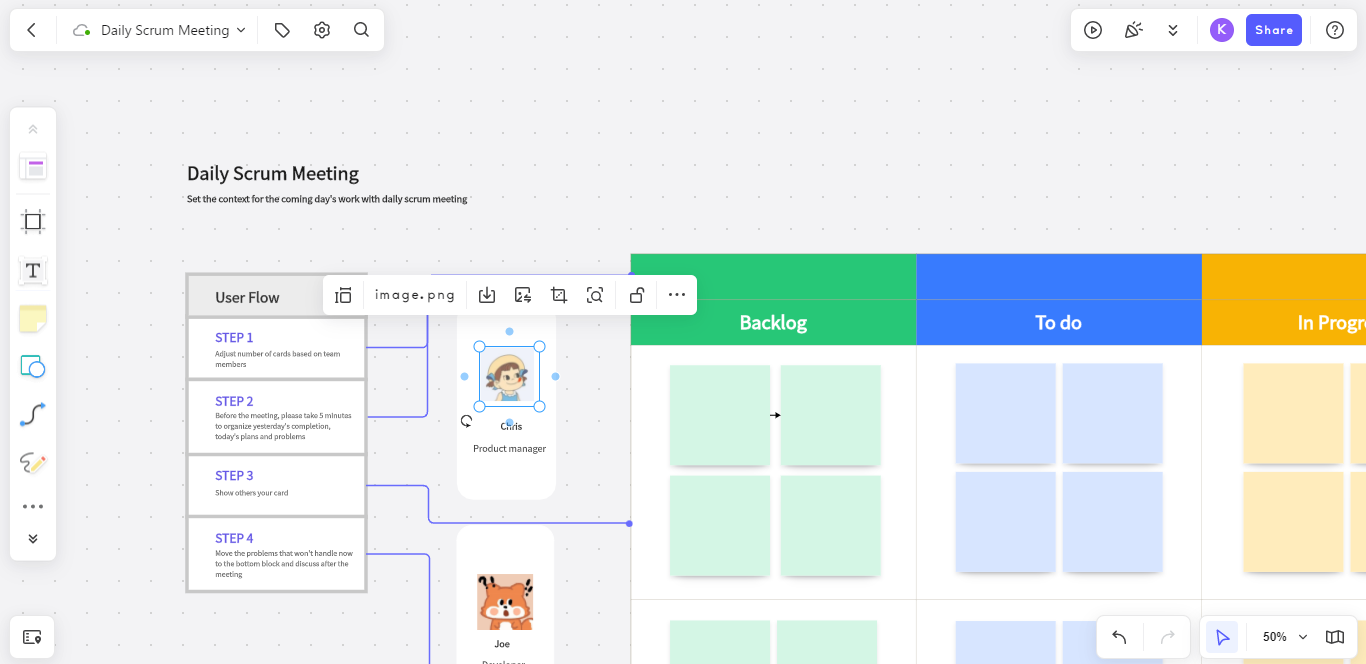 Picture showing editable avatar where scrum team can upload their profile pictures, their name, and their role on the task board
Then you are done with a scrum task board. Is it easy and effective? Just try it now!