A flowchart is an easy-to-read diagram that narrates a process, system, hierarchy, or any other information. Flowcharts are used in different industries to plan, document, communicate, improve, or study complex processes in easy and intuitive diagrams. Flowcharts involve different diamonds, ovals, rectangles, and other shapes with connecting arrows to present the flow and relation between different elements. Microsoft Visio is a widely used diagramming application that helps visualize different business processes through various diagrams. Visio can create simple to complicated flowcharts using different built-in shapes, objects, and other elements. In this article, we will discuss specifically how to easily create a Visio flowchart with a detailed step-by-step guide.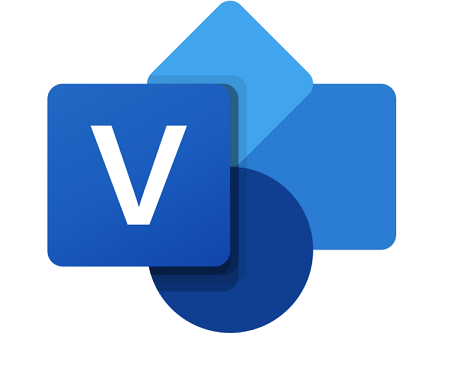 Part 1. How to Create a Visio Flowchart
A Visio flowchart is used to help visualize process planning diagrams, data-connected business processes, structure predictions diagrams, monitor cost, create proposals, and do other decision-making activities. Moreover, creating a flowchart in Visio is straightforward due to the built-in objects that can easily be dragged and dropped.
Follow the below steps to learn how to create a Visio flowchart:
Launch Visio on your computer via a desktop app or on the web.
Click "Basic Flowchart" from the main dashboard and then click "Create".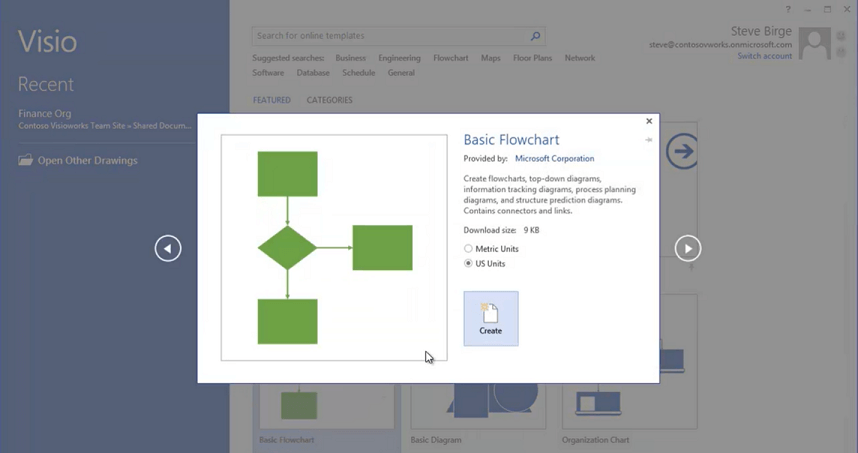 On the left sidebar, you can see different shapes. So, drag the shapes to the main white drawing screen.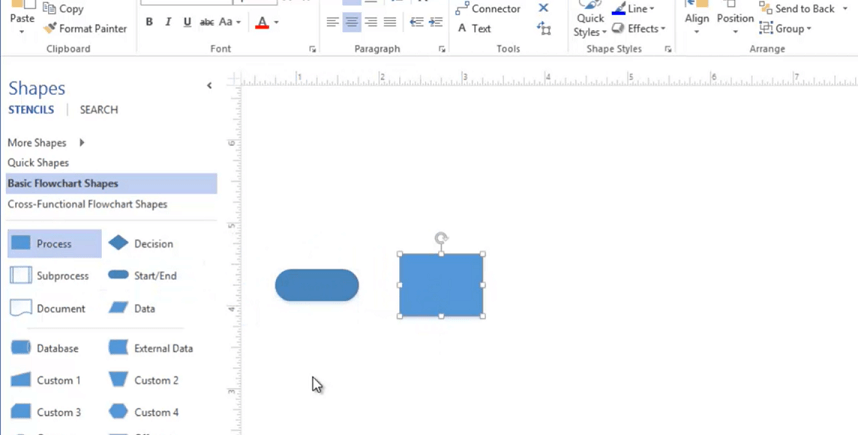 Once you have added the required shapes, you now have to connect them. Bring the mouse pointer to the first shape and click the small arrow in the direction of the second shape to auto-connect them. If two shapes are not close enough, then click and hold the small arrow, drag it to the other shape, and release the mouse key in the middle of that shape.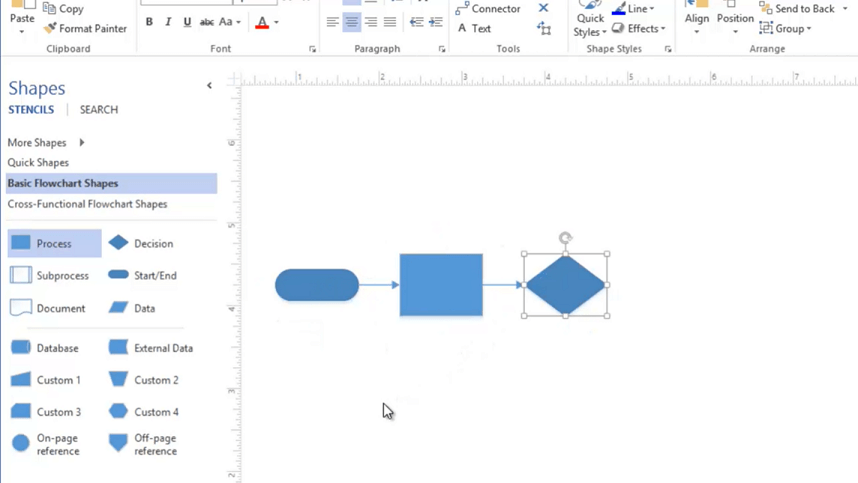 To add text inside a shape or connector, select the shape/connector and then type. Once done, click the mouse anywhere on the drawing.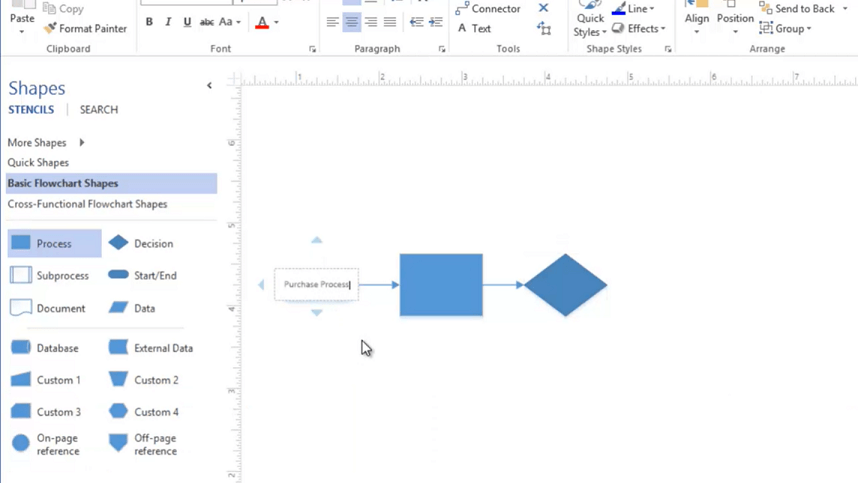 Once you have completed the drawing, you can change the design of the flowchart with built-in designs. To do that, click "Design" from the top menu bar and then click "Re-Layout Page". From there, you can select any shape you like.
To save the flowchart, click Files > Save As and then save it to your targeted drive location.</li
That's it! This way, you can easily create a Visio flowchart without much of the hassle.
Part 2. How to Easily Create a Perfect Flowchart Online for Free
Microsoft Visio is an effective tool to create flowcharts, but it does require you to spend some bucks to get full features accessibility. What's more, it's complicated to draw a flowchart on it. So, is it any other alternatives that can allow you easily create a perfect flowchart online for free? Yup, that's exactly what Boardmix has to offer.
Boardmix is an online collaborative whiteboard that provides the easiest way to create flowcharts online powered by real-time collaboration. It offers a bunch of templates that users can use to quickly create flowcharts. Moreover, its real-time online collaboration lets different teammates collaborate on the same flowchart from anywhere, anytime.

Key Features of Boardmix
It is an online tool that lets you start creating a flowchart with one simple click.
It offers built-in flowchart templates, making it easy to quickly create flowcharts instead of designing from scratch.
Its left sidebar offers different sets of functions to customize the flowchart effectively, such as add frame, insert text, add notes, insert shapes, pick connection lines, and many more.
It provides a demonstration mode so that the designer(s) can demonstrate the flowchart to other attendees effectively.
It allows multiple teammates to collaborate in real time.
It exports the flowchart in different formats, such as PNG, JPG, PDF, SVG, etc.
Overall, Boardmix is a powerful easy-to-use tool to create complete flowcharts online for free in a collaborative environment. Follow the below steps to create a flowchart with Boardmix:
Step 1. Sign up or log in to Boardmix.
Sign Up to Boardmix
Step 2. From the main home screen, click "Flowchart" and then click "Use". It will open the Flowchart window with a built-in template.
Step 3. Customize the template using the left sidebar by adding shapes, modifying existing shapes, inserting connectors, etc.
Step 4. If you want other colleagues to collaborate, click the "Share" button from the top right corner and share the link of the workspace with your colleagues.
Step 5. Once you have created the flowchart, click the drop-down menu next to the "Flowchart" text from the top left corner and then click "Export file". Lastly, select the export format and click "Export".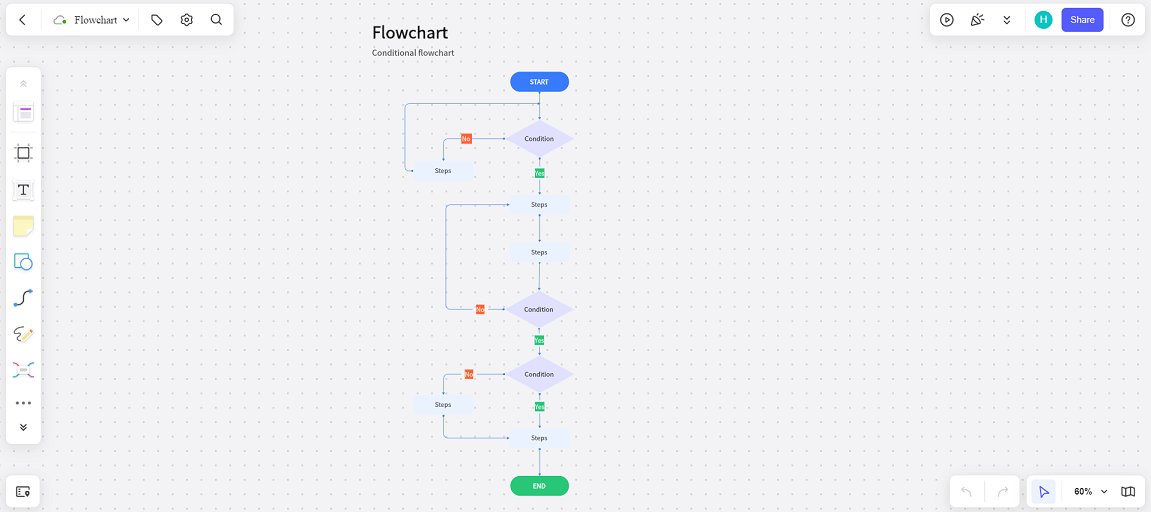 This way, you can easily create flowcharts online and collaborate with your teammates in real-time with the powerful and intuitive approach of Boardmix.
Part 3. Choose the Right Tool to Create Your Own Visio Flowchart
There are multiple tools available today when it comes to creating a flowchart. Visio flowchart is a popular choice, but Boardmix even offers a more user-friendly and collaborative way of making flowcharts. So, which one to pick? Let's make that decision easy for you with the help of the comparison table.
| | Visio | Boardmix |
| --- | --- | --- |
| Templates | It lacks templates. | It offers dozens of templates |
| Learning Curve | It requires some effort to master how to use the tool completely. | It offers a cleaner, simpler, and user-friendly interface and functions that anyone can easily understand to use in no time. |
| Cost | It is available for free under a 1-month trial with limited free features. | It is free for individuals and small teams with access to all the flowchart-related features. |
| Collaboration | It lacks proper support for real-time collaboration, as the other members should also have a Visio license to participate. | It offers real-time collaboration among team members at one time without the need for any licensing. |
| Compatibility | Its full version is accessible to Windows users only, while Mac users are offered the less robust online version. | It's a native web app, so it is compatible with all devices no matter their operating systems. |
| Updates | It does not offer frequent updates. | It keeps getting updated frequently and takes away the hassle to ensure that you and other members are using the same version. |
From the above comparison table, you can decide which tool can serve your needs rightly. If you are well familiar with interfaces of Microsoft products, then Visio can fulfill your needs. However, if you want to have a user-friendly and free tool to create flowcharts and also want to collaborate with colleagues in real-time, then Boardmix is the best choice for you.
Conclusion
Flowcharts are a great way to present processes, discuss systems, and do other decisions around different business processes. Backed by Microsoft, Visio flowchart is widely used to create simple to complex flowcharts. Above we have discussed detailed steps on how to create a Visio flowchart. However, one thing you might notice is the steep learning curve associated with Visio-based flowchart creation. That's why Boardmix is the ideal online-based tool to create intuitive flowcharts in a collaborative way. So, try out Boardmix right away and quickly create the first flowchart using built-in templates.
Sign Up to Boardmix